Even though there are quite a few poetry slams happening in Leipzig lately, most of them are bound to the south or west. I hadn't heard of a single one here in the north. Being a writer myself, I felt that needed to change!
So I decided to start holding slams at my own spot, Café homeLE.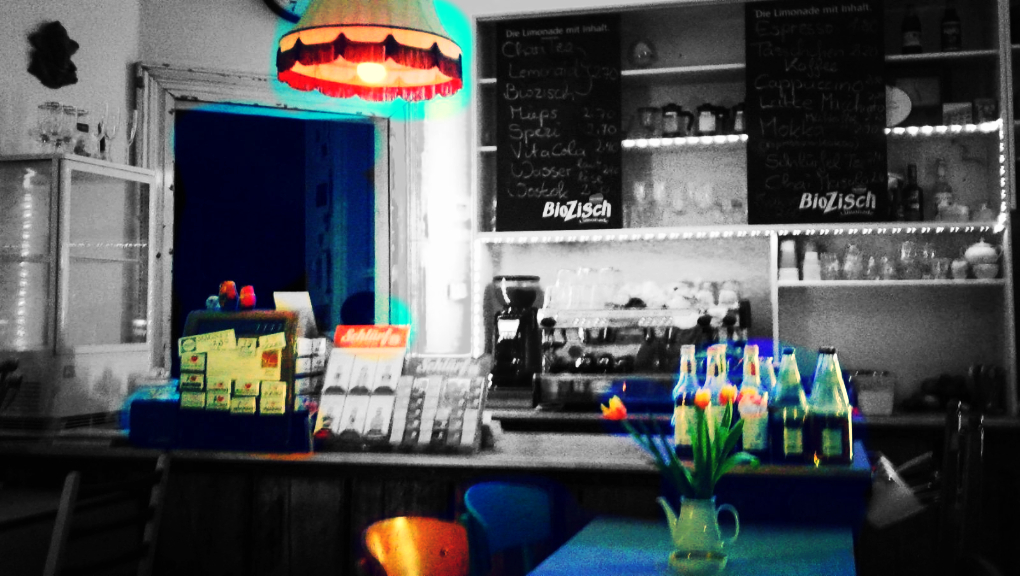 And the homeLE stage is the perfect cozy setting for that, as we have a limited audience: 35 people max. So even first timers shouldn't be scared, but literally look the audience straight in the eye.
We've done two slams so far. The first one was a more-than-sold-out premiere on Buchmesse Saturday. The second one again surprised the audience, with four very different slammers and a Bollywood-salsa performance.
There are always two rounds in the poetry competition itself. Slammers should bring enough poems to fill 5-10 minutes in each round. Depending on the number of slammers, we either cut down after the first round or let everyone read another text, or series of texts.
Voting is different at Café homeLE, too. Rather than letting the audience clap, they are asked to attach clothespins to their favourite slammer. Always great fun!
This third slam, on 9 September, is all about "Fernweh."
It's that kind of longing most of us know about. Summer isn't really over yet, and many have been travelling or already planning their next trip, or just wish they could. So this one is also an opportunity for all of us who had to stay back in Leipzig to "travel" in our heads.
I've chosen Fernweh as the theme also because there are so many people around from so many different countries these days. They are perfect sources for great stories that make you wanna hop on the next plane immediately!
The poems, or lyrical poetry, you bring to the slam should be in the spirit of Fernweh. They could be about travel. They also could be about missing someone or somewhere, or a certain time in your life. Also, they should be your own work.
Your pieces should be in German or English, preferably. If you wanna read in Chinese, Hindi or any other language, you may do so, but make sure to find a proper way to  simultaneously translate it to the audience.
The winner gets a unique and baked-with-loads-of-love cake.
We always try to include something different as a half time surprise at the Café homeLE slam. So if a band, solo musician, juggler, singer or artist of any kind reads this and wants to burn the stage – e-mail me! The deadline for poets and other talents to sign up to perform is Friday, 25 August (kontakt@homele.de).
By Maike Steuer
---
Goh li(e)s Poetry Slam – Fernweh Edition
Saturday, 9 September, 8-11 pm
Internationales Kulturcafe Homele Leipzig
Georg-Schumann-Str. 130, 04155 Leipzig