My first two visits to Vienna are a bit of a blur. I can't recall when and with whom I went to certain places and had certain experiences.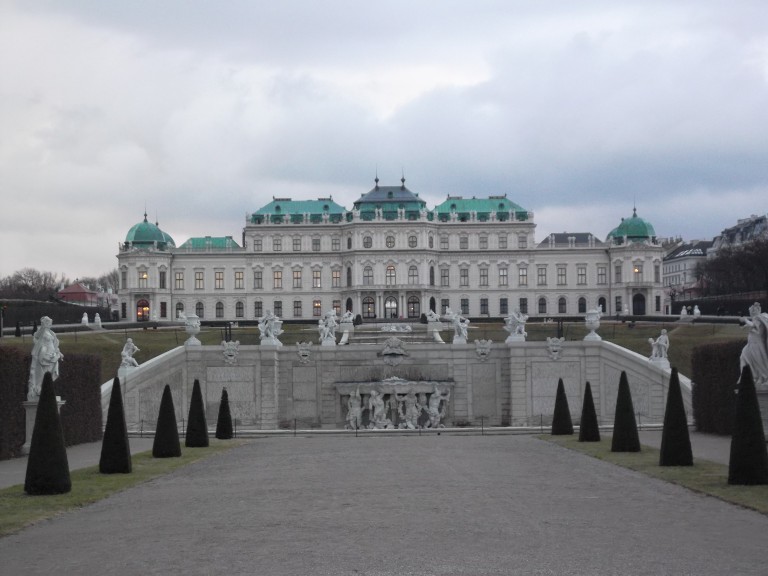 But I did notice the city is a parade of fancy architectural styles, and wished I knew more about them so I could appreciate it more. I checked out a few of the main sights: Naschmarkt, the impressive Universität Wien campus, the baroque-fabulous Schönbrunn Palace, where Empress Sisi and child prodigy Mozart left their imprint. I also went to an exhibit by deconstructivist artist Magritte at Albertina Museum, perhaps my favorite part of that particular trip (I think it was during my first visit). And I remember walking around while chatting with someone about the historical rise of right-wing fascism, the Habsburg Empire, the city's famed coffee house culture, and the variety of classes available for internationals at the uni.
I kinda wished I'd studied there instead of Roskilde or Wrocław for Erasmus Mundus, except students living in Vienna told me it was hard for them to make friends with the Austrians. An Austrian guy would later tell me that he'd rather live in Rio de Janeiro or Angola, with all their issues, than Vienna.
Despite its obvious beauty and cultural value, I wasn't exactly blown away by Vienna myself the first two times I was there in the 2010s.
I'd been to other iconic cities in Europe, my first having been Paris, and found Vienna quite manicured but not magnificent in comparison. To me, it looked pretty but cold, kind of lacking a soul, perhaps a bit inaccessible or impenetrable. It was similar to the way I've felt about the Nordic capitals, even when acquainted with locals.
My third visit to Vienna was different, somehow. It happened at the end of 2017. Having been to at least one museum and one palace already, I didn't feel the need to do much sightseeing. I decided to just chill, going to stay at the place of dear friends (expats) in between a city break in Zurich and class reunion in Wrocław.
With my friends having to work, I was left mostly to my own devices in the city. Having to figure out the lay of the land on my own allows me to get more intimately connected to a place than I ever could when following someone around. This, in combination with the lack of pressure to explore Vienna and my knowledge of German (neither of which I had the first two times), allowed me to get quite a different – and more positive – impression of the city.
I think the fact that Vienna was all decked out and scintillating for Christmas also helped.
Despite my general dislike of Christmas markets, I was quite glad to kill some time before my friend got off work by walking around the one at Karlsplatz, with Karlskirche towering over in the background. I stood at a table blissfully drinking hot Weihnachtspunsch and eating Käsekrainer.
With my cellphone dead, I'd glanced at maps on the street and followed my instincts there walking all the way from Hauptbahnhof. To find the way to my friend's place, a few train rides' distance from the station, I had to actually ask several people for directions (imagine that in this day and age). The Austrians were nice to me and seemed accessible. Of course, I still can't know what they'd be like on a daily basis (Danes, for one, were very nice to me when I was living in Copenhagen, but most of them only superficially so).
Vienna and my friends there gave me exactly what I needed at the time: a respite. I was tired and coming down with a cold, and slept for long hours in their comfortable guest bed, where I also sipped on tea with rum. In the afternoon and evening, I went out to sample the city some, but nothing too strenuous.
The two eateries I spent time at during that third visit couldn't have been a better choice.
My friends, who've been living in Vienna since their post-grad, spotted the first one, Ipanema Brazilian Bar & Bistro. I met up with them there on one of the evenings for a lovely long chat, caipirinhas and typical Brazilian dishes (with a twist) such as estrogonofe. Since the place was brand new, the gregarious bartender kept giving us free shots that tasted like Christmas. The owner is a very friendly Austrian-Brazilian who's also the chef. He spoke to us in Portuguese and told us some of his personal stories. We left definitely wanting to come back.
As we stood outside after our cozy dinner and drinks, my friends and I sighed at the beauty of Vienna that evening. They feel privileged to live there.
I had another slow start on my last afternoon in Vienna, and only left my friends' apartment around 3 pm. Captivated by the architecture and vibe of the city in a way I hadn't been before, I didn't even feel the weight of my travel backpack upon my shoulders. I would've been satisfied just more or less randomly walking around until it was time to move on to Wrocław, except I hadn't eaten all day and also needed to find a restroom as soon as possible.
I'd looked up some coffee houses in the city center and settled on Café Central. But that traditional Vienna cafe was full to the brim. I peeked into a chic hotel that had a reasonably priced lunch menu and asked the maître if it was still available. He said that lunch hour there had ended, but pointed me in the direction of alternatives to pacify my rumbling stomach while not emptying my already thin wallet.
It was then that I realized that many places in Vienna actually have reasonably priced lunch menus – more than average compared to other cities I've been – even in its normally pricey center. The trail of lunch menus led me to Café Diglas, where I had a very satisfying Wiener Schnitzel. It looks upscale and I felt kind of bad going in with my big backpack, like an oversized tortoise. But no one in the almost-full place seemed to be scowling at me.
I continued my walk amid the last vestiges of light, and was struck by another observation.
As much hype as surrounds Leipzig, our city is still "small time." Even its "hippest" district, arguably Plagwitz, at its busiest is missing the nearly relentless murmur that characterizes urban hubs. It's a murmur only silenced in the wee hours, only to be replaced by the whirring of the cleaning machines making the pavements glisten anew, while the lone walker holds a false, ethereal sense of ownership of the empty streets.
I heard the murmur in Vienna, as it grew dark still in the afternoon hours – the curse and the coziness of winter. It came from cosmopolitan groups of people. Walking alone and in silence, I finally caught a glimpse of its pulse and its soul. That's when I realized I'd fallen in love with the city. I wished I could've stayed another day, just to stay up and walk its streets when they're almost completely deserted, with only the wind and the occasional passing car whispering.