You may not think of a walking tour as a game of trivia, but it sure provides material when you're about to compete in a pub quiz, for instance, or want to make your own. While we listen to the tour guide, or when asked a question during the tour, our trivia gears do tend to start turning anyway.
So here's an idea for you: Why not source material from a Christmas-themed walking tour and then organize a trivia evening with your friends or family this holiday season?
History enthusiasts Matej Eber, Anne Dietrich and Krischan Bockhorst will be waiting by the Bach Memorial monument outside Thomaskirche early this Tuesday evening, to take visitors on their last Charity Christmas Tour for this year.
All the cash you donate will go to SOS-Kinderdörfer, an organization connecting children in need to a safe home. The facts you absorb will hopefully go into a fun, cozy game night you can enjoy with your loved ones.
If you need proof that their trivia skills are sharp, I give you first-hand testimony about Anne. Nine out of 10 times I've had Anne on my team at the Noels Ballroom English Pub Quiz, we beat out another 25 or so teams. That's right. Number one. Not to brag or anything, but we'd be legendary if we actually stuck to one team name and showed up regularly to play.
But since we hardly ever meet up for that anymore, I have to go and get my fix of Anne's trivia fabulousness elsewhere. I happened to introduce her to Matej, and they've been doing the Leipzig Free Walking Tour together for some months now, along with Krischan. It was an obvious match.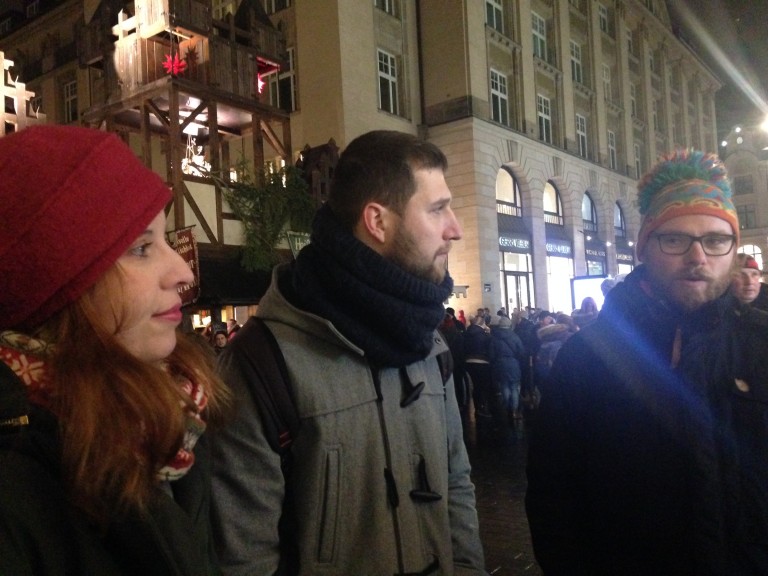 So now they have tours in English (like the special Christmas one and the daily tour in the mornings), a couple in German, a few thematic ones currently in the works, and periodically tours in Spanish, when their colleague Alba is in town.
For this Tuesday evening tour along the main strips of the Leipzig Christmas Market, they promise to answer "everything you wanted to know about Christmas but were afraid to ask."
I was there last Tuesday and was able to retain some tasty information nuggets even as my body and brain were freezing, making an effort to think of anything other than hot Christmas Market booze.
It's always a pleasure, for instance, to hear details of how a pagan feast became the most important Christian holiday. This story never gets old.
Plus, is it true what they say, the Latvians, that they had the first ever Christmas tree? And what's the oldest Christmas Market in Germany?
Perhaps most importantly, though: Where does the Christmas tree go when its public gig is over?
In England there's such a thing as a Christmas tree rental service, where you give the tree back in one piece when you're done with it, and it lives in its "home" until you take it for a ride and on to its starring role in your living room at the end of the year. The one in Leipzig may not be so lucky, though. The guides will reveal its fate to you. Remember to take out your tissues.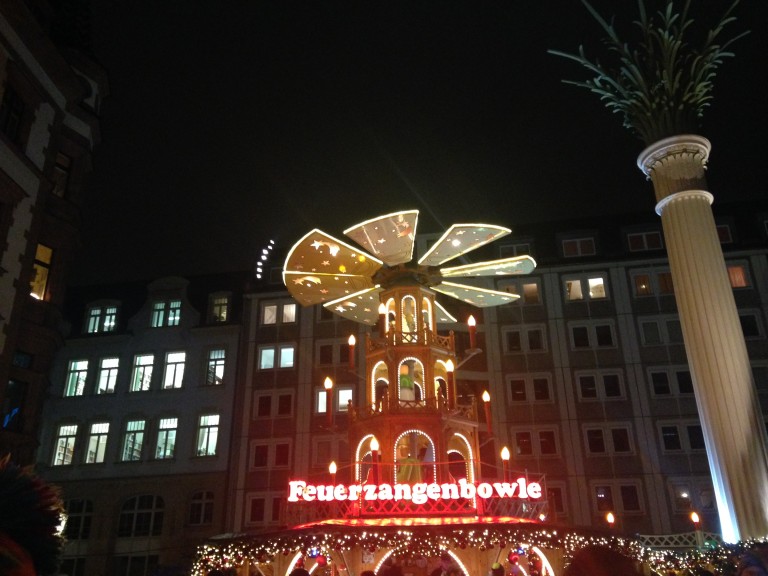 The grand finale consists of – as you may have guessed – hot Christmas Market booze. And some more local history.
One of the best-known stands in the Leipzig Christmas Market seems to be the Feuerzangenbowle one, with the mill on top. That's where we parked ourselves last Tuesday, as we heard about the traditions around the very strong and sweet drink that gives straight-up Glühwein a run for its money.
Even so tightly wrapped in winter clothing that you could only see their noses and foreheads, a couple from Seattle left the tour with a happy glow (and quite possibly a souvenir mug from the Feuerzangenbowle shop). After all, you can never have enough Christmas Market mugs – even those of us (me) who've been there and done that five times a season for six seasons, with half as many cups now sitting around our shelves.
---
Charity Christmas Tour
Tuesday, 18 December, 5-6:30 PM
Bach Memorial
Thomaskirchhof 18, Leipzig City Center
No need for pre-booking; just go and "find a green umbrella."
---