I'm not into hallucinogenic drugs. But I imagine a good trip for art lovers would go something like this.
You arrive at a power plant-turned-gallery in Lindenau, and sit inside a large, darkened room. You wonder if it was the brownie you ate in the gallery café, because suddenly, all the exposed-brick walls start going psychedelic.
Everyone else can see it too, though. But they're just chilling.
Without leaving your chair – or mat on the ground – you move through a spiral-like tunnel. For the next 10 minutes, all around you, the themes of Austrian artist and architect Friedensreich Hundertwasser morph from paintings to nature to cities.
They give you some minutes to recover before an advertisement segment comes into view, with a woman traipsing around the very venue you're sitting in, Kunstkraftwerk (KKW), and doing things to it that you and me would probably be arrested for. So don't try this yourself, folks!
Another waiting period. Now, the hallucinogenic effects are really about to kick in.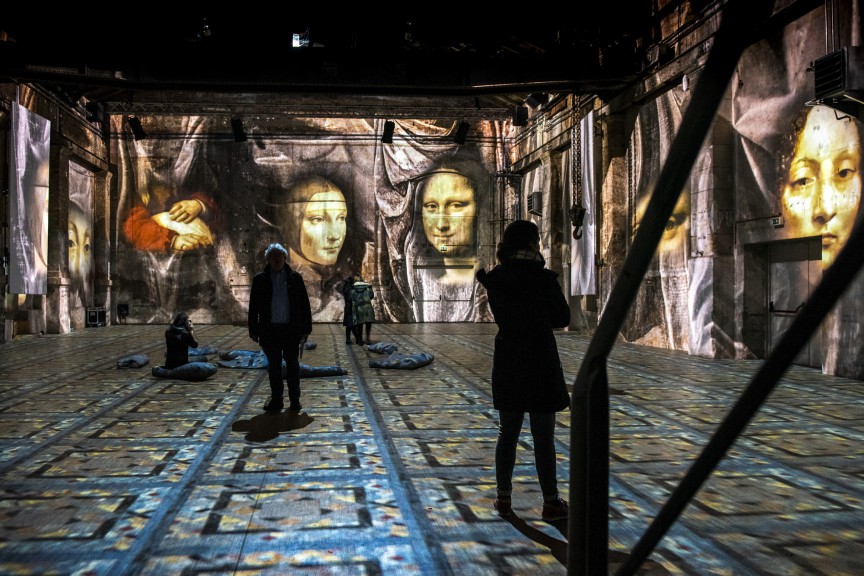 You travel back in time to the Renaissance, and briefly even farther back, to The School of Athens (Raphael). With quite a bit of poetic license, though.
Well-known classical music like the Carmina Burana mixes in with an originally composed score. You see some black-and-white film footage of men breaking rocks in a quarry – for sculptures, I guess – before you get up close and personal with Michelangelo's David. You can almost touch his Adam and God, as their own fingers are frozen forever an inch away from touching, on the ceiling of the Sistine Chapel.
Paintings parade before your eyes, and you are taken so close to them that you can see details you could never have noticed at a museum. Because if you'd gotten this close, alarms would've gone off, and you would've even been arrested. So folks, don't try this unless it's sitting in a chair during a digital installation! Or on other mind trips.
In this hallucinogenic KKW installation, at times it feels like you're in an elevator moving up the facade of a building. At other times, the landscape passes by through digital windows. Like an IMAX theater for art.
If you cannot go to Renaissance Italy, Renaissance Italy comes to you.
The walls, the columns, turn into an Italy of dramatic colors. You feel like you're in a museum or palace, because the digital projection adapts to the shapes lining the room. Windows and lavishly built pillars look like they're really there, projected on the bare walls.
It's as if all the stiffness and the physical barriers between you and the art had been broken. Sitting still the whole time, you're constantly surrounded by it as it moves all around you, 360 degrees. Angels and demons and characters fly up, hanging by each other's hands. Sky and hell. Judgement Day or just a really bad trip?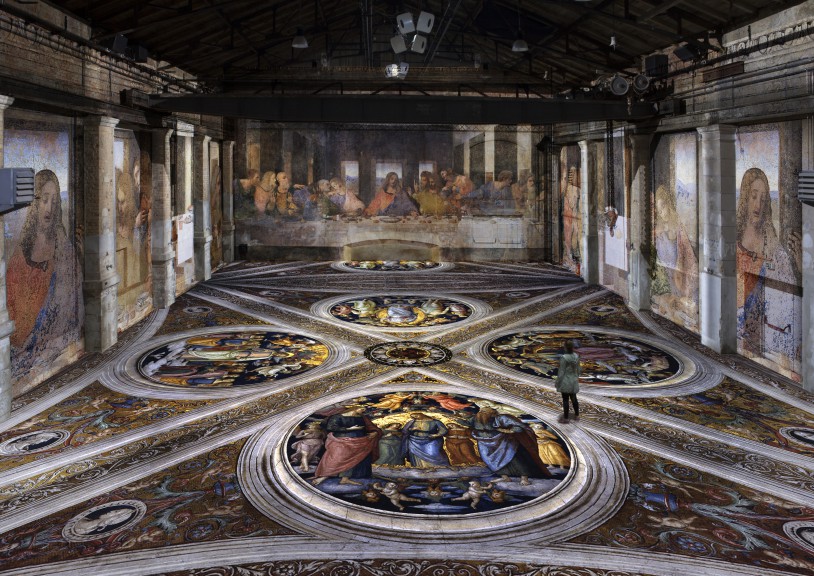 You tour the New Testament chronologically, through the lenses of art. Baby Jesus is born, grows up and then partakes in The Last Supper, where you're basically invited to join the disciples at the table painted by Leonardo Da Vinci. When dinner's finished, you proceed to have a look at Da Vinci's scientific drawings, like the Vitruvian Man.
His Mona Lisa also comes by to visit you, in giant form. In real life, she's disappointingly small, condemned to an eternity of selfies in a packed room.
An hour has passed, and the credits roll. A voice next to you snaps you out of your hallucinogenic daze.
"When you go to a museum you don't pay so much attention or see things from this up close," says visitor and LeipGlo columnist Maximilian Georg. "In the Sistine Chapel, you get pushed through, squeezed through, you don't have so much time to contemplate the art. Because there are also so many little details, but in the chapel you're surrounded by tourists, who take pictures even though it's forbidden."
Here I'm allowed to appreciate it more, to become aware of the true greatness of the art.
He also likes how KKW combined the many different elements, and praises the movement of the images as "carefully and restrained," whereas too much of it could've made the installation "silly."
"They made it corresponding to the structure, so the whole room turns into a sort of Sistine Chapel or Renaissance palace. And the classical music serves to reinforce the impression it makes, or to underline it somehow. It increases the impression that the art makes on you, even though the music is not from the Renaissance. Music reinforces your emotion, whether positive or negative."
The "Giants of the Renaissance" are still waiting for you in the fashionably dilapidated chamber they're spending their residency in. No special brownies needed.
---
Kunstkraftwerk Leipzig
Saalfelder Str. 8, 04179 Leipzig
Open Tue-Sun, 10:00-18:00, including all holidays