It's not often that you hear of an overnight event in Leipzig. Sure, clubs like Distillery sometimes have 24-hour parties, but the idea is not sleeping.
So, a few weeks ago, I was intrigued to find out that the non-profit puppetry theater Westflügel was inviting people to come over with a sleeping bag, an open mind, and no alcohol or drugs in their system. I went ahead and signed up, 'cuz who needs alcohol when there's the prospect of being scared shitless?
Basically, a bunch of strangers would go through experiments together to face their fears, which would culminate into trying to sleep on cots in a big shared room. It would run for 12 hours: from 7:30 p.m. to 7:30 a.m. It was to be a hybrid between installation and theater and workshop, with us as the subjects.
I imagined masked dudes jumping out from behind our cots in the middle of the night, and maybe Dr. Frankenstein. And somehow, I dug the image.
Although the organizers had given away no spoilers, the mere overnight event name was enough to lure me in: Private Dreams & Public Nightmares (PDPN).
Jonas Klinkenberg (Westflügel, Leipzig) and Jan Jedenak (Dekoltas Handwerk, Stuttgart) had tried out a considerably shorter version of the event in Stuttgart. Being successful, they were bringing the longer, overnight version to the puppetry theater in Leipzig. Through the event in Plagwitz, I would learn that contemporary puppetry is not necessarily about marionettes – it's about minimizing verbal communication and giving objects a central role in the performance. These objects could be anything invested with meaning.
Are we the real puppets, after all? Controlled by fears certain objects and places embody or trigger?
I invited my friend Meimanat to come with me to PDPN – rightly guessing that she, as a daredevil, would say yes. She brought another friend, and the three of us parked ourselves outside Hähnelstraße 27, awaiting our turn to be checked in for our overnight stay. About two dozen people trickled into the Westflügel house with their rucksacks and pillows. Everyone on time, or we wouldn't be granted entrance. Oh, the suspense.
Suddenly I remembered the advisory that Jonas, Westflügel's artistic director, had emailed me: "People with anxiety disorders, trauma, or similar backgrounds are asked to refrain from visiting the installation for safety reasons." Maybe I should've listened, I half-joked. I became slightly nervous; the complete dark tends to make me feel claustrophobic. And what's this room we'll sleep in like? The advisory did say the participants were not supposed to scare each other.
The door remained carefully shut as dark-clad Jonas added participants to a list and gave them number badges. He let in just a few at a time.
This setup reminded me of haunted houses I'd visited back in the U.S., though I'd never spent the night in one before.
The minutes passed slowly, and I took a photo of the outside of the house and posted it on Instagram to kill time. Once inside, we were supposed to keep our smartphones mostly off and let the organizers document the evening. Sick of being plugged in all the time, I would happily oblige.
When we were finally allowed in, my first thought was, the ghosts of Bohemians live here. With its prominent chandelier, dilapidated glory and vintage bar, Hähnelstraße 27 is a pretty darn convincing haunted house. I would later find out by talking to people at the event that the centennial art nouveau house had indeed served as a Bohemian ballroom, before becoming a stovepipe factory and ultimately a theater.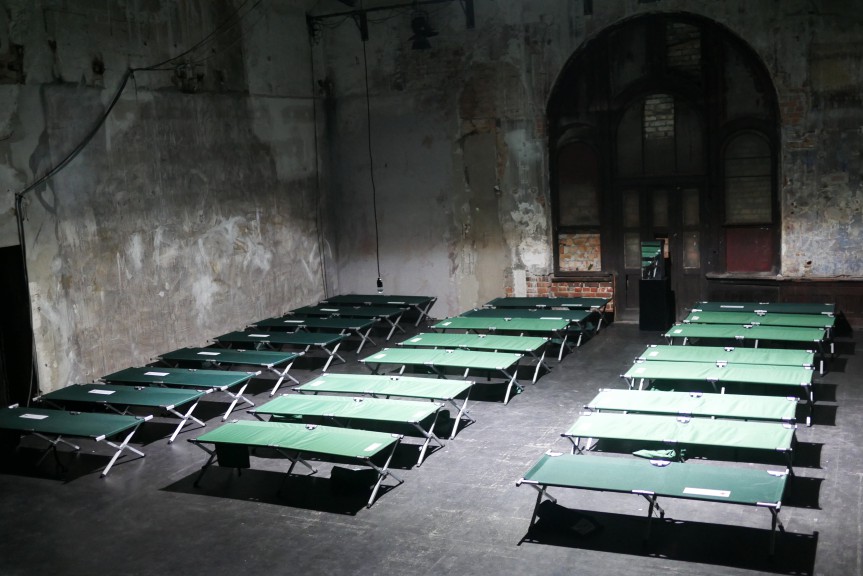 The organizers of PDPN cleverly used lighting and ghoulish props to help set the mood in the house. Sepia and gray tones pervaded the evening – that is, when objects were not glowing in the dark. Westflügel's Dana Ersing was a reassuring presence at the bar, where I would at one point take a pause over hot soup.
But before it all started, we had to drop off our bags in an orderly fashion, then sit at a table and fill out questionnaires. The organizers wanted to get into our heads and channel the information into crafting further installations – like they did with the participants in Stuttgart, making some of their anonymized recordings part of the Leipzig installation. Our answers were identified only by our number badges, so we didn't have to share anything too personal with the other participants if we didn't want to.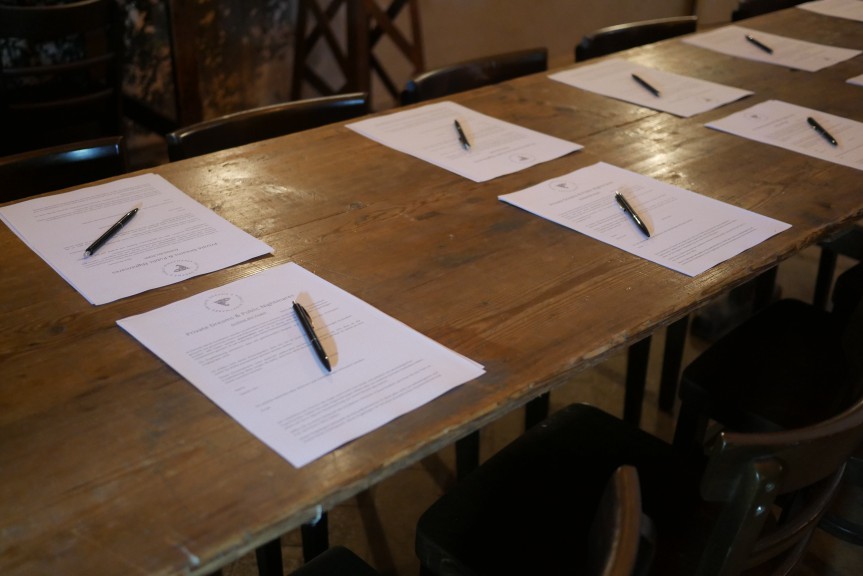 Despite the Germanness of having to fill out a form before entering and exiting an installation, it was a nice surprise that English-speakers got most of the questions in English.
Plus, the lovely people at Westflügel made most of the event itself in English, to accommodate foreigners, and are making events featuring different languages into a trend at their venue.
To maximize quality interaction at PDPN, we were divided into three groups from the get-go, based on our workshop interest: Hypnotism, Seance or The Architecture of Fear. I went with "Seance," while Meimanat and her friend went with the latter, so we didn't get to hang out together that much, or sleep next to each other. Too bad she tells me she had nightmares even for a few nights afterwards, involving a scary movie and a certain song used very loudly on repeat to wake us up and off our cots in the morning…
But really, now. It was good to mingle with the others. Everyone was so friendly, and the atmosphere so harmonious.
We had an ice-breaker round where we were randomly paired up, moving down a row of chairs, and asked to divine each other's childhood dreams and fears, current ages and occupations (I did remarkably well). After making our beds upstairs and drawing an identifying feature on each other's faces – our group's was a tear – we were set loose to explore the stations across the ground floor.
In this interactive exhibit, we got to play political strategists (the designers of fear); to try to "communicate" with spirits (Ouija board); map out the parts of Leipzig that might scare us (for me as a frequent cyclist, it's Jahnallee and its traffic); listen to people's recordings about their nightmares, or to their fearful panting (while we sat in a dark elevator, or held on to a doorknob); stare alone into a mirror down in the basement (while a lit candle distorted our faces); watch a horror sequence in pairs (with one watching the film and the other filming the viewer's reactions); among other psychological activities. None of that triggered me, although one lady told me she was quite scared of the basement – a fear of hers she brought into Westflügel.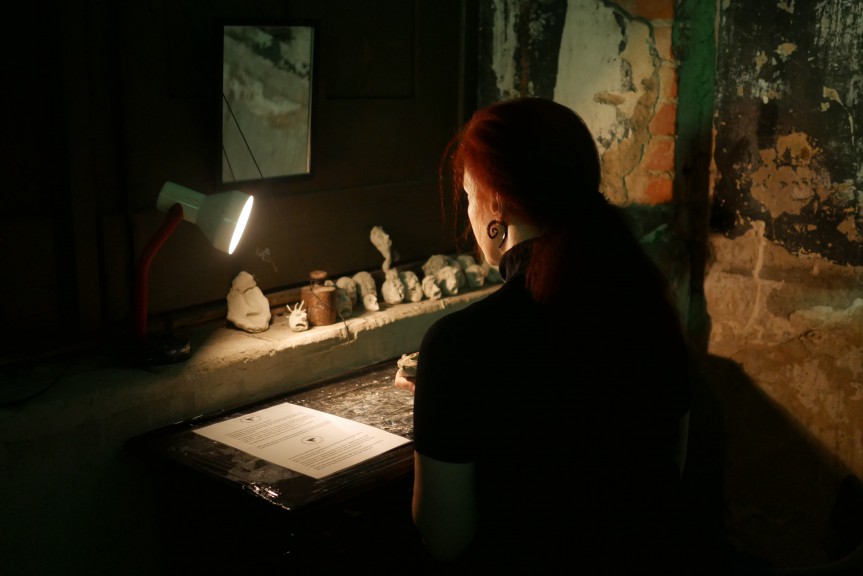 I must say, the most stimulating parts of our overnight stay for me were rather the group activities, around three objects corresponding to the workshop themes: The Metronome, The Knife and The Doll.
When we entered the room to prepare for sleeping, the three objects were encased in glass and glowing in the dark, each at a different corner. Each of the groups had a two-part workshop, with the second part taking place after we'd gone to sleep and were woken up, our daze adding a new element to the experience.
Before going to sleep, we'd whispered nightmares we remembered into each other's ears; Jan, a puppeteer and theater director, reproduced what he heard with some hilarious results. Later, mid-slumber, a creepy sound, representative of their respective object, jolted awake members of each group – I woke up multiple times, too, and didn't know what was part of the performance and what was someone just randomly bumping into things in the dark.
The objects were safe up in their illuminated pedestals, though.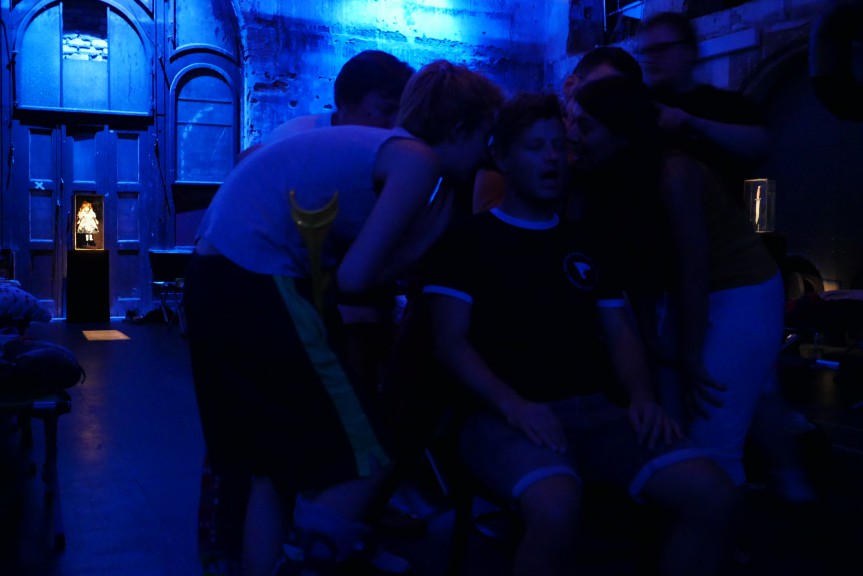 The Metronome
The group formed around this object dealt with hypnosis techniques and learning to let go. One lady told me afterwards that she felt really peaceful, and in such a loving environment. She described an imaginary balloon pulling up her arm. For the second part of this workshop, those from her group who managed to wake up with the metronome ticking sound were asked to gather at the back of the room and chant together.
I don't think I noticed the chanting specifically, though. Perhaps it just all blended together in my head in the middle of the night. Or perhaps that was the time I was having a nightmare that I was in that same room, except being arrested by the Westflügel event people. I don't know why I dreamed that, since I only got good vibes from them. Could it be because the installation was so structured, with so many rules? Or because I felt like I should be ready to jump out of the cot on cue?
I'd lost the sense of time being in there, but we were being carefully timed, and so were the creepy, dreamlike sequences they were throwing our way in the middle of the night. Like with a metronome. Tick. Tock. Tick. Tock.
The Knife
Ok, so now we sleep with a knife in the room. I don't like knives. Is it sharp? I didn't dare try to touch it. The lady who was scared of basements had been entrusted with carrying it upstairs into the room – from the basement. How did they know? Had they connected her fear-related questionnaire back to her?
Our group was told that when we heard the sound of a knife being sharpened, we were supposed to wake up and go downstairs, back to the basement door where we'd been. We were sleeping next to each other in a cot row.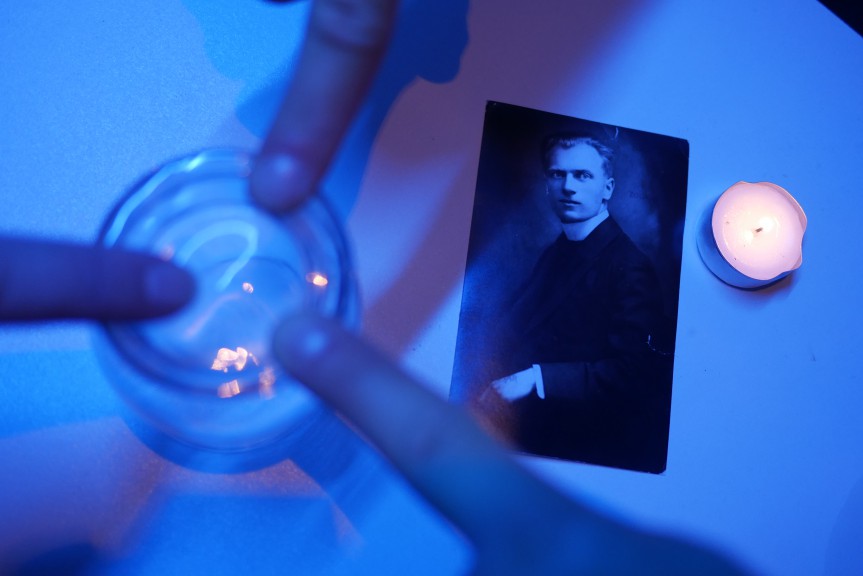 Earlier, Jan had led us into a seance down in that dank cellar. He'd placed the old photo of a man on a white board on the table. We'd made an upside-down glass move by resting our fingers on it. I wasn't frightened, because I'd played this game with friends as a child: "A brincadeira do copo," basically the poor man's version of Ouija.
I was surprised that I was able to get out of the cot and back down into the basement. 'Cuz one of the group members kindly made sure I woke up. In the basement this time we got to ask the "spirit" questions as Jan turned the board over into a surprise Ouija. The "spirit" told us he'd committed a crime in life.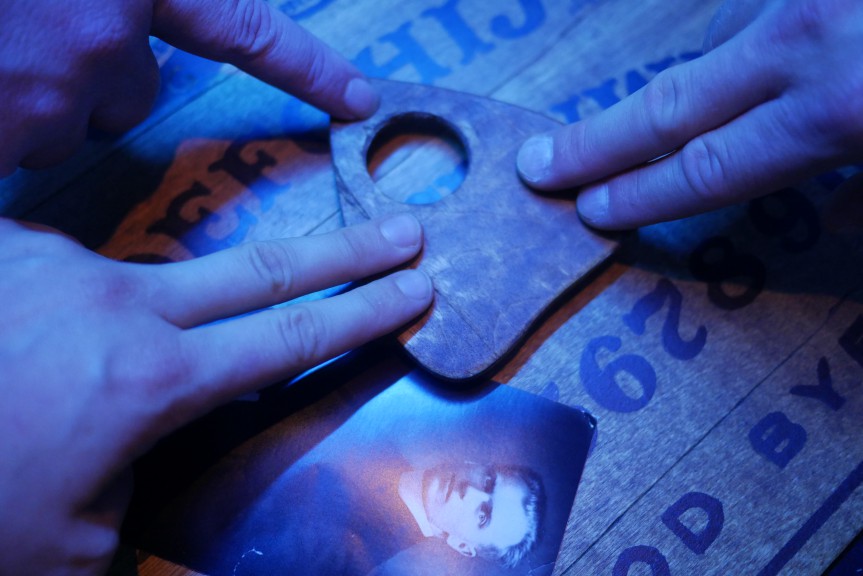 Somehow the photo of a woman materialized. We got the picture. Later, I'd be told that an actual murder was said to have been committed in the house.
The glowing knife in the room, in the glass encasement, turned into an old photo… the man, and then the woman…
The Doll
I must confess I was a bit envious of my friend Meimanat, because I think she got to do the coolest group activity.
When we were downstairs before going to bed, Jonas took her group upstairs and around the sleeping room. He asked them to try to sense what had happened there in the past, and put stickers around the room where they specifically felt something.
Meimanat put a sticker somewhere near the wall and told the group that a lady had "burnt her babies" there. According to Meimanat, for the second part of the group activity – when they'd been woken up from their slumber by the creepy doll – Jonas revealed to them that an artist had destroyed her paintings ("burnt her babies"), and suddenly left Westflügel.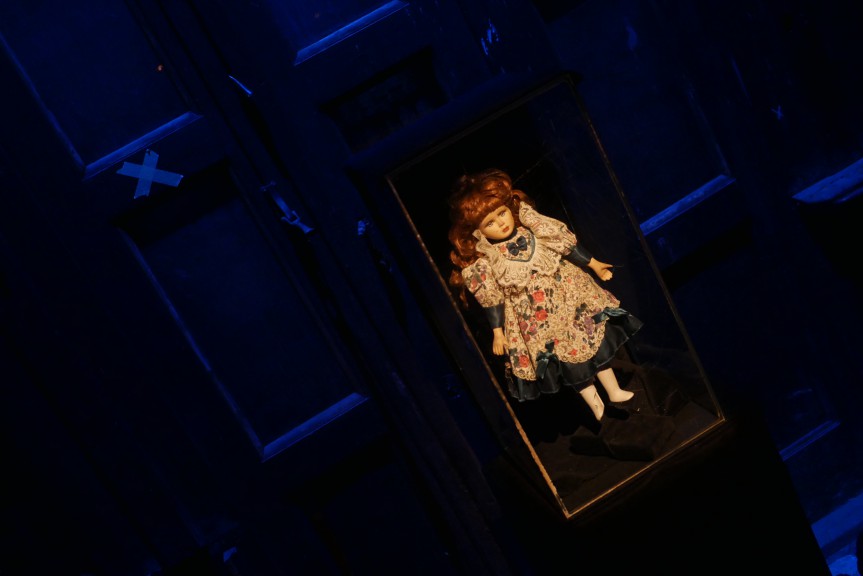 Even eerier was the guess Meimanat's friend made. He put his sticker on the wall and said something like, "a boy was scared of airplanes." Jonas would later reveal that he'd randomly found the doll on display in a secret nook in the wall. It was thought that the doll might have belonged to a child in hiding there during World War II.
Jonas refused to tell me whether they really believed in ghosts or clairvoyance. He'd rather leave it up to my dreams, or nightmares.
What he did tell me was this:
"Jan and I have conceived, designed and implemented Private Dreams & Public Nightmares. We have been working together for individual projects for several years, but this was our first installation of this kind. Added to this are the various artists and participants who have fed their voices, images, thoughts and works of art into the archive. We are currently looking for other places that are interested in PDPN – in particular, we would be tempted by installations abroad to fill the archive with various perspectives. The modular system of the installation makes it possible to design it very specifically for other cities and areas. There are talks with different cultural sites, but there are no fixed follow-up appointments."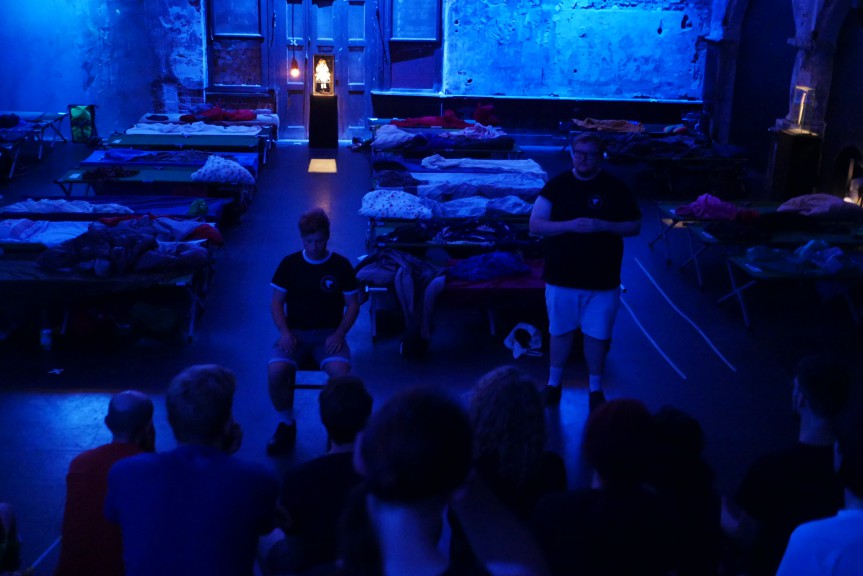 I won't give away any more of their secrets, although Jonas says no two PDPN installations are quite alike. What I'm left with now is a desire to spend more time in that haunted house. Perhaps in an overnight Bohemian party, or learning how to make objects – dolls, metronomes, even (fake) knives – speak without words.