We continue our series of articles on artists featured in this year's MdbK VOIX exhibition, which brought together 28 female painters from the MalerinnenNetzwerk Berlin – Leipzig. For today's article, London-based guest writer Elisha Walkden-Williams gives insight into the work of Isabelle Dutoit. Her view of the natural world will have you asking questions about the future and necessity of humans. 
(series curated by maeshelle west-davies)
---
In today's global climate, we are facing some major challenges. At the expense of modifying our environments to fit the needs of society, we have caused ecological upheaval. Overexploitation, deforestation and pollution are all examples of human activity which is putting species and their habitats under constant endangerment.
With the advent of new technologies, mankind has become increasingly estranged from nature, as well as one and other. We are innately dependent upon earth's natural resources, but seldom acknowledge natures link to our individual psychology and sense of spirituality.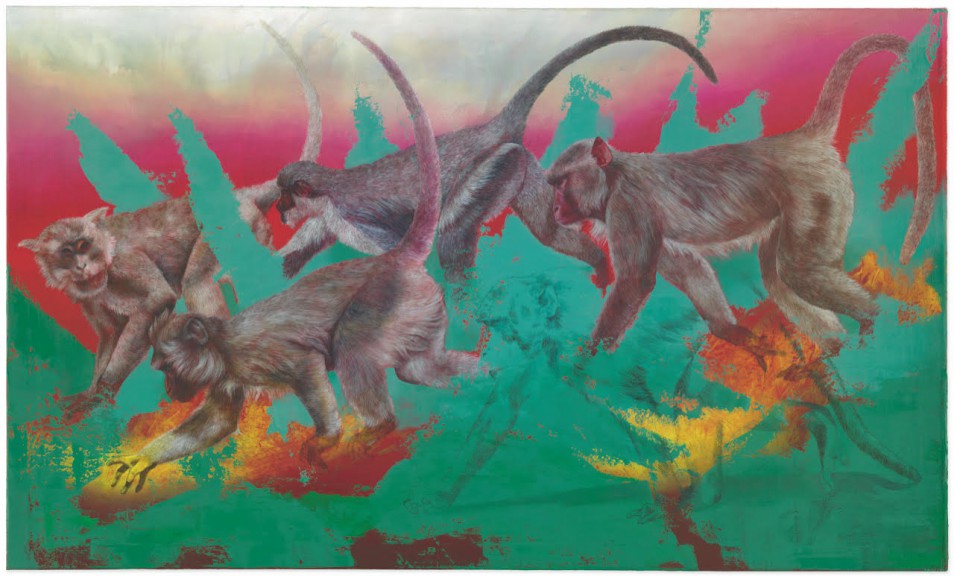 Dutoit paints the natural world in a transcendental light.
Within these dreamy utopias, animals roam free from man's encroachment, their habitats undisturbed. Combining a delicate precision of realism with abstract colour layers, Isabelle forges fantastical realms where dreams and actuality converge. Through superimposing the real with the uncanny, Isabelle shatters the illusion of the image. The familiar regresses into the unknown…
She uses the motif of the jungle to signify a primordial source of creation. Brimful with unruly vegetation and free-roaming wild-life, her vibrant application of colour suggests continuous growth and the pulsation of new life. From the radiant smolder emerge exquisite creatures and a series of unexpected encounters: from sprawled wings high above the earth to poised predators in anticipation of attack.   
Although her style has developed throughout the years, the animal kingdom has remained Isabelle's primary focus.
Isabelle tells me how animals are such an intrinsic part of our world. Therefore, it's important that she presents them in a spiritual light. It is also necessary to think critically about the impact of our actions upon our ecosystem, and the plight of nature in the face of man's encroachment. She continues: The depiction of animals in art is not a new phenomenon. Rather, they have been the subject matter of art for thousands of years.
They came in the form or mythological tropes and totemic practices to those of hunter-gatherer "magic." The ritual of painting wild animals upon the cave walls was thought to bring success while hunting prey. 
The prehistoric origins of rendering animals in art also fizzles into Isabelle's creative process. 
She uses the analogy of the caveman, making his or her markings onto the surface of the cave wall. Her practices consist of complex layering between imagery and color. Beginning with an abstract landscape, she will then subsume her figures within the layers to create a harmonious balance. S
he plays around with the idea of transience through a subtractive approach to figuration. Creatures seem to materialize – sometimes only partially – as though to imminently fade back into the depths of the hazy abyss. As Isabelle states, "I paint the details in order to radically destroy them afterwards."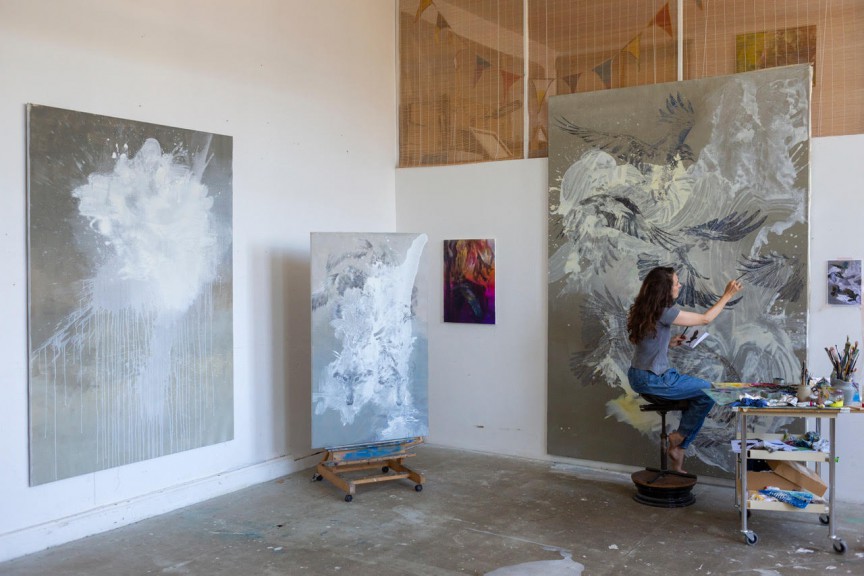 Born in 1975, Isabelle studied visual communication at the Offenbach University of Design, and painting and graphics at the Leipzig University of Graphic Arts. Since 2015, Isabelle has been a member of  MalerinnenNetzWerk Berlin-Leipzig (MNW). For VOIX, at the Mdbk, Isabelle exhibited Monkeys (2019), alongside other works.
The piece depicts a tribe of monkeys set against a rolling landscape of deep oranges, pinks, yellows, and turquoise. She divulges that the work is a direct reimagining of Franz Marc's Monkey Frieze (1911). Specifically, she found inspiration in Marc's use of pure colour to capture the essence of animals in nature; a contingency which can be found across much of her oeuvre.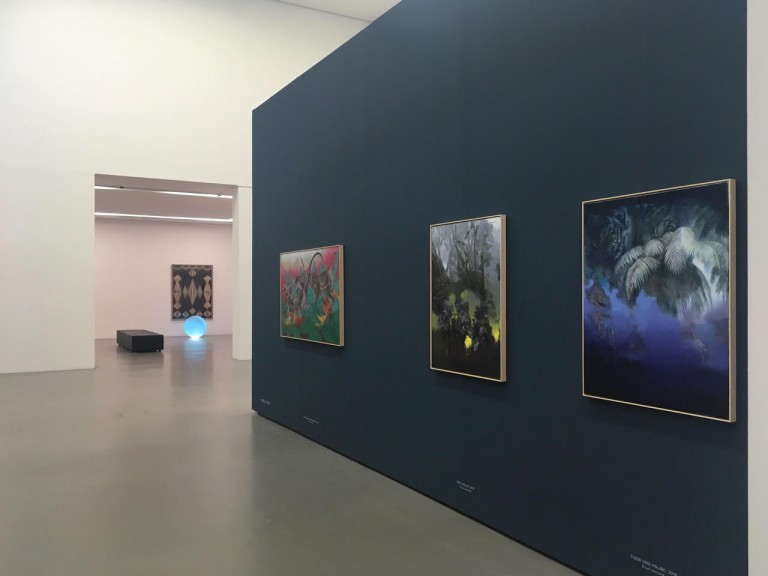 Isabelle's vision might just be a utopia within reach.
Global awareness of environmental and ecological problems is on the rise. Youth-led climate protests are currently sweeping across Europe. Back in April, thousands of Extinction Rebellion activists gathered in London, protesting to reduce our carbon emissions. Plastic bans are proliferating in 2019, with over 127 countries now regulating the threat of plastic pollution to our marine ecosystems. Evidently, there's still a long way to go. However, in lieu of recent global developments, Isabelle's vision might just be a utopia that could someday become a reality. 
Stay tuned… 
With her style in constant flux, her current work is taking on more of a subdued colour palette through a continued exploration of our natural world.  Isabelle is currently making preparations for her forthcoming autumn solo show, entitled Blaue Fährte, which will be held at Galerie Leuenroth in Frankfurt.
For those of you in the area, the vernissage will take place on September 6th!  If not, there's still plenty of time, because the exhibition will continue through to October 18th.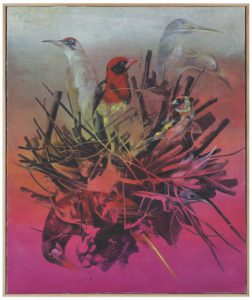 ---
Blaue Fährte / Isabelle Dutoit
Fahrgasse 15
Frankfurt am Main
On view until 12 October
Artist talk: 18 September, 7 PM
New catalogue out now.
---
By Elisha Walkden-Williams
Elisha Walkden-Williams is a Welsh art historian who lives and works in London. Her focus is on gender, psychoanalysis, and subjectivity through contemporary lens-based art and visual media practices. She is currently indulging herself in all the Leipzig art scene has to offer, describing it as a "wonderful city with creative initiatives at every corner."