Originally from Berlin, Digital Career Institute (DCI) came to Leipzig half a year ago. Its initial aim was to teach refugees computer programming or online marketing to help them secure a job in their new Heimat. Now it has opened up to anyone – foreigners and Germans – interested and eligible for benefits from the Jobcenter or Agentur für Arbeit, which pay for the course as further career development. So its current campus in Plagwitz hosts a variety of life stories seeking for a major plot change: Turkish, Syrian, Polish, Nepalese.
A journalist, a translator, a factory worker, a tour company operator, a police officer, an online marketer wanting to learn code now; all looking for a fresh start. Says DCI Project Manager Bianca Dost:
To me, the coolest thing about the program is the diversity.
Here, three of the eight DCI students in Leipzig this term tell us about their journeys and first impressions of their yearlong web development course, which began last month.
Selim Işık, age 32*
---
What would you do if you wrote articles for a living, and your articles landed you on your country's list of "Wanted Terrorists?"
---
A lover of his culture, Selim studied Turkish language and literature. He meant to become an arts & culture reporter in Istanbul, but journalism had other plans for him.
The political situation in Turkey deteriorated fast after the election of President Recep Tayyip Erdogan in 2014. The journalist ended up covering the courts and police, mostly writing about human rights, press freedom and corruption scandals. He became an editor.
After the Turkish coup attempt in 2016, government forces shut down Selim's newspaper, imprisoned and tortured some of his friends, blacklisted him. There was a different charge for every type of investigative article of his: Treason. Terrorism. Supporting the Kurds.
Having managed to hide in Turkey for a while, Selim eventually saw no choice but to be smuggled out of the country.
He took a boat to Greece, then made his way to Germany. Also a journalist on the "Wanted" list in Turkey, his fiancee had to resort to fleeing in a similar manner. They finally reunited and now live together in Leipzig.
The issue of finding a job remained, although Selim speaks German: "As a Turkish expert, you can't live on the money of writing articles for the German media. To earn good money, you have to live in Turkey." For obvious reasons, the latter isn't an option for him.
With his educational background, Selim could teach, but would rather become a web developer because it's more stimulating for him. A friend of his told him about DCI, and now he's hooked:
I was a little bit skeptical because I didn't have a background in IT. But at Orientation, I realized, "I can do that, this is fun." It's a small group; the teacher is attentive with everyone and takes time to explain.
Selim wants to remain in Germany for the long haul. His two other classmates interviewed say the same.
(*Interviewee chose an alias for this article in order to protect his identity.)
Luay Mallak, age 35
---
How life can change so drastically in a few years: from videogame translator to persecuted activist to asylum-seeker and finally, programming student. 
---
Luay was born in Swaida, close to Syria's border with Jordan, and went off to study English-Arabic translation in Damascus. However, he had to drop out of college in 2011 due to persecution from the Bashar al-Assad regime. To keep a lower profile, he took his activist work online, along with his now-wife (a journalist herself) and twin brother (also a translator).
Like his Turkish classmate, Luay would find himself on a "Wanted" list. The Syrian Secret Service stormed the office they'd been working from, and even visited his parents.
The three young people retreated back to their hometown and hid there for a year, in a place a friend had rented for them. Physical separation came six months into hiding, when his girlfriend's presence became too conspicuous, since "it is unacceptable" in Syria for an unmarried couple to live together. So she left for Turkey in 2013.
Meanwhile, Luay and his twin fled first to an area out of government control in Syria, and then – when it became too dangerous because of constant bombings by the regime – to Jordan.
Fast-forward to 2014, and three more countries: Turkey (where Luay and his girlfriend got married with the help of the Syrian opposition coalition); Spain (for which they got a Schengen visa to attend a conference); and finally Germany (where they got moved around to three refugee camps).
As of August 2015, Luay and his wife have been building up a life in Leipzig. They have since had a child, and his brother has managed to join them here.
Luay found out about DCI online and through a friend. The translator sees programming as a fourth language – after Arabic, English and German – and is excited about how it can complement the skills he already has:
I always liked computer science but could never study that. This will open a lot of possibilities for us… I'll be able to work as a developer in multiple languages.
Besides learning to code, he is excited about having the possibility to study technical German as part of the course, as well as getting practical advice for and contacts in the local job market.
Radoslaw Morag, age 27
---
Hating your job can feel like a prison. 
---
Radoslaw has a logistics background from his studies in Poland, didn't like it but still got his degree: "When I start something, I must finish it." Change was coming his way, though.
He would come to visit his father in Grimma, Saxony, and ended up falling in love with a German. Like many foreigners, Radoslaw decided to move to Leipzig for this reason.
This decision from three years ago could actually end up transforming his career path.
He could only get jobs on the production line of German car manufacturers, and that got old fast. The physical work was "boring and repetitive" and made him reflect on having chosen "the wrong path [and making] life mistakes."
I like to problem-solve. I was feeling that I had more potential.
Eventually he left the factories and, after finding out about DCI via social media, approached the Agentur für Arbeit. It will fully cover his tuition fees.
His course lasts until December 2020, when students will walk away having run the gamut of programming languages and their practical applications. They will also have the chance to look for internships with DCI's guidance.
Radoslaw has dabbled in computers and sees how connected web development is "to many sectors." To him, people's jobs are being replaced by "robots, machines," and one needs to adapt to survive in the market.
The former factory worker doesn't know what exactly he wants to do next, what he'd like to specialize in. But he expects the "really useful skills" he's developing at DCI to help get him there. Because now it feels right.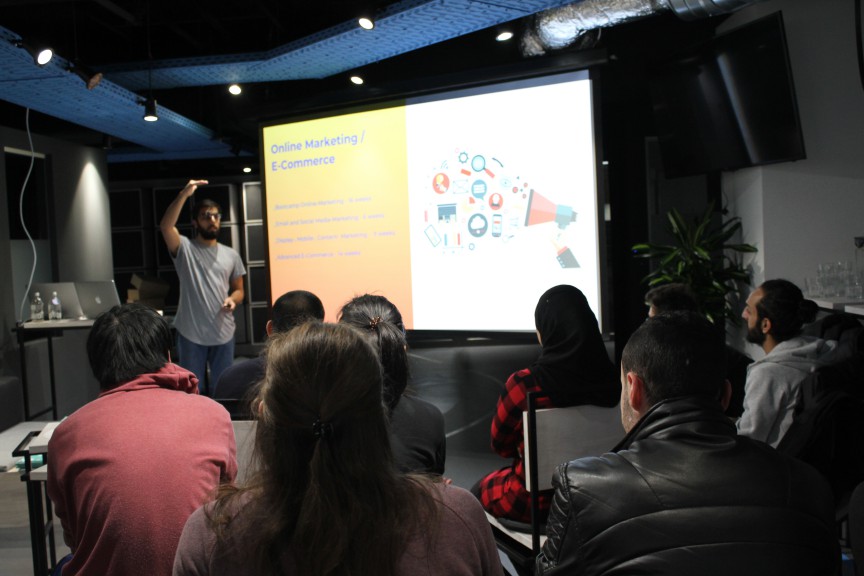 DCI will be at the LeipGlo Job Fair on 26 November at WERK 2. They're looking for instructors, if you're interested and qualified. They're also eager to meet potential students from all walks of life. Each Wednesday at 6 PM they host an open info event at Simpli Office (Markgrafenstr. 2, 04109 Leipzig).