The 3rd LeipGlo Job Fair, on November 26th, brings at least 26 companies and organizations together at the super-cool WERK 2 in Connewitz. You can register right away via Eventbrite for your free ticket!
Below you can have a look and find out more about these exhibitors and what they're offering. Many have a variety of open positions in fields such as IT, software development, marketing, business development (BizDev), sales, teaching and more. Others are offering different kinds of services to get your career in Leipzig started or to make your life a lot easier.
Check out the LeipGlo Job Fair stand map, where the companies are clustered and color-coded into four different categories.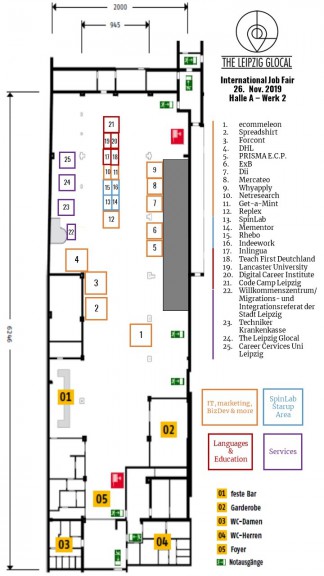 ---
Many companies at the LeipGlo Job Fair are looking for your skills.
We at The Leipzig Glocal have regularly surveyed people interested in our job fairs, or who have attended them in the past, for their career-related profiles and goals. The purpose has been to get exhibitors whose jobs match our audience's skill sets.
Here are the companies coming to our job fair with an array of positions relevant for our readership, grouped into blocks at the job fair.
[cmtoc_table_of_contents]
IT, marketing, BizDev, logistics

The SpinLab Startup Area
Interested in up-and-coming companies? SpinLab is the sponsor of the job fair's "startup area" this time around. They are bringing some of their exciting startups – offering a young and dynamic atmosphere – to recruit new talent.

Languages and education
For all of you with a background in languages, language teaching, and teaching other subjects, this is the section for you.
The Service Bloc
Visiting these companies and organizations is a must for all of you with questions on vital topics such as health insurance, dealing with the city's institutions, and career possibilities in Leipzig.
Attending the 3rd LeipGlo Job Fair
As we've mentioned up top: It's easy (AND FREE) to register for the LeipGlo Job fair through Eventbrite!
WHERE: WERK 2, Kochstraße 132, 04277 Leipzig – in Halle A
WHEN: Tue 26 Nov 2019, 2-8 PM
---