I'd often heard the word "startup" over the past several years. My university in Mittweida, Saxony, had a startup network and offered the chance to take part in founder workshops. TV shows I came across depicted founders who had supposedly turned their ideas into successful businesses. But could this be so easy? It seemed so far away from reality. I couldn't really grasp any of it.
Still, I was interested in finding out more.
It took coming to Leipzig to make the concept tangible for me. I got my feet wet via an internship at the local 2bAHEAD think tank, where the working environment suited me perfectly. I enjoyed engaging with the startups (basically, young companies) the think tank catered to, and finally got some practical understanding. Getting acquainted with publications on founders, startups and technologies further reinforced this new understanding.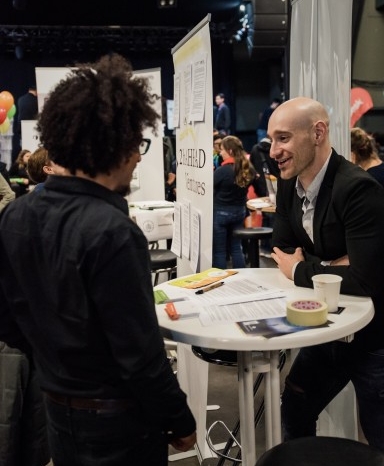 The 2bAHEAD internship gave me the opportunity to work for the Future Congress, where I was responsible for the speakers. I got to meet a lot of founders, CEOs and COOs, and hear how experts projected the entrepreneurial landscape for the next decade. They were from all over the world and had such remarkable personalities. They all had great visions for the future. And what can I say – I was overwhelmed by all of them and their motivation.
Now, the more I get to know the startup concept, the more I see beyond its "company" side. I've come to see the "startup" as a constantly evolving process, kind of like a big room for ideas, in which thinkers are innovating and trying to solve real world problems. And when different startups come together, they compose an enormous tank of ideas and creativity that they share, grow and spread. And the more they all connect, the more they evolve.
To me it feels like a chain reaction – there are people bringing in an idea and when they meet each other, more ideas meet and spread and everyone profits from the exchange.
A second internship in Leipzig, at Basislager Coworking, is enabling me to participate in furthering the understanding of the startup concept not only among entrepreneurs, but also for the general public.
Here, I get to help organize Startup SAFARI Leipzig 2020. Usually a physical, open-door event, this year's SAFARI is going all digital due to the Corona crisis. This festival for founders and innovation takes us into the offices and spaces of different startups, accelerators or incubators locally. I'm already super excited about all the input we'll get there.
Topics range from founders' stories to tech talks and lectures about legal and marketing issues when setting up a company. Sessions for early-stage entrepreneurs ("how to start up") are complemented by advanced talks ("how to scale up"). There are livestream sessions, interactive webinars, virtual networking events, and insights from entrepreneurs on new technologies, modern workflows and the whole regional ecosystem.
Startups really have a special spirit; they can inspire, they can motivate and they can make you work your ass off in joining an existing team or even venturing into founding your own company.
This could be you: a €20 ticket gives you access to ALL sessions and events at Startup SAFARI Leipzig. Some sessions will be held in German, others in English, and you're bound to find something that suits you. LIKE THIS POST on the LeipGlo Facebook page for a chance to land a €20 voucher.
Check out all the ticket options HERE, but hurry up because the online event is actually happening this Thursday and Friday, May 28th and 29th, and there are lots of sessions to choose from.
Whether you want to get insights into Leipzig's startup scene, are looking for a job, interested in founding a company or finding investors, delving into SAFARI is an opportunity you'll definitely want to take advantage of.
By Sophie Nehls