Have a goal you want to achieve, an idea you want to make a reality, a need for change or the urge to learn something worthwhile? Code Camp Leipzig tells us how programming could be your tool for growth and advancement, to make a dent in this world. Their fourth class starts 15 February 2021, and applications are open until 15 December this year. Code Camp Leipzig is also currently in the process of applying for Job Center certification to provide an alternative financing option for their classes.
---
At one year old, Code Camp Leipzig (CCL) is creating visions for the future. They are planning to scale up, and not just in one aspect.
To widen their educational scope, they're now also designing formats that support mid- and senior-level developers instead of focusing only on junior developer formats. In addition to that, co-founders Taylor, Gabriel and Franz are working on an individualized learning program to help their graduates chart a path for their learning based on the projects they want to realize and the career they would like to pursue. They will also offer their students and alumni weekly sessions to review code, give feedback and resolve problems.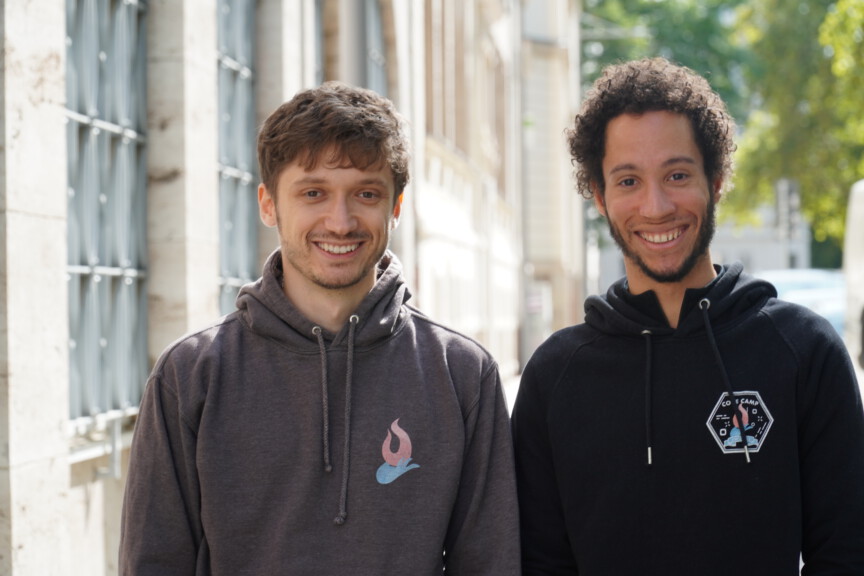 Thus, Code Camp Leipzig is evolving into a more comprehensive, but also more focused, program. That is possible because of the experience they have gained since they opened their first classroom.
It's been a wild ride. Exactly one year ago, CCL launched its first class of aspiring junior software developers. Ten motivated students with little to no experience in coding would soon reach the level of junior developers and go on to work for tech companies. They would get to apply the knowledge they gained through Code Camp Leipzig into realizing their goals and ideas.
Now, in 2020, amid the worldwide COVID-19 pandemic, the third class of Code Campers will graduate in a few weeks. It's time to sit down and take stock.
CCL had an ambitious plan from the beginning. They never wanted to be just another school that was stuffing people with knowledge. Instead, they wanted to rethink education, create a community, empower people to realize their ideas, and thus have a positive impact on people's lives.
"Code Camp is very selective because we want to teach and empower people who want to do more than find a job. We're looking for the ones that want to change things, the ones that will have a positive ripple effect on the community in Leipzig." – Taylor Harvey, co-founder
Looking at what they've already achieved, we think they're definitely on the road to success. In the past year, they have managed to build a community of experienced instructors, alumni and new students in which people help and inspire each other and in which there is a place for every skill – be it a technical or a social one.
Code Camp Leipzig aspires to be a neutral platform for people who normally wouldn't find common ground to work and create together. Considering the diverse backgrounds, levels of experience and aspirations of their students, we'd say they've done just that.
That CCL has managed to build such a welcoming and productive community is closely linked to their way of teaching. Taylor, Gabriel and Franz have worked tirelessly to create a learning environment in which every student feels seen and supported. That's because they know that everyone learns in a different way and if you want people to succeed, you need to give them the room to find what works for them.
"I'm a self-taught coder and it took me a long time to be confident in my abilities. I want to help other people who are starting out in that field and make their learning experience better because I know how hard it can be." – Gabriel Heinrich, co-founder
A sure way to learn something is to just do it – that's one of the reasons why CCL is all about the practical side of things. They are providing their students with the theoretical knowledge necessary to get started, but then they let them code. The students solve real problems given to them by real companies. During these projects, they are guided and supported by their former instructors, who are senior software developers themselves.
Code Camp Leipzig's appreciation for practical experience and knowledge is also visible in their selection of instructors, since they only hire professional developers as instructors. That way, CCL students learn from people who have up-to-date, on-the-job experience and know the reality of working in the tech world.
Also, CCL has proven that they are able to adapt.
When the Corona lockdown hit, they had to move their second class into home office and start teaching online – two days after kick-off. And they found out that working and learning remotely is not right for everyone because you have to be able to give yourself a kick in the butt, structure your day, and move forward without someone standing behind you and pushing you up the hill. Also, the supportive and helpful connections that form in a physical classroom are difficult to replicate in a virtual setting.
Good thing that many of the Corona restrictions were lifted and Code Camp Leipzig got to finally open their new classroom at Basislager Floßplatz, so that their third class now gets to learn in a physical classroom in addition to having online classes. Within this hybrid setting, students get to physically connect with each other and the instructors. Meanwhile, having some students learn remotely frees up space in the classroom and gives students the opportunity for undisturbed "code-alones" or break-out sessions with each other. There is still a lot to figure out, though; like how to configure this modular learning space in a way that every student is afforded a similar experience and gets to choose how they would like to use this hybrid space.
Through all this, one thing has become very clear: At Code Camp Leipzig, it's not just the current students who get to learn and grow.
The instructors, the alumni, the company itself, have learned and advanced to a notable degree. That is due to the fact that CCL has created an environment in which learning is a two-way street. Co-founders Gabriel and Taylor tell us that by teaching their students, they themselves have learned about new technical tools, different modes of learning and teaching, and ways of capturing attention. And not just that – they have also learned about themselves, their assumptions and motivations.
The dedication and the inspiring perspectives of their students have spurred them on to step up their own game; in teaching, programming and their own personal growth.
"I want Code Camp Leipzig to build up programming talent in the city because it will attract even more talented people and foster a community of related professions as well. This will make it easier for us to do what we want to: work with cool people, build shit we care about, and help shape the place we live in for the better." – Franz Wollang, co-founder
---
You can meet the folks from Code Camp Leipzig at the next Leipzig Glocal Job Fair, on 10 November 2020.