With Philoctetes, ETL has once again (as with Eurydice last year) chosen an adaptation of a classical Greek myth. Adaptations are murky territory, at best. Even if you get it exactly right, you'll still piss some people off. Updating any old classic, be it Greek tragedy or Shakespeare, is always going to be tricky. A single word or modern turn of phrase can make the whole thing seem off.
There is a lot I like about this play, and I enjoyed seeing it.
I like being swept up in a story arc. I appreciate being taken on an emotional journey, mesmerized by characters brought to life. In that sense, this production was quite successful. A full house, rousing, extended applause and a cast that seemed happy with their opening night performance.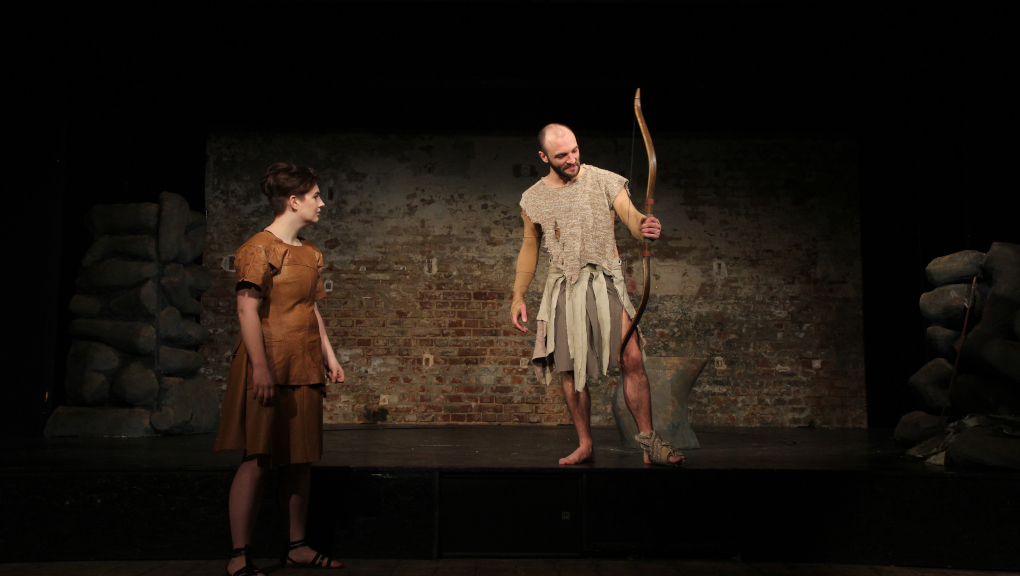 The original musical score by Matthew Hendershot is brilliant, in my opinion. His music, especially in the first half of the play, adds depth and emotion to each scene. It alludes to the drama, soars through the emotional peaks and prepares us for what is about to unfold. Taking nothing away from the chorus, I could've done with a little less singing, perhaps. It seemed a tad forced having them sing quite so many of their lines. Nonetheless, I found the concept of a Greek musical quite novel.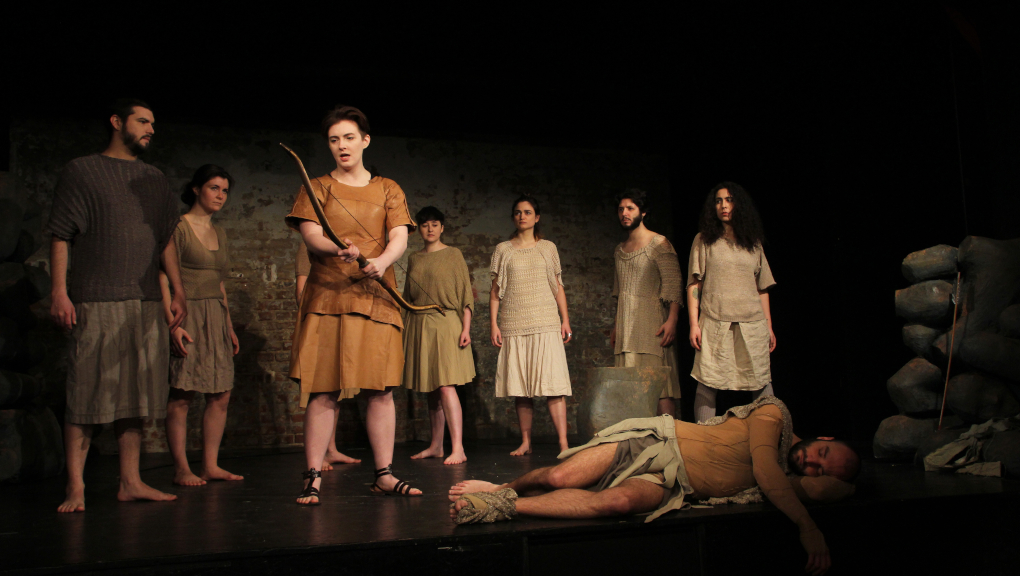 Felix Kerkhoff's portrayal of Philoctetes is compelling.
His tender happiness at hearing his mother tongue, at seeing fellow countrymen, was moving. Betrayed by his comrades and left to die ten years prior, he is pityingly eager for compassionate human interaction. Consequently, he is absolutely primed for the trap set by Odysseus and executed by the wavering Neoptolemus.
The casting of female actors for the roles of Odysseus (Laura Shann) and Neoptolemus is an interesting directorial choice. Besides casting two very competent actors in leading roles, I don't understand the reasoning behind it. There didn't seem to be a specific need for having women portray male characters. Perhaps Leipzig just lacks English speaking male actors?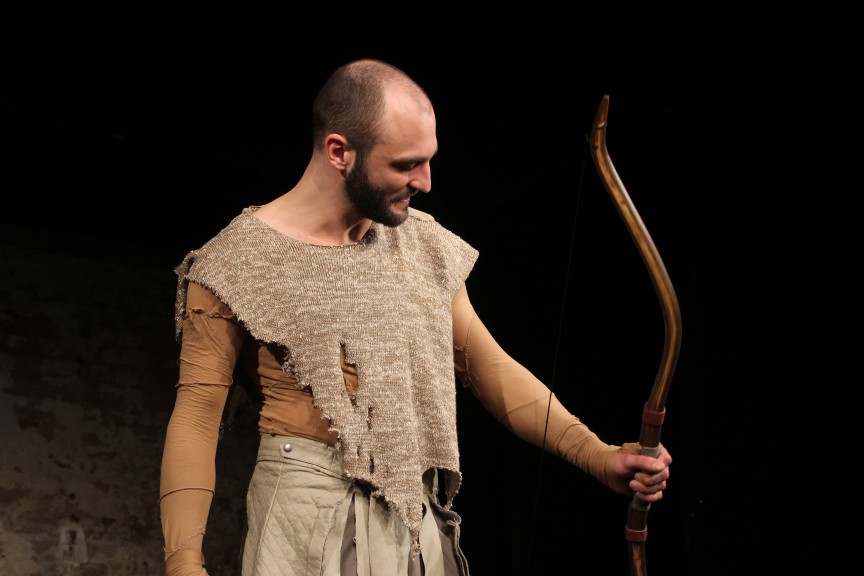 Directors allow their actors varying degrees of freedom in interpreting their characters.
However, I couldn't help but wonder at the stoicism of Neoptolemus, faced with Philoctetes' absolute anguish. Along with several other audience members I was on the edge of my seat. Kerkhoff's writhing suffering swept us along; his character's pain palpable. At this, the emotional apex of the play, Philoctetes' new friend, Neoptolemus, seems frozen. He is the only other principal character on the stage at that point. Why the choice to have him just stand there? While Emily Wessel does well projecting the inner turmoil of her character, at times this felt overextended. Everything he feels and thinks happens internally. I wanted him to DO more.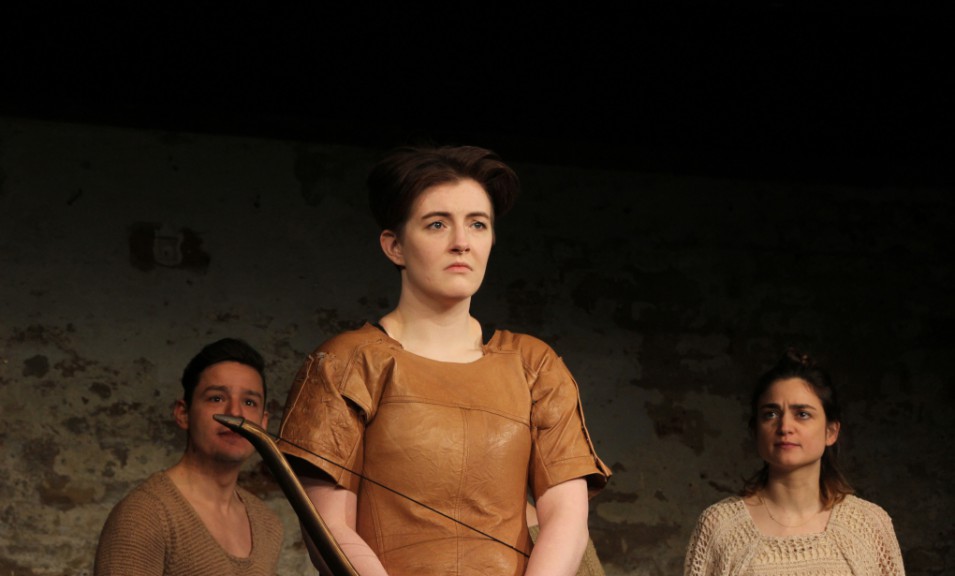 Overall, I thought the performances were good. The chorus has some very talented actors, and a few fine voices. Kerkhoff plays his heart out, although I was afraid he might topple off the conveniently flat stone at center stage at one point. Mid shuddering, gut-wrenching spasm, I was worried he'd do himself an actual injury falling off his cave seat.
In addition, the props, set decor (that oddly-shaped pedestal notwithstanding), and lighting all came together well. The lighting worked brilliantly with the very stylized make-up, which I found curious at the start. On top of that, the costumes are interesting, very innovative – if not in all cases equally flattering.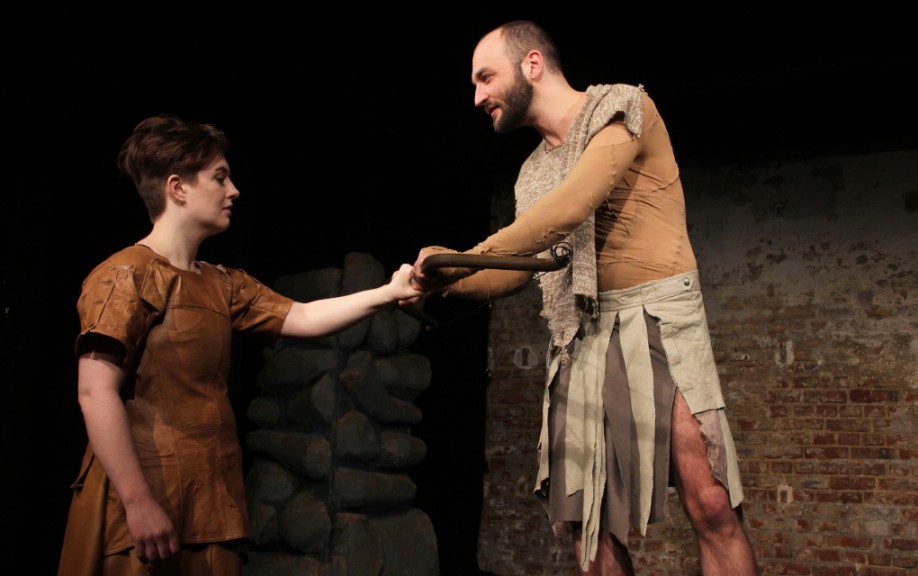 I was most surprised by the conclusion.
This was largely due to Akavia's writing and directorial choices, which at this point veers off a bit from the original. I found myself almost caught unawares, as if I was a few steps behind and suddenly it was house lights and bows and applause. We all went through Philoctetes' emotional and physical agonizing and suddenly, BAM! The end. In the original play, Neoptolemus's emotional crux happens when he decides to go back, defying his superior officer's orders to return the bow of Heracles to the suffering castaway. With that in mind, leaving it to take place off-stage seems a missed opportunity. I would have loved to see what Wessel would have done with that, given the chance.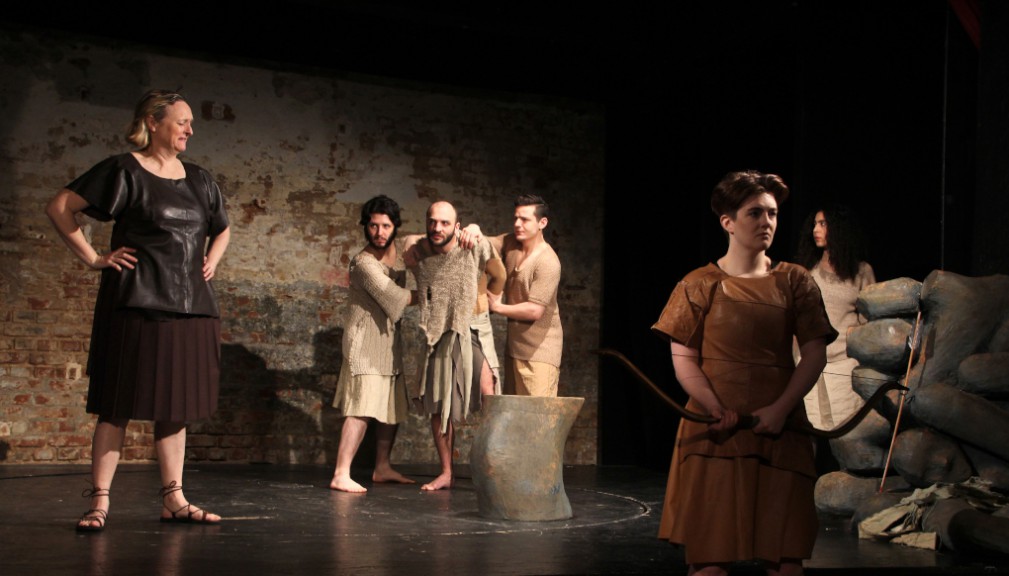 Final verdict? Go see it. Theater has to provoke, to be engaged with, to be discussed. I am interested to see how ETL approaches their remaining shows of the year. In my admittedly limited experience, there have been some hits and misses. Which is not unusual for an amateur, community-based company. There have been some extraordinary highs (think The Mysterious Mr. Love) and others that received mixed reviews, at best. Certainly, ETL has very talented actors and production people in their cadre, and I have seen many of them shine. In this production, perhaps a little more creative freedom for the players would elevate it to the next level.
Philoctetes is directed by Abigail Akavia, with Justin Sands as Assistant Director. Tickets are available online or by telephone at: 0341 927 997 70.
Dates: 20th and 21st of March 2020
Time: 20:00
Place: The Neues Schauspiel Leipzig, Lützner Str. 29, 04177 Leipzig
Tickets: 13€, reduced price 9€