Klein- or Schrebergartens have formed an integral part of society since their inception in the middle of the 17th century in Germany. From there, they spread to the rest of Europe during the 18th century. Since then, their meaning has changed many times. Not only in the East and the West, but throughout the World Wars, through communism, and now in the modern EU.
What is important is the significance they have for the individuals who tend them. Their purpose, their implications, and the value they hold for life and living.
In most cases, they are a private sanctuary for people from their day-to-day lives. A place in which they can privately and communally express themselves, seek refuge from the outside world, and keep in touch with nature.
Today, we are experiencing more rapid change than ever before, or at least in the last several generations.
Will the meaning of gardens, their significance, change due to world issues?
Culturally-fluid photographer, Bianca Otero, approaches today's allotment gardens artistically, exploring their significance as a personal retreat. An expression of individual preferences and creativity. A refuge of nature and tranquility away from the hustle and bustle of everyday life.
Bianca took time out from her travels through Europe to answer a few questions for us. She is currently on her way to Leipzig for this exhibition, which was on hold for the last two years due to travel restrictions.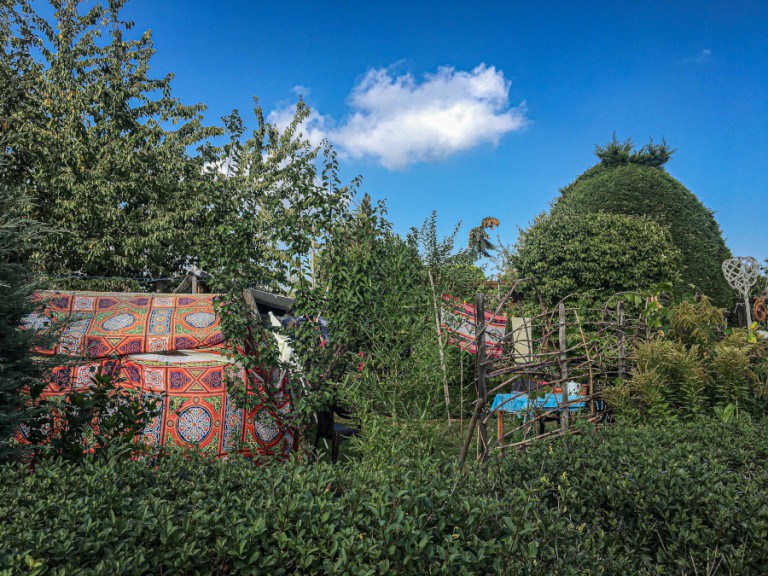 LH: How did you end up in Leipzig?
BO: I found an art residency that turned out to be based mainly in Berlin. They had just opened up a "testing" site in Leipzig. There wasn't really a program. I came alone and was basically just given an apartment…
LH: How did you land on the idea of photographing the Schrebergartens?
BO: Well, I didn't have many contacts here in Leipzig and was a bit lost. As a result, I was randomly going around doing things and getting to know the city.
I ran to the Monument to the Battle of Nations and it was a great run, I recommend it. Then, on the way back, I passed the Panometer, and next to it was a huge spread of gardens. I went in, got lost inside, and spoke to people. Some of them invited me in to look at their gardens and chat. They were really lovely. Calm and happy.
It was peaceful and soothing, in a somewhat stressful moment of unfamiliarity.
However, that wasn't the first time I had seen them. I had experienced these gardens in Switzerland, France, and Germany when I was younger. I had simply forgotten about them and was reminded when I encountered them again in Leipzig.
It was just by luck that Leipzig happened to be the birthplace of Schrebergartens, in 1864. On top of that, Dr. Moritz Schreber, the inspiration behind Schrebergartens, didn't initially focus on gardens. In fact, as a professor in Children's Health at Leipzig University, he was concerned with children's lack of outdoor play areas. The gardens only came a bit later. But there is so much interesting history about them, I am sure there are historians who would disagree with me!
Nevertheless, I didn't know any of that beforehand and really, I was just trying to find something that resonated within. Additionally, the woman who ran the art residency came to Leipzig from Berlin for a few nights. I voiced my interest and she mentioned the Kleingärtner museum. This was even more of a sign for me and an arrow pointing in the right direction.
I am fascinated with nature and have always been drawn to it.
Especially now, at this point in life. Cities are just too big and impersonal for me.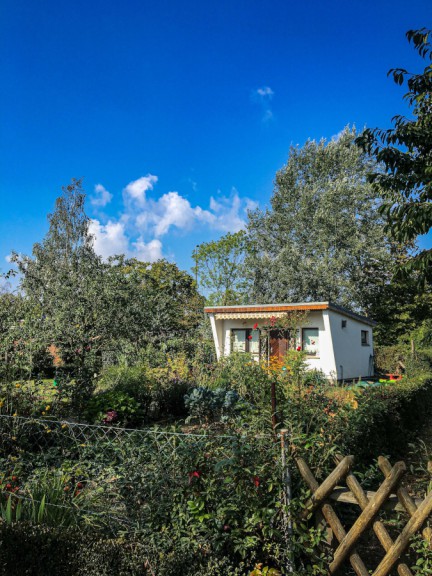 Immediately after that, we went to see the museum, which was a ten-minute bike ride away, how convenient! We had a nice schnitzel and enjoyed their outside cafe, in the middle of the estate. Surrounded by gardens, it literally sits in the middle. One is enclosed on all sides by the gardens, with a view of the beautiful museum itself. While there, I knew I found what I wanted to do in Leipzig. It just felt right. I mean, talk about signs!
The museum itself is fantastic. There is great information about it and the grounds and a great display outlining the history. The difference between the "Schreber" and "Klein" meanings are conventionally no different, but historically they are significant. I will save the explanation for a bit later, or for whoever comes to the exhibition or decides to research on their own.
Everyone who works there, including the museum director, Catarina, is so helpful, funny, enthusiastic, and encouraging. I pretty much parked myself in their office at every opportunity. They became a center point for me in Leipzig, and I still feel close to them.
LH: What was it that appealed to you most about these little gardens? What do you think makes them unique?
BO: Their quirkiness…
Hate to say it, but on a superficial level, Germans can get a pretty bad rap.
I think they are misunderstood. Sometimes, at first appearance, one might say, it seems there isn't an embracing openness or friendliness. However, when you walk by these gardens, you can see there is a whole lot going on underneath the surface…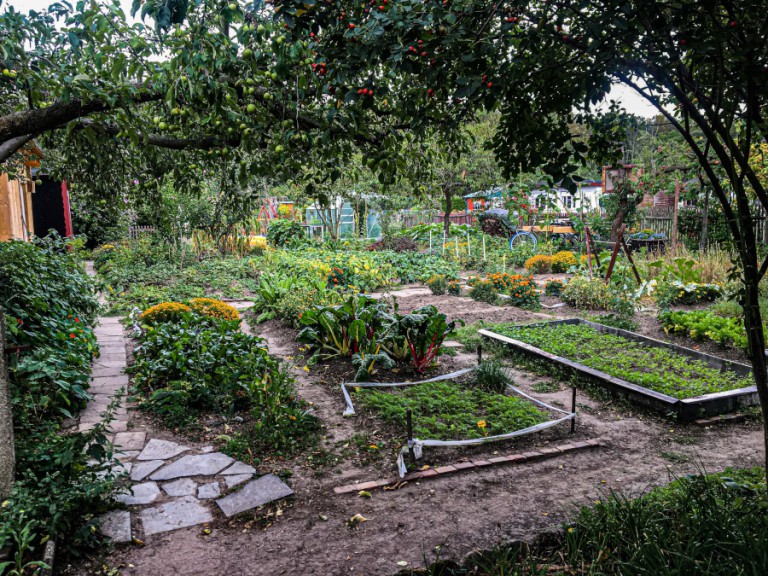 LH: What other projects are you working on at the moment?
BO: Well, I don't like to talk much about what I work on for fear of jinxing them! But I can say that before the war in Ukraine I focused on conservation, environment, and wildlife, and was enjoying it.
However, the war has changed and diverted the focus for the time being.
Without embellishing too much and being a downer, the world is experiencing a critical moment. Furthermore, as of late, this area has become a concern for so many close and dear to me. So without trying to sound meek, I focus on topics pertaining to or affected by circumstances both locally and globally.
I do plan on getting back to focusing on conservation, etc after it is over. I feel we need this nipped in the bud and taken care of before we think about saving the environment… Anyway, when it gets to that point, which I believe it will, I am sure my focus will have morphed into a new combination of things.
The gardens are a topic that connects to these changes, in their own way.
We are all connected. Everything is connected. Therefore whatever it is we are working on, studying, researching, finding meaning from, it is all connected to the bigger picture.
Personally, the gardens will be a continual project. I can see about three or four steps ahead with where I want it to go.
---
Bianca's exhibition, Schreberish, runs at the Kleingärtnermuseum, Aachener Str. 7, from 7 May 2022, which happens to be museum night in Leipzig so entrance is free.