Aurelie Richards sat down with Ali Schwartz to discuss her recent pilot project POLYRHYTHMS for Queer Refugees, which supports LGBTQIA+ refugees to cope with traumatic experiences and the day-to-day challenges of arriving in Leipzig in times of the Covid-19 pandemic. The crowdfunding campaign is live now and running until 16. April.
---
What is this project all about?
POLYRHYTHMS for Queer Refugees is a 12-month pilot project combining Systemic Coaching techniques with TaKeTiNa® rhythms method — creating a unique embodied approach to therapeutic work.
What's the overall goal of Polyrhythms?
Through this program we aim to provide participants with a greater sense of psychological stability and emotional resilience, bringing them out of a sense of isolation and hopelessness. This is an initiative designed with the goal of providing LGBTQIA+ asylum seekers with the tools and resources they need to cope with the intense experiences of trauma associated with migration and asylum seeking — namely depression and anxiety and even PTSD (post-traumatic stress disorder).
Who is behind Polyrhythms?
Matthias Schirmer, is a musician, TaKeTINa rhythm pedagogue and Betzavta-Trainer, who works as a sustainable urban developer. There's me (Ali Schwartz), a professional dancer, systemic coach (GST Berlin), and prospective family therapist (DGSF). And then Karina Kehlet Lin, supervising the project as a clinical psychologist working with the LGBTQIA+ community.
And of course we have a host of volunteers in all sorts of fields offering gifts for funding levels. Bodyworkers offering free sessions, a mindfulness coach offering a guided meditation recording, and artists offering their printed work. It's a really dynamic and skilled team. I'm excited for the next year of our work together.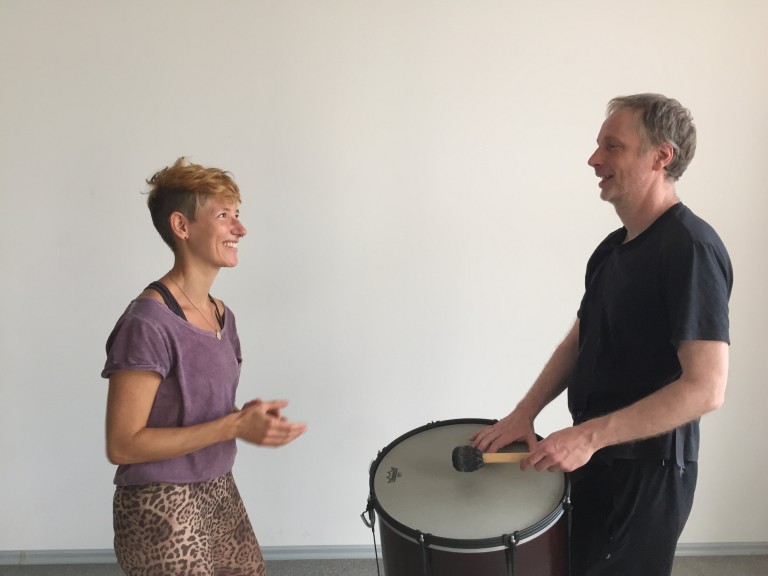 So you are a systemic therapist. What is "systemic" therapy?
The systemic worldview is a framework applied to therapy, wherein individuals are always in relationships (family, partnership, co-worker, etc.) and systems (country of origin, language, culture, religion, etc.). The collective dynamics and frameworks become internalized in the individual and become an imprint or point of attraction in the individual. That means we attract the relationships and systems that we are programmed to be attuned to, which means we'll continue to attract and be attracted to those same dynamics — that is until we can learn to disrupt those patterns (often adaptations to adverse circumstances), through awareness techniques, creative expression, and therapeutic coaching. Essentially the goal ends up being the integration of inner parts (the inner child to name one popular example).
Why is this type of therapy so well suited to people with a refugee background?
When these patterns can be disrupted, then we can make conscious decisions. The gift of Polyrhythms to queer refugees, is that this process will be done in an embodied way, using a therapeutic method that is trauma informed and aware of systemic injustice. The systemic framework also helps the therapist to see their place in the healing process, without becoming entangled in or taken over by challenging and traumatic narratives.
So is Polyrhythms designed as a unique form of trauma therapy?
Trauma therapy normally takes years and years. It requires a tremendous amount of money to participate regularly and so it is usually only done by people with enough privilege and financial resources to do so. So yes and no. We've designed a focused program that emphasizes building skills, cultivating inner resources, and developing intuition. This addresses the roots of trauma and helps our clients to find the resources that they already have.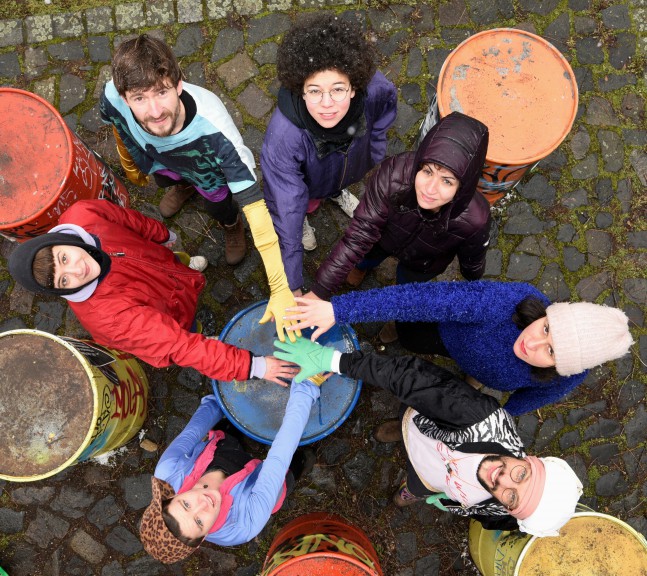 Developing intuition. Is that where TaKeTiNa® comes in?
This method uses a rhythm structure, generated as a group, that is ancient — using triplets and duplets at the same time. This is done by singing and using the body (clapping, stamping, etc) as an instrument. The rhythms get more and more complex through call-and-response. It's an embodied way of learning in the midst of constant change and staying in the flow while responding to complex systems of communal music-making. It's challenging and yet in order to stay with the complex rhythm-making you have to stay relaxed in order to remain in the flow. It's a concentration exercise that is especially useful for trauma survivors.
When we experience trauma we store that in our bodies and our brains sort of spin out on the trauma over and over.
This process of group rhythm-making is a way to interrupt that cycle, getting into the body in a challenging and yet fun way. It is also done in groups and so it helps individuals to heal trauma in a social, communal context.
Why refugees?
We realized in developing Polyrhythms that we don't have to spend years and years going in circles with trauma therapy but can actually access the resources that are already there. Refugees have already so many inner resources, evidenced by the fact that they left dangerous situations in their homeland and got themselves to Germany in the first place. They made so many life saving and courageous choices to land in asylum in this country. And yet, people with refugee status arrive and have to process many of those choices, the expenditure of resources, and the trauma. Although there is a tremendous amount of resilience there already, there is also a tremendous amount of suffering.
And why queer refugees?
Refugees who also have an LGBTQIA+ experience have the additional layer of having experienced discrimination in their country of origin, and often rejection by their families. Their refugee status intersects with their queer identity and creates a more profound sense of loneliness, fear, and lack of a sense of belonging. For queer refugees fleeing their homes, the sorts of experiences we'll be creating in Polyrhythms are especially healing as they offer an opportunity to develop a sense of belonging in a community.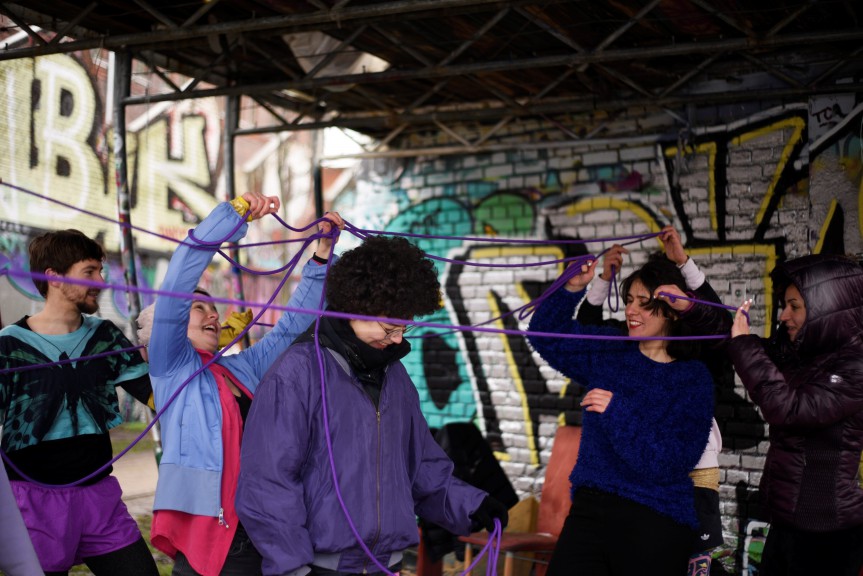 And why now?
This year has brought about unimagined hardships for everyone. During the Corona pandemic and lockdowns, queer refugees have experienced retraumatization, loneliness, and lack of access to competent medical and therapeutic care. While the outer world has been smaller and more isolated, we decided to develop a program that could make the inner world wider and more connected.
What do you mean by making the inner world wider?
This project is focused on widening what's known as the "window of tolerance"— that sweet spot where we feel safe, grounded, and emotionally regulated.
We can work on stress-reduction to make space, where our clients remember they can make choices, and the window of tolerance broadens. In TaKeTiNa®, participants create the soundscape together and therefore, during the time together, learn to belong to each other and themselves. In Systemic Therapy, individuals get the opportunity to integrate the inner parts I mentioned earlier and contextualize, or begin to make sense of, their outer worlds with this unique inner-world transformation.
If you had to name the three most important outcomes of this project what would they be?
A culture of consent. The people we'll be working with have been conditioned to believe because of their circumstances that they don't have choice, they don't have agency. Developing the ability to make choices starts with creating an environment where choices can be made without threat or coercion.
Autonomy. After enough time spent in a culture of consent, when our clients go into higher stakes situations (like with immigration authorities, housing services, or eventually accessing education, medical care, and other social resources) they have a stronger sense of self-worth that's been developed.
Dignity. Having developed an integrated and embodied sense of self-worth, we can go even further. In a world that is constantly trying to strip refugees of dignity, an outcome that is maybe most important to this project is an internalized, unshakeable sense of self that will be able to resist messages from the outside world that perpetuate a narrative of hopelessness and lack of self-worth.
This will all be summarized in an evaluation by the University of Leipzig at the end of the year-long program to ensure we have measurable and reproducible deliverables from the project.
Can you summarize that for me, into one basic idea?
I'd say this project is about celebrating our diversity as a strength, exploring and getting interested about difference rather than being reflexively threatened by difference. And I think it's really important not to bring assumptions and biases into the work we do together. I think Polyrhythms creates an embodied, experiential platform where clients get to experiment with more adaptive strategies for coping — where we get to have authentic encounters. That's where healing happens.
---
Click here now to support.