The Literary Parlor is a place where we invite authors to share some of their insights, dig into their craft and reveal their secrets to a successful writing career.
In this installment, Svetlana sat down with writer Nils Müller who also authors the German-language Künstlertext series for Leipzig Glocal. His new book "Venusjahr für Fische" is out now!

---
Wo findet man die Wurzeln deines Schreibens? In den Menschen, Kindheitsereignissen, Aliens?
Eine starke Wurzel meines Schreibens ist die Erinnerung an meine Kindheit. Die Zeit die mich geprägt hat, ist auch heute noch ein Hauptthema meiner prosaischen Arbeiten. Ich habe mir einen Blick mit Kinderaugen auf meine heutige Welt bewahrt, vielleicht auch, um ungeschönte Fragen stellen zu können, wenn mir etwas begegnet, von dem ich glaube, dass es mein erwachsener Blick verfälschen könnte. Einen Missstand anzusprechen oder von einer schweren Zeit zu erzählen mute und traue ich einzig meinem Kindermund zu. Der fragt noch frei heraus: "Warum nimmst du das jetzt von den Armen?", derlei.
Die Menschen in meiner Umgebung, vielleicht auch die Aliens, dienen mir eher als Inspiration.
Du gestaltest dein Leben gegen den Mainstream. Du machst daraus an sich ein Kunstwerk des Widerstandes gegen alles Biedere, Mittelmäßige. Du definierst die Konzepte des Genders, der Bildung, des Lebensstils neu. Kannst du darüber mehr erzählen?
Ich halte den Mainstream an sich für unbeweglich und konservativ. Etwas, das uns gesellschaftlich nur festhält, aus Angst vor Veränderung vielleicht. Nun ist es auch an der Zeit, dass, zum Beispiel im Sinne eines neuen Geschlechterverständnisses, Grenzen verschoben und aufgelöst werden und da kann ich nicht mit den Händen im Schoß um gute alte Zeiten trauern. Ich brauche Bewegung und Reibung in meiner Arbeit, auch wenn es mal schmerzt.
Mir ist die Möglichkeit des literarischen Schreibens gegeben, also nutze ich sie für meine Zwecke.
Der Widerstand gegen das Biedere und Mittelmäßige fußt eher in der Abscheu gegen die Verlogenheit, die für mich hinter diesen Begriffen steckt, weil sich da aus meiner Sicht eine Unbeweglichkeit, eine zu billig erkaufte Zufriedenheit, ergibt, mit der keine Veränderung nach vorn mehr möglich ist.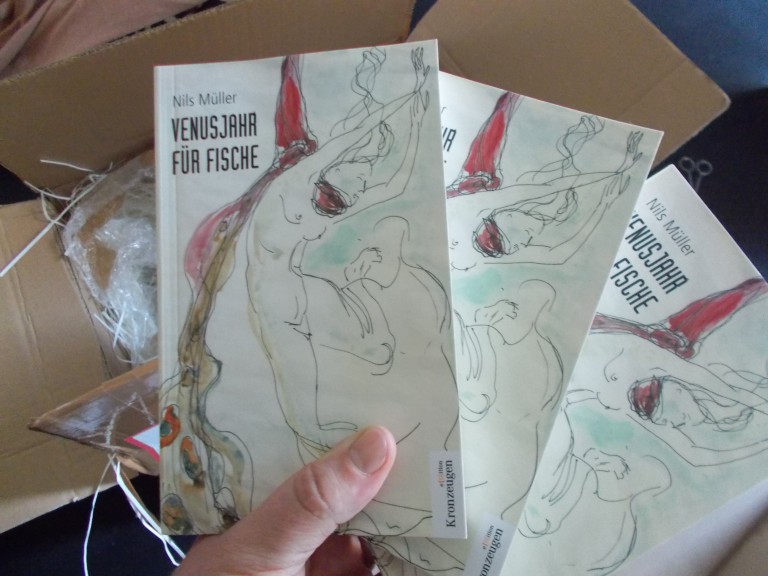 Was strebst du im Schreiben an? Was ist dein persönlicher Stern, nicht im Sinne eines Vorbildes, sondern dein eigenes ideelles Schreib-Ich?
In erster Linie geht es mir um das Erzählen von Geschichten, die täglich überall auf der Welt passieren könnten, von alltäglichen Begebenheiten, die sich zu Lebensläufen zusammenfinden. Diese Geschichten verbergen die schönsten Perlen, denke ich.
Ich sehe den Menschen ins Gesicht und erforsche, wie dieser Blick oder jenes Lächeln gewachsen ist, was den Menschen geformt hat, wie er ist.
Ich denke, dass das einen guten Zugang zu meinen Lesern legt, wenn die Charaktere in meinen Erzählungen wie alte Bekannte wirken. Erreiche ich damit, dass auch nur ein Mensch achtsamer durch die Welt geht, bin ich schon fast zufrieden. Ideell fühle ich mich von Christa Wolf und Herta Müller inspiriert, aber auch von Hubert Fichte. Die haben mir auf jeden Fall sprachlich auf die Sprünge geholfen. Ich denke auch, dass Idole für mich als Autodidakten unentbehrliche Helfer darstellen.
Worüber ist dein neues Buch?
Meine Erzählung "Venusjahr für Fische" ist für mich ein Buch vom Finden geworden. Da zieht sich ein Mensch an den Haaren selbst aus dem Sumpf seiner Alkoholsucht und findet erstmal ins Leben zurück, dann lernt er viele interessante Menschen kennen und liest so Splitter um Splitter den Stein der Weisen auf, oder zumindest die Ansätze von Erkenntnissen.
Das Buch, an dem ich gerade schreibe, wird wieder eine Erzählung. Diesmal gehe ich der Frage nach, was einen – aus meinem Blick – ethisch guten Menschen über ein Leben prägt.
Wer sind deine Musen, wenn du welche hast?
Musen als solche habe ich unzählige und keine. Mir begegnen immer wieder Menschen, deren Auftreten ich für mein Erzählen verwende. Da kann ich mich nicht festlegen. Die Charaktere im "Venusjahr für Fische" sind zum Beispiel Mischwesen aus allen möglichen Leuten, die ich beobachtet habe. Das erschöpft sich zum Glück auch nicht.