Just because the weather gets a little colder these days, Leipzig will not stop its cultural resurrection from the Covid malaise. After the fantastic DOK festival 2021, we have room for new festivals and cultural events. So once again, we put together a little hand-picked overview of event highlights for November 2021.
If you have an event in Leipzig you want to share with our community, feel free to submit it to our calendar right away!
---
Thu Nov 11th 7:30pm – 9:00pm
Organized by LeipGlo friend and contributor Mascha Lange, this newly forming reading group will meet at the feminist library MONAliesA for the first time on Thursday, November the 11th at 7:30 pm. This will be an English-speaking group, so all Glocals are welcome. With an emphasis on texts by women and LGBTIQ* people from different parts of the world, the group is nonetheless interested in all genres and forms of literature to discuss. This will also be the main topic of their first session.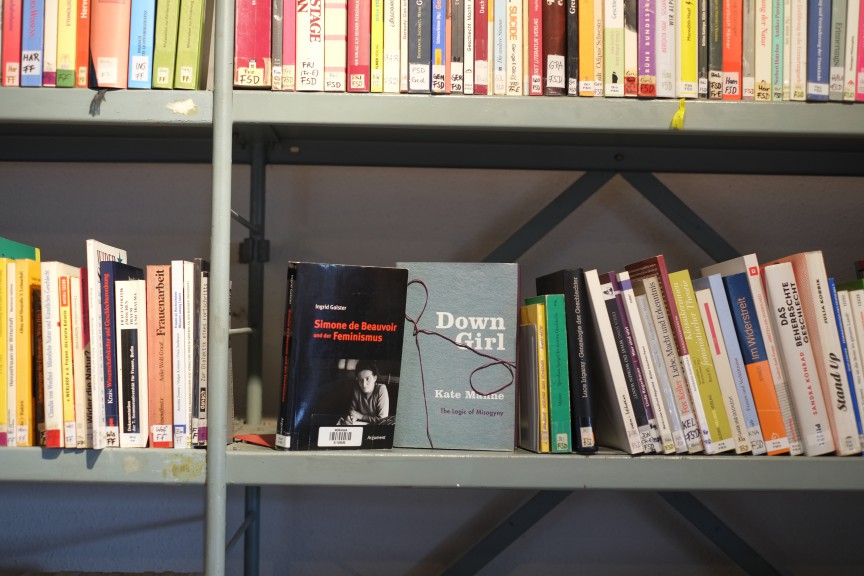 If you're interested in joining the group, please write a short message to Mascha at feministreading@tutanota.com
This reading group is open to all. At the same time, it is meant to be a safe space, a space to learn, listen, engage, and self-reflect. Thus we ask members to be mindful of their fellow readers and to be aware of their own positionalities. We talk about books to exchange opinions and experiences and to empower each other.
---
Nov 17th-24th
Leipzig's days of film continue. After the Filmkunstmesse, Latin American film days, and DOK, it's time for Europe's film powerhouse France to show off their latest highlights. While I have always been reticent on French film in the past, our neighbor has produced some of the best new films out there in recent years. So it's truly the best time to catch up on some francophone productions in either Passage Kinos or Schaubühne Lindenfels this November.
To guide your choices a bit, I will share my highlights from the line-up of this year's film days:
Portrait of Woman on Fire's Céline Sciamma follows up her recent masterpiece with another truly unique and entirely different, yet just as perfect, film. While Portrait was sweeping you off your feet with its majestic vistas and epic love story, Petite Maman is a much more quiet but just as ingenious story.
Sciamma manages to tell a amazing grown-up children's story about loss and family in just over 70 minutes.
The central conceit of the film is almost that of a science-fiction story, yet the earthy and humane approach that Sciamma gives it makes the fantastic elements of Petite Maman feel effortlessly relatable and real. I urge you to seek out this tender, insightful movie if you get the chance.
This directorial debut by duo Fanny Liatard and Jérémy Trouilh mixes reality and fiction by bidding farewell to the housing project Cité Gagarine which was demolished in 2019. It was built in the early 60s by the Communist Party of France. Named after the Russian Cosmonaut Yuri Gagarin, it was inaugurated with his attendance which is shown at the start of the film from archival material.
However, the film's fictional narrative structure follows a present-day adolescent tenant who tries to save his home with his friends. Gagarine does not reinvent the wheel with its sweet, fantastical approach but the attention to detail and palpable appreciation for the real community that Paris lost in the Cité Gagarine comes across in a genuine way.
---
Sun Nov 21st 7:30pm – 9:30pm
More France, by way of Italy, is on its way towards the end of November. Puccini's opera about bohemians in 1830s Paris will be performed with English surtitles in the Schauspiel Leipzig on the grand stage. This new interpretation stages the opera in Leipzig through different time periods.
---
Wed Nov 17th 8:00pm – 10:00pm
LeipGlo's founder Ana co-created one of the two documentary films that were made in this collaborative workshop. Expatriados | Venezolaner:innen in Leipzig deals with the life experiences of three Venezuelan migrants living in Leipzig and is a multilingual production, shot in both German and Spanish. The other film tackles Grünau, one of Leipzig's most divisive districts, and its GDR architecture. Catch both of these local productions in their world premiere at the Ost-Passage Theatre, right next to the Aldi on Eisenbahnstraße.