The MONAliesA library will be closed to visitors in August. However, they do encourage checking out your summer reading before the 1st of August to tide you over the summer vacation.
---
In the attic of Bernhard-Göring-Straße 152, a turn-of-the-century building in Connewitz, a range of social and political initiatives, a huge selection of feminist books and other media is waiting to be discovered in MONAliesA, Leipzig's one and only feminist library. At present, the small library hosts an impressive number of more than 30,000 media on various feminist topics. The majority is in German, but Leipzig glocals will find hidden gems in English and other foreign languages as well.
The name MONAliesA is a clever play on words. It combines the flair of a world-famous piece of art, featuring an equally famous and slightly mysterious woman (the Mona Lisa), with the German imperative of the verb "to read" – lies is "(you) read!" – in a call to action for women to grab books and read.
The spirit of reading, sharing and caring about books is palpable everywhere in MONAliesA. Even before entering the library, visitors are welcomed by a carefully selected summer reads section at the entrance.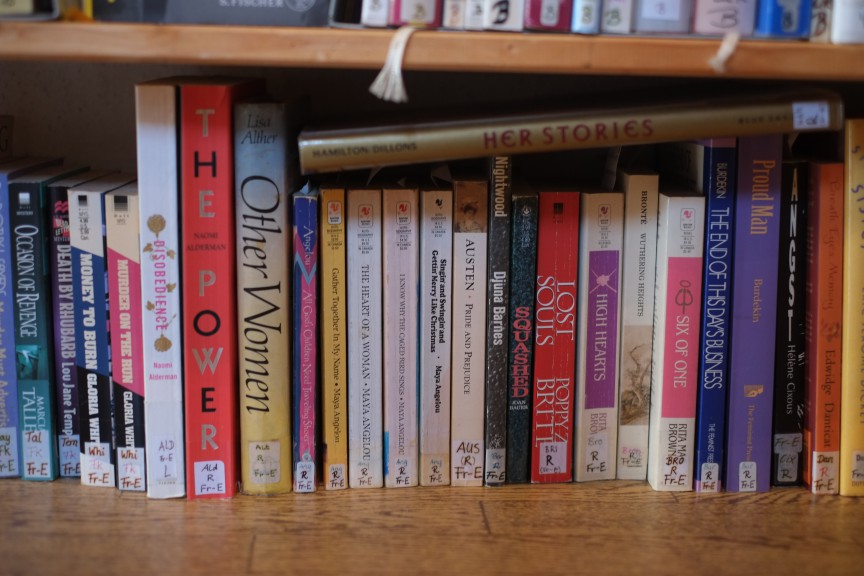 A feminist library: from A(bortion) to Q(ueer theory)
The small but constantly growing library spreads over several rooms, in which books are ordered thematically. The main room hosts both fiction – from feminist classics and comic books to science fiction works – and non-fiction texts. These non-fiction or academic books are on numerous subjects varying from motherhood, menstruation, contraception, and abortion to body image, pornography and sex work, to women's history, queer theory and disability. A second, smaller room hosts girls' and young adult fiction, magazines and parts of a larger fiction collection.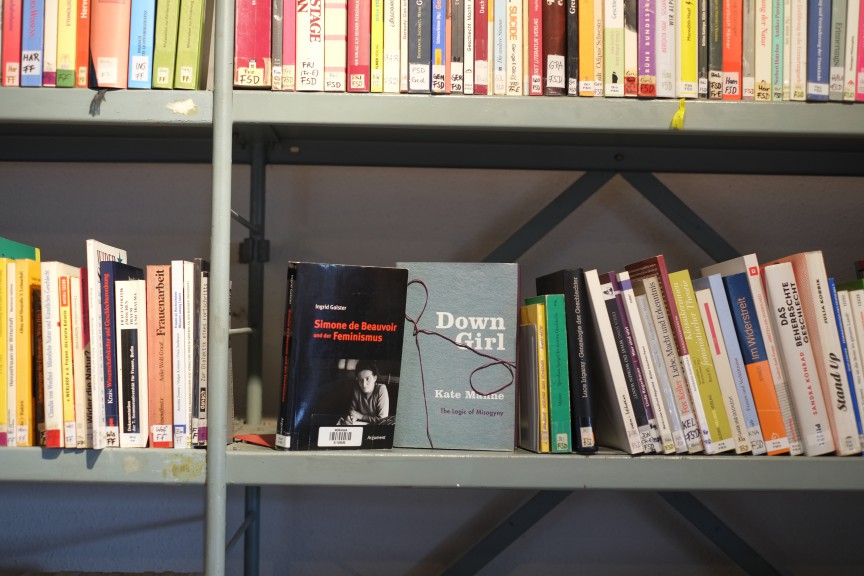 If you're on the lookout for new books to read, you can scan the library's online catalogue before your visit. Alternatively, you can drop by during the library's opening hours (Tuesdays and Thursdays 3-7 pm, Wednesdays 3-6 pm) to freely browse through their shelves.
For English-speakers (and science fiction lovers), I personally recommend Octavia Butler's book series "Seed to Harvest" from the MONAliesA stash.
It is a science fiction classic that tells the story of two immortals, Doro and Anyanwu, from ancient Egypt to the far future. Wild Seed, the first in the chronology of the series, is one of my favorite speculative fiction novels! Another classic, this time from the realm of comic books, is Alison Bechdel's The Essential Dykes to Watch Out For, which you can also find at the MONAliesA library. If you read books in German, I can also recommend Die Sommer by Leipzig (g)local Ronya Othmann. The autobiographically inspired book deals with the experience of being the daughter of German and Yazidi-Kurdish parents, torn between these two, often clashing and violent worlds.
More than a library – an archive
Above and beyond, the MONAliesA is not just a library. It also serves as an archive, documenting the lives and actions of women in Eastern Germany, in particular during the GDR and the Eastern German women's movement. The MONAliesA archive also features a unique collection of "gray literature," which is published and unpublished documents from different women's groups that can be borrowed upon request. The "gray literature" section includes magazines, posters, photographs, fanzines, radio broadcasts, and concert recordings from the 1980s until today.
Individual items, collected and catalogued in boxes and slipcases, paint a continuous picture of 40 years of feminist history in Leipzig and beyond which can't be found anywhere else.
In more recent years, MONAliesA has started to collect the work of queer-feminist groups currently active in Leipzig and across the country.
The MONAliesA community: special events, meetings, and groups
MONAliesA is also more than a library: It provides a meeting place for people to connect and network. People, here, is not restricted to women* but the library does cater to their needs first and foremost. Books are always at the center of the events and most often serve as a starting point for further conversations, learning and local action. The range of projects that originate within the MONAliesA library is impressive. The library's work and the interest from the community speak to the continued need for feminist action in Leipzig.
Recent projects include a zine comprising a wide range of contributions under the phrase "sometimes memory can be a knife" (a quote from US-American author Siri Hustvedt), which tries to visualize the prevalence of domestic and gender-based violence. Over the summer, there will be several readings and panel discussions, for example on feminism and hip hop on August 14, 2021.
Other than its special events, the library is also home to a number of regular group meetings.
A reading group (or Lesezirkel) on women's writings from the GDR and Eastern Europe takes place every other Wednesday. There is also a regular round table for feminist mothers (feministischer MÜTTER*-Stammtisch). The latter serves as a space for mothers to exchange ideas about motherhood and mothering, both through theoretical readings and the sharing of personal experiences. The library is always open to new groups, collaborations, and events (also in English).
Here to stay: MONAliesA's remarkable history
The MONAliesA library looks back on a remarkable and eventful history of more than three decades. Founded in the transformative year of 1990, what started with 30 books and a steel cabinet, now holds more than 30,000 individual items across several rooms. At several points in the past, the library had to fight for its existence but it continues to persist. An illustrated essay from 2019 traces the library's tumultuous first years.
Notably, the MONAliesA is a non-profit institution under the umbrella of Lotta e.V. This means that the library depends on donations. Feel free to donate books, other media (especially "gray literature"), and/or time and money!
MONAliesA opening hours: Tue 3-7 pm, Wed 3-6 pm, Thu 3-7 pm
The MONAliesA library is located in Connewitz, towards the southern end of Bernhard-Göring-Straße ("Haus der Demokratie," number 152, fourth floor). The "Haus der Demokratie" also hosts Ilses Erika and Kinobar Prager Frühling, which some might know from our movie recommendations section or the weekly showtimes.