Look outside, now look back at your screen. See? The sun is shining. It's time for the perfect summer treat – the perfect pan bagnat!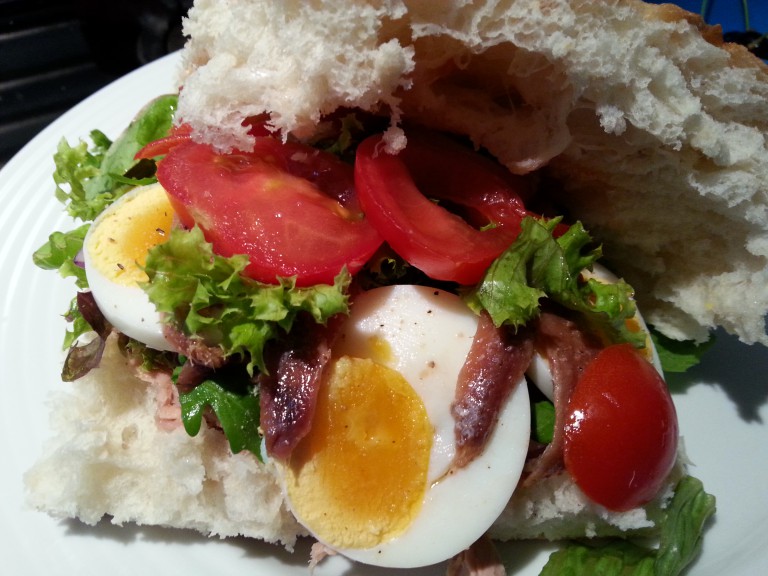 It's a sandwich that calls to mind bathing in a French beach. It sounds fancy but it's quite easy to make.
You can take it to a lake picnic with friends. You can serve it to guests in a barbecue or balcony or garden party. You can bring it to your own "White Dinner" to share.  Or you can keep it all to yourself!
As far as I know, pan bagnat is a Côte d'Azur invention. I had my first when I was a teenager, on holiday with my parents in St. Raphael. Those were the days!
What could be better than channeling the carefree spirit of a beach holiday, the allure of the Mediterranean sun, the heat, the salt, the parasails, the multicolored umbrellas, the fish, the hopes and dreams of youth, precious time spent with loved ones…? All in a little bun! And without having to buy that plane ticket or pack your backs. Just close your eyes, take a bite and imagine…
So… let's make a pan bagnat.
You need:
¤ Mediterranean bread (pide, chiabatta or similar)
¤ can of tuna (in brine, not oil)
¤ mouthwatering tomatoes
¤ hard boiled egg(s)
¤ lettuce
¤ pickled capers
¤ anchovies
¤ black pepper
Preparation:
Start by slightly toasting the bread. Put tuna first and press into bun. Now layer lettuce and slices of egg and tomato. Sprinkle some capers and add anchovies to taste. Ground some pepper on top.
Now eat! It is like salade niçoise on a bun, and it is lean and delicious.
You could drip some decent olive oil and/or vinegar on the bread first, but it doesn't really need it. Enough oilyness comes from the anchovies, and acidity from the capers.
Now for a taste of the French Riviera…