---
"Personal style is innovative yet intimate. It's a reflection of your aesthetics, beliefs, who you stand for and the relationship you have with the world.  It has the power to speak volumes about you without having to vocalize a thing." – Prabal Gurung
Fashion is my obsession. Well, one of my obsessions. My others include tea, either short poems or seriously long ones (medium ones can take a hike), music, veganism, flow-diagrams and doodling snails.  Whereas I've been doodling snails for over 25 years and they haven't evolved one iota, my fashion has.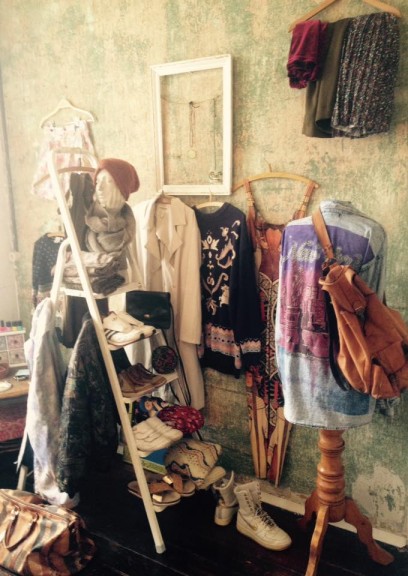 I remember being about 20 years old, living in England and working as a dental nurse (we've all been there, right?).  One of my co-dental-nurse-workers came back from her lunchbreak and showed me a pair of burgundy cargo-pants she had just bought, which had some kind of dragon-fire-floral-perhaps-a-sword design on them.
I remember saying to her "I can't imagine ever wearing anything with colour on it." (I was a raging goth – no shade of black was dark enough for me). She replied "Oh, one day you will".  How right she was.  How very, very right.
I moved to Germany in 2012, going straight from a tiny flat in South-East London to a huge old creepy, creaky house in a little town called Bad Lausick, about 40km from Leipzig, or 25 minutes by train.
The first thing I noticed, apart from the strange language they were talking (this wasn't German like I'd learnt it at school, it was full of Na's and Gele's and Ey's), was people's clothes. Clogs. So. Many. Clogs. And sensible, weather-appropriate attire, with pockets – lots and lots of pockets.
There used to be a Lidl just a few hundred yards from my house (it's gone now, RIP) and I wore blue glittery tights there once and people literally stopped and stared. I felt so out of place there and stuck out like a Fruit Loop amongst Cini Minis.
---
---
But then, I discovered Leipzig.
The feeling I had my first time in Leipzig was similar to how I felt every time I went to Camden in London. Just a quick journey from my home and everything and everyone changed. Both of these places have such an identity, yet so much individuality. It's like when you watch an episode of your favourite TV program – you know the general vibe and rhythm, yet every time you see new things and find purple sparkly rings.
I started visiting Leipzig more and more, like a rebellious teenager, running away from their conservative, boundary-ridden home, into the city with big lights and orange tank-tops.
I eventually found a job there so was there most days, and at the weekends I would scour out all flea markets within a trammable-reachable radius. Flea markets are also an obsession of mine, although I'm terrible at haggling, my awkward polite Britishness creeping in, probably more likely to offer the stallholder more money than they first asked for.
But they tend to be such value for money and full of such peculiar gorgeousness that I don't really mind. And the most peculiar gorgeous flea market in the world, I mean, in Leipzig, is, in my opinion… Feinkost Flohmarkt on Karl-Liebknecht-Straße.
Feinkost Flohmarkt generally takes place on the first Saturday of the month, from 10am-4pm, and it is a brimfull explosion of gold covered beauty. I usually only ever buy clothes and accessories from there, but I also once bought a magic wand (didn't work) and a small ornamental fish wearing a red jacket.
If there was a question in an exam paper 'Describe fashion in Leipzig,' then my answer would be 'Go to Feinkost Flohmarkt.' I'm not sure if I'd get full marks for that answer, but it's the right answer. Probably 90% of my current wardrobe is from there. There are awesome makes to be found there, such as Monki and H+M Conscious Collection and also tonnes of homemade knits, handmade jewellery and cute buttons.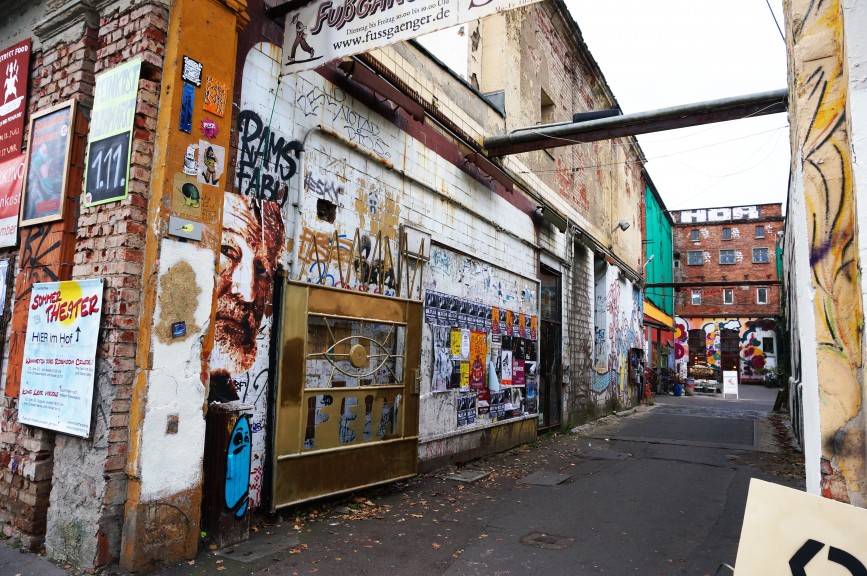 Shopping second-hand has had such a wonderful turnaround over the past decade or so.
I can remember being at school in the 90s and 'You shop in Oxfam!' being used as an insult. Now, it's anything but.  It's affordable, great for the environment, sustainable and directly helps your community.
Plus, it's cool! I always gets comments on what I'm wearing, in particular a holographic eye necklace which I bought from Feinkost and wear every day – it cost 50 cents and it's one of my favourite things in the world, along with my mood ring and the small ornamental fish wearing a red jacket, of course.
Another of my go-to-destinations in Leipzig is Oxfam on Hainstraße, where I once bought an über-hippie jumpsuit which I wore to a goa party and received three positive comments, a nod of respect and a high-five. I also found a dead-cool pair of brogues there, which gave me hugely sore feet (maybe they weren't quite my size), but they were 5 euros!
This is a great store for granny jumpers (perfect for winter and autumn and also spring as well as summer) and huge bags, I've discovered. Also, on a side-note, a great place to buy English books… they have a little section right at the back, with a handy seating area, so you can rest your tired, sore, brogue-clad feet and have a little sit-down and read.  And come Christmas time, they often have free warm drinks and cookies – the whole experience is like a giant fluffy tea-scented hug.
The Humana stores in Leipzig are also a must-visit. Although they like to keep you on your toes and often change location. It's kind of like trying to find a vegan product in a supermarket – like the people at the top make a game out of it, a challenge. But seek and ye shall find.
And presently, the two Humana shops I know are in the Kaufland Centre on Dresdner Str. and Zschocherstr. in Plagwitz. Humana is THE place for anything vintage and offers amazing costume-dresses and jewellery.  They also often have huge countdown sales and whole rails of goodies for 1 euro, or 50 cents.
I have bought amazing winter jackets and boots from there, and Humana has kitted me out for Fasching every single year – if you want to be a bunnycat (half bunny, half cat, as if that needed explaining) or a killer-clown, then look no further.
Also – a seriously cool children's section! Really old-fashioned but now seriously desired old-fashioned dresses, mixed with plain tees and dungarees, teamed up with a pair of crocs, obviously – practicality creeping in always.
To finish up the second-hand story swiftly, I have to mention Hilde tanzt in Lindenau. I have only been here once, because I don't trust myself to go there again – I would buy every single thing and then go back the next day.
I follow Hilde tanzt on Instagram, and every single thing that lovely Hilde posts is perfection. A mass of almighty cool ranging from grunge to retro to vintage to 90s to I Don't Care What This Is But It's Beautiful And I Must Have It. It truly is a beautiful store, in every way, and trust me, you will not go in there and not find something and if you are in there and can't find something (unlikely), then you can Facetime me and I'll tell you what I want and then you can send it all to me and I'll pay you 7% (negotiable) extra, so you'll have benefited from your trip to Hilde Tanzt anyway. (Kidding. Sort of.)
Trailing away from the second-hand route, I also want to give a quick mention to Monki, in the Höfe-Am-Brühl. The clothes there are very simple, cool and they have a huge, important feminism vibe going on. You can also take your old clothes in to the store (any make, any condition) and they'll recycle them for you. Big-up to environmental friendliness.
So I just trailed away and then did a bit of a U-Turn and got lost but now I'm right in the bustling centre of it all – fashion in Leipzig. The epicentre. And I want to tell you what it feels like – what Leipzig feels like.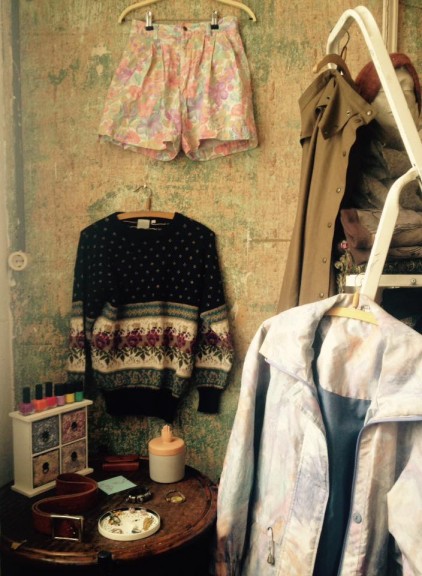 I've spent a lot of time in, and lived in big cities such as London and Berlin and the general feel in these places is overwhelming busyness. They are such huge cities that it can all get… well, overwhelming. Very fast and here and there and never standing still.
But Leipzig is so different – to me it feels calm and cool and easy and relaxed and ok, sure, let's sit on this bench and have a jam, I have a harmonica in my pocket. And this is reflected in people's clothing. The casual, easy, no-fuss, but with a sequin bowtie get-up. Leipzig has perfected the laid-back, not trying too hard, come as you are but don't forget your wooly socks look.
There is a slow, understated air to Leipzig and it is intoxicating. And rummaging through the shelves of Leipzig is like a little girl playing dress-up in her grandmother's wardrobe (I'm pretty sure, by the way, that if you transported me back in time 20 years and showed me my grandmother's wardrobe, I would fall helplessly in love with every single thing.) Sometimes you have to dig deep and wait over ten minutes for the next tram to the next flea market, but finding that perfect piece (ahem, eye hologram necklace) is worth the over ten minute wait.
Some things in life are predictable. I'm pretty predictable. If you, at any time, ask me what I'm doing, I'm either drinking tea, making tea, thinking about making tea, or looking for the tea that I just made.
But fashion is unpredictable. You never know what you're going to be coming home with at the end of the day – be it a tweed cap with burgundy goggles attached (I blame the coffee-high) or a gold necklace with a huge rotary-dial phone hanging off of it (awesome!). It is… unexpected.
By Samantha Lacey
Samantha is 32 years old and lives on the outskirts of Leipzig. She loves music and going to gigs, drinking tea, making banana cakes, flea markets, wellie boots, pens with fluff on them, poetry, lamps, painting her thumb nails a different colour to her finger nails, and globes. She works as a teacher, but is looking into delving into something a bit more creative, preferably with tea involved.