And so the countdown to the holidays has almost come to an end. I know you're looking for a guide to local fun. Perhaps as a complement or alternative to office Christmas parties and the Christmas Market. Same procedure every year, isn't it?
This December, you might be looking for a different story. This is what our last podcast for 2017 tries to give you.
With Kapuczino on vacation, co-host Rachael Clugston takes it upon herself to recommend some local fun "off the beaten path".
One of the events she talks about is happening today, Monday. If you're tired of holiday shopping, and even feel like battling unbridled consumerism, this one is for you. You'll swap clothes, learn to make a vegan cosmetic, watch a film, and maybe also have a bite together. 18 December at 6 pm, Leipzig Uni main campus (more info).
The other two local fun events Rachael points out are Christmas concerts. But they sound a lot more interesting than the ones I usually go to.
Taking place at a local bar this Thursday is Gypsy Jazz goes Christmas. In it, "the jazz combo Djangophon invites you to an evening full of jazz, bossa, bolero and improvisation". You can also join in and jam, and entry is free. It's done as a tribute to European jazz legend Django Reinhardt, and Rachael gives you a taste in the podcast to get you in the mood for the evening. 21 December at 8 pm, Dr. Hops (more info).
Then on Friday night, tuba players, horn players and other musicians promise to turn the city center into a music time machine. They want to take us back to the first Tuba Christmas, which took place exactly 44 years earlier at Rockefeller Center in NYC. And perhaps make their own tradition out of it, as others have been doing around the world. I'm at least curious to see how many people show up to play, and how the first ever Leipzig Tuba Christmas goes. 22 December at 7:30 pm, Wilhelm-Leuschner-Platz (more info).
Maybe your idea of local fun is sitting in a nice cafe with a book, though. Or even staying at home under a blanket in your couch, feeding your brain in absolute coziness and warmth.
Rachael recommends the English-language novel Zap. She says the recent release captivated her differently from anything she's ever read. In the podcast, she offers us a real treat by interviewing the book's author, the Ukrainian Svetlana Lavochkina. They caught up at the Cocktail Holiday Party LeipGlo held this weekend at Baileo. (Yes, you can call it our own version of a work Christmas party, but one to which everyone was invited. We also got to play the music we wanted and drink nice-tasting cheap cocktails.)
Svetlana lives is Leipzig, where she's been active in the literary scene. Hear her talk about Zap on our podcast, and share with us some of her lovely personality and a special reading. You can buy Zap from Amazon or directly from the website of the publisher, Whiskey Tit, where it's described in this way: "A night and a day away from Moscow by express train, or a day and a night away from the Black Sea by a slow passenger train, the city of Zaporozhye inextricably see-saws between the south and the north, the sublime and the surreal, and the ancient and modern worlds. Shortlisted for the Tibor Jones Pageturner Prize, Svetlana Lavochkina's Zap is a multi-generational burlesque family saga whose characters form dynasties embroiled in the polyphonic tragicomedy of relationships and unfulfilled dreams."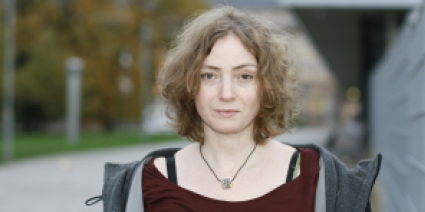 If you like to perform literature or music yourself, you'll have a chance to do so at the Cocktail Open Mic we'll host at Baileo.
This is the special announcement we made at our holiday party, in case you missed it. We're planning to have the first open mic on Friday, 9 February, but will give you more information in January 2018. I'd pencil it into your calendar already, though. We all know the new year begins filling up before it's even started.