I just came back from LA. It's a wonder I got there at all. I was going because of a family emergency and was not thinking straight. If it weren't for the kindness of strangers, I'd have never made it.
When I started to pack, I realised I didn't have a suitcase. Though my flight was that day, I still had time and headed to TK Maxx. I just stood there, looking at the selection.
It was not a decision I had the capacity to make at that moment. A nice lady saw my confusion and told me the one I was looking at had no space. She pointed me in the direction of another. I was grateful and chose the purple, thinking it would be easier to find in a sea of black and suited my current colour scheme.
I flew out of Leipzig instead of Berlin. Last summer when I went to Lisbon, my FlixBus was 3 hours late and I had to take a train or miss my plane. The extra €50 was devastating to my already low budget. I had to argue over several emails to get my money back for the bus. Finally I got a voucher. When I went to use it for my next trip to Berlin, I discovered it had only been good for 30 days. Not impressed.
I left the house at 3 pm for my 6 pm flight.
I decided to get a taxi to Leipzig Hbf to make it easier. At the time the taxi driver mentioned, I could just go straight to the airport for €50. Ever frugal (broke), I decided to save the money and take the train.
At some point, we all got off and switched to a bus because of work being done on the line. We were on that bus forever! I thought it would only be one stop. Panic started setting in as I saw the clock keep advancing. 10 minutes. 20 minutes. 30 minutes!
Finally, I asked the guy sitting next to me. The stop where we had all switched WAS the airport. Now we were on our way to Halle. In my zombie-like state, I had just followed. Fuck!
I called my friend. She hurriedly looked for options. We got to Halle at 4:55 pm. I went down the stairs. Luckily, I only had a carry-on. No taxis at the taxi stand. Phew! One pulled up as I reached it. I asked how long to the airport. He said 35-40 min. Despite the rain, I decided to spend the €50 to chance it.
Like a knight in shinning armour, he bulleted off. I was tense and relaxed at the same time. My fate was in his hands, so I opted to have hope. We made it in 25!
Of course, at this point all gates were closed. I couldn't even find the Turkish Airlines ticket counter. Finally, someone at another counter pointed me in the right direction. There was one guy.
Out of breath and obviously panicked, I explained the situation. He got on the phone. Boarding had closed. He pleaded in Turkish. Another woman came. Again, luckily I only had carry-on. They repeatedly tried to print my boarding pass, but the computer wouldn't let them in.
Finally it worked!
Next was security. Again, my trip to Lisbon had prepared me. I hadn't packed shampoo or soap because I had had to throw them away at the last security check. Still, I had to take all my electronics out and I set off every buzzer as I walked through the scanner. I must have a metal plate and not remember it, because I've been setting off buzzers for years regardless of what I wear.
All the while the guy was waiting to take me directly to the plane. We walked/ran through a variety of airport terrains, finally greeted by the smiling crew. I had three seats to myself and the music was calming. I could just chill.
Then I landed in Istanbul for my layover. Wow. I loved the diversity of the people, some in groups wearing white sheaths accessorised with acid yellow shoes and matching headscarves. However, I became increasingly distressed at not being able to find the way out. Somehow they forgot to put exits on the map of the airport or any of the signs. Was this some Ikea-style airport that just kept you in forever?
After two hours of circling, I found passport control (code for "exit" apparently). I had to get a visa to go to my hotel. There were machines. Besides me, there were other confused people trying to use the machines. I went to the counter. They sent me somewhere else. Then I was sent back to the counter. ARG! Finally I paid my €25 to get out of the airport to go to my hotel.
Then came the taxi saga. Long story short, I paid 40 Turkish liras (€9) to get to the hotel. It was a good thing I had exchanged euros for 80 liras in Leipzig.
By the time I arrived at Tempo Suites, I was pretty hungry. I asked the guys at reception if there was something nearby. They said it was dangerous this time of night and offered to order me something. Vegetarian options led me to pizza. They even brought it up to my room.
What a room! It was a suite with lush bamboo wallpaper and plastic night stands that glowed from the LED lights under the bed. It was just what I needed after a very rough week leading up to my trip. I ate my pizza and sank into the fluffy white bedding.
After my ordeal at the airport, I had asked reception what time I should leave in the morning for my 3:00 pm boarding time to LA. They said 10:00 am. I woke up early, but didn't feel like going down to breakfast. Instead, I chose an anti-stress mask and calm.
I got a message from my friend asking if I had made it to the airport OK. As I was telling her that I was chilling, I noticed that my computer was on Leipzig time. My phone was on Istanbul time. It was 11:00 am!
I threw all my stuff in the suitcase and hurried to reception. They called me a taxi (€5). Again I was in a taxi, speeding for a plane I was worried about missing.
First security check was just inside the doors. There wasn't much of a line, more like semi-organized chaos. I already had my boarding pass, so I just had to find my gate.
You had to go through the next security check before you got to the sign with the gates. This time the line was a line. All electronics had to come out. I set off the buzzer again.
At last, the sign for the gate, and I was on my way. Several airport terrains later, I reached the next interrogations.
"Why are you traveling?" No idea why, but the superior had to approve me. Next interrogator, "What's your address?" I gave them my address in Leipzig. "No, where are you staying in LA?" I hadn't even looked. That was another 13 hours away. It was on my phone buried in a million emails. Finally I gave it to her and was allowed to go to the next checkpoint. Here they opened each bag and went through everything in it. I got through all that in time to sit for 5 minutes before they called us to board. Hurray!
I had a window seat next to a mature couple from India. They were sweet, but spoke no English. That was OK, because I wasn't in much of a mood to talk. He had a hard time figuring things out. It started with his seatbelt. Interesting.
I settled into watching movies. I think I watched 4. The time went by fast enough and I was just happy to be on my way to my sister, whom I hadn't seen since 2003.
LA's LAX was easy to navigate. I found my way out and looked for the place Ubers come to pick up you. It was my first time, so I enlisted the help of a stranger because I couldn't get the app to work. It kept not connecting, so I went back inside the airport to get a better connection. Still no success.
I tried to reach people in LA and couldn't. I went back outside. The guy was still there. He offered to give me a ride since he was also going to Venice Beach.
I sat in the back of the van and listened as they played music I liked. On the dashboard, a hula girl swayed. I was in the homeland. It felt warm and cozy.
I arrived on a Tuesday and would see my sister on the Friday. She had a lot of people to say goodbye to and only so much energy. I knew I had a video installation when I got back and objectified the situation by shooting the trip.
Each day I explored the world that was the coast. I had forgotten how much I miss the beach. Somehow the birds and the sand gave me solace.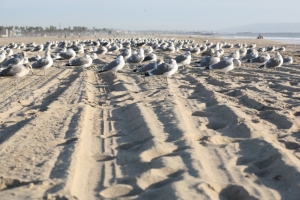 What surprised me was what I got from the people. I had forgotten how good it feels to smile and be smiled back at. I know some say Americans are superficially nice, but I miss that friendliness. Every day I went to the boardwalk and got hugs for no reason at all. Maybe it happens all the time or maybe it was just the energy I was giving off. It doesn't matter. I knew I was in the right place. I knew I was home. No, I'm not from LA, nor have I ever lived there.
It was hard to leave and come back, though I know the feeling of home I felt would have subsided at some point, and the reasons I left in the first place would have manifested more and more strongly.
On the flight back, I sat between two Turks who have connections to the States and fly back and forth on a regular basis. The woman next to me was visiting her son. He is friends with the maker of the documentary Kedi. I had already seen the trailer and wanted to watch the film.
I booked the same hotel in Istanbul on the way back, since I'd had such a good experience. This time I got there at rush hour. Ironically, my hotel was too close (less than 2 km), so no taxis wanted to take me. Luckily there was an English journalist in line and he offered to share. This time I lucked out with only 15 liras (€3.30).
My room was just as comfy. I got up the next day and had a little time til my flight, so I got out and walked around. I stopped in a bakery and got a pastry and some bread. I exchanged some euros for liras to make sure I could get to the airport.
As I was walking around, taking in the sights and sounds, I saw a little cat sitting not far from me. I looked at him. He looked at me. I just hung out, keeping my distance. Someone came to throw something away in the dumpster nearby. It made a loud noise, but there was a car and the cat couldn't run. I told him it was OK.
Then I noticed a butcher across the street. I went in to get the cat some food. The butcher said it was his cat and gave me the best cuts of a chicken breast for free.
I went over with the food and sat down next to the cat. He played with it a bit and then sat in my lap. People from the neighbourhood kept coming by. One gave me cardboard to sit on. He didn't want me to get sick from sitting on the pavement. Another came and said he was from the electronic store nearby. They all said the cat was theirs.
The butcher came out and gave me hot tea. One guy came and could speak German. He had lived in Frankfurt for 30 years.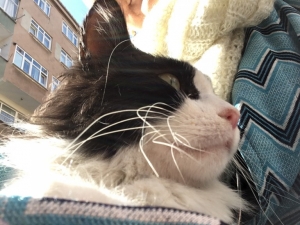 They were all so nice and it was hard to leave that purring little kitty who looked up at me with the big eyes. At some point, he knew our visit must come to an end if I were to catch my plane, so he looked at me and then went about his business visiting all his loved ones in the neighbourhood.
When I landed, the Turkish Airlines guy who had helped me not miss my flight in the first place was on the other side of the door. I am back in Leipzig now, but my head and heart are still somewhere between here and LA. I am so thankful to all the strangers I met along the way, and how much they helped me on this very difficult journey that I have yet to complete.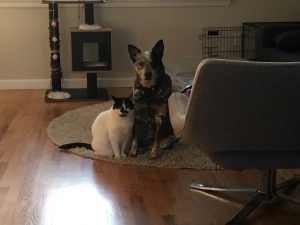 As I apprehensively wait for the news from LA that my sister is gone, I think of the million things I want to say to her. I urge you to celebrate life, love and be kind to strangers.