Recent highlights at G2
Edgar Leciejewski
When curator and G2 Kunsthalle Director Anka Ziefer asked the artist Edgar Leciejewski if he wanted to go to the lake, he said, "To be honest, I'd rather spend the day in the studio." This is what inspired the exhibition's title, "DEN GANZEN TAG AM STRAND" ("The whole day at the beach").
G2 further elaborates on the exhibit:
"Gathering works by Edgar Leciejewski and Oskar Rink, the exhibition turns the spotlight on the atelier as a site of creative production and on how artists work in their studios. The show's title… alludes to the notion that to be an artist is to be unproductive. With [representations of the artists'] studios, the exhibition prompts a discussion of the myth of the atelier." 
Being an artist is not a job. It's a life's work.
Even when an artist is not in their studio, they are always working. That's the beauty and the problem. It's hard to just relax and, sometimes, you need to sort out the input that is already searching for connection in your brain. Often the studio is the place for that.
Several years ago, Edgar began shooting images of his studio. They open a window into his process. Most of the work is done in his head before the physical process begins.
The life-size images in "DEN GANZEN TAG AM STRAND" took you into his private world. You could see how meticulous and orderly it is. The other half of the exhibit showed different representations of an artist's atelier – Oskar Rink's.
---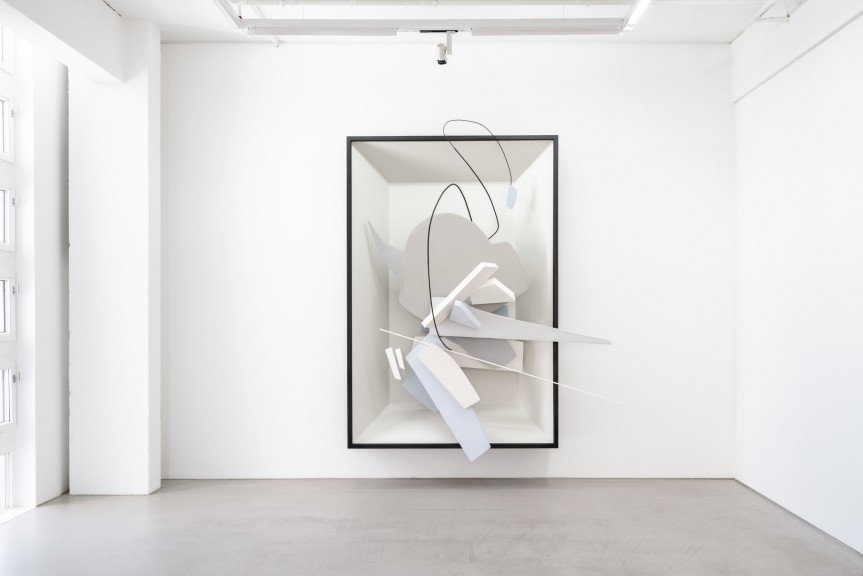 Oskar Rink
I have not been there or seen how it is actually set up, but I am sure that the studio of Oskar Rink would be quite another story. Some of the paintings gave us a sense of what it looks like.
Her work is more like a construction site. Things have to be literally broken down and re-assembled in a way that makes sense of them. This seemed very evident in a new piece called "Daddy."
As I entered the G2, I was drawn to this piece. It was like something out of The Matrix. It's like time is standing still. You feel engulfed by fragments that are exploding around you and yet, somehow that cushion of stillness is protecting you as they travel to their destination.
All the while, the lack of color makes it feel even more unreal. This is such a powerful piece.
And yes, I did say Oskar Rink was a she.
You may have thought I was using my pronouns incorrectly. This is not a statement about gender. This was what her dad, the late Arno Rink, called her as a sign of affection.
Oskar has not had as much exposure in Leipzig as she has in other cities. It is purely coincidental that her work was being shown at G2 at the same time as her father's retrospective at the MdbK, but it makes me happy.
---
If you missed this show, don't miss the next one: IONN addresses the fear which, rightly or wrongly, seems to be pervading our world at the moment. And the permanent collection is always worth seeing.
---
Next show at G2 Kunsthalle:
IM OSTEN NICHTS NEUES (IONN)
Andreas Mühe / Sebastian Nebe
Opening: Friday, 12 October, 6-9PM
Runs: 13 October 2018 – 20 January 2019
G2 Kunsthalle
Dittrichring 13
04109 Leipzig, Germany