As we roll into the year 2019, let's take a moment to think back on Adventszeit here in Germany. I don't know about you, but usually, Christmas time is pretty hectic with familial obligations, present-buying for family and friends, cramming last minute plans in, and more. For my first holiday season in Leipzig, I went with the flow and joined in as families and friends got together on Sunday afternoons to enjoy festive celebrations.
If you are living in a German-speaking European country, you probably had an Adventskranz (Advent wreath) or at least participated in some sort of Advent celebration. Traditionally, the idea was for families to meet around the wreath each Sunday throughout the month, light the candle (or candles, as each week progresses), and sing Christmas carols.
In Canada, I don't think I know anyone who has a wreath out on the table with four candles, to be lit on each of the four Sundays in December; although in Germany, everyone seems to have one, even those who are non-religious.
Throughout December – especially the first couple of weeks – when walking into a supermarket, where they keep their flowers and plants, or if walking past a flower shop, I spotted variations of evergreen branches, wreaths, trees, and other festive living decor. I don't really get the purpose of an individual branch of a pine or spruce tree, but I guess you can use it to craft your own wreath by laying branches on top of one another. While many buy Advent wreaths from a store, with the four candles to boot (white, red, even a few green candle options), the more, let's say, crafty people do create their own.
This is also just for the Adventszeit, lest we forget about the Tenenbaums (Christmas trees), of course.
In Canada, if you have a Kranz, it's for your front door. Tenenbaums are put up by some Christmas enthusiasts in November, but for most, the start of December. In Germany, Tenenbaums might be sitting in one's backyard, or naked in the living room, as they are often only decorated the fourth weekend of Advent – right before actual Christmas.
During this Advent season in Leipzig, I was invited to a celebration on the second Sunday, and boy, am I glad I went! Everyone who comes participates: each brought a treat, or Weihnachtsplätzchen (special name just for Christmas cookies), enjoyed tea, wine, and the beloved Feuerzangenbowle – say the word out loud, it's fun, even if you're not drinking it.
Lucky for us, a home Feuerzangenbowle was on the roster. Not only is it an exciting part of a Sunday afternoon for everyone to gather around a flaming bowl of alcohol, it's also delicious to drink. This tradition is definitely one that I could get used to. I met lovely people from Germany, the US, Syria, India, England, and other countries. All of these strangers – new friends? – and I enjoyed great conversations, delicious cookies and cakes, and supported the lighting of the Feuerzangenbowle.
There were hours filled with festive moments, now living on as memories.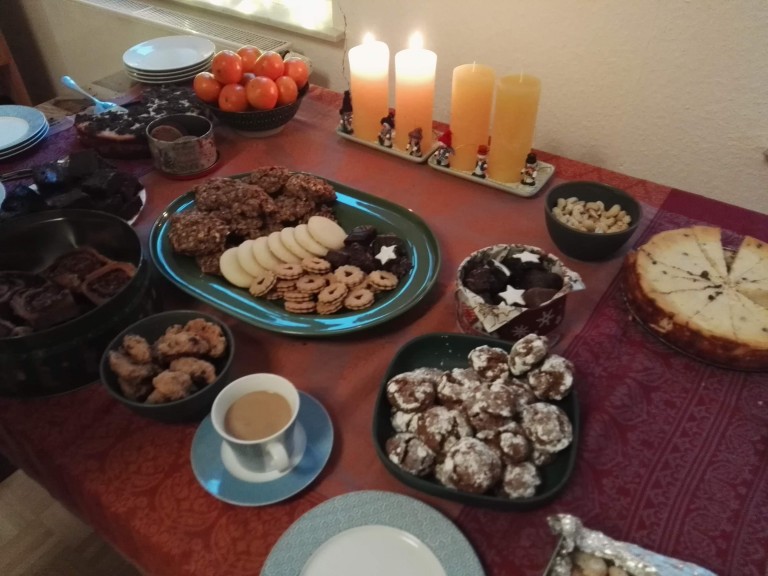 As many of us are fully ensconced in the new year and trying, desperately, to fulfill our New Year's resolutions, I find it useful to reflect on past times. The Christmas season speeds by, we loosen our belt buckles and say, we'll work it off in January. Majestically entranced by the Christmas season in Germany, I cannot help but think back on it, and on each of the Sundays throughout December.
Did you say the word Feuerzangenbowle out loud? I promise, it's great.
Now that you've said it, have you thought just what it means? The name literally translates to "fire-tongs punch" – but the experience is so much more. Feuerzangenbowle is essentially a rum-soaked sugar-cone that is lit on fire, so the sugar-rum drippings go into a bowl of Glühwein (mulled red wine). There is even a Feuerzangenbowle film from 1944, based on a book by the same name.
I've been told from German sources only "grandparents and older people" watch the movie – although anyone interested in German culture might find it intriguing. The 2018 Christmas season had three Weihnachtsmärkte in different German cities for me: Leipzig, Bremen and Dresden. Each of these, just as with every other region or city in Germany, had their own special traditions and aspects.
In Dresden, they have lots of Stollen (Christmas bread / cake with different fillings, usually dried fruit like raisins) to choose from, and many bakery stands have plenty of the Weihnachtsplätzchen to delight in.
Not only did December have tonnes of wine-induced experiences, I also braved my tiny kitchen to bake. Like many others, I was taken with the spirit of Christmas, which inspired me to bake treats and cookies to share with friends, colleagues and, naturally, myself. While I didn't make any of the special Weihnachtsplätzchen, I do think that I was successful in baking treats that others enjoyed.
Christmas in Germany has influenced my approach to the new year. Instead of trying to simply make changes that fit with resolutions and only look forward, 2019 has a slow start, with a pause for great memories and struggles to remember from 2018.
2019 Adventszeit, I'll be ready for you with my OWN Adventskranz.