It's Glühwein time! It's the holiday season. The time to relax with your family and friends, eat all day without any remorse whatsoever, and then make the less-than-honest New Year's resolution that you'll lose the brand-new extra pounds in 2019.
For many, however, the quality time with their families and the bloated belly-induced relaxation of the holiday season brings on the need for another New Year's resolution, as they end up reflecting on their lives. They ponder their boring or unfulfilling job, and set the goal of finding a new, cooler one, for their brand-new beginning as the clock strikes midnight and the fireworks explode.
And like swearing off chocolate, finding a cooler job is easier said than done.
Although most New Year's resolutions get filed in the mental "never to be addressed suggestions box," finding a new job is, for many people, not one to be taken lightly or be put off indefinitely. A boring, underpaid, overworked, or unfulfilling job can be even more psychologically straining than grandma's or grandpa's bigoted comments at the dinner table.
Having to work forty hours a week or more in a place where one does not feel valued, where the salary does not leave much after paying rent, or working in an unfulfilling or stressful environment for a long time, can drag people into depression or anxiety. This means that changing jobs is sometimes a must. However, as you may already know, setting out to find a new job, whether or not you are already employed, can be a tough juggling act.
In other words: How can you do that while doing your less-than-fun job and managing family or social life?
We asked a small local company, get a MINT, run by two highly experienced HR professionals – Anne-Cathrin Becker and Romy Wuttke – for some insight. They help STEM professionals ("MINT" in German), like IT professionals, developers and engineers, to get a better job while not having to leave Leipzig.
The duo talked to us about two people they have helped. One of them, let's call her Andrea, is a product manager at a chemical company in the Leipzig region and mother of two in her late thirties; another, let's say his name is Peter, is a software developer who will turn thirty soon and, being single, is more flexible.
Because of their skills, which have been in high demand in Leipzig and Germany in general, they have been employed for several years now – meaning a stable position or no gap between positions. While Peter is not a native German speaker and Andrea is, both nonetheless feel that working in an open and international company culture is very important.
Peter also much prefers living in a city that is not too big or expensive, but which still allows for a good quality of life, level of nightlife and cultural offers. Andrea wants to continue living in a place she feels is both safe and interesting for her children to grow up in, and not too far from her extended family.
The issue that STEM professionals like Andrea and Peter face is not finding a job, but finding the right job, as Romy tells us:
"Lack of job opportunities is not a problem per se for people like them, as recruiters reach out to them constantly via LinkedIn or Xing not only from Leipzig, but also from Berlin, Hamburg and Munich with attractive salary offers. But they are reluctant to leave beautiful Leipzig, force their family to relocate or have to leave their friends, and work in a company that may or may not be a good fit."
In other words, finding a job at a company in the Leipzig area that is the right match for STEM professionals is not easy – although these professionals are in high demand. The ideal employer would value their work and provide them with enough challenges and space to grow, as well as stability in the city where they want to be. Achieving this level of happiness in the workplace is crucial for people like Andrea and Peter to remain in Leipzig, contributing to their own growth as well as to that of our city as a whole.
Unsurprisingly, when Andrea and Peter contacted get a MINT, they were both very unhappy with their jobs at the time. But especially for someone like Andrea, having to care for her family and hold down a job while trying to find a new, more satisfying one, "means having to carve out precious time to look up open positions, update her CV, and write motivation letters," says Anne-Cathrin. The task can, and often is, daunting enough that many people in Andrea's position just decide to put off their search for better employment. Or people like Peter, without family ties here, decide to leave town when the frustrations finally feel like they outweigh the benefits of sticking around.
Neurobiologist Gerhard Roth from the University of Bremen asserts that attempting to change jobs is very emotionally charged. Job-seekers must forgo the colleagues and stability a job brings – even a bad one – in search for greener pastures that may turn out to be quite different from what the brochure showed.
Romy recalls that she and Anne-Cathrin "hear this all the time" from STEM professionals on the verge of a burnout, who "often feel as if they had reached a dead-end; their job becomes often not challenging enough, or the workload is too gigantic, or it becomes quite monotonous. When this gets compounded with a feeling of under-appreciation, financially and emotionally, workers become very frustrated with their jobs, and they approach us because we have helped colleagues or friends of theirs in similar situations."
Jumping from one depression-inducing gig into another is something anyone would want to avoid.
People like Peter and Andrea can connect with the big head-hunters interested in them and ask about what is available in Leipzig, of course. The question is whether these recruiters will dedicate enough time, and whether they have carefully cultivated enough local contacts, to cater to these professionals' specific needs and help them not just to find a new job, but the right job.
"They surely help find STEM professionals a job, but may not be as well-positioned as smaller recruiters to make sure that the job is challenging and rewarding enough according to the job-seekers' definition of what that is – a job they will actually want to stick to," Anne-Cathrin explains. "And that takes getting to know the people seeking out your help."
Anne-Cathrin elaborates that after STEM professionals reach out to get a MINT, they are first invited for an interview with her, which starts a process lasting about seven or eight weeks: "I first go through their CV, step-by-step to accurately identify their professional background, experience and skill-sets. This allows us to improve the CVs of people like Andrea or Peter, and make sure that prospective local companies can quickly realize the value in bringing such workers on board. It is also important to discuss their career goals and what kind of work environment they are envisioning, as it helps us to know what the right jobs for them are."
Moreover, both Anne-Cathrin and Romy are fluent English speakers and can engage in conversations with people like Peter, who prefer to speak in English about such deep and important issues as the right working environment for them.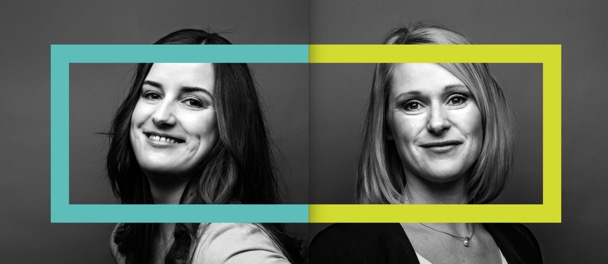 Romy then explained that it takes her "a couple of weeks after the initial interview and CV screening to carefully go through the local companies that would not only require the candidate's skills, but whose company culture would also fit their goals and personalities. After two or three weeks, we present the candidates with one or two options that would be a good match for them."
These companies must like the candidates too, of course, so Romy and Anne-Cathrin coach them for the job interviews that get a MINT had set up with them.
"We know that job interviews make many people anxious because candidates don't know what kind of questions they will encounter. However, we know the local companies well, so we can coach candidates like Andrea and Peter on the likely questions that they will be confronted with at the time of the job interview. This lowers the fear and anxiety that comes with the territory, and thus candidates are able to focus on showing that they have the right skills for the job," said Anne-Cathrin.
Until candidates get an offer, it usually takes another two or three weeks, which means the entire process takes about eight weeks. However, candidates who are already employed can keep their jobs until they find a company that they really like, and which likes them in return.
Get a MINT is a small Leipzig-based company that helps STEM professionals find a job where they are finally happy, without having to move out of Leipzig, and completely free of charge to the candidates. So people like Andrea and Peter have one fewer New Year's resolution to worry about.
If you find yourself hating your job and are a STEM professional, think about contacting get a MINT after the holidays. But first remember to get stuffed with Käsespätzle, Gänsebraten and Stollen. That's what the holidays are for!