Even if you're new enough to Leipzig never to have heard of the Wave-Gotik-Treffen, you won't be able to ignore it this week. The black hordes have slowly started trickling in. By Thursday, the city will be overrun with goths.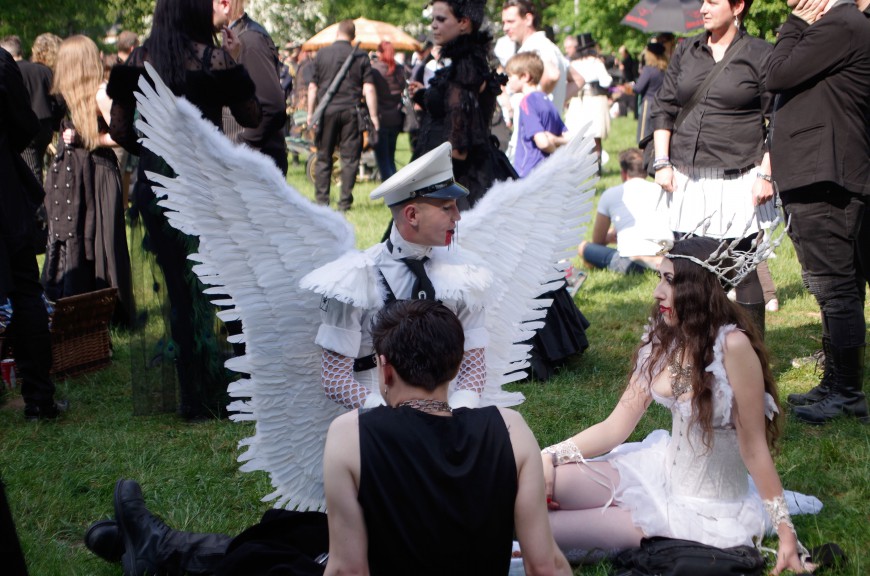 The Wave-Gotik-Treffen was started in 1992 by two young idealists who wanted to create a gathering for like-minded dark souls to meet up.
The first WGT featured 8 bands and attracted around 2,000 guests. This year, there are over 170 acts taking the stage and roughly 20,000 participants. That number is actually closer to 30,000 when you add in the employees required to run such an event, the journalists covering it, and the people who come to Leipzig just to enjoy the atmosphere without actually attending the Wave-Gotik-Treffen.
My introduction to the goth scene took place in New England, after I escaped the sunny hell of Florida to attend university in the mid-nineties. I loved the music and I adored the quiet, thoughtful, gentle people I met in the scene. It was never just the music; it was connecting with people who questioned everything, people who looked at the world around us and felt a need to retreat.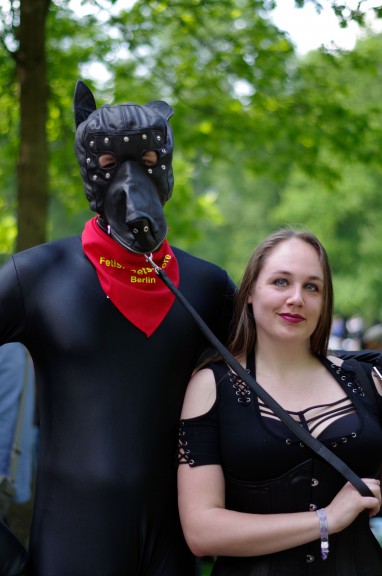 Together we created our own spaces for retreat from that madness, just like the Leipzigers.
There was one goth in Boston who started attending WGT in the nineties. Bob kept telling all of us how amazing the event was and also how cheap the houses were in Leipzig. He was always trying to convince us all to invest a few thousand dollars and create a "goth house," but no one was willing to take that chance with Bob.
I finally made it to Leipzig and WGT for the first time in 2005, and realized that Bob was right on both counts. WGT was amazing and at that time, Leipzig was still full of empty, broken-down houses.
When the opportunity came to move in with friends in Leipzig, I took it. I've lived here since 2009, and today the WGT is even more important to me than it was then.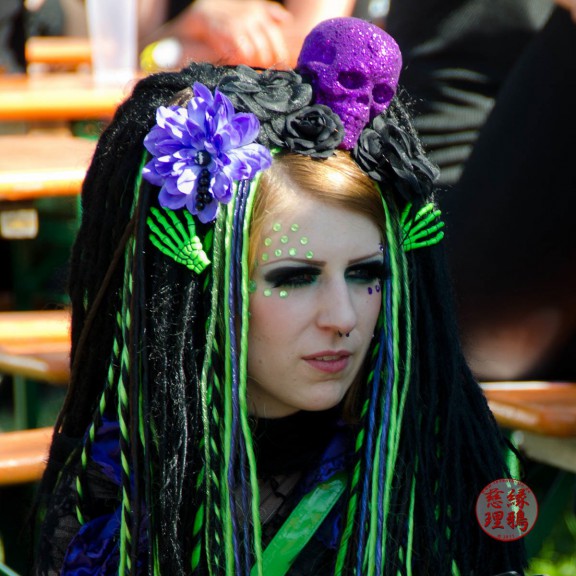 WGT indirectly hooked me up with my first job in Germany: research assistant for the editor of a book about die Schwarze Szene. Yes, Germans really call it that and when they say it, they mean more than just goths; they lump in Industrial, Metal, Neofolk, and other genres.
I do my best to correct them when they try to literally translate that phrase to English. I once spent more than an hour arguing with a man with a doctorate in the humanities on the importance of grammar to keep a group from naming an international event "Black in Leipzig." The event was the 2016 museum exhibition "Leipzig in Black: 25 years of Wave-Gotik-Treffen," for which I served as "gothic consultant" for the Leipzig City History Museum, helping them make connections with the scene to gather objects to display and find people to interview.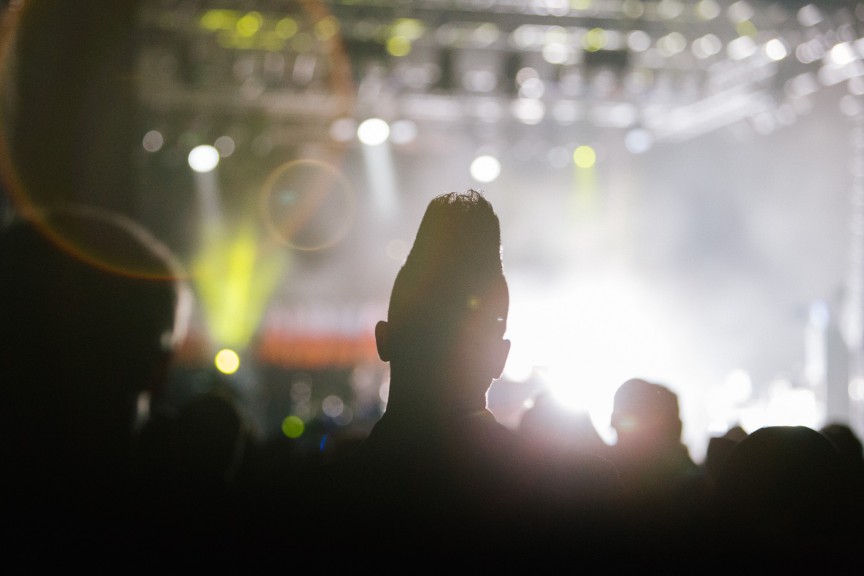 From its beginnings, WGT has always been more than a music festival.
The city's museums open their doors to Wave-Gotik-Treffen visitors. There are tours of the cemeteries. There's a church service. There are theater and opera performances. The are film screenings. There are art exhibitions. There are readings and lectures.
Of course, this being Germany, most WGT events besides concerts are led in German, and many foreign guests have missed out on them due to the language barrier. This year, with help from my amazing and international friends, I've been able to organize a series of lectures and discussions about the scene, by the scene, in English.
Presenters include Andi Harriman (USA), Eden Lost (USA/Sweden), Verónica Mota (Mexico /Germany), Luna Duran (Bolivia/USA/Germany), John Nicholls (ZA/UK), Xavier Kruth (Belgium), Alexander Pehlemann (Germany), and Dr. Parm v. Oheimb (Germany/UK). We will cover topics ranging from the history of the scene to related folklore and science, as well as difficult themes such as the experiences and perception of women and POC in dark alternative music scenes. All panels will include time for Q&A sessions.
The Leipzig City History Museum has generously offered us use of their beautiful Green Salon in the Altes Rathaus. Admission is free for WGT guests, but everyone is welcome to join us.
If you haven't been through this museum, it is absolutely worth a visit. The permanent exhibition presents the multifaceted Leipzig history, from early times to the Battle of the Nations, from the Revolution of 1848 to the Peaceful Revolution of 1989 and German reunification.
---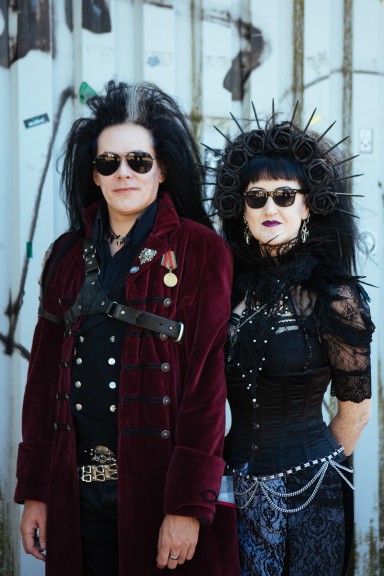 WGT international lecture program (in English)
Stadtgeschichtliches Museum Leipzig
Markt 1
Sunday, 9 June 
12:00 pm: opening remarks

12:15 pm (30 minutes) – Animals as mediators between the worlds of the living and the dead: Why certain animals are associated with death and the afterlife
Dr. Parm v. Oheimb (Schemenkabinett)
Parm v. Oheimb is a biologist and the co-founder of the Schemenkabinett, which focuses on nature's dark secrets. The Schemenkabinett deals with the unique, bizarre and morbid, as well as with the scientific basis of phenomena, which is sometimes only revealed by closer inspection.
1:00 pm (90 minutes) – Dark Wave in the Ostblock: Music subculture in the Eastern Bloc. Rockers, hippies, punks and wavers in the former communist countries in Europe… including the beginnings of WGT
John Nicholls & Xavier Kruth
Panel: John Nicholls, Xavier Kruth, Jen Hoffert-Karas, Alexander Pehlemann
John Nicholls is completing doctoral research into the gothic subculture as it existed in the former German Democratic Republic (GDR) during the 1980s. His focus is primarily on the interactions between the goth scene (Gruftis) and the state security force (Stasi), but incorporates elements of cultural, social and political engagement with other subcultures as well. He works as a researcher and data manager at Trinity College Dublin.
Xavier Kruth writes for the Belgian online gothzine Dark Entries. A sociologist by training, he is fascinated by music and history and likes to mix both.
Alexander Pehlemann is an author, curator, DJ (Al-Haca Sound System), compiler, journalist, networker. He's been stationed in Leipzig-Connewitz since 2009, where he co-manages Kulturny Dom Lipsk / Salon Similde and propagates Neue Sorbische Kunst. Alexander is the editor of Zonic Magazine and the author of three books dealing with subculture in the Eastern Bloc.
Jen Hoffert-Karas has published several books about dark alternative music subculture and worked closely with the Leipzig City History Museum during preparations for the 2016 exhibition "Leipzig in Black: 25 Years of Wave-Gotik-Treffen."
2:45 pm (90 minutes) – A darker shade of pale: POC in the Goth & Industrial Scene
Moderator and presenter: Eden Lost
Panel: Eden Lost, Verónica Mota & Luna Duran
Hailing originally from Los Angeles, California by way of Gothenburg, Sweden, Eden Lost brings a heavy dose of rock 'n' roll attitude to their sexy burlesque performance and Gothenburg's burlesque troupe: The Velvet Vixens.
Monday, 10 June
12:00 pm (60 minutes) – The Land of the Dead: Lecture on the political and social effects of the Occult, Santeria, Witchcraft and the Cult to la Santa Muerte in Mexico today
Verónica Mota
Born in Mexico City, Verónica Mota, aka "Espectra Negra," is a professional sound artist, industrial noise producer, ritualistic body art performer, and techno DJ. She has lived in Berlin since the year 2000. Her works have won very strong resonance because of her deep content, high composition skills, and powerful creative approach. A must-see.
1:00 pm (60 minutes) – The Body as Creative Medium: from the perspective of a South American WOC who grew up in the Body Modification community of North America. Ritual, physical ordeals, adorning, performance, art and personal journeys; how a personal path was illuminated from the exploration of a private darkness
Luna Duran
Luna Duran is an extreme ritual performance artist, professional body piercer for 12 years, business owner and international body art educator currently living in Berlin. Born in the Bolivian Andes to a Quechua Mother and an Aymara Father, she was raised and educated in the United States, studying fine art, photography and philosophy before she committed herself to body art. Luna explores extreme physical ordeals in ritual performances that get documented in film and photography. She also serves on the Board of Directors for the International Suspension Alliance, an organization dedicated to the dissemination of education pertaining to the safe practice of flesh hook suspension.
2:00 pm (90 minutes): A Synthetic Woman – Objectification and Victimization of Women in Industrial Music
Andi Harriman
Panel: Andi Harriman, Veronica [Espectra Negra], TBA
Andi Harriman is a NYC-based writer on all things dark and eighties-centric. She is the author of the book Some Wear Leather, Some Wear Lace: The Worldwide Compendium of Postpunk and Goth in the 1980s, and her writing has appeared in Red Bull Music Academy, Village Voice, Noisey, Bandcamp Daily, Electronic Beats, and L.A. Weekly. Additionally, she is a contributing editor to Post-Punk.com and runs the dark electronic party and label SYNTHICIDE.
---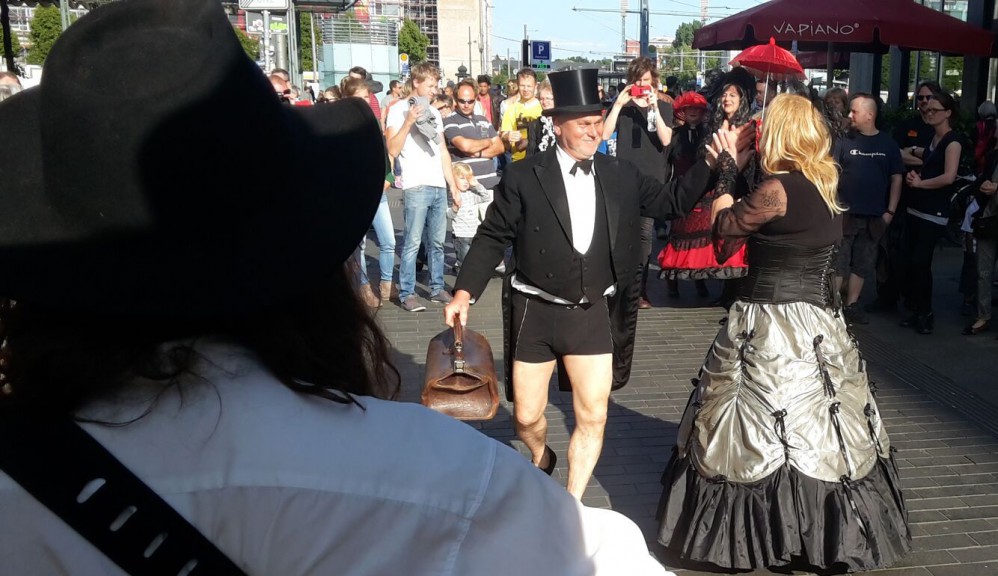 Wave-Gotik-Treffen 2019
When: 6-10 June 2019
Where: Over 70 venues throughout Leipzig, from the Agra Gelände in Dolitz, to Täubchental & Felsenkeller in Plagwitz
How much: Pre-sale tickets can still be purchased at various ticketing agents throughout Leipzig for around €135. The price goes up to around €150 if you wait until the WGT begins. There are no day tickets and no single venue tickets.
My two favorite online sources of information in English about WGT are Caroline Sometimes's Ultimate Guide to WGT and Sadgoth's Guide to WGT & Leipzig. These two are much more detailed than the official Wave-Gotik-Treffen website.
If you'd just like to enjoy some of the events open to non-wristband holders, check out the Facebook group WGT ohne Bändchen. They compile a list of related events open to the public.
(Also: The WGT organizers recommend you visit the "Pagan Village" – "Heidnisches Dorf" – a market selling food and crafts and featuring shows, which is open to the public as well, and located at Torhaus Dölitz, Helenenstr. 24.)
---
By Jen Hoffert-Karas
Jen is a "former horse trainer, turned full-time gothic smart ass."