Agra Park is a black ghetto for the 27th annual Wave-Gotik-Treffen. For the four days of the Pentecostal weekend, from the 18th to 21st May, the vibrancy of the festival not so much transforms as occupies this isolated and post-industrial recreation ground, and turns it into a venue of international relevance to the art and music associated with Gothic subculture.
The main stage is out here. The sounds of a soundcheck throb through the walls of the old Leipzig event hall, and out into a sunny Saturday afternoon. Thousands of people are camping in tents on-site, and hundreds more are being shuttled in every six minutes as the cars arrive at the Dölitz tramway terminus, located on Leipzig's southern extremity, halting just outside the Messepark gates.
These tram cars that arrive are filled to capacity, kind of wobbling with the weight of spiky haircuts pressed up against the glass inside like tinned fish.
Locals with jobs, families, or pressing grocery concerns are also among the dark melee that exit to the platform. The population of Dölitz is 4,734. The number of tickets sold for this year's WGT is somewhere in the region of 18,000, and the scale of change in neighbourhood demographics in Dölitz during this time is spectacular.
More so because Dölitz is a really straight neighbourhood on the edge of town. It's quiet and suburban. The only non-residents who visit with any regularity through the rest of the year are flea market bargain hunters and Straßenbahn narcoleptics.
In order to accurately picture the magnitude that an event as enormous as the WGT has on this Normsville of a neighbourhood, imagine Will Smith and his friends messed up on the first Independence Day film, and creepy alien lifeforms with radically different codes and designs for living descend from the sky to cast a shadow over everything and everyone you know and love… for a few days.
It's obviously a powderkeg for the local community, but I'm surprised at how little trouble there is.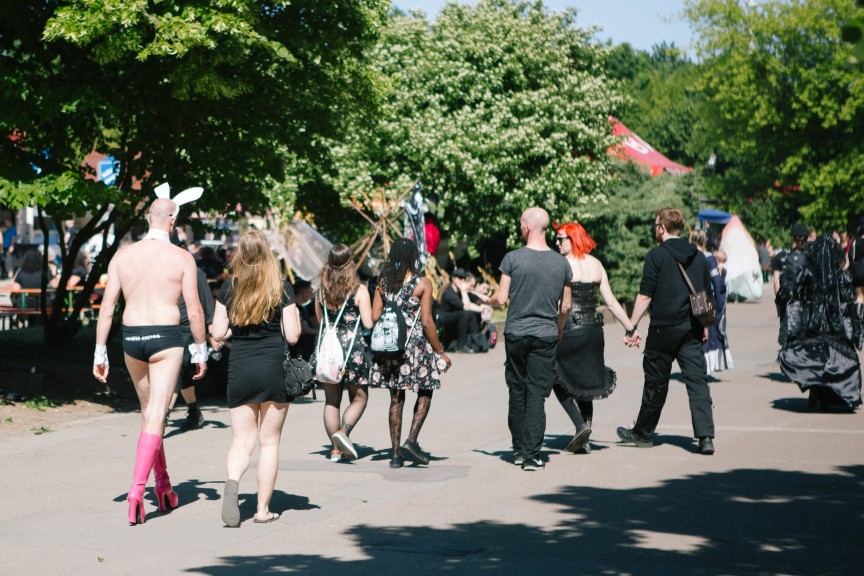 The WGT festival-goers are not the kind of crowd that are out to cause trouble, and they certainly aren't dressed for it, and no doubt regular Dölitzers – identifiable as, simply, the non-Goths – have seen all this before, and intend to ride out this period of commotion with stoic indifference.
The gates of Agra are wristband entry only. This keeps the grounds strictly norm-free and Goth-friendly. As such, your correspondent's yellow shirt is attracting the kind of looks that he himself might reserve for, say, that guy in the fitted PVC pants – which is understandable.
---
---
Some people have travelled the length of the world to be here.
One couple from Australia say they come every year. Another couple from Argentina are here to achieve their once in a lifetime bucket list dream of attending the WGT.
At Agra Park, ice cream is proving to be a remarkably popular commodity.
Some guys from bands I don't know are signing autographs at the absinthe kiosk, and anonymous Goths are mingling on the promenade, or perched up on the wall with an ice cream. It seems everyone has a cone.
The headline acts at Agra don't start until late, so the vibe at this time in the day is pretty mellow, like watching the cast of The Matrix having an off-screen in-costume walk in the park.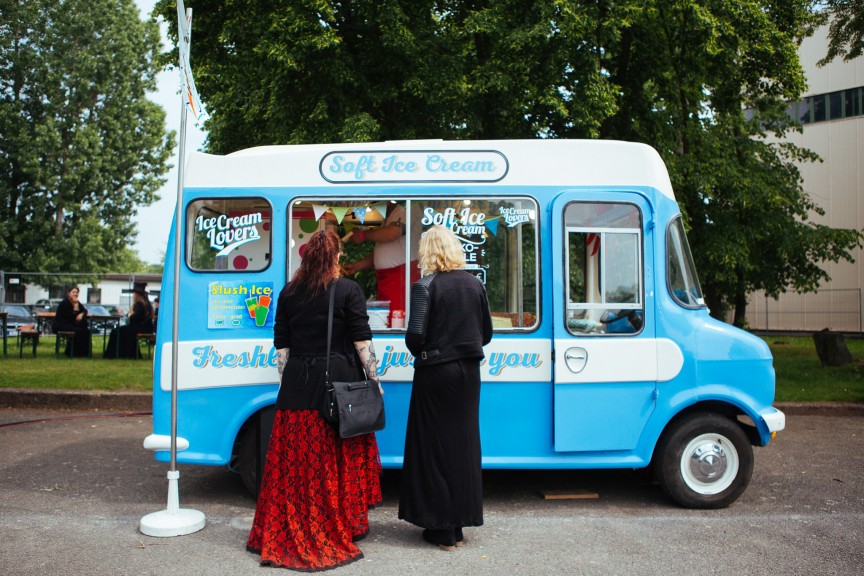 However, your correspondent has a responsibility to bring conflict or tension to light. So I suggest to Erik, our in-house photographer, that we dig deeper for something unusual worth writing about.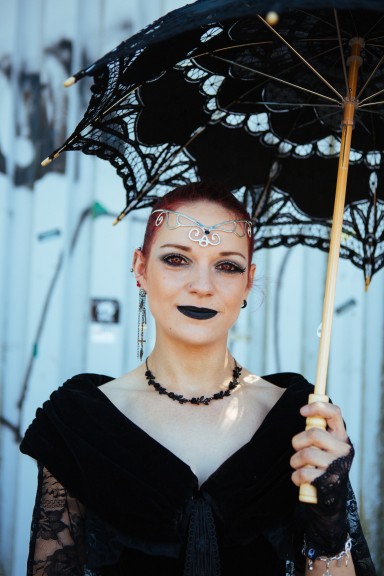 Erik already has his hands full dealing with the sheer volume of Instagram friend requests and unsolicited approaches from the hottest women Tim Burton has ever dreamt up.
They're looking for a photographer to shoot them in their WGT outfits.
After Erik finally manages to wade out from between all the leather-bound corset cleavage, we walk together through the main building.
There are three main rooms inside the main building at Agra.
The 6,000 capacity concert hall is one, where Zeromancer – a kind of nu-metal/alt-rock hybrid from Norway, who achieved international success in the early 2000s – are still sound checking. 4/5ths of this band also played on the Friday night as Seigmen.
The second room is a bar, a setting vaguely reminiscent of a high school discotheque. Room number three is an enormous warehouse serving function as a grand mall. Various alt-brands are selling clothes, and tattoos, piercings and t-shirts, and CDs.
Among the crowds of black are four happy-looking women dressed in bright yellow uniforms. They're unmissable for aisles because they've set up their stall in an ABBA formation, and are waving at everything that moves, not put off by the recoils.
Erik's looking at me as if to ask:
Is this what we are looking for?
—
Adam: Where are you from and what is your business here?
Massage Lady: We work at events, promotions, businesses, wherever people are. Our concept is to bring relaxation to all walks of life. Whatever colour, religion, or…
[gestures at nearby Goth receiving massage]
…whatever beliefs they have. Being dressed in black and having make-up on does not stop people wanting or needing a massage!
Do many WGT attendees – such as this man here [gestures at nearby Goth receiving massage] – take up the opportunity to have a massage?
Yeah, we've been working at these Gothic events for a long time, because actually something that you wouldn't expect is happening here. Gothic audiences love massages, despite the intimidating looks.
I actually find the Goths to be very open.
You can tell by the way they dress, they are very at ease with themselves, and that makes them the perfect massage client for us because to have a massage in public takes a lot of guts.
Do you associate with gothic culture yourself?
No, we stay independent of all the themes at the events we attend.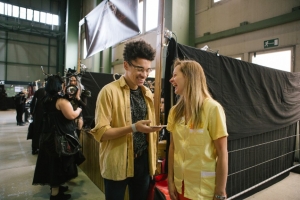 What other events do you do?
We've done so many events. We've done Games Console in Cologne. We regularly do fashion shows like Premium Berlin. We do car shows, so we just got back from Tuning World in Bodensee.
So you see that there is a great variety of people and shows that want our massages!
—
I had heard some complaints prior, from WGT old heads, about the festival becoming culturally gentrified with tourists and voyeurs each year as it's grown. This may have been the case at the Victorian Picnic and in other events closer to city centre.
However, out here, Agra is an island.
It's physically far enough removed from real life by both distance and the perimeter fence. Poseurs just don't care enough to come here.
For the festival goers who give me a few words, the WGT is as significant a celebration for Gothic subculture as an Antichrist Christmas.
"I think death in day to day life is a taboo," says Anya, from Chemnitz, wearing a black bridal dress and stone-white foundation. "When I was very young, being a Goth, for me, was a way of processing death."
[It's] a way of finding beauty in death to see that it is nothing to be afraid of.
"Not just death but also depression and other things. I don't think most people are comfortable with having this discussion, but I can see with the people here that we are all on the same page."
---
The story continues. Check back next week for more Wave-Gotik-Treffen coverage.