I spent two days at DOK Leipzig 2019 watching as many movies as I could, and recommend that you do the same if you have the time. Here are some of my impressions of the films I've been able to catch so far. Just note that I am by no means a movie expert and would never consider myself a cinephile (maybe this will change). So, these "reviews" are only the honest and humble opinion of a movie newbie.
You can find a lot of them in one evening: The block Short Animated Films 1 at Passage Kinos this Friday.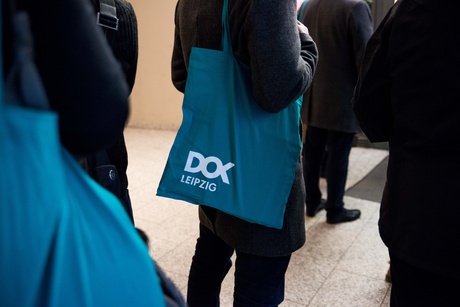 Guilt
Marcjanna Urbańska, Poland, 2019
This animated film may be short, but I spent the whole day thinking about it. Guilt shows the nuances of the troubled life of an alcoholic mother and a daughter who tries (in her own messed up ways) to cope with that. It is a movie about the perfection of mother-daughter love, from two imperfect people in an imperfect world. It hits hard and it hits good.
International Competition Short Film
Passage Kinos Astoria
01/11/2019 / 22:00
Tickets
---
Sometimes Two Herons
Carla Melo Gampert, Colombia, 2018
This one is tricky for me. The art in this animated short is beautiful, and so are the sound effects. The story is confusing though. I don't know if I lack cultural or artistic understanding. It started out blurry but had a promise to capture my attention. Two minutes later I was thinking about all the things I did wrong when I was a teenager. I don't know why. It had nothing to do with anything, except for the fact that I could not bring myself to understand the storyline or what the film maker was trying to convey. A miss for me.
International Competition Short Film
Passage Kinos Astoria
01/11/2019 / 22:00
Tickets
---
Symbiosis
Nadja Andrasev, France, Hungary, 2019
A woman finds out her husband had been cheating on her with several other women. Instead of confronting him, she becomes obsessed with these women. She does what they do, goes where they go. Instead of finding it creepy, we are compelled to side with her and her obsessive pain.
International Competition Short Film
Passage Kinos Astoria
01/11/2019 / 22:00
Tickets
---
Deep Love
Mykyta Lyskov, Ukraine, 2019
A plastic bag that turns into a commercial plane, that turns into a war jet that turns into the bald eagle (animal of the United Sates of America). The bald eagle lays an egg that falls from the sky, the nuclear explosion freezes and turns into mushrooms. This is the most hilarious social critique you will ever watch. It helps if you understand contemporary Ukranian culture, but it is just as entertaining if you are like me and don't know anything about it. Definitely worth a watch.
Next Masters Competition Short Film
Passage Kinos Astoria
01/11/2019 / 22:00
Passage Kinos Astoria
03/11/2019 / 19:30
Tickets
---
Hydebank
Ross McClean, Ireland, 2019
Ryan, a prisoner at Hydebank Prison in Belfast, takes care of sheep as a way of rehabilitation. Neither his crimes nor the time that he has to stay in prison are disclosed. It is also not important. What we learn is that he has done something horrible. McClean shows us a side of a person who, due to his history, should be feared but who, instead, takes care of defenseless animals with the utmost tenderness.
Next Masters Competition Short Film
More info
---
There Were Four of Us
Cassie Shao, USA, 2019
The film is too much. Too much color, too much sound effect, too much unnecessary movement. It is so much information, I could not pay attention to the story line or the scene. I kept on thinking I was wasting my time being there, though it was only 6 minutes long. Weird and avoidable.
Next Masters Competition Short Film
Passage Kinos Astoria
01/11/2019 / 22:00
Tickets
---
Mate
Chaerin Lin, USA, 2019
Longest 4 minutes of my life. Took me a while to understand what I was looking at until I realized they were grey dancing penises. The frames were constantly repeated to the point that I thought it looked like a GIF. Maybe I don't understand art. That was too much for me.
International Programme Short Film
Passage Kinos Astoria
01/11/2019 / 22:00
Tickets
---
Toomas Beneath the Valley of the Wild Wolves
Chintis Lundgren, Estonia, Croatia, France, 2019
This short film should be a long one. With real people and a Hollywood budget. That is how much I love this. I laughed from beginning to end, everyone in the room did. It is mixture of dark and sexual humor with serious social criticism. A definite must-watch.
International Programme Short Film
Passage Kinos Astoria
01/11/2019 / 22:00
Tickets
---
Honeyland
Tamara Kotevska, Ljubomir Stefanov, North Macedonia, 2019
A delightful and catchy documentary that felt so organic I kept on asking myself how they managed to produce something so raw. Haditze, the protagonist, is a beekeeper who takes care of her sick mother in an abandoned village. It's just the two of them until a family of gypsies shows up to – mostly – brighten up Haditze's days. The movie is a beautiful capture of all things that are simple, modest and honest. A definite favorite for me.
Late Harvest
CineStar 4
02/11/2019 / 19:00
CineStar 7
03/11/2019 / 10:30
Tickets
---
The Last Autumn
Yrsa Roca Fannberg, Iceland, 2019
This movie reminded me of my grandfather. The way the protagonist treats and talks to his animals, the way he teaches his grandchildren and the way they play around the farm without a care in the world. This all reminded me of my childhood and the weeks I would spend my summer holidays milking cows, picking fruits directly from the trees and swimming in the rivers. Of course, that wasn't Iceland. But the essence was there and is there anywhere in the world. For me, the biggest takeaway from the movie is that farm life is just as important as city life. We cannot and should not forget about those who carry knowledge about nature, animals, skies and seas. They are essential to our society. Thank you, Yrsa, for reminding me of that.
International Programme
More info
---
Arid Zone
Fernanda Pessoa, Brazil, 2019
Fernanda returns to Mesa, Arizona, after 15 years. She was an exchange student there as a teenager. The reason for her return? Mesa had been considered the most conservative city in the USA. She wanted to see how the people from her first international experience were faring. The film is structured as a letter to her 15-year-old self. We see pictures and interviews. But the feeling of the entire movie stays: Whoever is not from there is an alien.
Next Masters Competition
Passage Kinos Astoria
01/11/2019 / 19:30
Schauburg
02/11/2019 / 17:00
Tickets
---
LeipGlo's coverage of DOK Leipzig will continue on our website and social media channels. The festival runs until Monday, November 4th.