Leipzig is well-known for its DOK festival, but you may not be aware of Paradoks, where art meets moving image. Sometimes a screen is just not enough. Complete with guided tours in English, Paradoks is dedicated to formats beyond convention. In order to reach a variety of senses and allow the viewer to accept information in their own configuration, multiple approaches are given a platform. Interdisciplinary projects that operate at the intersections of activism, science and art allow for new collations.
In the mix of journalistic research, re-enactments, scientific findings, found material, social media images and more, we are exposed to information we might not otherwise connect.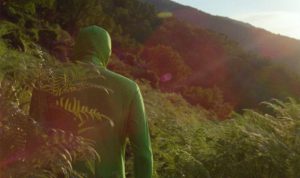 This year's festival is divided into two themes. One starts with us as humans and how we feel in our bodies. The works in PSYCHEDELIC ANTHROPOLOGY explore altered states of consciousness and bodily sensations. This is something many of us have been paying more attention to lately. Trapped in our dwellings and only allowed out for walks gave us keen insight into the difference between stillness and movement. It was a time when usual schedules shifted or came to an abrupt halt. There was an uptrend in spirituality and self-healing. This shift in attention to work-life balance has led to the Great Resignation where many are quitting their jobs in search of new more fulfilling directions. But is this search for work-life balance the new reality or fiction?
reality or fantasy
The Paradoks cluster PSYCHEDELIC ANTHROPOLOGY blurs the lines between traditional documentary and fantasy by means of audio-visual immersion or self-referential playfulness. Works by local and international artists investigate both the paradigms of knowledge production as well as spiritual experiences embedded in cultural techniques such as research, dance, music and hiking. Various coordinates act as reference points in a network of relations between humans, science, faith and society which are in a constant state of readjustment.
The second theme of Paradoks is EMPOWERMENT.
The push to address the consequences of colonialism has been building. The energy exploded in response to the death of George Floyd leading to the Black Lives Matter movement gaining worldwide recognition. All over the world people have joined in support of diaspora communities. In Leipzig, more than 15,000 people took to the streets to denounce discrimination. The EMPOWERMENT cluster brings together works that identify and question colonial legacy and its consequences from within the current moment as well as from a historical (external) perspective which find their own forms of expression through music, performance and the fictionalization of documentary elements.
---
23 October – 14 November
25 October
17.00 Artist-Talk: Bárbara Wagner und Benjamin de Burca (ENG). HGB
28 October
19.00 PURPLE SEA & SHIPWRECK AT THE THRESHOLD OF EUROPE, LESVOS, AEGEAN SEA: 28 OCTOBER 2015In the presence of Amel Alzakout und Christina Varvia (Forensic Architecture). GfZK / Neubau
1 November
19.00 FORENSICKNESS | BOTTLED SONGS 1
Cinémathèque Leipzig
3 November
19.00 WRO ON TOUR: INTERSPACE
In the presence of Dagmara Domagała und Dominika Kluszczyk (WRO Art Center, Wrocław). GfZK / Neubau
14 November
15.00 Finissage (ENG). HGB
GUIDED TOURS IN ENGLISH
27 October
14.00 Guided Tour in Werkschauhalle 12, duration 1h
29 October
14.00 Guided Tour in GfZK & HGB, meeting point GfZK, duration 2h
for additional tours with groups of more than 10 people email paradoks@filz.works