It felt good to enter the EIGEN + ART gallery.
In all my COVID-19 panic, I'd forgotten how it felt. It was like coming home. Maybe it's because I was surrounded by work from artists I had grown familiar with.
Reemerging from lockdown is a bit daunting. I needed that comfort. I needed works I would be happy to be trapped alone in my flat with. This hit the spot.
reloaded showcases works by EIGEN + ART artists
Like the rest of us, the gallery is not proceeding as planned. The Martin Groß solo show has been postponed. His pieces are fabulous and you need to see them if you haven't, but let's face it, this is work that has to be seen in person.
Instead there is only one of his works, Ja, Ja, Supercool, on display. I need it. I meant to say I want it, but you know I need it.
And, like us, EIGEN + ART had to think on their feet for the show that began at the end of May. Everything had shut down with no signs of reopening in sight. So, they looked in their treasure chest and pulled out some gems.
I was pleasantly surprised to see work from Melora Kuhn. Her 2017 Rundgang show had sold out the first day. Her portraits of the past conjure thoughts of adventure in the Wild West.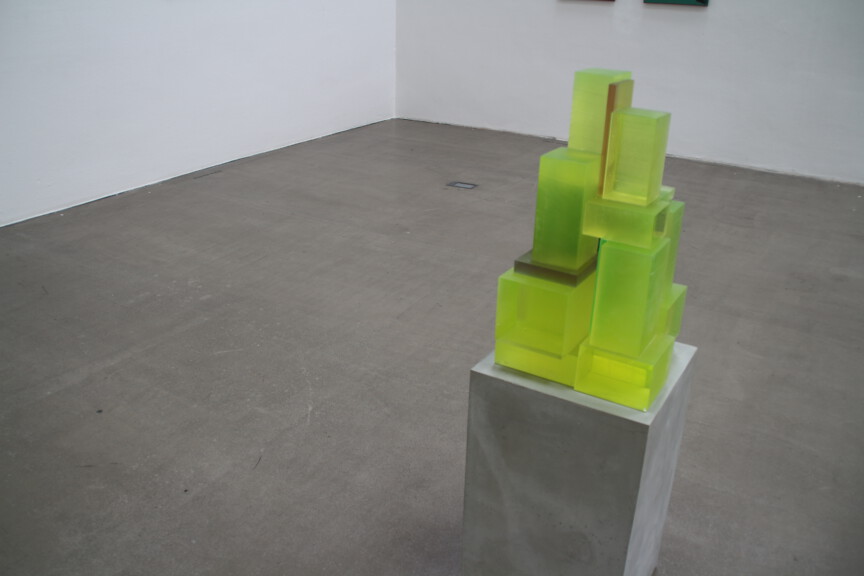 Also on display is recent work from Ryan Mosley. The electric palette of his solo show, From the Verges, has darkened. It feels very turn of the last century and 2020 all at once. Ahh. Is history repeating itself?
The whole show has a familiar feeling, even the dangerous ones.
Though many were known to me, some were new. I think my favorite discovery was Igor Hosnedl, who seems to be able to work knives in just about anywhere. Something about his paintings reminded me of Tamara de Lempicka.
While there is something strikingly Art Deco about his works, they are decidedly modern. His use of flat surfaces juxtaposed with shaded ones make for endlessly interesting compositions.
The more you look, the more you see.
On close inspection, you find familiar objects in the motifs of the draped fabrics. All this attracted me, but the thing that drew me first and held my fascination was his technique of adding pigment to glue. It feels as though the entire work in glazed.
Some things work online. Some need the naked eye.
Igor Hosnedl has to be seen in person to fully appreciate it. That's why it is so great that the gallery is open to the public again. Other pieces just couldn't transfer to online platforms either.
The delicate embossed photogravure architectural pieces of David Schnell need time and concentration. The large plates of glass that lean against the wall by Olaf Nicolai are elegant and fragile. The lace curtain pattern ground into the glass ignites memories.
And, as the world protests, Felix Leon Westner says what fills the streets. His chalk marker on acrylic pieces are aptly entitled, "Zero Tolerance," "To be honest," "extra not," and "Start the f**k…"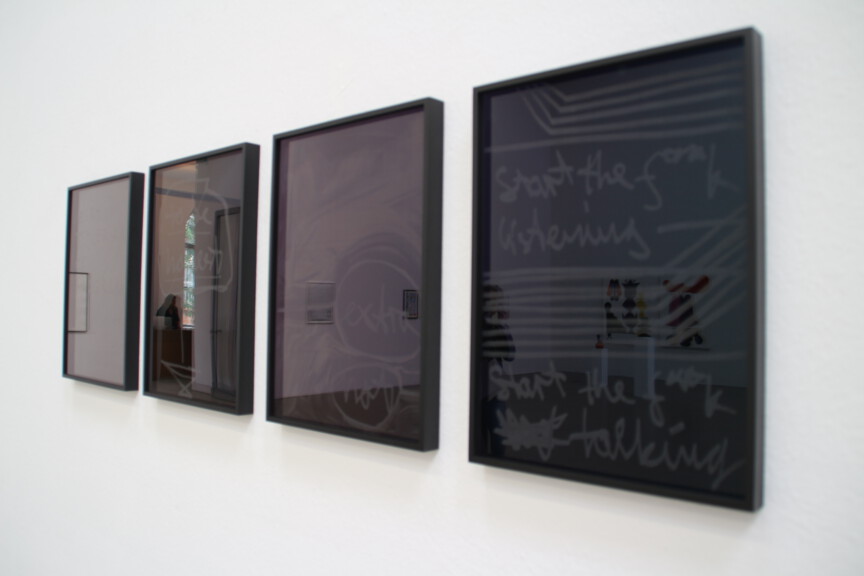 Say what you will about the pandemic, but it has given many of us the power to reload.
I particularly liked Titus Schade's clouds. Was he inspired by the clouds as they rolled by his window? The sky loses its expansive nature when you are inside. It was good to see him venture outside his normal geometric constraints.
---
reloaded
28.05 – 22.07.2020
@ Galerie EIGEN + ART Leipzig
Spinnereistraße 7, Halle 5
Tue – Fri
11AM – 2PM
Sat
11AM – 4PM