For the first time ever, all foreigners and naturalized Germans residing in Leipzig for at least 3 months will be able to vote in the Leipzig Migrants' Council selection process. The council has an advisory role to Stadt Leipzig on matters concerning the city's international community. If you're eligible to vote, you should receive a letter with instructions latest by March 21st (otherwise, contact Stadt Leipzig's Referat für Migration und Integration). The voting will be open from 8 a.m. on March 22nd to 8 a.m. on March 29th, 2021, and applies to candidates split up into 8 geographic regions (here's a list of all the candidates by region). The person with the most votes from each region will be selected to represent that region. The Leipzig City Council then appoints the next two with the most votes for the remaining positions, for a total of 10 representatives.  
In its ongoing "Meet the Candidates" series, LeipGlo is running these Q&A's with Leipzig Migrants' Council candidates who reach out to us, as they come into our inbox (SEE ALL PUBLISHED ONES HERE). If you're a candidate and would like to be featured here, email a photo of yourself with attribution to contact@leipglo.com and indicate that you would like to receive the link to fill out the questionnaire online. We will be accepting questionnaires also during the voting period.   
---
Neam Tarek, Egypt
Geographic region for vote: Nordafrika
Neam Tarek, photo (c) C. Ayarahman
I am cosmopolitan, from the earth, born in Cairo.
Who are you? Tell us a little bit about you.
I am an artist, I moved to Austria when I was 15 and later moved to Berlin and then Leipzig. I almost feel like I grew up here, I never felt like a foreigner in that sense.
I come from a music background. I studied harp and used to be the only harpist with many different orchestras and solo performances, until the moment I realised there are more mediums needed to be able to interact with what is happening in the society I am living in, socially and politically.
So I started to construct cultural-dialogue-based projects, to help understand each other and to moderate between cultural differences.
When and why did you move to Leipzig?
I moved from Berlin to Leipzig in September 2016 to continue my Bachelor studies at the Mendelssohn Bartholdy University of Music and Theatre.
Why are you running for the Leipzig Migrants' Council? What are your goals?
Ever since, I feel responsible towards all the cultural clashes that are happening around, toward the different stereotypes of the west and of the east. I have always felt I needed to give explanations and to clarify those misunderstandings, to moderate and to provide a chance for a dialogue, to get people to talk to each other and to bond in different ways but based on one important aspect, which is humanity.
Humanity is the first identity that we all have in common. (Under this piece of Hijab, there is also hair.) I feel it needs to be said among other statements as well.
Representing Arabic, African Muslim liberal women is a necessity. I almost felt like I had no choice but to run for the council, because I wasn't sure if any Arab women would do so.
Another motive was representing artists in the socio-political field, which in my opinion is an essential field that goes in parallel with and reflects on social politics. Moreover, art and culture have always been a backbone for the character and the history of Leipzig.
My goals are more socio-political, socio-cultural goals, rather than pure politics.
Have you been involved in politics before? If so, where and in what capacity?
Yes, it happen to be that I come from politician family so politics has always been an essential element in my growing up. and I have been engaged in a lot of political activity but as I said, I am more into social politics rather than a pure one. Therefore I founded last year the migrant organization Forte eV for art, culture and equality of genders, to be able to establish and achieve more on those directions.
What do you wish was different in Leipzig for foreigners?
I don't wish something different in Leipzig for foreigners. I do wish to build further on what is already in Leipzig.
The potential of Leipzig in the international multicultural fairground is quit a lot already. Together we could work on that potential more and take it to a bigger frame.
Leipzig already contains and welcomes all those different cultures; the goal is to expose all those different cultures to each other.
What is the best, worst or most memorable experience you have had as a foreigner in Leipzig? (Optional question)
When I first arrived in Leipzig to take the university entrance exam, I was tired after the long day and my bus back was cancelled! I was standing in the station and asked a random German young lady if she knew about a hostel.
Two minutes later, she offered me the guest room in her WG; and that WG was the most incredible host I ever had in my life. I do believe in Leipzig!
---
Alexandra Athanasopoulou Köpping, Greece/Belgium
Geographic region for vote: Süd- und Osteuropa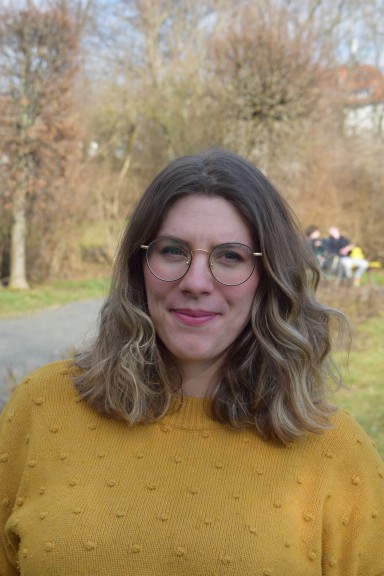 I was born and raised in Brussels from Greek parents.
Who are you? Tell us a little bit about you.
I am 33 years old. I studied political science a bit everywhere, Belgium, the UK, the Netherlands and India. I grew up bilingually in French and Greek, which in practice meant that I went to two schools as a child.
As a teenager, I had a phase where I was obsessed with everything Greek, I would only listen to Greek music, read Greek books, have Greek friends. I think every immigrant child goes through a phase like that. They are trying to understand their roots and where they come from.
I did a PhD at the University of Leipzig and had a grant from the Friedrich Ebert Foundation. I am a mother of two little girls who are also growing up trilingual. I love to travel and read science fiction books, especially Asimov.
When and why did you move to Leipzig?
I came in 2012 out of love. I did not plan to stay that long but life took its course. I started and finished a PhD and then I had children while building some very strong friendships.
Why are you running for the Leipzig Migrants' Council? What are your goals?
There are many reasons why I run for the Council.
Once I got children, I realised how challenging it can be for parents who are not from here.
As a parent, you want to make sure you understand what your child's doctor or teacher says about your child. You also want your child to learn your own language and your own culture and this is challenging.
I want stronger coordination of the native language courses in the City of Leipzig and also want that all parents know this is an option for them.
I want teachers who get training on bilingualism, as more and more children who go to school will be bilingual.
I want to see more diversity in the city administration. I strongly believe that if you want the clerks at the administration to be more culturally sensitive, you have to give them migrant colleagues.
Finally, I would like a "Festival of Diversity" at the Marktplatz, because I believe that we need to show how diverse this city is and Germans need to see us and our potential. Integration is a two-way process.
Have you been involved in politics before? If so, where and in what capacity?
In a way yes, I have indirectly been involved in politics.
I have participated in the electoral campaigns of people I admire since I was 14; they were all Social Democrats or left-wing. I have distributed a lot of flyers and made a lot of phone calls to strangers. I have also worked in institutions where political decisions are made (the European Parliament). My job was to make sure those who made political decisions had all the information to make an informed decision.
What do you wish was different in Leipzig for foreigners?
That there was no need for a migrants' council.
What is the best, worst or most memorable experience you have had as a foreigner in Leipzig? (Optional question)
The best communal experience that I had in Leipzig was when Germany won the World Cup. I remember Karli being full of people from all over the place being happy. Football does connect people. I hope RB Leipzig wins the Bundesliga soon.
Conversely, I came to Leipzig right when the eurozone crisis was high on media coverage.
I had to sit through some painful conversations, where Germans who have never even been to Greece would explain to me what was wrong with Greece and its "lazy people." All that, knowing how hard sick family members back in Greece were working and struggling to make the next health insurance payment.
---