Hi, Leipziger Glocals!
I guess I don't need to mention how this spring was a huge disappointment on the weather front. I initially developed this recipe for carrot fritters for a picnic in Rosental with warm sunshine and a sweet spring breeze on my mind. When the strict lockdown started, last year in March, it was one of the best spring weathers I have ever experienced here. As restrictions slowly eased, what was up with spring? Snow, hail, crazy wind storms, the temperature falling below zero at night… and… and… must I go on? Anyway, summer will keep getting warmer, right? Fingers crossed!
Today's vegan/gluten-free recipe is simple and thrifty.
These carrot fritters with chickpea flour and rice flour can be made fairly quickly, then packed into a lunch box as part of a picnic spread, or taken on that road trip for which we have all been longing for many months. They are served with a mint yogurt sauce but feel free to substitute with hot sauce of your choice, or fruit chutney. Enjoy!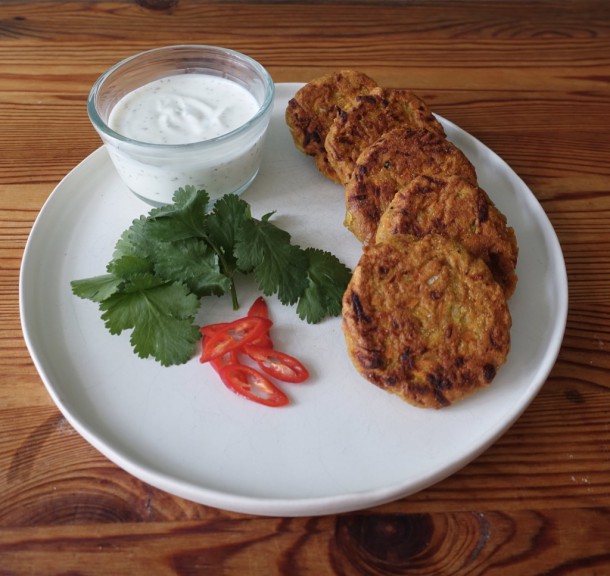 Carrot and chickpea flour fritters with mint yogurt sauce
Makes around 8 fritters

Fritters
1 medium carrot, coarsely grated (around 150g)
1 spring onion, finely chopped
1 small handful of coriander or parsley leaves, finely chopped
80g plain white rice flour
100g chickpea flour
1/2 tsp salt
1/2 tsp ground cumin
1/4 tsp ground turmeric
1/4-1/2 tsp chili powder
1/2 tsp baking powder
150ml sparkling water
3-4 tsp olive oil or rapeseed oil
---
Yogurt sauce
100ml natural yogurt or Greek yogurt
A big pinch of dried mint or about 5 fresh mint leaves, finely chopped
1 small clove garlic, finely grated or smashed (optional)
1 tsp lemon juice
A pinch of salt or to taste
---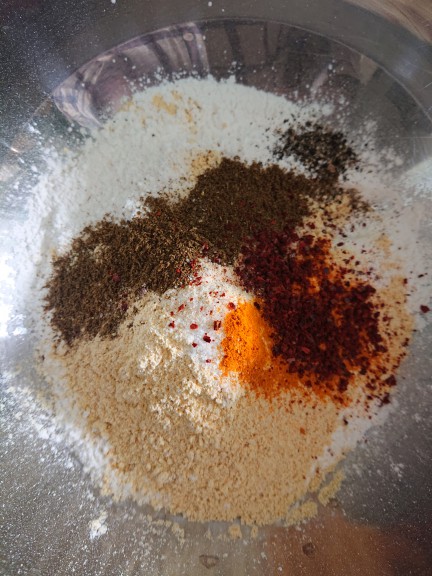 Preparation
1. Whisk the dried ingredients for the fritters in a medium bowl. Slowly add the water, and mix as you go. The batter should be very thick, almost like a wet dough.
2. Add the carrot and spring onion into the batter. Mix through with a wooden spoon until homogeneous. You should be able to form them into patties with your hands.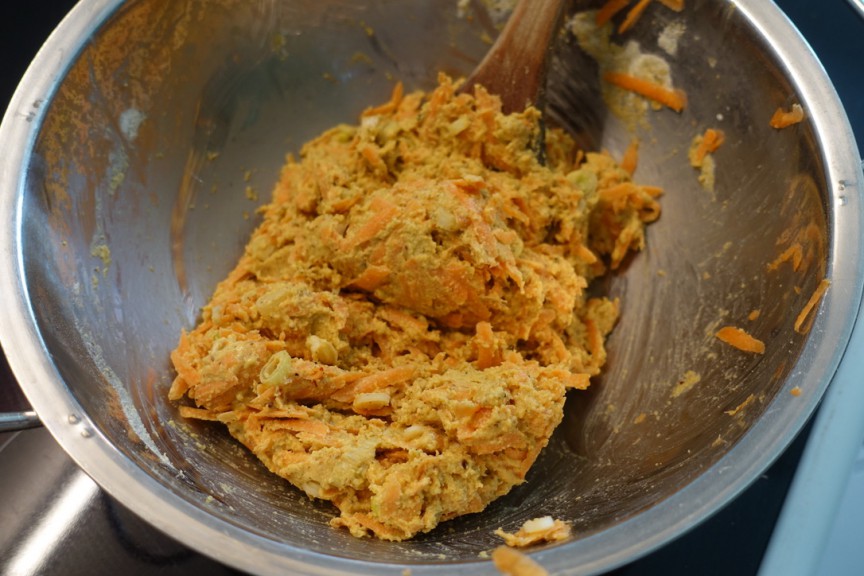 3. Oil your hands lightly. Take a small handful of the batter, and roll it into a ball, slightly larger than a golf ball. Lightly flatten into a disc and lay it on a plate while you repeat with the remaining batter.
4. Heat the oil in a non-stick frying pan over medium-high heat. When the oil is hot, lay the patties in one layer without overcrowding the pan. Fry for about 3 minutes until golden on one side, then flip and repeat.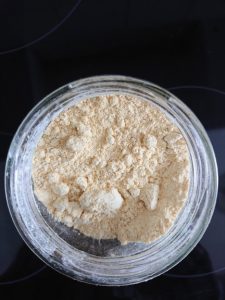 5. Rest the cooked fritters on a plate lined with paper towels to absorb the extra oil. Repeat with the remaining batter.
6. Whisk all the ingredients for the yogurt sauce in a small bowl.
7. Serve the fritters with the yogurt sauce on top or on the side, plus a garnish of your choice.
Shopping tips
Chickpea flour and rice flour can be found at most organic stores or the Asia Laden. Chickpea flour is labeled as "gram flour" at the Asia Laden. Make sure the rice flour is plain, not the glutenous kind!
Dried mint is sold at most Arab/Turkish stores. You could also just rip open a mint tea bag in a pinch and use that instead.
---