Like many of us, United States Consul General Kenichiro (Ken) Toko hadn't been able to go back to his office since lockdown began last November. His recent interview with LeipGlo at the U.S. Consulate General in Leipzig, which he has headed since August 2020 (succeeding CG Timothy Eydelnant), was one of his first in-person meetings in half a year. Travel and moving abroad have shaped much of this Japanese American's life thus far, along with the lives of his wife and kids, but they haven't had a chance to see much of anything around here.
"For many years, experts had been talking about the possibility of a global pandemic, but this is really the first one that we've had since the 'Spanish flu,' so it's been over 100 years," the diplomat reflected. "I don't think there was an actual blueprint for how to go about addressing and handling it, for all countries, including the United States and in the EU."
It has been about trying to figure out and adapt to the constantly changing situation. I think everyone is just doing the best they can [in terms of managing the COVID-19 lockdown and vaccinations] under very difficult circumstances.
Toko said his four teenage kids had an especially tough time leaving school and friends behind in the Washington, D.C. area and being shut in with virtual classes in a new country "without human interaction with the teachers or with the other students." The family's daily highlight became walking their miniature Golden Retriever, which they had trouble bringing from the U.S. due to flight cancellations and cargo restrictions. After having contended with pandemic hurdles in the U.S., they had to quarantine in Leipzig for two weeks and go back into lockdown a mere three months later.
"A big part of my job is to travel to see people and different parts of Mitteldeutschland [which the consulate covers] and we just weren't able to do that," Toko told LeipGlo in May 2021, when the lockdown had once again eased.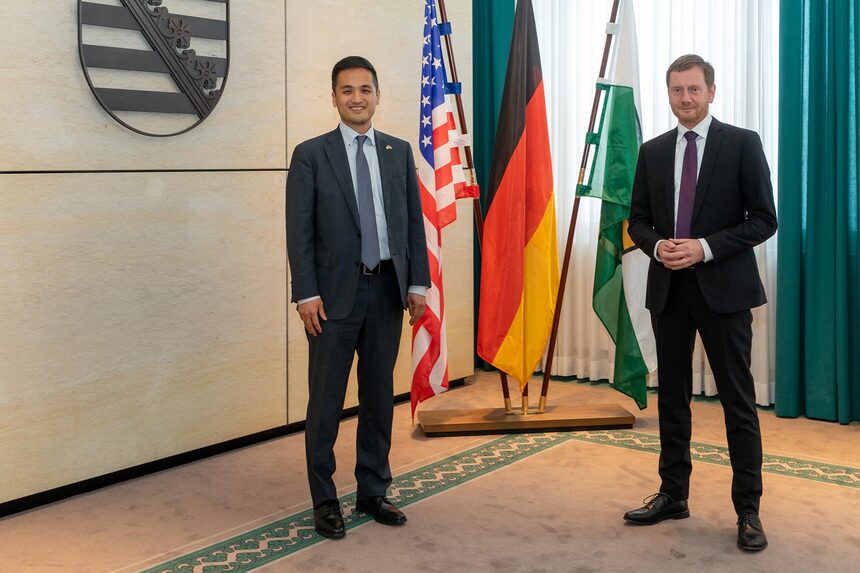 The consulate's task "is to strengthen relations between the United States and Germany through cultural, educational and economic exchanges and it's been more difficult to create these people-to-people connections virtually," he said. "Under normal circumstances, we would be inviting a lot of people to receptions and meetings here at the consulate, like politicians, business people, people from civil society, students, and media. But we can't do that now, and so I think it's been very challenging in that regard. (…) One good thing about all these virtual meetings is that I can have so many on the same day [across the region]. So it's very efficient, but still not the same as meeting people in person."
Flexibility and adaptability are, of course, an intrinsic part of a diplomat's job description, and Toko said the job in Leipzig excites him every day. He added that "being a diplomat has been my dream job" despite "getting tired of moving, putting everything in boxes" every two to three years. He feels lucky to have a wife who has been fully supportive of this lifestyle. They are in it for the long haul:
It is a big commitment, not only for yourself but also for your family. (…) You have to be able to live in any sort of new situation, new country, with new languages, sometimes uncomfortable situations, as well.
"I had a lot of colleagues who joined around the same time as I did, other officers who have resigned from the Foreign Service because it wasn't the lifestyle for them or their family."
The son of Japanese immigrants, Toko was born and grew up in the New York City area, where he kept in close contact with his heritage, speaking Japanese at home with his parents and graduating from Columbia University with a degree in East Asian Studies. He met his future wife in 1997, during his senior year in college and her student exchange year from Japan. Their relationship endured long-distance as she lived in Japan and he was in the U.S. at the time.
The long-distance relationship continued, but in the opposite direction, when he moved to Japan in 2001 to work for Sony and she decided at the same time to pursue graduate studies in the U.S. Eventually, after four years of living on different continents, they decided to get married. "The years of long-distance were tough, but it also strengthened our bond and made us appreciate each other more," Toko said.
This back and forth between the two countries has been a running theme in Toko's history, from when an American missionary came into his Japanese mother's life six decades ago and planted a seed of curiosity.
"My mom grew up in a rural town in southern Japan, right after World War II," he recounted. "They didn't have much exposure to Americans there at the time. But when she was young, there was an American missionary who showed up in her town. And that missionary didn't speak any Japanese, but she was there teaching kids English for free, and so my mom started to go visit her, started to practice English, to watch American films and listen to American music. My mom became fascinated and just decided that she wanted to go to America in the future."
As serendipity would have it, "fast-forward 10, 15 years, and my mom had an option to go to America because my uncle was by that time working in both Japan and the U.S. as a doctor. My dad had gone to engineering school and my mom to nursing school in Japan. They both had good jobs, my mom as a nurse, and my father at a Japanese company. At that time, it was very unusual for Japanese businessmen to just pick up and leave, [as in that work culture] even now you basically devote your entire life to the same company. But my mom somehow convinced my dad to quit his job and move to the U.S. 'Yeah, let's pick up our stuff and go and see how we like it, maybe stay for a couple of years.' And they've ended up staying for close to 50 years now."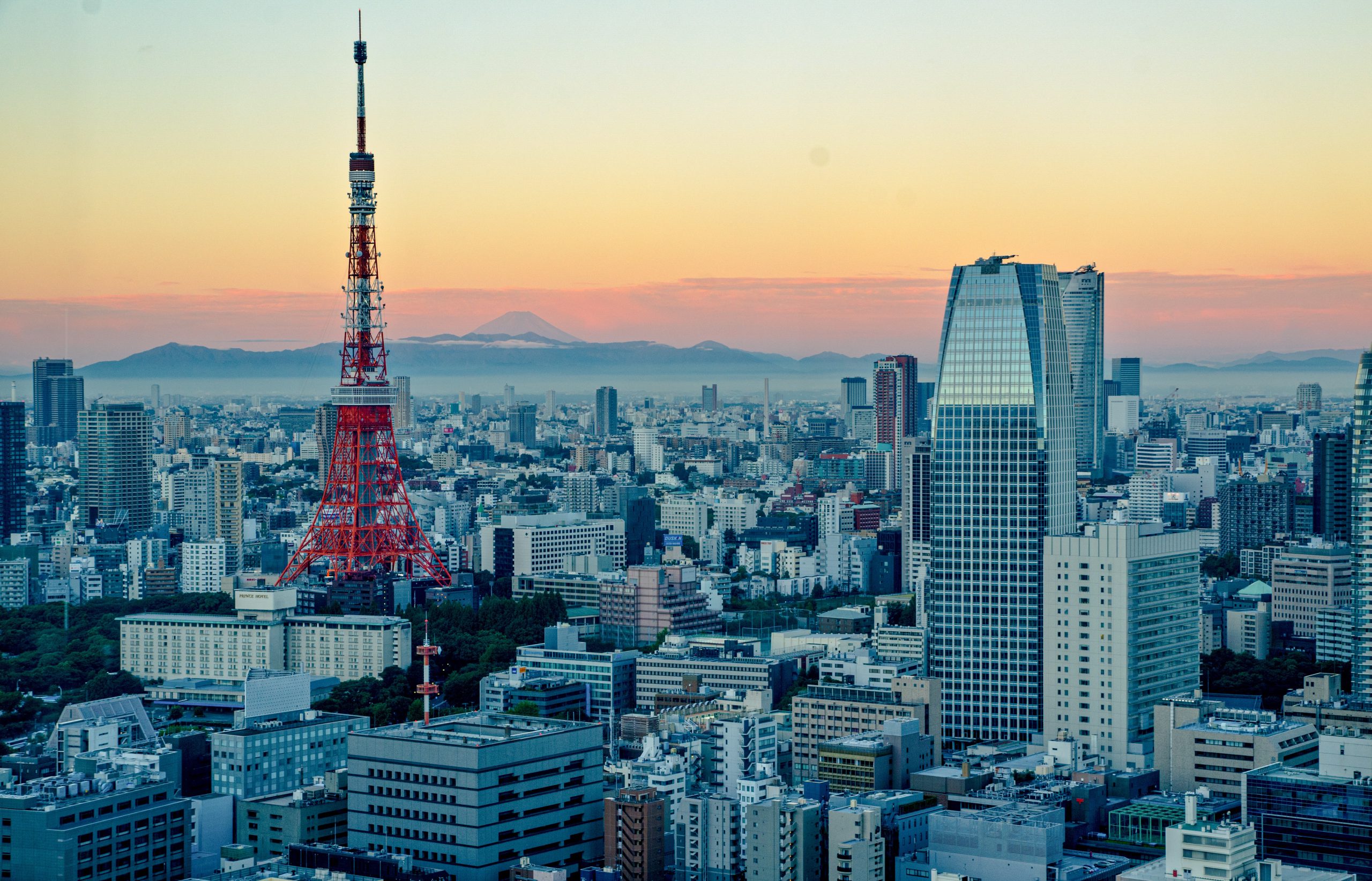 The Japanese American inherited his parents' adventurous spirit: When an opportunity to go work in the private sector in Tokyo presented itself, he grabbed it; the move eventually led him to his dream job, as a Foreign Service Officer.
"One of my friends from graduate school was working for Sony and told me, 'hey, there's an opening in Tokyo,' so I applied and I got the job," he recalled. "I figured, 'I speak Japanese, so I could work there. I've been to Japan so many times as a kid.' I was very comfortable there and I thought it would be pretty cool to go live there. (…) Tokyo was a lot of fun. I was much younger then and there were a lot of late nights on the weekends. You can go out with your friends and eat and drink until late at night, you know, do some karaoke and finish off the night with a bowl of noodles at 3 a.m. and come back home at 6 a.m."
At Sony headquarters, I worked in the section that dealt with external relations and government affairs. We used to meet with foreign embassies in Tokyo, including the U.S. Embassy. The more interesting thing I did was assisting the CEO at the time, going with him on trips like to Davos and New York for the World Economic Forum, right after 9/11.
"It was a great job, and I learned a lot. (…) But then I thought it was time to move on to what I really wanted to do. (…) So I took the written test for the Foreign Service at the U.S. Embassy in Tokyo. I passed that and then got called for the oral exams in Washington, D.C. So I flew back to D.C. for that. And yeah, luckily I passed that, too."
Toko entered the U.S. Foreign Service in 2003, as the Iraq War was breaking.
His first assignment was in Taipei, and then Shanghai. There, he encountered an epidemic for the first time as a diplomat, the Avian influenza: "Certainly the situation was not as global or as dire as it is now. But I remember there being planes full of people and if a case came up, all the passengers would then be quarantined in some hotel, and we had to help a lot of Americans in that sort of situation, where they would just be shuffled together from the airport to hotels."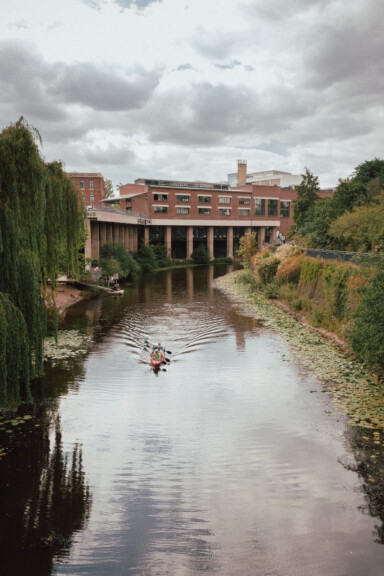 For his next postings, he got to serve in his beloved Tokyo, in D.C. a couple of times, in Kyiv, and finally in Leipzig. He welcomes the relative peace and quiet here after having spent so many years in cities with "millions of people and bustling cars." Nowadays, he said, "I prefer a place like Leipzig, where you can actually walk around and hear the birds chirping outside, take a nice walk in the park. You know, it's not that crowded and not just because of COVID. It's just a very livable city. It's nice to have a lot of space especially being here with my family."
Upon serving in a few familiar environments, Toko deliberately looked for different cultures to challenge himself, and became interested in Ukraine and then Germany. Before assuming each of these posts, he had to undergo months of intensive language training as he didn't speak either language. (Ukrainian was harder to learn than German, he said.)
Preceding that were periods of "actively pursuing" these sought-after assignments, as he explained: "In the U.S. Foreign Service, it's almost like a new job application every two or three years. There is no central HR that tells you where to go. You have to find your own position. Every year a list of available positions comes out, and you take a look [at] what might be of interest to you and matches your rank. You then submit your résumé and other application materials, and you undergo interviews. You apply for multiple positions because there's no guarantee you'll get your top one. (…) There's a very comprehensive review of candidates where the offices being applied for consider evaluations from your bosses, your peers and your subordinates."
"Coming to Leipzig was my first choice," Toko added. "I don't know where I'm going to go after Leipzig, so next year, I'll look at the list for 2023 and see what is available."
Although Toko's arrival in Leipzig coincided with a turbulent political transition period in the U.S., right before Donald Trump was voted out of office, he said that in all his meetings, "people have been very kind, very willing and happy to talk to us." Toko feels that locals were as friendly to him under the Trump administration as they have been since Joe Biden assumed the presidency in January 2021, but that "views towards the United States" have changed in the media as well as in conversations with members of the public.
"When we talk to people, they say, 'oh, you know it's a very different dynamic since January.' (…) One thing that President Biden has really emphasized from the very beginning has been the importance of alliances and partnerships around the world. I think he takes that to heart and puts it into practice. And he's shown that he really does want to reach out and engage actively as partners and allies with countries like Germany. There's constant communication between the U.S. and Germany at all levels and a desire, definitely on both sides, to really strengthen the relationship."
As a career diplomat for the past 18 years, Toko also served under the administrations of Republican George W. Bush and Democrat Barack Obama. Although "there are ways to voice your disagreement internally [in the U.S. Department of State], when we're talking to people out in public, as professional diplomats, we have to represent and explain the policies of the administration at that time." This can be hard to stomach for some: "There were many diplomats [including very senior ones] who resigned over the past four years. It's a personal choice for them." He also noted that public perceptions of the U.S. tend to greatly fluctuate "depending on the administration, depending on what's happening around the world at that time. I think it's very easy for people to criticize the United States for things that are happening around the world, and there are always groundless conspiracy theories that the United States is behind a lot of things."
Having chosen to stay on and weather some of the most challenging periods for U.S. diplomacy—climate change, the "War on Terror," WikiLeaks, the Trump administration—Toko has found patterns in the peaks and troughs of sentiment towards the U.S.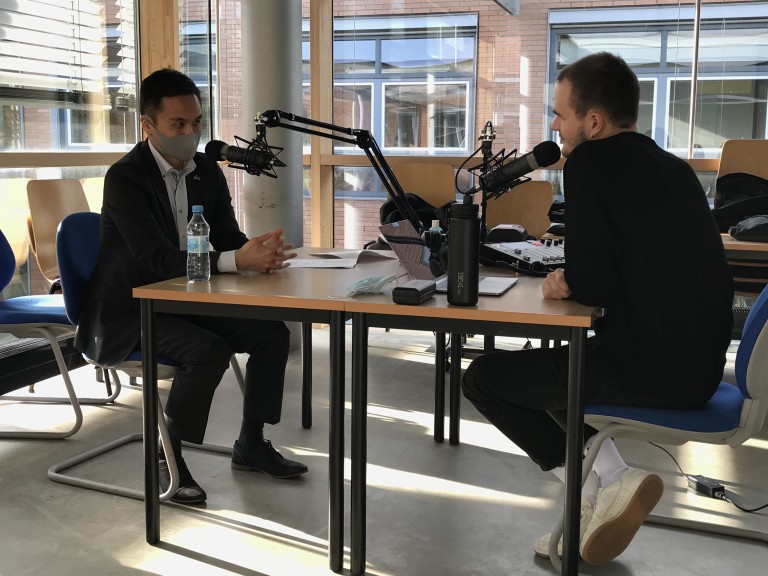 "Certainly the surge in the level of support that we got from the international community after 9/11 was incredible," he recalled. "[Then] the U.S. got heavily criticized back in 2003 for the Iraq War, including from Germany. (…) You look at how the Germans perceive the United States: During President Obama's time, the approval rate towards the U.S. in Germany was 60, 70, 80 percent. Very high, right? But over the past four years, there have been challenges in the relationship with the U.S. and the number of people here in Germany who viewed the U.S. positively was very, very low, below 20 percent. (…) And then right now it's gone back up again, to 60 or 70 percent. However, the percentage of people in the U.S. who view Germany positively hasn't changed that much over the same time period. We had less than 20 percent approval in Germany towards the U.S. during the previous administration while 70 to 80 percent of Americans viewed Germany positively. So there was this complete gap in mutual perceptions."
American perceptions of Germany, which are generally very positive, do not seem to fluctuate much, whereas German perceptions of the U.S. seem to fluctuate much more depending on the U.S. leader, our policies, and events around the world.
Toko also reflected on what he sees as the three main violent conflicts in the world right now and issues impacting U.S.-Germany relations.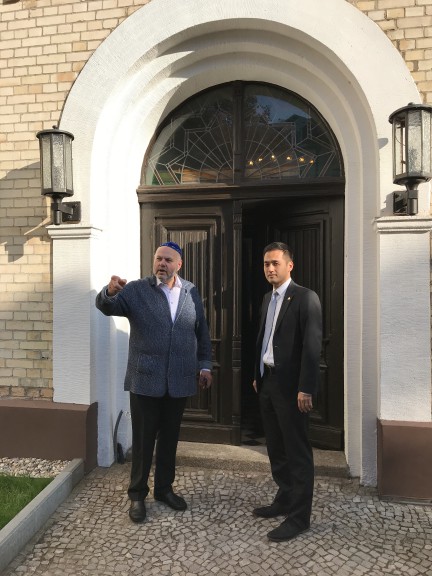 "What's happening in the Middle East is very disturbing, between Israel and Gaza. We recently sent our senior state department official to the region to try to talk to both sides and try to settle things down. I think that this is certainly one of the foremost conflicts that we're focused on right now. Basically, we just want peace in the region, we want both sides to talk to each other. I mean, Hamas, they need to stop firing rockets indiscriminately into Israel; we need a ceasefire to allow negotiations to take place. This is something that can't be resolved through violence. It can only be resolved through negotiation, so that's what they need to do. We're trying to work not only directly with the parties but with regional actors, as well—other countries, neighboring countries—to try to bring about a situation where they can actually sit down, negotiate and resolve this situation peacefully." (Note: This interview took place on May 18, during the height of the recent conflict between Israel and Hamas. The situation in Gaza, though volatile, had considerably de-escalated by the time this article was published.)
"Another major conflict is the one in eastern Ukraine. And that one is something that I personally am well aware of because I was in Kyiv from 2014 to 2017, from when it first started. (…) I don't know how many thousands of Ukrainian soldiers and civilians have been killed [over these past seven years]. (…) I remember for the first few years [between 2014 and 2016], people in the world were really focused on what was happening there. (…) I think nowadays that conflict doesn't get as much international attention as it deserves because it's just been going on for a long time."
"I think we need to keep in mind that conflict is still going on right now, and people are still dying there, on the eastern front in Ukraine."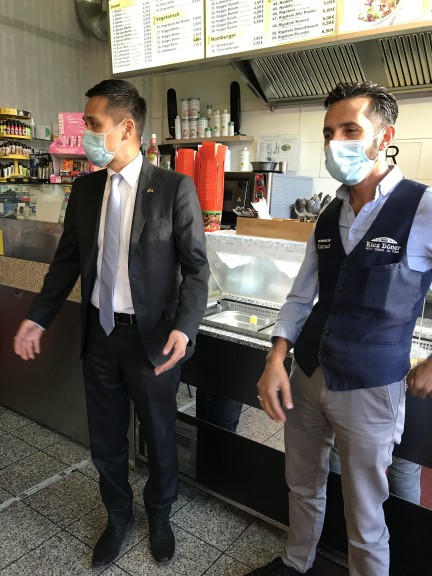 "Germany has been a very strong partner in Afghanistan. (…) Obviously, the situation in Afghanistan is something that is very critical for us. Now that we've announced that we are pulling our troops out of Afghanistan by September of this year—and we've already started doing that—we are continuing to work with the various parties to try to bring about a negotiation and peace agreement between the Taliban and the Afghan government. You're still seeing terrorist incidents happening, there's still violence there. So although we're removing our troops from Afghanistan, we will certainly continue to pay a lot of attention to what's happening there and continue to provide assistance to the Afghan government."
"Climate change is a huge priority for President Biden. Special Presidential Envoy for Climate John Kerry was in Berlin May 18-19 for high-level discussions with the Germans about how we can work together to combat climate change."
"I think it's going to be hard for people to adjust to 'normal' life. I don't know what the new normal will be after the pandemic in terms of how we interact with each other in person. (…) Going forward we will really have to proactively collaborate on how to prevent pandemics like this, not just between countries but also with international organizations like the WHO [World Health Organization]. Together we need to try to put in place a system of both prevention and containment so that a virus doesn't become as widespread as it is now."
"I think there will be much more focus on forging a cohesive international response to something like this in the future [and hence] hopefully much more international cooperation and information sharing."
"In conjunction with tackling the current Corona crisis, we have to work together to try to revive our economies. (…) There's a growing recognition that you can't rely on just one country or a handful of countries to provide critical supplies like medical equipment, as well as non-medical supplies that are in high demand right now, like semiconductors. Since the global pandemic disrupted a lot of these supply chains, I think there's going to be a greater drive for countries like the United States, Germany and others to not only diversify supply chains, but also to become much more self-reliant in manufacturing some of these critical components."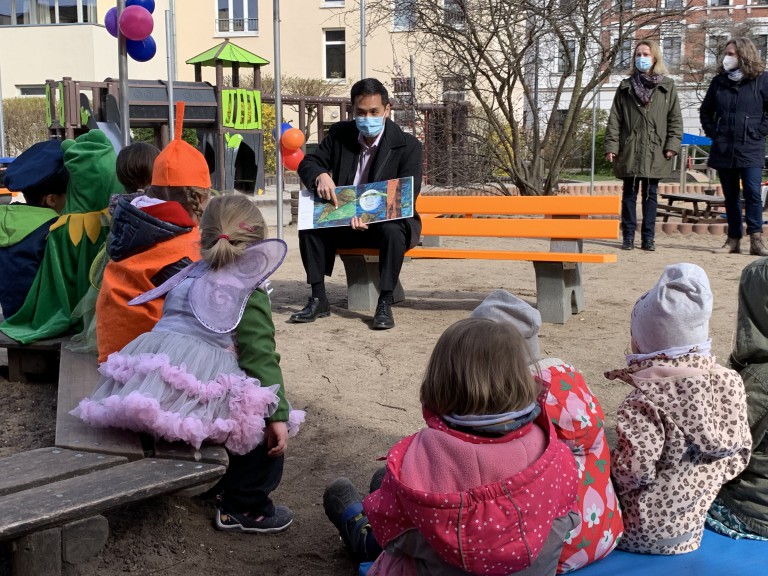 To wrap up our interview, Toko offers some advice to aspiring diplomats: "Keep an open mind to new ideas, new things. Cultivate a strong interest in what's happening in the world. [Due to] the increasing interconnectedness of our world, what happens outside of our borders has an incredible and direct impact on what happens inside of our borders [and vice-versa]. I would suggest learning foreign languages early on, because that always comes in handy. It's very hard to learn a foreign language from scratch later on, as I've experienced."
---
You can keep up with CG Ken Toko and the U.S. Consulate General in Leipzig, which recently turned 195 years old, via its social media channels: Facebook | Twitter | Instagram | YouTube