In the heart of the Spinnerei, the Halle 14 displays the critical work of eleven artists and architects dealing with the future of cities. Together, the exhibition not only provokes our imagination but also enlightens challenges faced by cities. A dynamic that linked Leipzig to the future of cities worldwide. 
---
The pandemic has delayed the opening of this exhibition by several months. Eventually, the large international display opened on September 12th at the Halle 14, taking an assertive stance: "Future of Cities. Not for Granted". It looks into how we, urban citizens, will have to tackle harsh challenges to live in cities and get through them. Looking back at the past years disrupted by the pandemic, it is easy to agree. And now that life seems to be back to normal, we would be wrong to rest. In its compelling series "After us, the deluge," Kadir van Louhizen, a Dutch photo-journalist, shows how residents from the Arctic to the Pacific fight and adapt to one of climate change's dreadful consequence: the rising waters.
One after another, Louhizen's photos depict dramatic situations that almost forced me to look away.
The disruption documented is often hard to look at. Fortunately, the captivating photographic beauty has held my attention until the last image.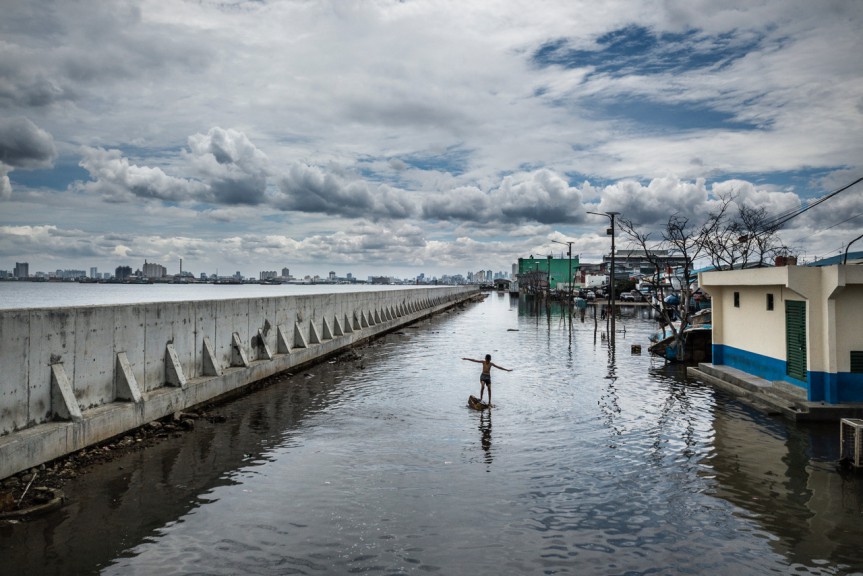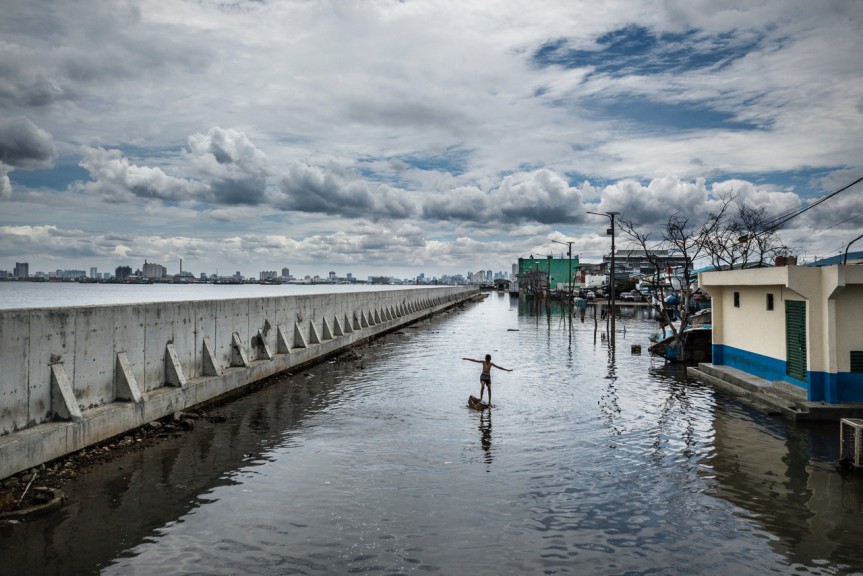 This work echoes another fascinating work displayed at the Halle 14, initiated by the well-known architect Anna Heringer. Famous for her commitment to promoting local know-how and materials, the architect does not show a building here but traditional blankets produced in Bangladesh under her initiative Dipdii Textile. These blankets are full of embroidered drawings and heart-breaking poems:
There will be a day, when we'll have to leave (…) There'll be no laughter no colors, no lift, Just blue.
While reading those words, I could see a deep blue planet with no islands of inhabitable land left, triggering intense human migrations. This vision is shivering, for it is to happen sooner than later. Indeed, Bangladesh is not only one of the poorest countries in the world, its coastline is also made up of one of the largest river deltas worldwide. Thus, the country sharply experiences the consequences of the rising waters.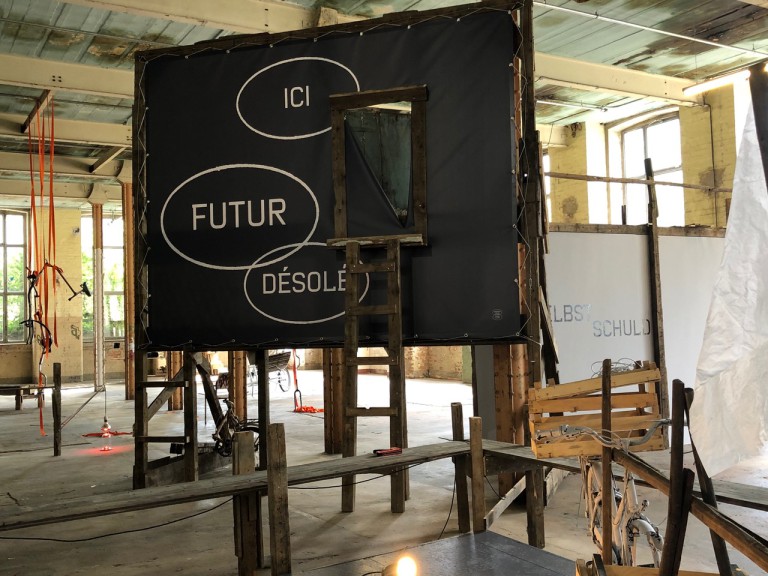 After this intense introduction, unlike stated in the French banner of the Bureau Muséal, I felt "désolé," sorry for us, sorry for the future of cities which may disappear. In French, "désolé" also means depopulation. And that is not happening. We know, for instance, that Leipzig keeps growing at the pace of a new neighbourhood's population equivalent every year. Most cities will grow bigger, welcoming climate refugees in particular. But, growing fast often generates inhospitable situations that artists reveal.
In Leipzig, Falk Haberkorn questions the "gentrification" of Plagwitz, where the Spinnerei and Halle 14 is located.
Haberkorn captures makeshift shelters installed on the Jahrtausendfeld by people who are constantly pushed away while the land remains empty over the years. On the other side of the globe, Sim Kyu-Dong captures chilling views of Korea's capital. In Seoul, the lack of affordable housing has led students to twist their bodies in goshiwons, cramped rooms of only 5 sqm, which include a piled-up bed and all other necessary appliances of an apartment.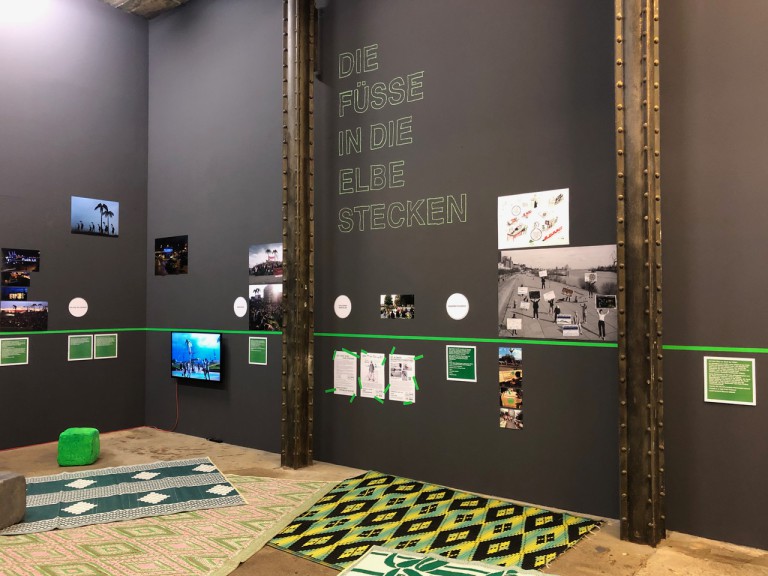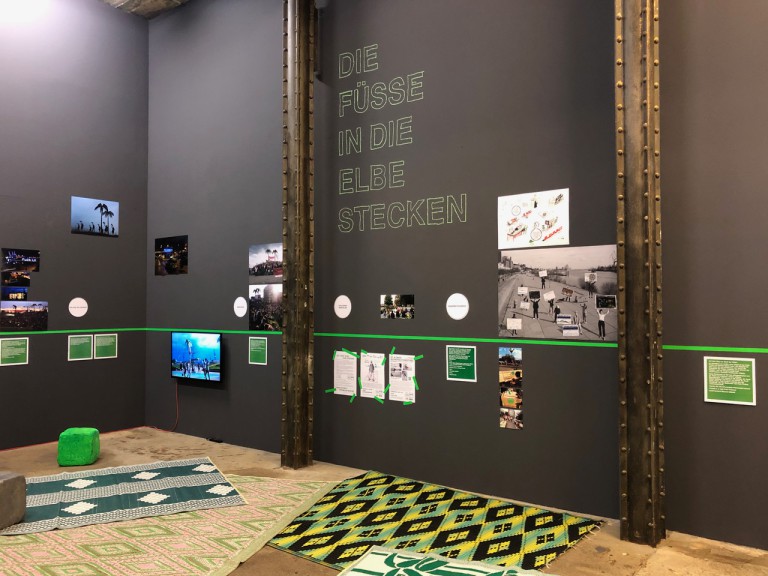 If the future of cities seems so compromised already, is our fate sealed? No.
We can still influence our future, provided that we do it together. To my great relief, Halle 14 also displays hopeful projects: Park Fiction in Hamburg, the Isola Art Center in Milan, the ateliers MOB in Lisbon, and the TAM associati in Venice. To provide hospitable places which encourage encounters and care, all those projects have combined the determination and contributions of many individuals. They also show another, often forgotten condition of democracy in cities: dreams. I loved the Wunschproduktion from Park Fiction. Using simple tools such as kids' cameras or a puppet stage, the initiative helped residents to project their desired life in a city, overcoming the idea that city-making is boring and inaccessible.
Lesson learned! Studio Forage and Keiichi Matsuda dream high! Both of them tell playful – but dystopian – urban stories about the use of artificial and virtual intelligence. Studio Forage weaved seven provocative Stories of Mellonopolis into an installation that points to the threats of facial recognition to our freedom. In his Hyper-Reality videos, Keiichi Matsuda immerses us in a colourful delirium where virtual reality merges with physical space – saturating our vision with pop-up ads, warnings, and chats that inform every move and choice we make. The facilitation and optimization of our life become overwhelming to the point that we lose control. It made me wonder about the use of new technologies in Leipzig, the newly elected model of a "smart city," and how this would impact our life.
I emerged from "Future of Cities. Not for Granted." with a mix of fear and hope.
If the challenges ahead of us can be scary, the exhibition suggests ways to tackle them. By making smart moves, with or without technology, but in dialogue with others. By acknowledging our limited natural resources but allowing us to dream big. Cities are only what we make out of them. Their future is in our hands, the hands of two billion urban beings.
---
More on "Future of Cities. Not for Granted."