HIM: "Can you help me?"
HER: "I can try."
HIM: "Where's (mumble)Street?"
HER: "I'm sorry. I don't know."
HIM: "Do you have a boyfriend?"
HER: "That's not really relevant."
HIM: "Do you want to go for a drink?"
HER: "No, thank you."
HIM: "Are you a prostitute?"
HER: "No."
HIM: "Do you need money?"
HER: "I am just waiting for the bus."
This is not 1964. It didn't take place in one of the countries ranked worst for gender inequality in 2021. The HER in question was me, on a Saturday night. I was on my way home from Lofft Das Theater, where I watched a performance about women who protest. Ironically, a topic of discussion was the Metoo movement.
Eine Frau Geht auf die Strasse… and on the Stage.
The Revolution Will (not) be Performed looks at the relationship between women who protest and how that has developed in the digital arena. The Hamburg-based collective, Glitch AG, weave word, music, interaction, and movement together. They created the work as a co-production with Lofft Das Theater. Initially, it was scheduled for December but was postponed until January. I was lucky to get to
see it.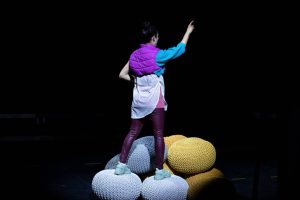 I remember a conversation with one of my English students about the Peaceful Revolution of October 1989. Everyone knew there was a chance they may not make it home. Some of my students had seen tanks pulling up earlier in the day. One student with a young child had stayed home. She and her husband had discussed it and agreed that were something to happen, it would be better if she was there to raise their son.
Motherhood vs Protest
Like this true story, Glitch AG draws from real life. What could push a mother to this point? The point where she thinks her child's future is so bleak that it justifies the risk of them living life without her?
Conceptual artist and activist, Nadezhda Tolokonnikova, was imprisoned on her daughter's fourth birthday. Her crime? She is the face of Pussy Riot. They were protesting the leaders of the Orthodox Church's support of Putin during the election campaign. Pussy Riot staged a performance inside Moscow's Cathedral of Christ the Saviour on February 21, 2012. She and Maria Alyokhina were arrested and charged with 'hooliganism motivated by religious hatred'. The sentence was two years in prison.
The Russian performance art/punk band, Pussy Riot, started with 15 members. Donning colorful tights and balaclavas, the protest superheroes create two-minute concerts.
Pussy Riot's performances can either be called dissident art or political action that engages art forms. Either way, our performances are a kind of civic activity amidst the repressions of a corporate political system that directs its power against basic human rights and civil and political liberties

Nadezhda Tolokonnikova
In Ode to Pussy Riot, each Glitch AG member wore her own brightly colored costume. As we entered the space, we saw videos of them eating pizza whilst wearing crocheted balaclavas with female genitalia covering their faces. "Hey! My face is up here!" springs to mind. A traditional female handicraft, the crocheted theme extended to a collection of poufs in various sizes. The neutrally colored boulders were arranged and rearranged. They were sat upon and used as platforms. They were heavy or light. A burden or a tool.
Call to Action
Colorfully clad punk superheroes really don't seem that dangerous to me. However, there have been times in history when women had to resort to violence to be heard. For example, women in the UK had been petitioning for the right to vote since 1873. By 1903, some were tired of the lack of progress. In a world dominated by men, the only way to get press was to literally start fires and bomb buildings. In 1906 a reporter from the Daily Mail used the term Suffragettes to belittle them. It was meant to label them as hysterical or childish. It backfired. They embraced the term, even changing the name of their newspaper from Votes for Women to The Suffragette. You have to admit, it's a much catchier title.
Women step up when they just can't take any more. I remember seeing a BLM protester during COVID restrictions saying she was ready to die to change things. Black mothers worry every time their husbands or sons leave the house. This is not because they live in bad neighborhoods. Despite the fact that only about 30% of the US population is African American, they consistently make up more than half of the people killed by the police.  Black women, in particular, have been strong for so long. Now they are willing to put their lives in danger.
#blacklivesmatter
In 2012, seventeen-year-old Tryvon Martin and his dad were visiting his dad's fiancée at her townhouse in Florida. Like we have all done a million times, he went to get some snacks at the local equivalent of a späti. Vigilante George Zimmerman thought he "looked suspicious" and shot him. It took 44 days for Zimmerman to be arrested, and that happened only after media attention, a huge public outcry, and a statement by Obama. Nonetheless, Zimmerman was acquitted a year later. Outraged, Alicia Garza, Patrisse Cullors and Opal Tameti went into action. #blacklivesmatter was born.
Opal built social media platforms where activists could connect. Outrage turned to engagement and people took to the streets all over the world. In Leipzig, 15,000 people came out despite the dangers of gathering during a pandemic.
Glitch AG asks, "Where is the solidarity with Belarus?"
What about campaigns without a catchy hashtag? Among the stories told by Glitch AG was one of Sviatlana Tsikhanouskaya, mother of two, English teacher, interpreter, and Belarusian presidential candidate. She felt forced to run after her husband, Sergei, was arrested. He had long been outspoken against Alexander Lukashenko, who remains in office by means of an unfair election. Women know they have actually voted him out, and are taking to the street to protest.
Every day, women fill the streets: mothers, grandmothers, teachers, students. The performance asks why we are not taking to the streets to support them.  Are they too frumpy? Where is Germany? Hollywood? Where is Madonna? Maybe the protesters' social media is not hip enough. Isn't democracy worth our time?
Meanwhile, forced to leave Belarus after the election results, Sviatlana continues to fight authoritarianism from exile.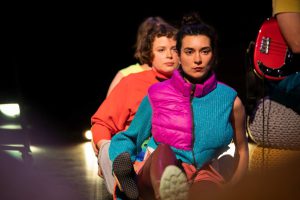 I, for one, am not surprised that there is silence from the actors and pop stars. Let's face it, people in the US are generally pretty unaware of what happens internationally. However, the long, hard fight against patriarchy is making great strides. Is it the universal nature of the fight, or is it the marketing?
At the time of writing, the last time anyone used #metoo on Twitter was 17 minutes ago. This topic reaches all women. So many stories that had been left untold are now being exposed. Offenders are going to jail. Careers are being destroyed. Glitch AG is happy to see this movement growing. They do worry that in the digital age we may become keyboard warriors and forget that movements don't start with hashtags. They start with people. And many of those people are women.
---