I know a lot of people who really, really love Paris. When I ask them to explain this love to me, none of them will mention the awesomeness of the Eiffel Tower. I also know a lot of people who really, really love Berlin. None of them, however, mention the Brandenburger Tor when reflecting on this particular love affair.
These examples point at a simple conclusion: When you fall in love with a city, it is not the big things, but it's the small things that matter – the things that did not make it into your Baedeker.
In October I arrived in Leipzig and stayed for about two months. In these months I learned to love the city.
And this was not because of the pomp of the Town Hall or the megalomania of the Völkerschlachtdenkmal.
Of course it was the small things that taught me to love Leipzig.
In this post I will try to stay true to the Internet's most popular narrative framework and give a tentative attempt at a top 5 of my favorite small things.
1. Existential Alcoholic Artwork
Even if I have not read any travel guide about Leipzig, I assume that the more recent ones all mention that there is a lot of great street art to be found outside of the city center. While I was looking for this, my eye fell on a small collection of empty wine bottles at the side of the road. There was no park bench nearby, so I assumed they did not signal a local hangout.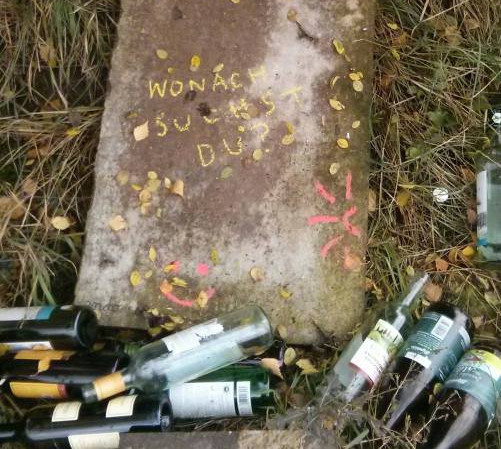 Still, since usually no one accidentally leaves more than 10 empty bottles next to the road, I figured they must have been left there for a reason. When I took a closer look, I noticed that they highlighted a large grey stone. After wiping away the autumn leaves I could read the yellow-chalked question: 'Wonach suchst du?' – 'What are you looking for?'.
A smiley and a sun had been added in red. I immediately imagined a melancholic wino passing by at night, arranging the bottles and sharing the eternal question after a bottle or two – What are you looking for? Then (s)he looks at it once more, a smile breaks through, and (s)he adds a red sun.
2. It smells like a forest and it feels like a forest…
Southeast of the old city is the Friedenspark (Peace Park), built on the spot that used to be the New Johannis Cemetery before the 1940s. It is a majestic park, but its special attraction is hidden in its northeast corner: the Duft- und Tastgarten (Fragrance and Touch Garden). This garden is custom built for the blind and visually impaired.
In an area of about 30 by 30 meters, all kinds of fragrant plants have been sown in flower beds high enough to be able to smell and touch them without having to kneel down. The signs contain both conventional lettering and braille.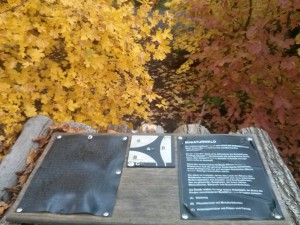 What surprised me the most, though, was a plot of not much more than 3 by 3 meters, in which the main elements of a 'Middle-European Forest' had been recreated. With a little bit of imagination and not much more than a little bit of eyesight (or closed eyes of course) it is possible to imagine yourself in a real forest.
An additional charm to this garden is that while it does have explanatory signs, you are still invited to touch everything, and these two things rarely go together!
3. The lightness of Germanic greatness
Richard Wagner might not be the most famous German composer, but he can probably be found in the upper half of the top 10. He was not the kind of guy who contented himself with writing a modest but moving string quartet. His aim was rather to create Gesamtkunstwerke – mergers of all forms of art. The end products were grandiose operas.
Since Wagner was an arch-nationalist, these works often dealt with 'Germanic' themes. Probably his most famous work is Der Ring des Nibelungen, a 15-hour cycle of no less than four operas. It is basically a Lord of the Rings avant la lettre with a cast of Nordic Gods, German Heroes and Rhine Maidens. The story dramatically ends – spoiler alert! – with the destruction of the Valhalla.
I was happy to find this hero of Germanic greatness being honored in the most light-hearted way possible. Walking through one of the most uneventful newly built neighborhoods I crossed a small ring road and – you guessed it right – it was called the Nibelungenring: a beautifully unfitting tribute to the great composer.
4. The monument that does not really care
In the introduction I already mentioned the Völkerschlachtdenkmal as not the kind of thing that makes you fall in love with a city. It is just too monumental for love. Still, one detail caught my attention.
Before I get to that detail, I should provide a little background information about the Denkmal. It was erected in 1913 to commemorate the Battle of the Nations of 1813, where a coalition of Prussians and others served Napoleon a great blow. Meanwhile it also served as a celebration of German unity. During the battle, however, Leipzig had not sided with the Prussians but with Napoleon instead. So Leipzig was basically erecting an enormous monument to celebrate its unity with Prussia by commemorating the time that the Prussian army gave the people from Leipzig a huge beating.
I hope that this is the reason that someone added a telling detail to the Denkmal. One of the huge sculptures at the front pictures a man resting his head. If you take a closer look at him, you will notice that he is clearly giving you the finger. This one is for you, you proud Prussians!
5. MJ-Bäumchen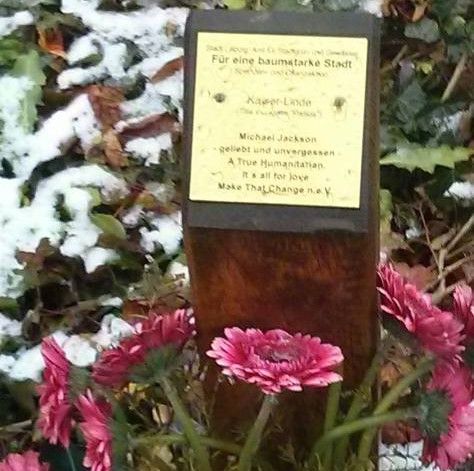 You don't have to spend a lot of time walking through the city to notice the small signposts next to most of the trees. These signs are part of the Baumstarke Stadt initiative, which is probably best translated as the 'City-full-of-trees' initiative. The citizens of Leipzig are encouraged to adopt a tree for a tax deductible sum of at least €250. This tree can be dedicated to whomever you may wish.
Of course I have been curious enough to take a look at some of the dedications on the signs, especially when they were adorned with fresh flowers. The one that's most frequently provided with fresh flowers seems to be the one attended to by 'Make That Change n.e.V.', where the n.e.V. is probably best translated as 'unregistered association'. In the memory of Michael Jackson, the association supports different charities and takes care of the tree they adopted in memory of the man who inspired them.
Even though I would not call myself the greatest MJ fan ever, it seems like a thoroughly likeable initiative to me. Also, I'd like to challenge you to not use the Internet and instead go on a minor scavenger hunt through Leipzig to find this tree – and who knows what gems you might find along the way.
'Es geht auch anders, doch so geht es auch', Mack the Knife once famously sang. If you've not done so yet, you will probably fall in love with Leipzig in a whole different way. The observations and memories in this blog are part of my little romance – may you have you own as well!