Yes. I really needed some Dance first. TH!NK? later. time. Way too much craziness in the world at the moment!
TH!NK festival is a one-day festival at Cospudener See organised by the guys behind Distillery. I think the after party may still be going on. LOL. It's not the cheapest festival, but it's only one day, so it's good for locals and those in neighbouring villages. You can easily dance your ass off and be at work the next day.
My friends and I got there around 11. That meant there was no line and some of the photos look a bit empty. That's ok cause you can see the set up a bit better. Later, after my battery in my camera and my phone had long died, it was packed out. I must admit I was a bit happy to have run out of battery, because then I was free to just enjoy myself.
My new drink: sekt Red Bull.
I know that sounds weird, but I must not have been the only one drinking it because I had to switch to gin Red Bull when the bars ran out of sekt. I liked how my cup smelled good after I had finished the drink. I was a little surprised because I remember Red Bull being banned in bars in Denmark, but I had like 6 of them and was fine. Not drunk. Not crazy. Just fine. It was, of course over a 12-hour period. When I have more than one vodka mate, my heart feels like it's racing.
Don't get me wrong. I also had a smoothie from the people at Smoothie Janer. It was their first festival and they had a cool set up. Maybe they had too many flavours mixed together for my taste. I remember a Portuguese place when I lived in Berlin Mitte. We would go there a couple times a week and have organic sandwiches and smoothies. They had so much flavour, I used to savour it in my mouth a bit before swallowing. Hard to believe that was 13 years ago, when I first came to Germany.  I'm feeling a bit nostalgic now that Brexit may force me to leave.
To be fair, what the Smoothie Janer people lacked in flavour, they made up for in graciousness and vibe. Hope they did well and continue to hit the festival trail.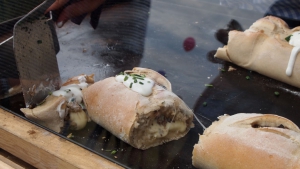 I also had a wonderful Handbrot. If you are ever in centre and want something fresh, I recommend them. It's also nice to sit there because the building across the street is so lovely. I had never really taken the time to examine it before I had my lunch there.
Like everywhere in Germany, there was this plastic cup deposit. Promising to be right back, I left my friends at the big stage to take my smoothie cup back to the smoothie place next to the smallest of the three dance floors. The DJs started playing some funk. Funk was very very rare at TH!NK?. Being the original funkster that I am, I danced to it while I could. Besides, the others seemed a bit confused by it and there was a lot of room on the dance floor for me to dance until they caught the groove. I was happy because I'm not really into the sardine dancing thing.
I never found my friends again, or at least not the ones I came with.
I ran into others and I met some new ones. Some were there just to dance and hang out. Many were there because of the all-star line up. One was excited about Chris Liebing. He beamed when he told me how Chris Liebing uses 4 turntables at once. He really did create some interesting sounds.  He comes out with a new mix every week. I got the link from my friend for you. I watched him dance around with the biggest grin on his face. He and his girlfriend played against each other with little dance moves. They kissed and laughed and danced. Wow! Really, if for no other reason, it was worth going to the festival just to watch them being happily in love.
Another friend, who is himself a DJ, was super excited about Ellen Allien, who plays at Berghain. I loved her interaction with the music and with the crowd. She plays lots of things, but this time there was a lot of 90s remixing going on. Her sounds were clean and minimal.
In general I heard a lot of 90s Detroit and Chicago house influences.
Those two DJs were on the main stage. It had a whole new light system and was top notch. I especially liked the little lights at the top that were enclosed in plastic bubbles that looked like the jars for the heads from Futurama.
At one point the clouds darkened and the trees started dancing with us. The wind was blowing our hair in flowing motion, causing it to dance on its own. It was only 8.00, but it looked as thought night would soon be here. The Futurama lights lit up and pivoted for the first time. In the beams there was the glitter of falling rain drops.
Funnily, rain did not make it to the dance floor. I guess it evaporated in the energy. No one stopped dancing. In fact it only electrified us.
TH!NK?, I think I love you.