Georgie – affectionate name for Georg Schumann Straße – had been forlorn for a while up there in Gohlis. It's hardly the strip you'd think about for an evening out. But Café homeLE, open for a year now, is becoming a dynamic engine for Georgie's revival.
Maike Steuer, resourceful entrepreneur and mother, runs the place. She does much of the cooking and baking herself, hosts exhibits and music acts, and holds workshops (including salsa). She's done a bit of crowd-funding, and is quite good at marketing and reaching out to the community.
Looking to cater to different tastes, she's made homeLE both family-friendly and hospitable to those seeking a happy hour hangout.
Located at Georg Schumann Str. 130 and open six days a week (excluding Mondays), the café has now extended its hours for three of those days. Thurs-Sat it's open until 11 p.m.
You can find baked goods, hot foods, café-style beverages, and now also bar drinks. Maike's got beer, wine, "mocktails" (cocktails without alcohol) and spirits to add in for some spike. They're served from 7 p.m. on.
She and her team created the "mocktails" themselves – including one named Gorgeous Georgie (her special brainchild), in honor of the budding Gohlis strip. In case you can't wait til you try it, Georgie the "mocktail" is made with caramel syrup, coconut milk, lime juice, passion fruit juice and orange juice.
Maike tells us Thursdays are special evenings: You can invite a friend and get two drinks for the price of one then. Starting next week, on the first Thursday of each month you can also play pub quiz.
That ought to make Georgie happy.
LeipGlo caught up with Maike for a chat on homeLE's exciting new developments.
Leipzig Glocal: So, Maike, how's business going?
Maike Steuer: Café homeLE has completed its first year, which is awesome and makes me really happy. Looking back to how it all started, I'm very grateful for all the sweet memories that my guests have gifted me with in the last 12 months. But the second year is gonna be even a bigger piece of work, because the foundation might be set but now the "baby" needs to learn to walk more steadily.
LG: We saw that the City of Leipzig put you on a postcard. What was that all about?
MS: The postcard was part of a campaign by Leipziger Gruppe because Georg Schumann Str. was blocked for most of 2016 due to heavy construction going on in the area in front of the job center. I was lucky to be portrayed, including my very own set of autograph cards and even posters with my face on it. In general, there were so many people offering moral support, good advice and help in so many different ways. That kept me going.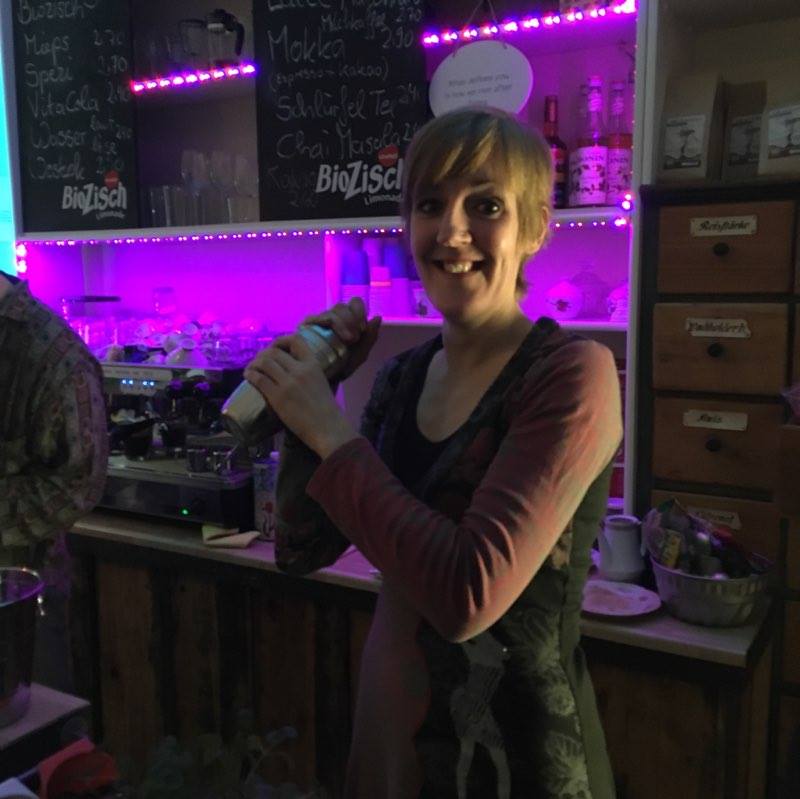 LG: When did the homeLE bar open, and how did the evening go?
MS: The bar opened on 7 January, on the birthday weekend of Café homeLE (which turned one already on January 2, but that was a Monday). Must have been in total about 40 people that evening, even though it was snowing like crazy. We had Edu Lopez live on stage. It was awesome.
LG: What's the premise of the bar?
MS: homeLE bar focuses on "mocktails," because even though most bars have them on their menu, they often are treated like the little step siblings of the "real" cocktails. But we also offer Altenburger beer and red, white and rose wine as well as Sekt. And homeLE bar will also cooperate with Die BierFreunde, featuring a "guest beer" every month starting in February.
LG: How did you conceive Gorgeous Georgie?
MS: Gorgeous Georgie was born because I wanted to dedicate a "mocktail" to my favourite street in Leipzig (LE). As I have never drunk any alcohol in my life, it had to be something without alcohol. So I just thought about what would fit well together and started mixing. All the other "mocktails" are complete team work. My team and I sat together and had a lot of fun experimenting.
LG: What are some of the challenges and advantages of your Georgie location?
MS: Biggest challenge but also advantage: My café is one of its kind in the area. It gives me the freedom to experiment and try new things, but also there was no one who could have told me in advance if my concept would work. But I love the feel of the street and the whole Kiez. If you have a close look, you can see that there's so much going on and things are changing for the better slowly.
---
To get more info and keep up with homeLE as it grows, visit its website and Facebook page.