I had the pleasure of going to the welcoming event for 14 students who had just arrived from Texas. They had chosen Leipzig over Oxford, UK and Montevideo, Uruguay for their semester abroad. All but one are studying at Abilene Christian University (ACU).
Despite the jet lag, there was excitement in the air. These are the first students to use the new 15,000 square foot (1,394 square meter) villa on Käthe Kollwitz Straße. ACU classes used to be taught in venues around Leipzig before it got its own campus in town late last year. As I entered, they were still pulling masking tape off the freshly painted restroom doors.
In her opening remarks, moderator Doris Brenner noted that she was a trained lawyer, but had discovered many hidden talents during the renovation.
The new ACU space will enable students to come year round.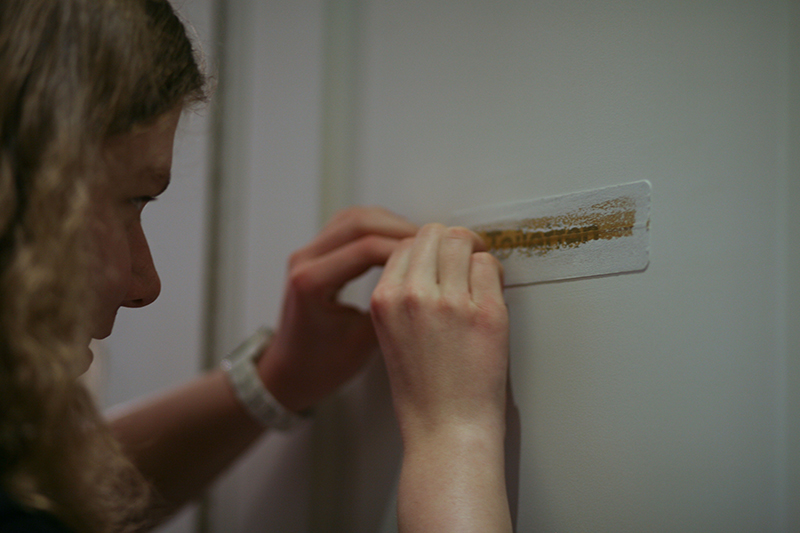 Stephen Shewmaker, executive director of the Center for International Education, sees the purchase of the villa as a significant move toward the goal of having 50 percent of undergraduate students study abroad. He, like the others who spoke, smiled as they knowingly said this would be a life changing experience for the participants, most of which had never been to Europe.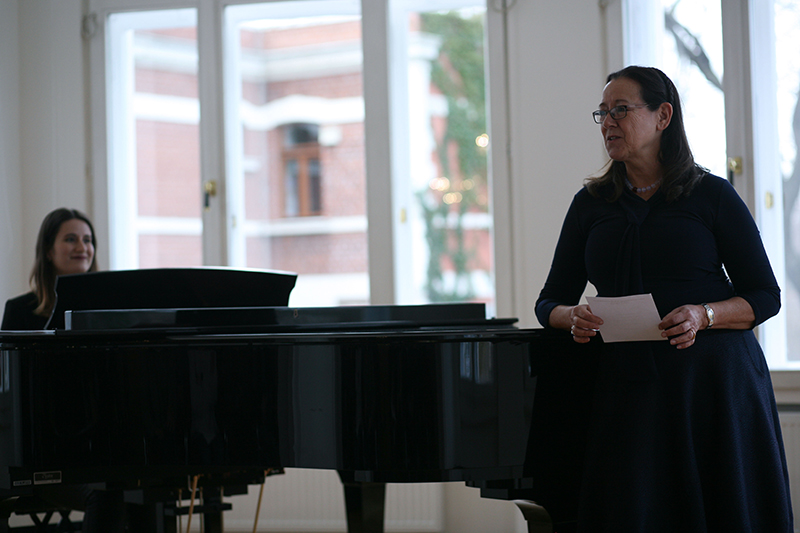 The students were accompanied by Dr. Tracy Shilcutt, who will be teaching them History and Global Cultural Studies. Don't worry. They won't be spending all their time in a classroom. Their studies include weekly trips, and they are given time at the end of the term to just travel on their own. Its central location was one reason many of the students chose Leipzig.
They will also be immersed in the community through volunteer work.
Judith Heese eagerly greeted the students with welcome backpacks provided by Freiwillegen Argentur Leipzig. They put volunteers together with local NGOs. You don't have to be a student to volunteer. If you have the time and the desire, they can find a good fit for you as well.
There were representatives from several organizations there to explain a bit about what they do and what volunteering would look like for the students.
Americans may be familiar with Ronald McDonald House. When you go to macky d's, there's always a donation box. All the money collected in Germany stays in Germany. There are several locations throughout the country, one of which is in Leipzig. They have a large building where parents who have kids who are in the hospital can stay . They try to make the experience as comfortable as they can. Most cities have certain clinics and therefore a specific type of patient. Leipzig is pretty much evenly spread, but there is a high percentage of parents with premature babies, we're talking as early as 24 weeks. As you can imagine, those parents need a lot of support. Leipzig houses about 300 families a year in 18 apartments.
Another charity, Gohlis-based GeyserHaus e.V., works with kids, teens and seniors of all nationalities. Their program is pretty immense. In addition to their music school, they offer sports, billiards, table tennis, foosball, internet, cards, crafts and mentorships to help refugees learn how to navigate their new environment more easily.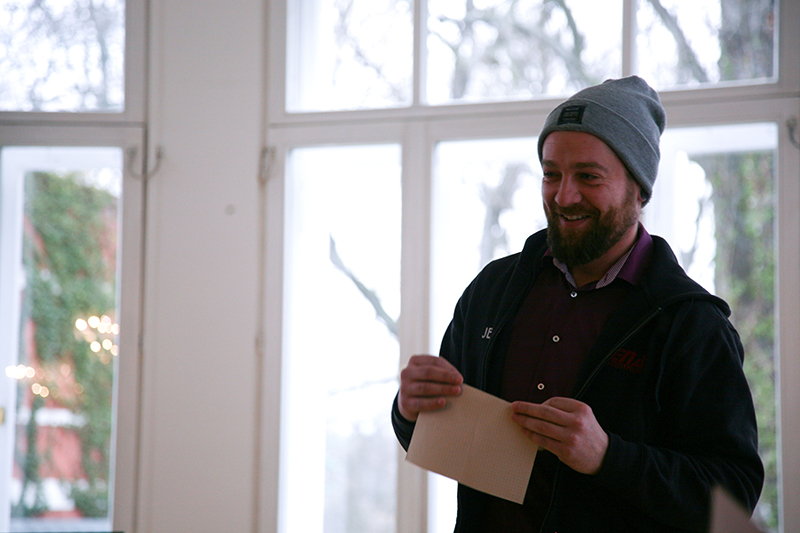 Also working with kids and teens, but in Grünau, Jens from Fröbel Gruppe, Arena Leipzig was well kitted out in Fröbel gear (hat, hoodie). Kids in that area are also looking for healthy ways to let off steam in their free time. I have been there and I know they have an interactive dance room. Yes, I won my battle, thank you.
Leipzig International School's Hort leader, Kjersti Nichols, was there offering volunteer work for their after school program. Since the staff of 12 have to be the ones to tell the kids "no", they were basically up for anything fun the students wanted to do. She also said that for any students who were working towards teaching, there could be teaching assistant opportunities.
The volunteer opportunities aren't just about kids.
For those interested in the arts, Claudia Gehre from HALLE 14 was on hand to tell about their non-profit art space at Spinnerei. Students can work in the library, or help with installing or destalling exhibitions. This is a real chance for them to put in the work that makes the art world appear magically effortless, a priceless experience for those studying things like graphic design.
ACU offers more than 70 undergraduate programs and two dozen master's degrees.
The visiting students were pretty spread across the board, as were their mentors. Mentors are Leipzig students who show them the ropes and help them integrate into student life. Not all had been to the States, but all were looking forward to sharing cultures.
One of the biggest surprises was the music by Julia Buch. She started by playing a piece by Leipzig's own, Bach, on piano. For her third piece, she played and sang one she composed while on a 3-day video shoot in the church at Störmthaler See. The video was for her band's Sleep Concerts.
She noticed that people are more and more stressed, and wanted to do something to help. They put mattresses on the floor of the venue and play music with slow beats per minute to encourage relaxation. The song she played for us was off their new CD, Dein Rückzugsort Schlafkonzert.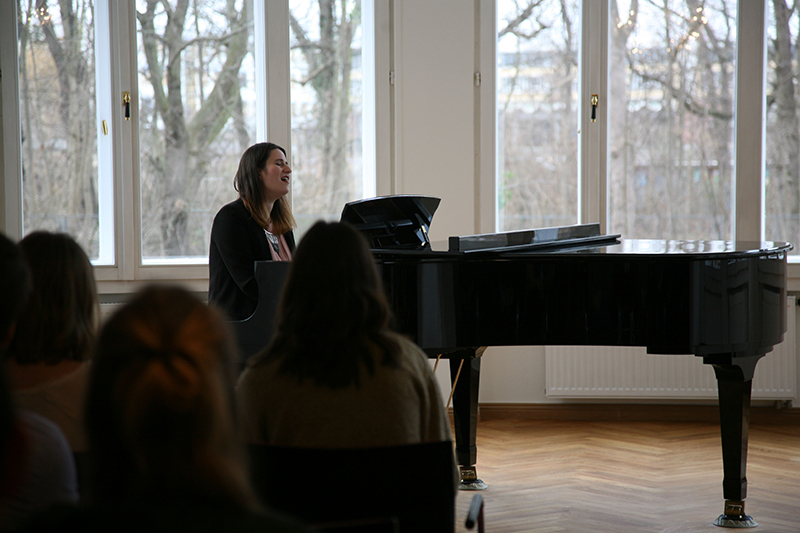 After the introductions, music and welcomes, including Jon Magsaysay from the American Consulate, we had time to mingle with cake and beverages. I can honestly say I felt welcome, and I was already here.