Last month, Theodosia Ntokou, a young pianist from Greece, gave a solo piano recital at Leipzig's Gewandhaus, in the smaller one of its two concert halls. It was only one-third full – perhaps because Leipzig's popular Museum Night happened simultaneously. In any case, the concert's quality would have deserved a higher turnout.
Ntokou slightly modified the program announced in the venue's general schedule. Next to Beethoven's Appassionata, she played two pieces by Chopin (the Fantaisie Op. 49 and the Andante spianato et grande polonaise brillante Op. 22), and two by Liszt (the Dance of the Dead S. 126 and one of the Dreams of Love S. 541 as the encore). Each of the pieces features quite a variety of tempos and moods.
Despite their partly enormous technical demands, Ntokou gave a sovereign piano rendition of them all.
I want to acknowledge that, although we could take technical perfection for granted – given the high level of professionalism in the field today – the skills of classically trained pianists are admirable. Some of us may, of course, have preferred to hear pieces other than those Ntokou selected, but that wouldn't be her fault.
Ntokou opted for famous pieces by iconic composers from the Romantic and Classical eras. In contrast with, for example, Baroque music like that of Bach, Romantic music strives to express a wide range of emotion. It therefore requires ample use of the (right-hand) pedal, which lets the piano's chords swing more freely, so that their sounds become softer and longer.
On the other hand, if you use that pedal too much, it makes sounds blur. I had the feeling that this often happened to Ntokou and, related to this, that her hands weren't always well-balanced. As a consequence, in Chopin's Andante et polonaise, certain main lines of the polonaise part weren't clearly audible since they were superseded by other, secondary lines. The same was true of Ntokou's version of Beethoven's Appassionata.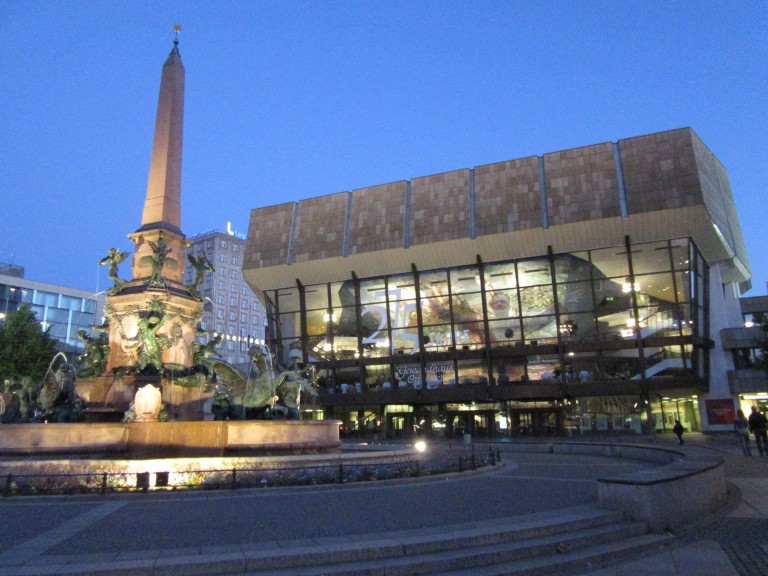 Be that as it may, the elderly couple sitting one row in front of me was amazed that Ntokou played everything by heart. Though from other concerts I've attended, I know that playing by heart is indeed the norm for classical pianists (as well as other soloists). They use sheets only for pieces that don't belong to their permanent repertoire. If they needed them for everything, it would mean they haven't studied anything thoroughly – and thus are, by today's standards, no professionals.
Instead, what was unusual about Ntokou was that she – as no printed programs had been offered to the audience – announced each piece before playing it. Other pianists I've seen didn't speak a single word on stage.
By doing it differently, Ntokou created a less formal, more personal atmosphere, all the more so as she appeared in the Gewandhaus's relatively small Mendelssohn-Saal.
To these modest observations of mine, a professional reviewer of classical music (which I'm not) could add, when referring to an Appassionata performance, that "the first and last movements were thrillingly hard-edged and muscular, the second, if rather more Lutheran than lyrical, was clearly part of a unified tragic trajectory." Were Ntokou's first and last movements "muscular" as well? I honestly can't tell – and what would that even mean?
Maybe you've been equally puzzled by one or the other classical concert review in the newspaper. So let me use the second half of this article to explain why analyzing the quality of that kind of concert is, in my opinion, a futile exercise for somebody without a certain musicological education.
First, "classical" music – that is, Western art music produced roughly between 1550 and 1900 – is, as the adjective indicates, a canonized and highly standardized music.
The composers of that music didn't label it "classical;" it was posterity that considered it to be exemplary, and therefore decided to conserve and revere it. That is why in 2018, classical pianists such as Ntokou still perform pieces from 1807 such as Beethoven's Appassionata.
But "exemplary" also means "perfect," so a "classical" piece is to be conserved in exactly the form in which the composer has created it – no experiments allowed.
Theater directors may stage a "Shakespeare" play in which the original doesn't quite survive. Performers of "popular" music may "cover" a well-known piece in whatever style they like (for an extreme case, think of Scott Bradlee's Postmodern Jukebox), or even play or sing something they have recently written themselves, of course.
To Beethoven's Appassionata, stricter rules apply. Yes, you may play it on a present-day piano, because a piano from 1807 would suffer from technical deficiencies. By contrast, if you performed that piece, a "piano sonata," not on a piano but on a guitar, many people would stop calling it "classical" music. And if you wanted to perform the piece in the style of Elvis, the Gewandhaus wouldn't let you use its venerable halls for that.
Thus, classical musicians live in a cage, because if they wish to be recognized as "classical" musicians, they are required to perform "classical" pieces in a "classical" style.
When Canadian pianist Glenn Gould (1932–1982) recorded the Appassionata, he caused a "scandal" because he had chosen a tempo much slower than what Beethoven had prescribed. Yet Gould was a legendary eccentric – for example, he used to hum while playing, so loud that you can hear it on recordings. By contrast, other classical musicians may very well be eccentric, but keep it out of their performances.
As a result, those performances tend to differ, from player to player, in details so small that they elude the untrained listener. Accordingly, Ntokou played the Appassionata at a "normal" pace.
Second, and as already mentioned, today's professional classical musicians couldn't be more "professional."
They started learning their instrument when they were talented children or even toddlers.
They have practiced it for decades and thousands of hours, and undergone relentless drills at music academies.
They have studied under master performers (who, in Ntokou's case, include top pianist Martha Argerich) and won international contests.
The musicians who make it onto the great "classical" stages of the world (the Gewandhaus being one of them), or into the CDs of major labels, having defeated countless international competitors, are the ones you nowadays get to hear. You can be sure that they have all mastered their instrument to an incredible degree – as opposed to the overall less professional, earlier times (like those of Beethoven).
So if all musicians are more or less equally accomplished, we are unlikely to find major fault with any of their performances.
As several smart people have pointed out:
Music starts where language ends.
Thus, also a piano recital can't and shouldn't be overanalyzed in a review article. We may remark details we liked or didn't like – as far as we are able to discern those details – but isn't the most important thing whether or not we enjoyed the concert?
I did, and most other people in the Gewandhaus audience didn't seem to be unhappy either, given the numerous bravos after most of Ntokou's pieces. Why ask for more?
---
Cover shot: The Mendelssohn-Saal at Gewandhaus before the Ntokou piano recital's beginning, 5 May, 2018. (Photo: Maximilian Georg)