On Thursday I was really busy, as usual. I knew A Concert for the Whole World would be broadcast live from Ukraine at 5 PM. On top of that, I knew I could watch it later. I debated. This could be heavy. Musicians of the Chernivtsi Regional Philharmonic were playing a concert from a bomb shelter. In between songs, refugees would tell their stories. Dare I interrupt my long list of things to do to hear things I knew couldn't be unheard? I'm glad I stopped what I was doing to watch.
Googling to find links for the people involved, I am struck by the fact that a month ago, they were just living their lives. They don't have the luxury of deciding whether or not to interrupt checking off their to-do lists. I hope they can return to pursuing their dreams soon. There will be a lot of rebuilding. They will need our help.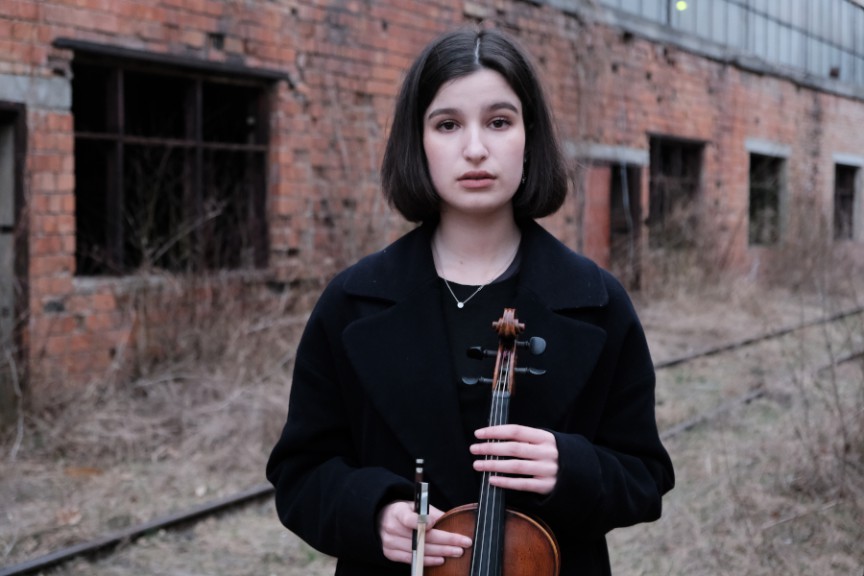 Music connects
As I watched, I wondered if Ukrainians could listen and just be in the moment. I saw the situation in an entirely new context. It helped me go from listening to the talks at the UN about personal stories to actually seeing the faces and hearing the voices of the people who are experiencing it. Naturally, I had loads of questions. I talked to project leader, Mykyta Moskaliuk. He has been very helpful throughout.
The bomb shelter was not what I had envisioned. Of course not. That would have been too tight for an orchestra to play and record in. It was an abandoned factory building. The music was chosen by Yosyp Sozansky, head conductor of Chernivtsi Regional Philharmonic, and Dmytro Morozov, conductor of the Kharkiv National Opera and Ballet, and the Chief Conductor of the Ukrainian Youth Symphonic Orchestra. The selection process was twofold: it should mirror the stories of the refugees and expose the world to 20th and 21st-century Ukrainian composers. Pieces ranged from brash to soft and sweet and there were even some experimental moments. Excellently performed, I enjoyed them very much.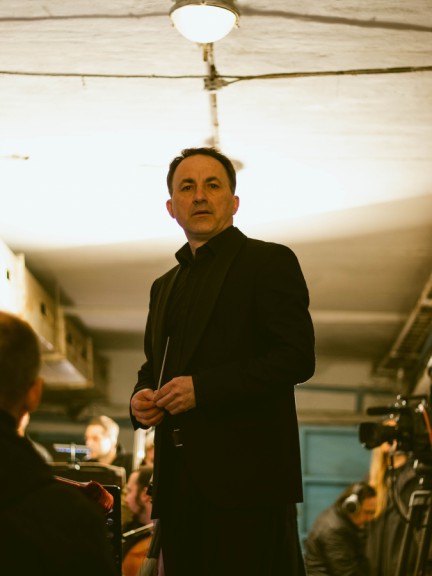 Ukraine resilience
Each refugee has a story. We have published several here over the past couple of weeks. The stories during the concert showed the Ukrainian resilience we have come to respect. Deputy Director of the opera, Olha Yevdokimova, was there with her daughter and grandson. She expressed her desire to remember this time, not with the horrible images of destruction, but with the kindness of the Ukrainian people, instead. They have pulled together to help each other.
Originally from Russia, there were two sisters who talked of staying busy. They are constantly doing what they can, wherever they can, to help. Separated from their husbands, they communicate daily through sweet text messages. I could tell this gave them solace. It made me happy to know they had each other to lean on.
The concert was also a fundraiser. You can donate to HO Molsentr Chernivtsiv (Chernivtsi Youth Center) or to the armed forces. Since day one, the youth center has been helping displaced people.
I asked about what I'd read that men 18-60 were conscripted and not allowed to leave the country. Mykyta said that was true. "Men between eighteen and sixty are ready to get conscripted as soon as our country needs us. But at the moment, our Armed Forces, our territorial infantrymen don't need the mobilization of one hundred percent of Ukrainian men. There were even queues of volunteers at the conscription offices in various cities because people want to defend their country. Now Ukraine is a state of warriors – because each one of us is fighting – literally, on a cultural or informational front, by helping our armed forces or displaced persons, by any opportunity we have. Our nation has truly proved its inexorability and valor."
Political art
Some would say art has to be political. Others would say otherwise. Pablo Picasso was never political until the Nazis bombed the Basque town of Guernica during the Spanish Civil War. Once he saw the blood literally flowing in the streets of his homeland, he could not remain silent. Three-quarters of a century later, the piece remains an iconic reminder of the inhumanity of war.
A short Guardian editorial begins with the story of when, "in occupied Paris, a Gestapo officer who had barged his way into Picasso's apartment pointed at a photo of the mural, Guernica, asking: 'Did you do that?' 'No,' Picasso replied, 'you did'.
Artists stand with Ukraine
Russian visual artist Josef Ka lives in Finland. She knew she had to do something, so she sent out an open call for pro-peace / anti-war digital works. She got submissions from all over the world, including Ukraine. The works were premiered at Momentum Gallery in Krakow Sunday and will be shown at Helmut on Friday, 15 April.
In addition to the digital program, there will be a poster installation from Artists Support Ukraine today. This is a great concept, where artists can upload works and people can print one or all of them for an exhibition. It doesn't have to be in a gallery. It can even be in your home. Proceeds go to help people in the culture sector.
---
A Concert for the Whole World
A selection of the songs performed:
L. Hrabovsky (b. 1935) Symphonic Frescoes on a Theme of Boris Prorokov "This should not be repeated"
V.Hubarenko – Concerto grosso for strings
E.Stankovych – "Ukrainian poem" for violin and orchestra
M. Skoryk – "Melody" for symphony orchestra
---
Date: Friday 15 April
Time: 8 PM
Venue: Helmut
Kohlgarten 51
04315 Leipzig