On a lazy Sunday in my former bedroom in Stoke Newington, a friend informed me he was going to fly back to his adoptive home in China via Almaty in Kazakhstan. This, of course, left me with no choice but to procure my very own Aeroflot tickets and to join him on his discovery of this mystical land seldom travelled to.
Direct flights not being an option, I made the highly impractical decision to fly to Almaty with a 48-hour stopover in St. Petersburg. If you know anything about the price and complexity of securing a Russian visa, you will understand just how far from sensible choosing to go through such hassle for a mere 2-day sojourn in the world's largest country was.
Alas, I was not to be reasoned with. When the much-awaited day rolled around, I began the trek to Stansted in the early hours, my excitement unfazed by my lack of sleep – only to receive a call from Aeroflot informing me that my flight to St. Petersburg had been cancelled. After all the time, effort and money I had put into ensuring I would be able to see a laughably insignificant fraction of Russia – not to mention the willpower it took to leave the party I had been at to alight the train to the highly inconveniently-situated airport that is Stansted – I was not going to give up without a fight.
Fast forward three hours, and I am conked out on a flight to Moscow.
It was only when I landed in snow-covered Moscow that the magnitude of my latest, highly impractical decision took hold of me. After a brief and easily resolved kerfuffle at passport control regarding my having taken a photo of the highly intriguing list of countries that were exempt from the visa requirement, I found myself in an overwhelmingly large arrivals hall, hoping to catch sight of something which resembled an internet cafe. With the help of reluctant airport employees, I was able to gain access to the internet and book myself into a hostel in the heart of Moscow.
Success. As I walked, or rather skied, out of the airport building in the direction of a train which would take me into the city centre, I was struck by the complete and utter lack of signs in a writing system that I could not at all decipher. By some miracle which, to this day I cannot explain, I made it to my temporary abode via Moscow's magnificently beautiful metro system, without soliciting a soul for directions.
The next day, I phoned my good friends at Aeroflot again, stating that I would no longer be flying to Almaty via St. Petersburg, but from Moscow. Much to my dismay, they underlined that this was not possible and urged me to travel to St. Petersburg at my earliest convenience. With no time to waste, I shoved on some clothes, ran to the Red Square, took a picture of Saint Basil's Cathedral, and kissed goodbye to what is undoubtedly one of Europe's most culturally and historically fascinating hubs (not that I'd know).
Eager to keep feelings of disappointment at bay, I managed to convince myself that spending hours on end on a train was an integral part to any trip to Russia which, to be fair, does hold some truth. Spending a night "sleeping" on a bench in St. Petersburg airport because the antisocial time of your flight's departure does not warrant booking accommodation, however, is not, and should not, be an integral part of any trip – never mind such a flying visit (excuse the pun) to such an enormous expanse of territory.
Needless to say, I was most grateful when it was time to take to the clouds again, towards a destination I was spending a reasonable length of time in and where a pre-booked hostel, and not a bench, awaited.
Five hours later, adrenaline was pumping through my veins as I inhaled my first breath of Kazakh air upon disembarking the aircraft.
On the crowded bus into the city, I couldn't help but marvel at the genetic diversity I was faced with: a veritable melting pot of European, Far Eastern and Turkic features. Having no idea which stop I was meant to get off at, I simply followed the crowd and got off where they did, a strategy that was by no means foolproof.
Quite a few minutes later, I was still standing on the side of the street, visibly at somewhat of a loss before plucking up the courage to approach three teenage boys who I considered to be my best bet in terms of ability to comprehend English. As luck would have it, they hadn't the foggiest what I was saying to them but, on the plus side, could work out the location of my hostel based on the map I'd been emailed when my booking was confirmed.
Thus, these delightful young gentlemen kindly led me to Almaty's pride and joy: its one-line metro, consisting of six stops – which, having opened in 2011, is the world's youngest (and most pointless) metro – and helped me purchase suspect-looking plastic tokens they assured me were tickets. Much like Moscow (by no coincidence), the metro itself was an experience, with each station boasting unique decoration and housing metro employees assuming military postures, who were impeccably dressed in blue and yellow suits, topped with pilot-esque hats.
Thankfully, my companions took me all the way to the front door of my accommodation, as orientation, even at the best of times, has never been my strong suit.
After a good sleep in my 12-person dorm (thank god for ear plugs), I helped myself to a coffee to enjoy on the hostel's roof terrace.
Amazingly, the sun was shining and the temperature was pleasant for the time of year. In fact, it felt positively warm for November. As I looked out at the mishmash of futuristic skyscrapers and unloved communist blocks of flats, framed by breathtaking, snow-capped mountains, and, like many travellers before me, contemplated life, I suddenly heard a quiet female voice behind me.
The young woman's charm and intelligence meant any initial annoyance at having been disturbed mid-finding myself quickly vanished into the ether and, instead, I found myself asking her all manner of questions about life in Kazakhstan. Perhaps unsurprisingly, she was overwhelmingly positive about the world's ninth largest country and even went as far as to sing the praises of both its long-standing president, Nazarbayev, and its Soviet colonisers.
Given that it is taboo, if not illegal to criticise the government, I couldn't help but feel sceptical – and who can blame me? Have you ever met a highly educated individual from a democratic country who speaks in an exclusively positive manner about those in power? I know I haven't. To me, it reeked of dictatorship, which, erm, makes sense.
Meanwhile, my friend wasn't due to arrive for another three days.
So after lengthy chats with the woman on the roof – whom I veered away from the realm of politics, towards foreign languages and linguistics (an area she happened to be incredibly knowledgeable about and I was incredibly interested in) – I took to the streets for some solo escapades. I had no plan but to "get a feel" for the place, so employed my tried and tested method of walking aimlessly in any direction I felt drawn to until I dropped.
My hostel was situated in a built-up area, buzzing with activity. Locals were walking hurriedly past the mix of Western-looking malls, hip bars and cafes, Korean shops, and the seemingly endless number of restaurants advertising "business lunch."
Away from the hustle and bustle, I found myself in a small park which was home to an ornate Orthodox cathedral that lovebirds were tying the knot in at the time of my visit. If you ignored the stalls selling artificial toffee apples and pink inflatable donkeys, as well as the music stemming from the brightly-coloured, rickety merry-go-rounds, it was almost idyllic.
A mere 500 metres from the park stood a huge market selling everything from second-hand clothing to vibrant piles of dried fruits and grains. Slightly intimidated by the attention I seemed to be attracting, I dragged myself away from the exotic wares I had no intention of buying and headed instead towards the city's gold-domed mosque.
It was hard to believe that the part of the city in which I now stood – ears ringing from the enchanting sounds of the call to prayer and eyes feasting on the sea of modestly-dressed, practising Muslims making their way towards the building's doors – was but a stone's throw from the much more modern and familiar-feeling "downtown" area I was staying in.
Feeling enlivened and keen to share my experiences with anyone else seeing Kazakhstan's largest city for the first time, I strolled back to my hostel, where I got to talking to a worldly Belgian doctor who ended up convincing me (rather effortlessly) to sign up for a trip to Charyn Canyon that was to leave at the crack of dawn the following day. And with that, I retired to my bunk bed.
The next morning, my new Belgian friend, myself and a long-term backpacker from Wisconsin climbed wearily into a rusty, old car, to be greeted by a red-cheeked chauffeur with a Mongolian look about him, not helped by the fact he was wearing a Siberian fur hat despite the warm weather.
I almost instantly fell asleep in the car and awoke an hour later to unspoilt and lonesome steppe, once ruled by Genghis Khan, as far as the eye could see.
For another three hours, I observed nothing but endless carpets of wild grass, hills and sand from my window, without setting eyes on a single person.
We were all stiff and hungry by the time we arrived, but it soon became crystal clear that this was not a place where we were going to be able to satiate ourselves with overpriced, tasteless snacks sold by opportunistic vendors bellowing "come look at my traditional Kazakh food, no like, no pay," or similar.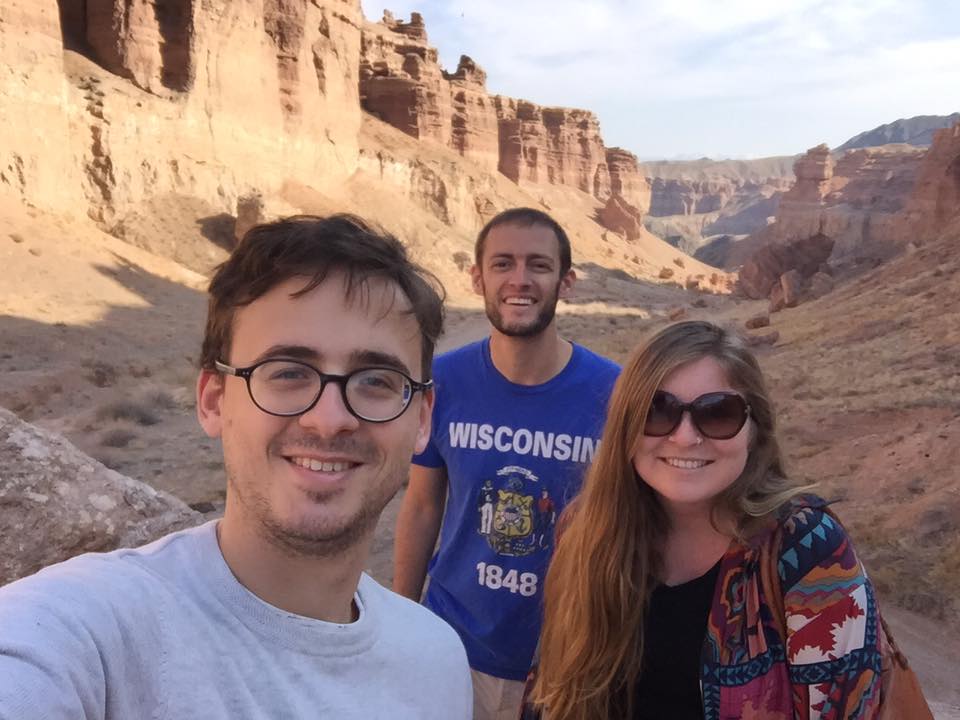 Here too, despite the unrivalled splendour of the site, we were completely and utterly alone. Waving goodbye to our driver, we began our challenging trek through the deserted canyon, sharing tales that illustrated our respective reasons for being passionate about former Soviet states. The magnificence of this hidden archaeological treasure on that unseasonably hot day, combined with the stimulating chat, luckily stifled any discomfort caused by my rumbling stomach.
On the way back to our hostel, we stopped off at a shack for what would be our breakfast, lunch and dinner, where we were served by a very polite girl of about 14. Communicating my vegetarianism was somewhat of a struggle, which I had grown most accustomed to; but with the help of my companions, who knew the odd word in Russian, I was tucking into a plate of indiscernible and highly suspicious ingredients in no time.
With our stomachs full of food and my mind full of concern that I may have accidentally eaten horse or at the very least mutton, we were back on the road, heading towards the autumnal sun that was beginning its descent behind the Zailiyskiy Alatau mountain range, leaving a myriad of fiery colours in its wake.
Not long after our return to the hostel, were we out for the count, which was just as well, as I wanted to be on top form for my friend's arrival the next day.
Overnight, it appeared to have very suddenly become winter; leaves that only the day before had clung onto the trees' branches now crunched satisfyingly under my feet. The newly cold temperatures provided the perfect excuse to immediately direct my friend towards one of the many eateries serving "business lunch."
Quite unlike historic cities in much of the world, the list of things for tourists to do in Almaty – or at least, things that people in their right mind would consider to be legitimate things to do – is rather lacking. The two main activities presented to us were taking a cable car up Kok Tobe mountain to reach an amusement park or taking a cable car up to Medeu, the world's highest ice rink, both of which anyone we asked for their two cents assured us we would love.
As history enthusiasts, the truth was, neither sounded particularly riveting, but we were keen to experience as much as possible of this incongruous metropolis, and so set off towards Kok Tobe. The latter boasted a minuscule Ferris wheel, which I had to look at for a substantial amount of time before being able to ascertain whether it was even moving; a strange zoo of sorts; and a lot of apple-themed tourist tat (apples being the symbol of the city).
The highlights of this outing, aside from the ubiquity of apple-based objects and statues, included the thrill of the unsteady cable car, the view over the city and the CCCP sign we saw on a building when walking to said cable car.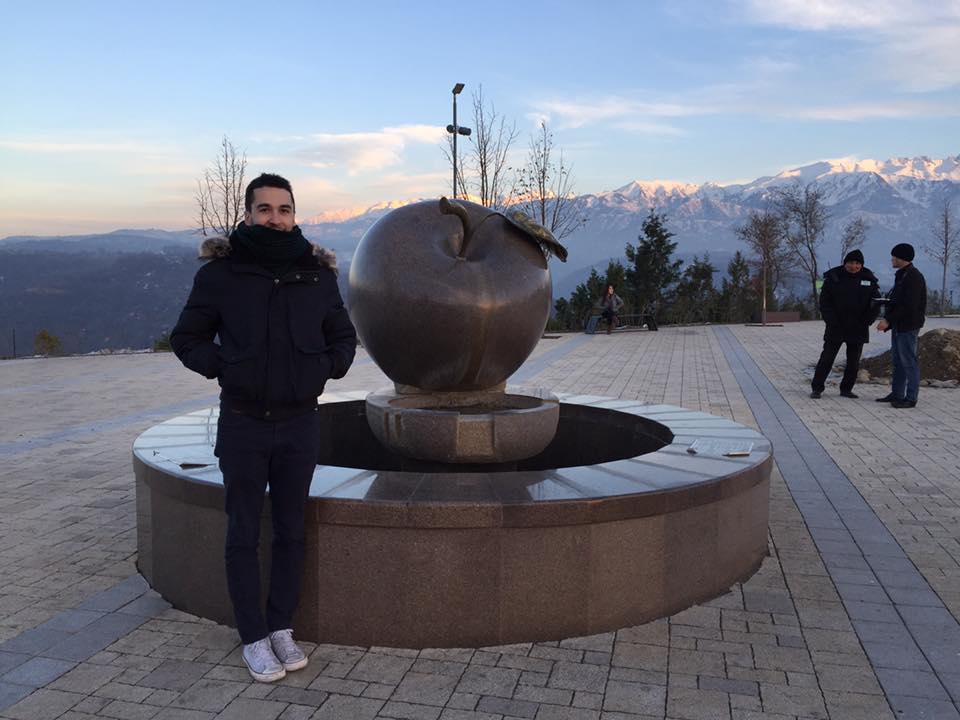 With my odd but thoroughly entertaining holiday sadly drawing to a close, one glaringly obvious facet of Kazakh life remained to be explored: its nightlife.
Having been to several former Soviet countries and dabbled in the recreational side of things in all of them, we already had some preconceptions (not particularly positive ones) with regard to the Kazakh clubbing scene. In typical British fashion, we decided to get drunk enough not to mind the flagrantly seductive dancing carried out by the scantily-clad elite we expected to be rubbing shoulders with.
The first few bars we frequented to achieve this goal, however, were remarkably sophisticated, and you would have been forgiven for thinking you were sipping Aperol Spritz in Milan, not in the alleged birthplace of the apple. Once sufficiently imbued and robbed of an excuse to further delay us from throwing some shapes, off we went.
Upon entering, we were hit by a wall of less than ideal smelling perfume mixed with cigarette smoke. Unperturbed, we pushed our way towards the bar and took in the people around us, nodding our heads to the beat of frantic techno. At 26, we were already too old for this establishment populated by exceedingly beautiful and exotic youths, who seemed disinterested in us despite us quite clearly being the only non-Kazakhs ever to have stepped foot in there.
Thankfully, after a couple of hazy hours, my friend was on the same page as I and happy to leg it, or rather hitchhike it – which, in Almaty, is a perfectly normal way to get around (and far more convenient than the metro) – back to our hostel.
All in all, my trip to Almaty was one of the most "formative" of my life.
None of it made any sense and therein lay its appeal. It is one of the holidays I think back to the most in my day-to-day life, probably because I am still trying to figure out what the hell happened.
Suffice it to say, something about that country left me feeling wild, daring and invincible – and well, who doesn't want to feel that?