Georgia, Part II
Back in Tbilisi, I joined a recommended walking tour. Considering perplexing recent events [as described in Part I of this travelogue], I was looking forward to answers to my many questions. My new, more approachable guide, Zhana, resignedly explained that Stalin still had quite the following in his native country of Georgia.
Not because of nostalgia for Soviet times, but the patriotism of having a world-renowned man with Georgian roots. The reasons for his renown seem to have faded into irrelevance. This was, she assured me, not the general sentiment in the country. It certainly was not one this composed, well-educated and progressive young woman could relate to.
I could sense her jadedness with this morbid fascination of tourists with someone she'd rather forget. With that in mind, I allowed her to show me a different perspective. At the ethnographic museum, a passionate, knowledgeable guide brought to life the well-preserved artifacts. Some were excavated from local archaeological sites dating back to the 4th century BC. Also included was a tucked-away synagogue, home to a charismatic rabbi full of promises to find me a Georgian husband.
The last stop was Gori fortress, from which one is treated to a magnificent view of the surrounding snow-capped mountains.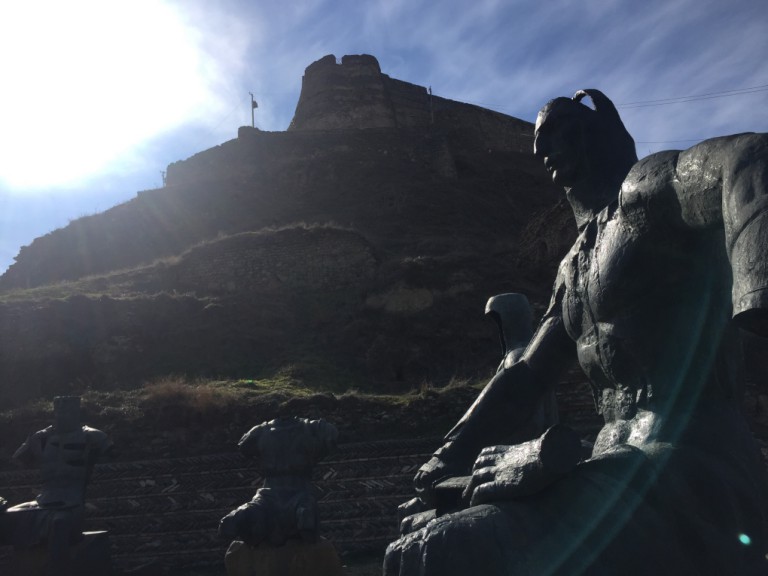 It was not the tour stops which made it so memorable, but the conversations with Zhana.
Besides our love for Berlin, Zhana and I spoke about the 2008 military occupation of Gori by the Russians. As we walked, she enlightened me on this devastating war, largely forgotten outside of the countries directly involved. She drew my attention to the prominent scars left on a number of buildings from the brutal bombing and shooting.  Abkhazia declared itself independent alongside South Ossetia after the dissolution of the Soviet Union. However, this independence is only recognized by Russia, Syria and a handful of other breakaway regions.
During the unrest, former Georgian president Mikheil Saakashvili sent troops to the region, thinking Russia was planning a military intervention. Russia responded by carrying out air strikes in South Ossetia and advancing towards the city of Gori. This instilled fear in local populations that Russia would lay claim to the whole country once more. Though news reports state that the war lasted a mere five days, its repercussions persisted far longer. Zhana and her family, like many others, had to evacuate their home. They sought refuge for three months in an abandoned school building, returning to ruins.
Tensions remain between Russia and Georgia, primarily over Abkhazia and South Ossetia, which make up about a quarter of Georgia.
The Russian occupation of these zones, whose borders have crept further into Georgia over the years, has given rise to a significant number of Internally Displaced People (IDPs). Both in Gori and around the borders – notorious for detainments, assaults and other human rights breaches. IDPs subsist on a measly monthly allowance which fails to cover their basic needs, and often face social exclusion.
In addition to the emotional and economic cost of the IDP situation, and the violence along the borders, there is another undesirable consequence: Russia's tireless presence in Georgia decreases the likelihood of the country being able to join NATO. This would increase the nation's sense of security and open up opportunities for ambitious young people, trapped in near poverty. I was full of newfound admiration for the nation's warmth and hospitality, in spite of their having been dealt a bad hand.
Zhana managed to persuade a taxi driver not to rip me off before going on her merry way. No sooner had I sat down than I was confronted with pictures of my old friend, Stalin. A (not so) subtle reminder that not everyone saw eye-to-eye regarding Russia's occupation, past or present.
Conversation with my toothless, dictator-worshipping chauffeur was stilted to say the least. It consisted mainly of him using single words and hand gestures to berate me for not having learnt Russian. Needless to say, I was glad when he dropped me off at Uplistsikhe, an ancient cave town 10 kilometers east of Gori: considered for a UNESCO World Heritage Site.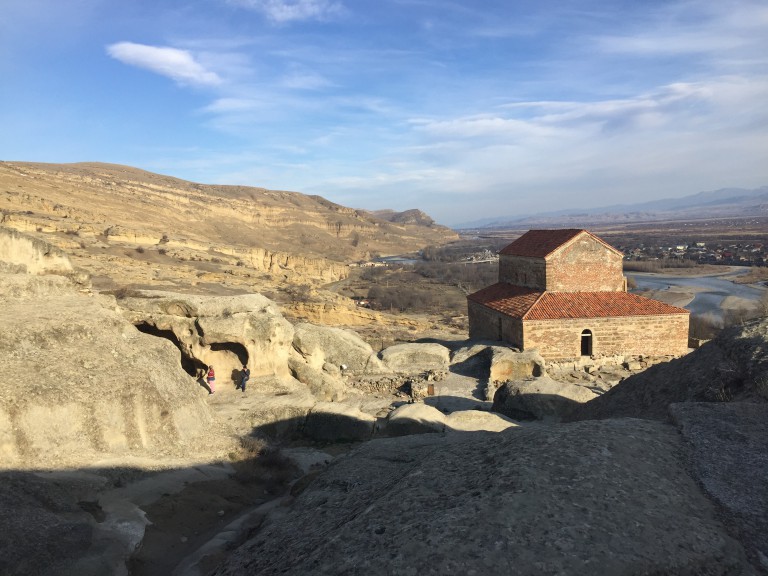 The old settlement was founded in the late Bronze Age and inhabited until the 13th century AD.
I was astounded by the vast expanse of softly sloping, beige-grey rock that stretches as far as the eye can see. A river glints unassumingly in the dusky sun, weaving its way through the land below.
A new lease on life propelled me to the summit, where a Christian stone basilica stood. Past former dwellings, Pagan places of sacrifice, pharmacies and amphitheaters, influenced by Anatolian and Iranian rock-cut architectural designs. The wind blowing in my hair, a satisfying discomfort in my legs, I took stock of the historical significance of the site. I was bursting with an unruly sense of joie de vivre.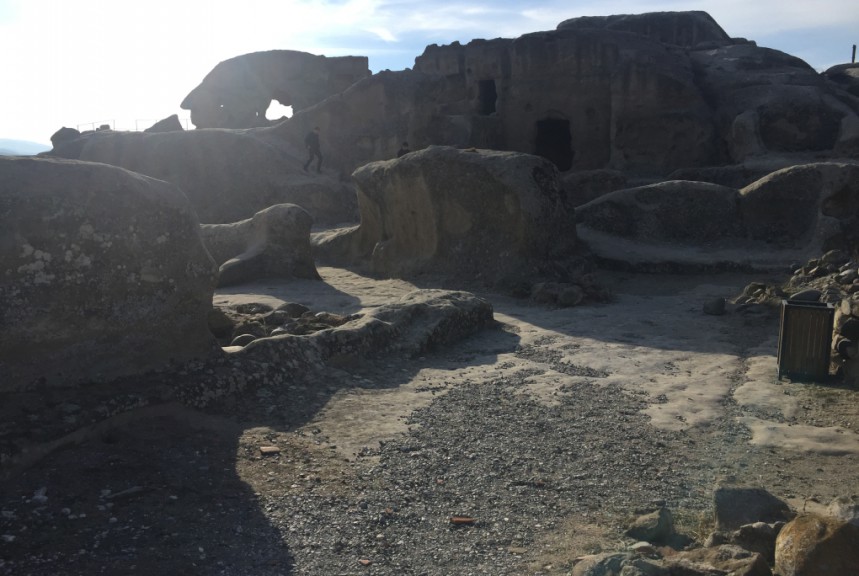 Next on my list of Georgian escapades was Sighnaghi, a stunning town in the country's easternmost region of Kakheti. Dubbed the "city of love," it nestles in the heart of the wine region, with an awe-inspiring view of the Alazani valley.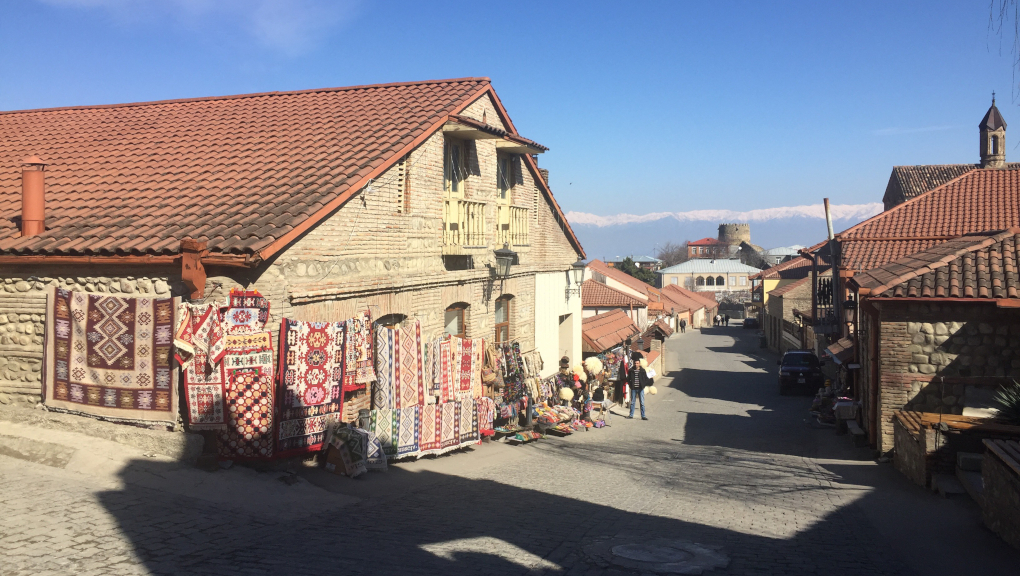 This town in Georgia is made up of quaint, cobbled streets adorned with handcrafted, colorful rugs, socks and churchkhela.
These pervasive, candle-shaped sweets are made of wheat flour, nuts and – surprise, surprise – grape juice. Picturesque houses boast wooden balconies, and sleepy squares are peppered with dogs lazily stretching in the sun. Men sit around idly on benches and here and there are pomegranate juice vendors.
I began aimlessly strolling through Sighnaghi, enjoying the unseasonably warm weather, getting lost in a romantic reverie. I enjoyed the first of many glasses of wine in a family-run restaurant lodged beside the city's medieval wall. It forms a striking gash in the surreal countryside that skirts this town, once a stop on the ancient Silk Road.
My appreciation of the dramatically beautiful panoramic view before me was amplified by the copper-colored "white wine."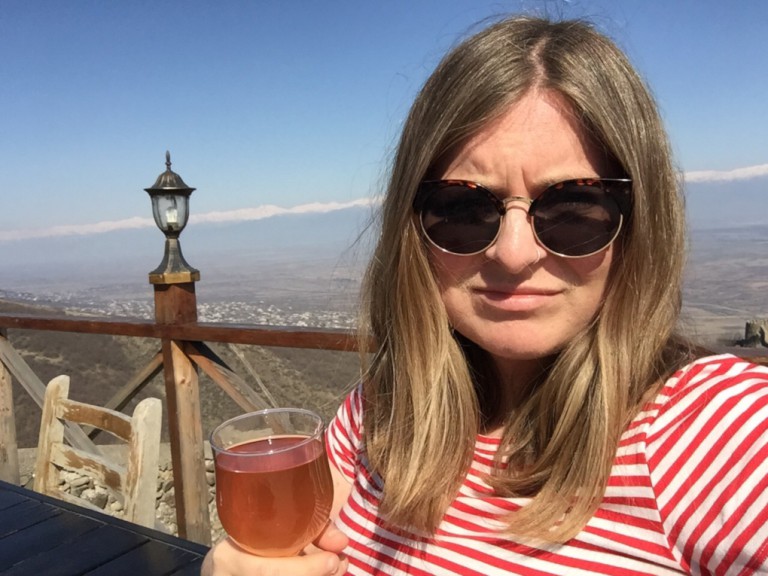 Heavy with contentment, I continued my exploration of Sighnaghi. I entered what must have been the only church in the entirety of Georgia that was not full to the brim. A weathered, overwhelmingly kind-eyed elderly lady wearing a headscarf placed a candle in my hand. Futilely, she explained in Georgian the symbolism of the different pictures in front of which I could light my candle. I hastily selected one and smiled profusely at this woman whose life I wanted to know every detail of.
It was time to sample the local cuisine.
Once more, I found myself in an almost oppressively picturesque environment, chomping on some of Georgia's many unintentionally vegan national dishes. The vegetables were seasoned to perfection and the moreish bread, traditionally baked in a deep circular clay oven, made a fantastic sauce mop.
It was a day where every one of my senses was spoiled lavishly. It slowed down time, allowing every last sight, caress of sun, taste explosion, sound and smell to be mindfully savored.
My lasting memory of Sighnaghi is, without a doubt, the relaxed stupor the place lured me into. This is aside from the layers of juxtaposing splendor afforded by the combination of adorable architecture, unspoiled fields and assertive Greater Caucasus Mountains. Forget Sardinia, it's all about Sighnaghi.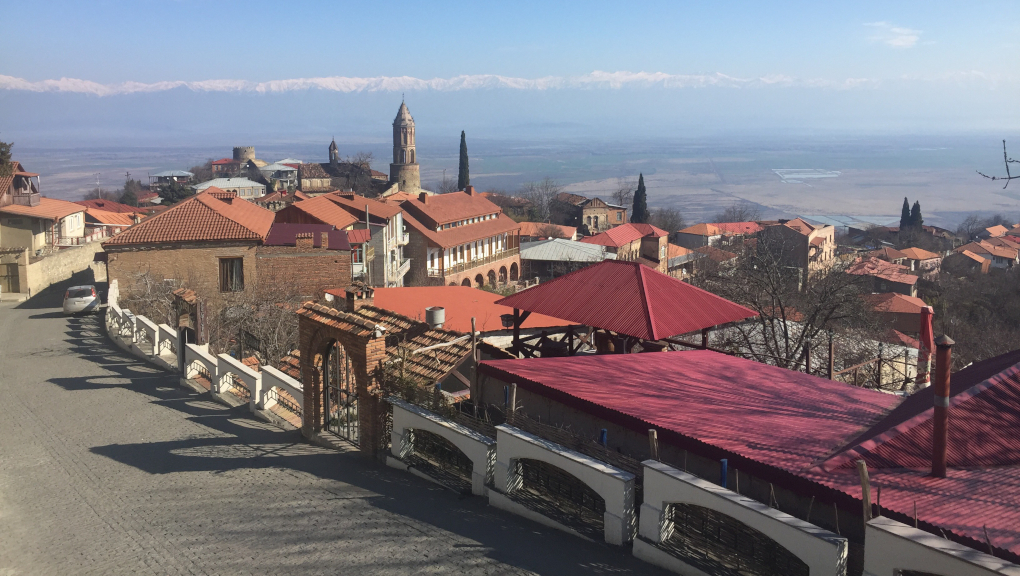 Abashed by my newfound poeticism, I decided to keep it real back in Tbilisi with a beer and a burger at the anarchistic, counter-culture Kiwi Vegan Cafe. Afterwards, throwing some shapes to emo classics with my local posse in a dingy (literal and figurative) underground bar.
The next day, my last full day in Georgia, I made the rash and highly impractical decision to travel to Kazbegi. It is near the Russian border, a 3-hour-drive from Tbilisi, from where I was flying to Berlin the next morning. Alas, my exposure to mountain ranges in Sighnaghi had left me with no choice but to get up close and personal with the elements.
Amid the chaos and sensory overload of Didube Bus Station, I managed to find a taxi driver willing to risk driving to Kazbegi.
Most drivers I asked were only willing to go as far as the ski resort, Gudauri. There was a risk of the one road to Kazbegi being closed off to vehicles as a result of heavy snowfall. My driver proceeded to shove me into a white car with blacked-out windows.
The driver remained in front of the vehicle shouting, "Kazbegi!", smoking, chatting and drinking coffee until all the seats were filled. Roughly an hour and a half later, we were off. A gratingly enthusiastic, demanding Malaysian lady who took a shining to me; a young Georgian skydiving instructor; myself; a silent pair of Chinese women; and our reluctant driver.
The drive itself was, without a shadow of a doubt, one of the most spectacular journeys of my life.
I had luckily bagged a window seat yet again, from which I was able to hungrily devour the ever-changing landscape around me. We sped along treacherously windy, narrow roads bordered by walls of snow on the one side and sheer drops on the other. Passing otherworldly turquoise lakes, hilltop churches and entirely snow-covered mountains to the beat of incomprehensible, intoxicating Georgian classics.
When we reached Gudauri, we were met by a queue of cars and very little in the way of explanation. One could only assume we were waiting for the roads ahead to be cleared of snow. I decided to make the most of the enforced pause and wander around Gudauri a little. I made it about 10 meters from the car before being accosted by the Malaysian woman who led me into a nearby cafe, lamenting the recent loss of her watch.
Too British to assert myself, I ordered coffee and endured her seemingly endless monologue, willing our driver to save me. Thankfully, it was not long before we were back on the road for the final stretch. If anything, it was even more of a sight for sore eyes than the first leg had been.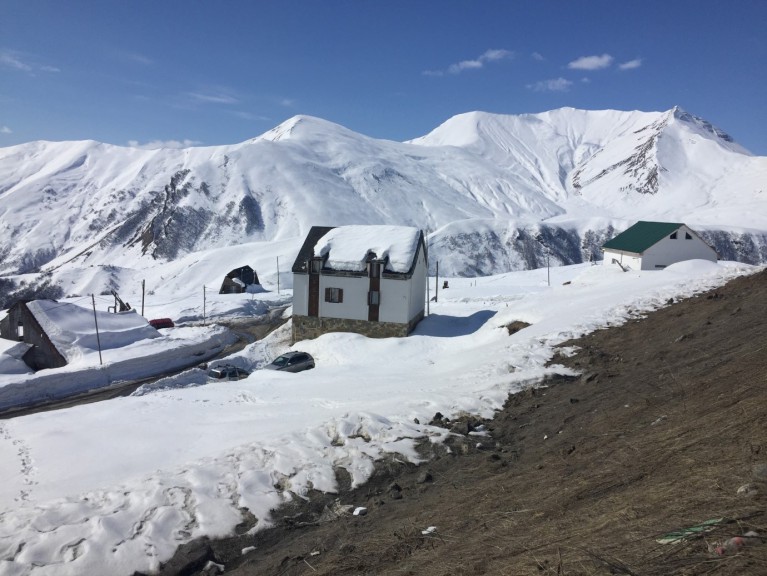 It was nature unlike any I had been in before: raw, arresting and powerful.
We arrived in Kazbegi or Stepantsminda at around 2 p.m. The town was home to a handful of businesses, a piercing communist statue, a herd of cows walking around unsupervised, and the usual gang of frantic taxi drivers. I convinced my irritating sidekick to head back to her accommodation to put mountain-climbing footwear on (i.e. not the high-heeled trainers she deemed fit for the occasion).
Figuring out when the last marshrutka back to Tbilisi was, I made for the row of drivers. Given that I only had four hours until I really had to be Tbilisi-bound, climbing the mountain wasn't an option. Moreover, my footwear (though not high-heeled) and other attire was not much of a step up from my former companion's.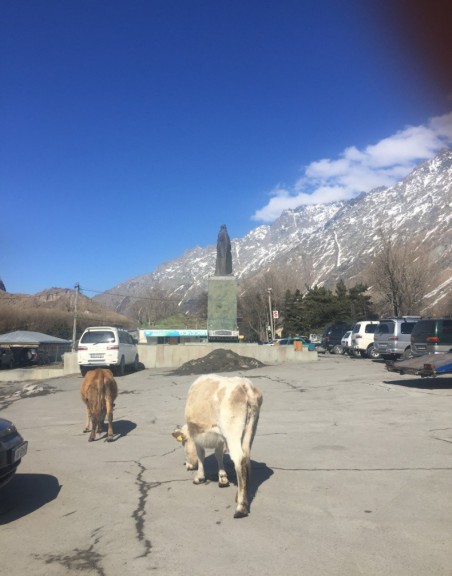 Thus I made my peace and got into a taxi with a warm and friendly young Georgian couple. I gasped as I was jolted from left to right, the car skidding up the black ice-ridden road at dangerous speed.
There's nothing like the very real threat of imminent death to make one feel alive.
After about 20 minutes of this, it became apparent we would not be able to drive any further. Our driver assured us it was only a 10-minute walk up from where he'd parked, which I naively believed. Lo and behold, 10 minutes into the insanely steep climb, and in my case, repeated tumbles into inches upon inches of fresh snow, we were still nowhere near our destination. (Note to self: sort life out and come prepared).
In fact, it took us over an hour to reach the summit. Nonetheless, any residual fury over our taxi drivers' flagrant lying, and anxiety over missing the only bus, vanished as soon as we made it to the top.
Jagged contours of mountains, engulfed in impossibly pure, white powderiness could be seen from every angle. The view was interrupted only by the 14th-century gem that is Gergeti Trinity Church.
I stood at the edge of Mount Kazbegi, feeling the pull in my thighs from the considerable physical exertion. I looked down at the point where I had been dropped off. From an altitude of almost 2,200 meters, I was acutely aware of my elation. Knowledge of its ephemerality made me treasure it all the more.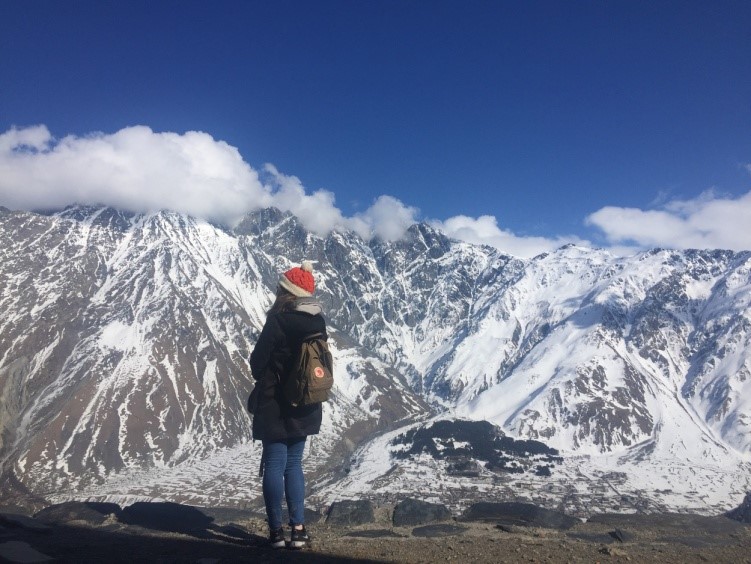 Georgia has left a mark on me in a way no other country has.
Its rundown, mishmash of a capital whose undeniable charm lies in the minutest of clashing details. The long, colorful and often tragic history, marked by several periods of occupation. Its own distinct culture, influenced by many others. Its cheerful and interesting inhabitants. The fresh, flavorsome food and unique wine.
Last but not least, its varied landscapes, from its beaches along the Black Sea to its tough, humbling mountain ranges, are all endlessly stimulating. Why more people are not visiting, I do not know. This land, referred to by some as the "Pearl of the Caucasus," truly has it all.