Part I
I sleepily walked out of customs in Tbilisi, Georgia. My unnecessarily long but irresistibly cheap journey was finally behind me. A short, bedraggled-looking man in his fifties held up a piece of paper with my name on it.
After exchanging greetings in English, my host asked to switch to Russian or German. He explained that he had served in the Soviet Armed Forces and been stationed in Magdeburg, in the former GDR.
Animatedly, he regaled me with tales from that time. Driving soldiers to Berlin, they had been met by laughing hordes of drunk people plying passers-by with beer. He'd rolled down his window to ask what they were celebrating, to which they'd exuberantly replied, "Die Mauer fällt!" ("The wall is falling!")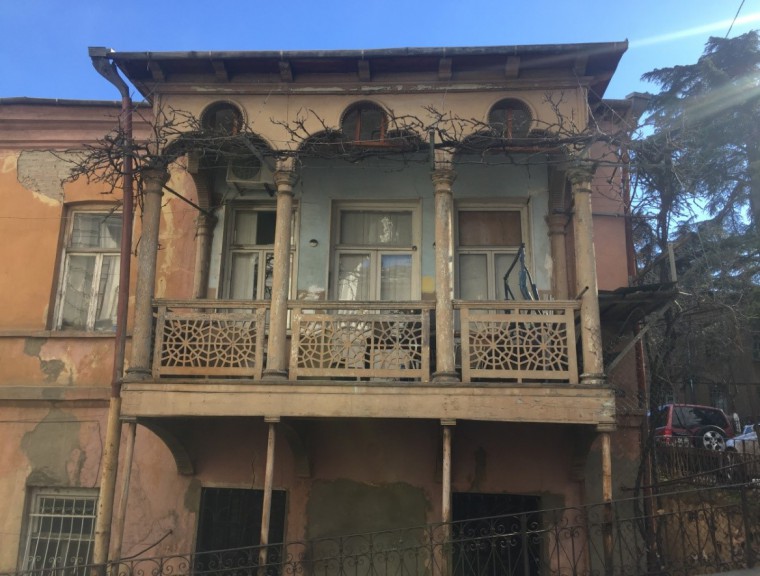 When we arrived at my hostel and his home, he insisted I down a glass of chacha. Chacha is an incredibly strong alcoholic drink distilled from grape pulp.
Instantly, my jealousy about his first-hand experience of the fall of the Berlin Wall disappeared. Vomit felt like a very real possibility. Promptly a piece of fruit cake was thrust into my mouth by Javier, a long-term hostel dweller from Alicante.
I decided to get the hell out of there before something else was rammed down my neck.
As I walked the small streets, it took next to no time for the city to enrapture me.
The incongruity of the buildings' architectural styles and the undeniable charm of their subtle details demands attention from first-time visitors. My eyes feasted on tired, ornate, pastel colored facades and half-demolished blocks of flats. Colorful doors give way to mysterious courtyards. Imposing Soviet-era statues and intricately designed balconies co-exist in varying states of disrepair. Futuristic administrative offices and shop fronts boast the uniquely beguiling Georgian script.
This imperfect hodgepodge, and the dizzying freedom of feeling disconnected, triggered a swirl of giddiness. I felt like the most unlikely exploits were possible, in a world opened up anew.
I had an early night, to make the most of my first full day in Tbilisi. I woke up at the crack of dawn, raring to go. First I strolled along Rustaveli Avenue, taking in all the high-end shops, cafes, restaurants, and museums.
I paused to stare incredulously at the Moorish-looking opera house. It wouldn't have looked out of place in Andalusia, but certainly felt so alongside the distinctly European neighboring buildings. This well-kept avenue was quite the contrast to the endearingly unpolished scenes of the previous night.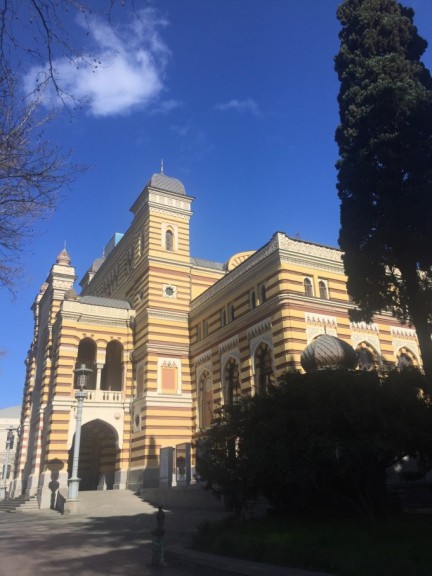 My hunger becoming increasingly insistent, I sought out a cafe with vegan breakfast options. It was not hard to find. Minutes later I was sipping an almond milk cappuccino, tucking into rice porridge with coconut milk, banana and berry compote. Vintage board games, Edison bulbs and exposed brick walls surrounded me. I was grateful to have effortlessly found healthy and delicious plant-based options. However, the universal hipster aesthetic and reassuringly familiar offerings were not what I had traveled to Georgia for. So I decided not to linger.
My energy refueled, I took to the exhilarating streets once more, heading to the Dry Bridge Bazaar.
During the tough years of Perestroika and the early days of Georgia's independence, this was where struggling locals sold their possessions. As the name suggests, the "dry bridge" doesn't actually reach across the Mtkvari River which bisects Tbilisi – instead, it crosses a stretch of motorway.
Despite the windy conditions, a large crowd of hopeful vendors were standing beside their wares, nursing flasks of tea or coffee. As someone partial to flea markets, and even more partial to Soviet relics, I'd hit the jackpot.
There was a mesmerizing assortment of medals, USSR passports, gas masks, coins, posters of Stalin, antiques, carpets, jewelry, and records. After meandering around in awe, I needed a break from the inevitable over-stimulation.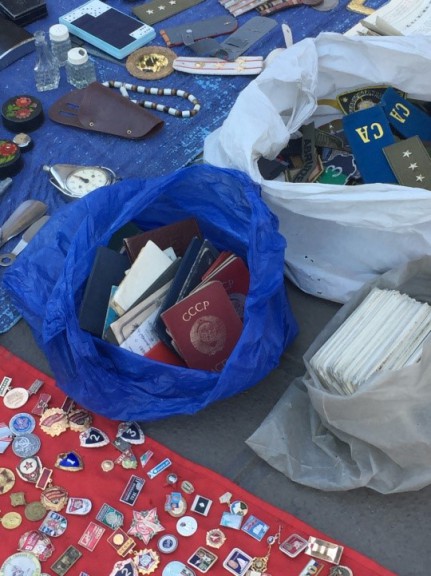 Crossing the bridge, I stopped to take in the amusing view of the Public Service Hall. Resembling oversized mushrooms, it was built by the previous government to the dismay of many and the delight of few.
In Dedaena Park, the monument that had first lured me across the road depicts a child reaching towards a book. Bordering it are beautiful displays of all three writing systems of the Georgian script. It commemorates the successful mass demonstration, on 14 April 1978, against the Soviets' demands for Russian to replace Georgian.
Georgian is one of the world's oldest languages still in use and unrelated to any other.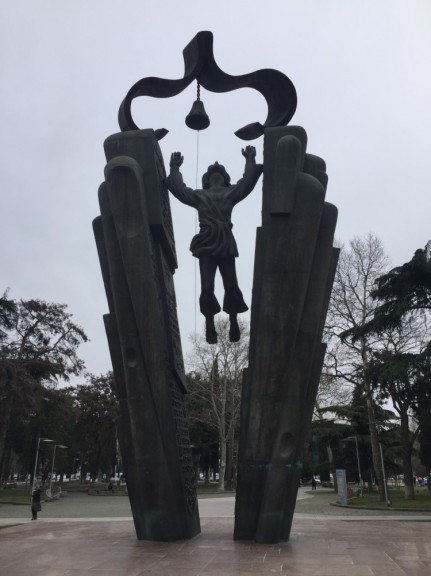 Fortunately, I met a local who showed me around the recently restored old town.
Set upon the hilly terrain crowned by Narikala Fortress, it is awash with cheerful, wooden buildings. Surrounded by the smell of the nearby sulfur baths, we began the hike uphill.
We passed the Jumah Mosque with its vibrant blue tiles and Arabic motifs, frequented by both Shia and Sunni Muslims. Next was Anchiskhati Basilica, the oldest surviving church in Tbilisi, dating from the 6th century. Following that was the clock tower, famed for live puppet shows. Safely nestled within the ancient ruins of the fortress and hidden from view, my new friend handed me a bottle of his homemade wine.
Where better to drink yourself into a haze than in the birthplace of wine itself? Experts believe Georgians invented wine-making, and they still use the same technique today. Clay pots called qvevri are filled with grape juice, buried and left for six months.
Standing next to the Mother of Georgia (the Kartlis Deda monument), I gazed somewhat tipsily down upon this enticing melting pot of a city, Georgian folk music ringing in my ears.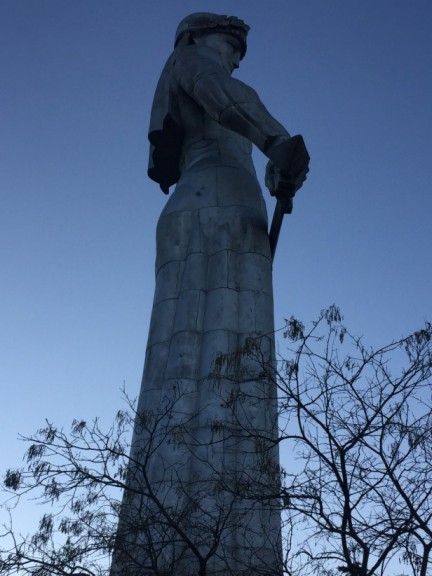 The next morning – after my overly hospitable hosts force-fed me a sizable breakfast – I made my way to Didube, Tbilisi's central bus station, on the jam-packed metro. I wanted to track down a marshrutka (minibus) to Gori, the birthplace of Joseph Stalin, for a spot of dark tourism.
When we arrived at the station, I unthinkingly followed the sea of people purposefully walking towards an unknown destination, only to end up in an underground shopping centre of sorts, where everything from Swiss Army Knives to underwear was being sold. After asking a friendly individual who formed part of the aforementioned sea of people for directions to the buses, and walking for a good 10 minutes past bakeries, vats of pickled vegetables and heaps of coriander, parsley, and dill, as well as men bellowing the names of various destinations, hoping to fill their taxis with hapless tourists, I'd found the vehicle I was after.
I was lucky enough to nab a window seat, soaking in the breathtaking view of the Jvari Monastery, set upon a hill near Georgia's ancient capital of Mtskheta. An hour later, we'd arrived in Gori and I made a beeline for the grand-looking Stalin museum, from which a Georgian flag was proudly being flown. Around a large statue of the man himself a handful of tourists crowded for a photo shoot.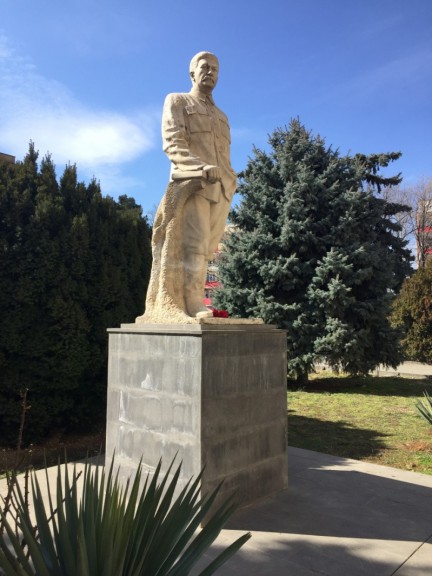 The museum and guided tour make no attempt to present a balanced account of the life of the communist dictator responsible for millions of deaths.
The facility itself has a palatial feel with luxurious red carpets, marble staircases and stained-glass windows. Our guide was wearing a black, knee-length padded coat fit for Siberia, high heels and dark purple lipstick. Disinterestedly, she led us around a vast room filled with encased memorabilia and paintings of Stalin at all ages.
Every now and then she stopped to laconically sing his praise. "Stalin. Very good student. Best in class," she uttered apathetically, pointing to pictures of a surprisingly attractive young Stalin. She left no time for reflection or questions before ordering us to "follow please."
Besides the seemingly endless framed portraits, glass cabinets were filled with his belongings, from cigars to spectacles. But the creepiest part of the museum is really the shrine-like room showcasing a bronze mask of the dictator, molded shortly after his death in 1953.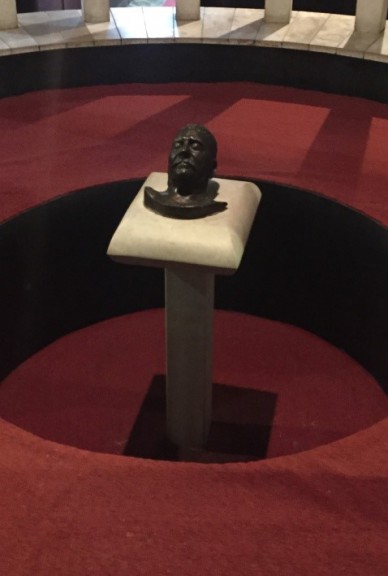 That he murdered "some people during difficult time" was merely mentioned in a small, recently added chamber meant to emulate a gulag and only added in 2010.
The tour ended with a swift glimpse into the modest house he was born in, and his railway carriage. Our guide barked, "Any questions?", and immediately answered her own question negatively. We stood with mouths agape. Alas, no light was to be shed on the very odd spectacle to which we had just borne witness.
---
To be continued in Part II…