Anyone who has tried to look for a job online or been to a job fair knows that most jobs around are for IT people or code programmers. But what do programmers actually do?
"As a programmer, you will not be sitting alone in a basement, you are solving problems using code," says web development instructor Valeria Koriatchenko (23).
Computer science instructor Franz Wollang (26) agrees: "You don't spend much time alone as a coder, it is always a team activity. In your typical Tuesday, you will spend a lot of time explaining your approach to your teammates and discussing with them what is the best way forward, along with checking each other's work. You will not spend more than three hours a day working alone."
Valeria and Franz work for the same education company, Code Camp Leipzig. They aim to train people who have little or no knowledge of coding, programming or computer science, and get them to the level of junior software developers in three-months' time.
If you are willing to adhere to the demanding full-time schedule and learn the ropes, you should then be ready to join a team of experienced developers, either as an intern or as an employee in a Leipzig company.
You can apply for their program until 4 August 2019. But before then, on 25 July, you can meet the team and ask questions in person at Basislager Coworking Leipzig – with pizza and a potential employer on hand.
Of course, this will give the Code Camp Leipzig team the chance to get to know you a bit, too. Co-founder Taylor Harvey (29) says:
"In selecting the students for our class, we are building a classroom. We want extroverts who will raise their hands and tell the instructor, 'I have no clue what you are talking about.' We want people who will support each other throughout and who have a deep desire to solve problems and help out their community through creativity."
Why apply?
You can move from 0 to 1 (pun intended)
How can the Code Camp Leipzig team train you in three short months to become a full-stack software developer? Co-founder and instructor Gabriel Heinrich (28) explains: "We will take a small class of no more than 10 students in an intensive three-month, project-focused course. There will be very little theory taught. The focus will be learning how to code using real-life problems."
Franz, a co-founder himself, puts it very simply:
Coding or programming is a lot like cooking. You can get a very elaborate result, which looks very complicated to people not involved in its making, just by learning the basics well.
He further elaborates on the program:
"We will teach our students to become effective members of a programming team, not to become a black-belt master-of-all-nerds super programmer, which is not needed for you to land a job. We will teach you the basics of computer science and programming, such as understanding why computers are binary, how computers store information, and teach you how to think algorithmically.
"This last part is important. It takes a number of steps to build something with code, and thinking algorithmically will help you create the programming structure that you need to achieve your goal.  However, you will only need high school (or A-level) math to learn how to become a junior software developer."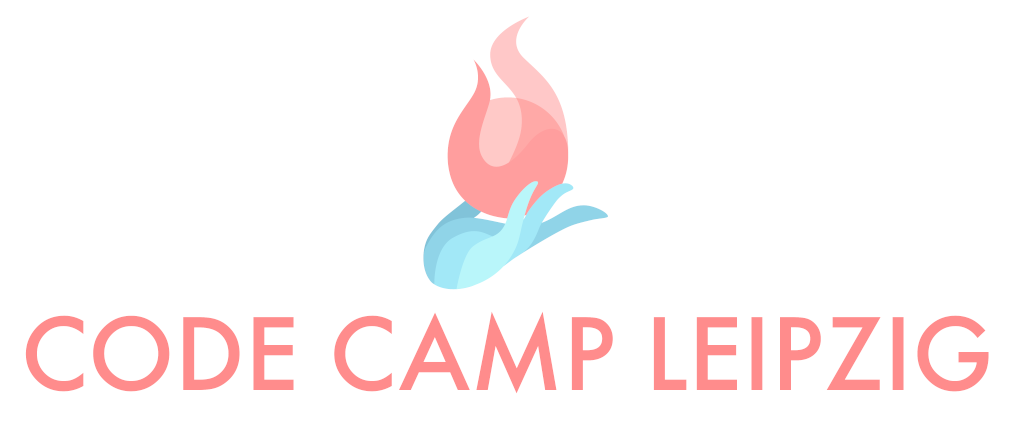 Code is a tool to create something (awesome)
"People, and especially women, should consider learning to program, as it is a way to create anything you want," Valeria explains. "I got into programming during my time at the university and I loved being able to create something from scratch and see if it works or not, and if not, I would see how to make it work."
As for Gabriel, he tells us that he "started out as a music film composer," and the reason he started learning how to code was that he "wanted to build a real-time acoustics emulation of concert halls."
Gabriel further mentioned an important point of the teaching methodology at Code Camp Leipzig: "There is a lot more to becoming a developer than just coding, and at Code Camp Leipzig, we will teach students all the other important skills and considerations surrounding your work as a programmer, such as product testing, software documentation, teamwork, and user information."
Learn to code so you can get a damn job
If you can't beat developers for jobs, then why not join them?
Out of the 10 students in the first Code Camp Leipzig class, four of them will get sponsored spots. Two of them are by the Leipzig- and Brussels-based gas capacity trading platform PRISMA. The third is by the Leipzig-based documentation management company e-dox, and the fourth by Code Camp Leipzig itself.
Those receiving a sponsored spot from one of the first two companies may even get a work contract at the end of the three-month course. The other six students will have to pay a one-time fee of €1,500, which is about what you will pay to get a driver's license in Germany. Moreover, the entire course is held in English.
If you are interested, you probably have a lot of questions; so why not get the answers from the horse's mouth?
At the Code Camp Leipzig open house, you will have the chance to ask the team all the questions you might have. You will be able get more information first-hand from the instructors on how they will take your from non-computer-nerd to (a very cool) nerd qualified to apply for hundreds of open positions in Leipzig alone. As a big bonus, PRISMA will also speak at the event – giving you face-to-face contact with a potential employer! And pizza will be served. 
---
Code Camp Leipzig Open House
Thursday, 25 July 2019, at 7 PM – 10 PM
Hosted by Code Camp Leipzig @ Basislager Coworking
Petersteinweg 14, 04107 Leipzig, Germany
Free entry
---