Right here in Connewitz is a converted gasometer now known as the Leipzig Panometer. It is a gallery that houses fantastic and intricate panoramic works by artist/photographer Yadegar Asisi, like the current one on display, Carolas Garten. The building alone has its own fascinating history, having been built in 1909 and closed in 1977.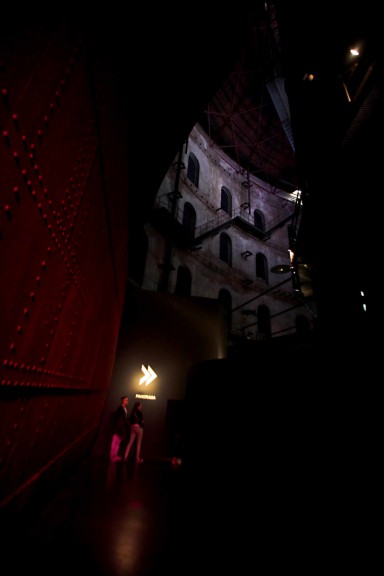 With the innovation and creative vision of Asisi, it reopened in 2003 to showcase Asisi's amazing collection of works at the time. Soon after that, other empty gasometers were converted into art spaces around Germany and, eventually, farther afield in Europe.
Starting as an Everest panorama back in 2003, Asisi's body of work has evolved into even more personal oeuvres to present to the public. He is known to be objective and observing as an artist.
Carolas Garten is perhaps Asisi's most personal or emotional exhibition: he actually knew the person who owned the garden he used as inspiration.
Carola had worked at the Leipzig Panometer, and become a go-to person for her colleagues. After she passed away in 2015, Asisi went to her Kleingarten in Leipzig. It was only then that he realized that, by looking at her garden, he could really get to know who she was. He felt such gardens were small ecosystems – not only of nature, but of the mind and personality of those who tended to them. A story within a story.
https://www.youtube.com/watch?v=s0-FCNqo0l0
Just by sitting and looking at the garden, every facet and piece inside appeared to work according to someone's nurturing. Through that, the cause and effect relationship became evident for Asisi. And within this contemplation did the idea for Carolas Garten bear fruit, into an exhibition touching on various connected aspects.
From the "philosophy" of the garden, to the sociological necessities of Schrebergartens and Kleingartens. Ubiquitous, and an obvious local part of life, of nature and its instinctive process. Into the effects that modern-day living has on the natural process of nature's process.
Compiled from paintings, sketches, photographs and video, the exhibition starts by paying homage to Carola.
As much as life is a given in gardens, so is death; and in that process, one without the other does not exist. Asisi makes it known that balancing opposites is necessary for sustainability, and cannot and should not be avoided.
The grand finale is the 34-meter-tall panoramic room of Asisi's intricate and painstakingly detailed assemblage of various paintings and photographs. All imposed together onto one giant and over-magnified enhancement of Carola's garden.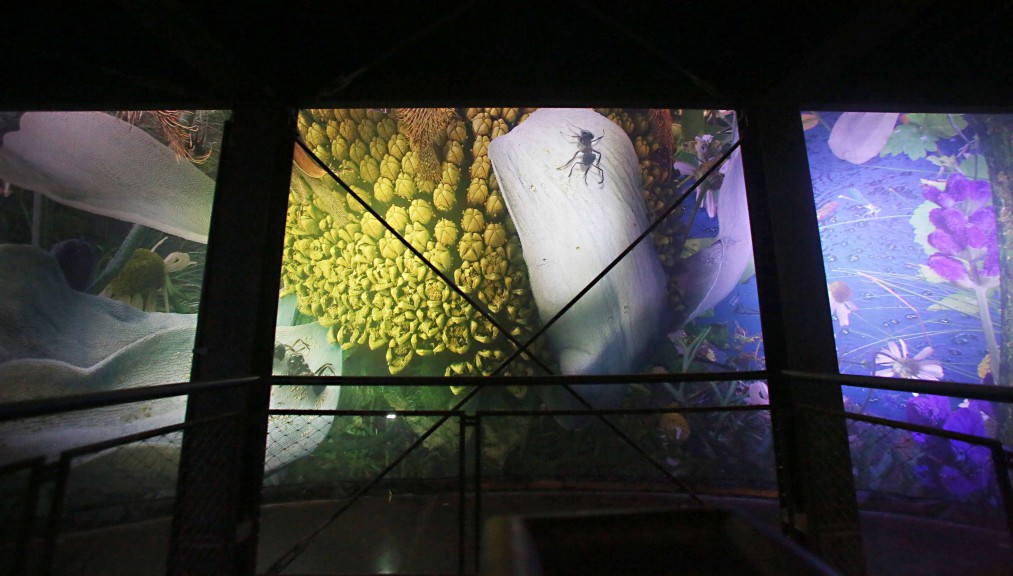 The perspective is literally that of a bee, perched on the piston of a flower, overlooking all the busy details of the ever-moving world within the garden.
A fellow bee is busy feeding on a daisy. A dandelion with its florets half gone, a cat waiting to pounce. A gardener in the background, tending to his vegetables while his child plays in the garden. A light installation changes colors to simulate the sun and moon's ascent and descent, in tempo to composer Eric Babak's music.
These descriptions do the work such injustice. You could stand for hours and never see everything but only remain in awe. The projection has such a realness to it that you can feel the effects of nature envelop you.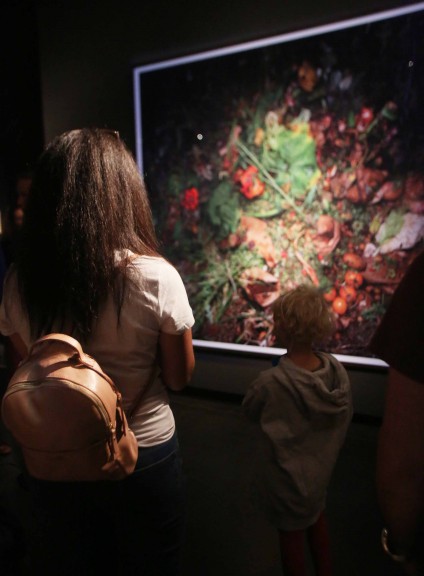 After seeing something like this, one is left not only with an inspirational feeling, but also with a true sense of respect for the attention to nature and the connection we have with it. The importance of appreciating not just the whole picture of nature itself, but all the little details that work together to make it – naturally – an amazing place to live.
Carolas Garten runs until 2020 at the Asisi Panometer, Richard Lehmann-Straße 114, 04275 Leipzig.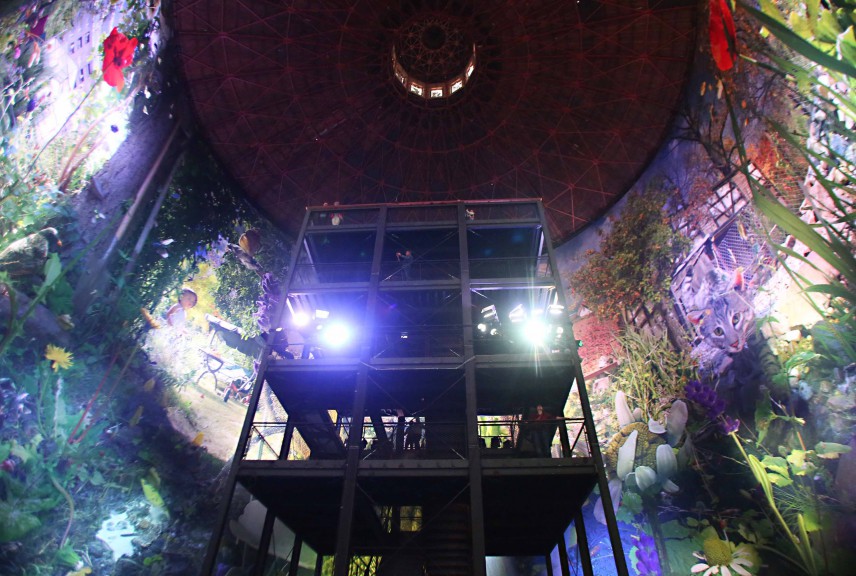 By Bianca Peacock
Bianca Peacock is a freelance writer/photographer currently spending a few months in Leipzig and uncovering the wonders of this beautiful city. Her interests lie in the environmental, humane and "aware" topics these days. She loves biking, canoeing, meeting curious minds and, most of, all dogs or animals of any kind.