Updated: 4 November 2019
The LeipGlo Team has been busy chatting with companies and institutions about the third Leipzig Glocal Job Fair, scheduled for 26 November at WERK 2 in Connewitz. The variety and number of positions available are quite encouraging.
This is your chance to meet a bunch of prospective employers and ask them questions, live and in color. With a little over two months to go, already at least 26 exhibitors (including us) said they will join, many of them for a second or even third time.
There are also a few first-time exhibitors, like the brand new startup eCommeleon, offering a software solution for e-commerce and currently hiring developers and sales reps; and Lancaster University, which has recently opened a small campus in Leipzig and is looking for instructors.
In the case of SpinLab, the plan is for the HHL accelerator to have its own startup area, and bring some of its incoming class of startups over. A handful of them could be there, depending on their recruitment needs.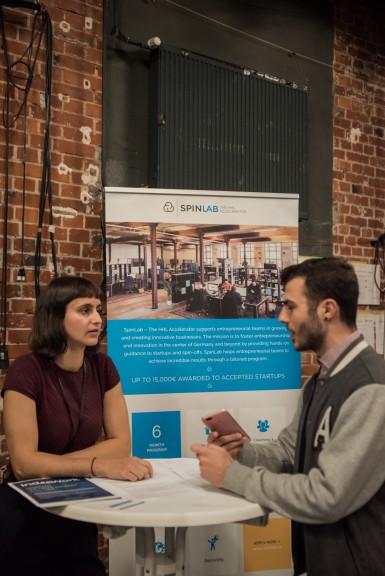 This is the third time SpinLab will participate in our job fair, but the first time it will bring so many friends.
Four alumni of the accelerator have now confirmed their presence in the SpinLab Startup Area. Over the past weeks, three of them were offering student jobs or internships, among other positions: Wundercurves in sales, HR and data analysis; Rhebo in customer management; and Vesputi in social media marketing and business development.
The fourth alumna, Dipat, is looking for a full-stack software engineer. Yes, software developers are always welcome – so if you are one, you can probably drop your CV off at any of the startups participating in the fair.
Which brings us to two startups offering classes to those who want to become developers. Both Code Camp Leipzig – in a program that has built-in positions from local companies – and Digital Career Institute (DCI) are coming to the LeipGlo Job Fair. DCI is currently looking for a lecturer in web development. Code Camp Leipzig is also looking to expand.
Both startups have been to our job fairs before, and the same is true of gas capacity trading platform PRISMA – one of the companies directly hiring Code Camp Leipzig students and also recruiting at our third job fair. Based in Brussels and Leipzig, PRISMA now has 44 employees from 11 different nationalities, and has announced positions for developers and a UX designer.
Another popular returning job fair exhibitor is Spreadshirt, probably the most successful (former) startup from Leipzig.
They've become known for bringing us their "wheel of fortune," which job fair visitors spin to win actual T-shirts and other accessories. Stefanie Frenking, Spreadshirt's head of recruitment, said they keep coming back because they always meet people they want to hire: "Usually when you go to other job fairs, you find similar people. But we've been able to find a widespread audience and range of talent in yours. This makes it much more interesting."
It's not only the number, but also the quality of the people.
Spreadshirt has taken on several candidates straight from our first and second events. These include their current head of engineering and a Swedish customer service representative. This international company now has 390 employees in its Leipzig headquarters, hailing from more than 32 nationalities, says Stefanie. Their CEO is British. Currently, they're looking for customer service representatives in seven languages, as well as interns or student workers in the areas of marketing, HR, IT, and purchasing. More senior positions are also open across departments.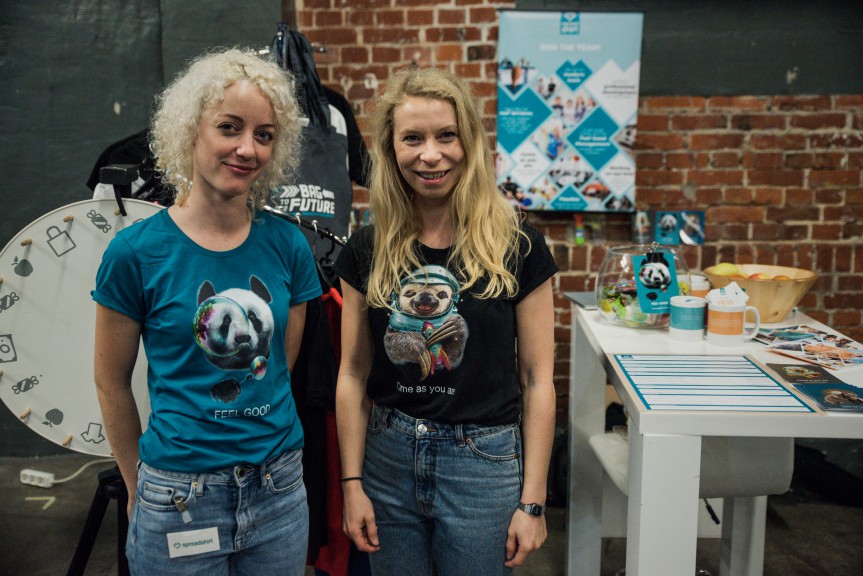 Also returning to our career event a third time are the tech company Replex as well as educational companies inlingua (hiring language teachers) and Teach First Deutschland (looking for aspiring educators for a fellowship program in German schools).
Replex has grown to 20 employees, from seven different nationalities; which is an impressive variety for its size. It's currently hiring for 10 positions – to be based in Leipzig, Berlin or Duisburg – ranging from marketing, finance and sales to IT and UX design.
"Replex have hired a total of three people from the two job fairs," says HR Generalist Kris Doherty, who himself got his current job at Replex from our first event.
We are joining again because it's enjoyable to participate in and is a great opportunity to interact with the many talented job seekers, as well as the other companies who take part.
Three other growing tech companies expected to exhibit at the LeipGlo Job Fair are ExB Labs, mercateo and forcont. All are looking for software developers, but also business developers. (ExB Labs in marketing; mercateo in marketing, sales and customer service; and forcont in sales.) A fourth IT company, netresearch, is in the field of e-commerce consulting and systems integration, and asking for job-seekers to send in their CVs to see where they might fit in.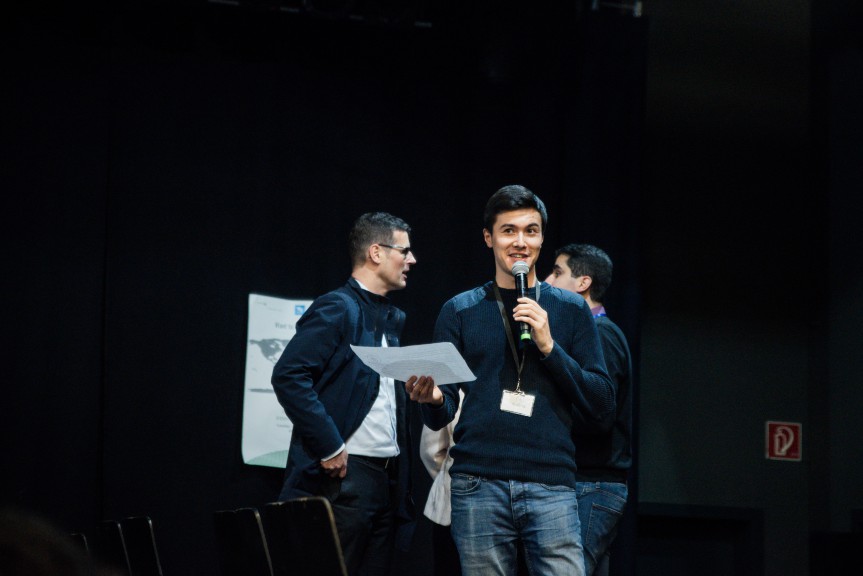 Meanwhile, the giant DHL – with a highly international staff of some 5,000 locally and 550,000 worldwide – will come over to recruit for its DHL Hub Leipzig (actually located in nearby Schkeuditz).
DHL has 60 vacancies listed, including an internship in media and web design; a business-law related position; and jobs for electricians, mechanics, project managers, receptionists and, of course, IT and logistics specialists. Also constantly hiring internationals in the Leipzig area is Data Information Intelligence (dii), which has positions available for healthcare analysts and consultants, project moderators and freelance interviewers.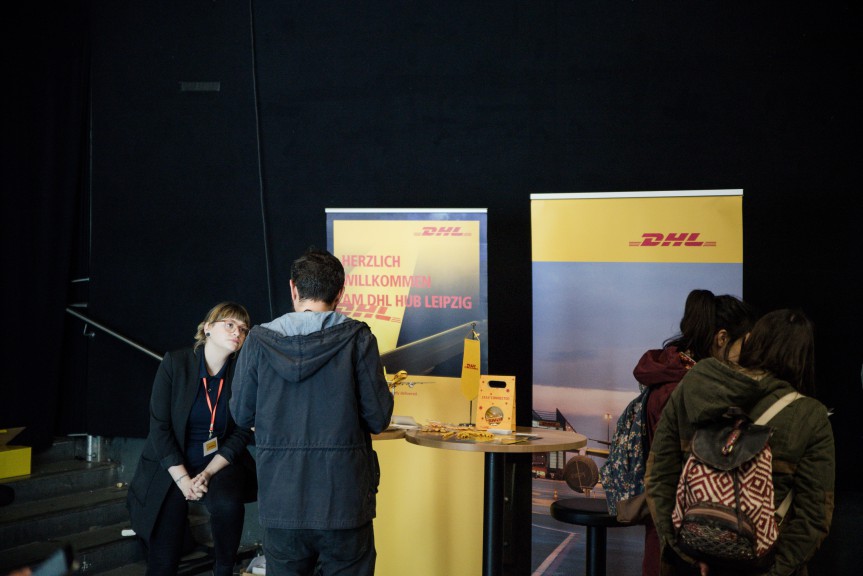 Finally, if you can't find a suitable job for you through our event, recruiters get a MINT will be on hand to talk to you about placement. They focus on STEM professionals (tech, math or natural science backgrounds) looking for new opportunities. Conversely, their friends whyapply, which will also be at our job fair, connect companies with candidates who aren't actively applying for jobs but have an interest – "passive job-seekers."
And then there will be those that help make sure you're ready for the job market. Career Service Universität Leipzig will be present to give advice if you want to polish up your CV and cover letter; Stadt Leipzig's Welcome Centre to offer you tools to navigate the German system, when looking for employment and services; and Techniker Krankenkasse (TK) will be available if you're looking for a public insurance provider that's friendly and open towards internationals. Because you need all those things to be able to secure a career and life in Germany.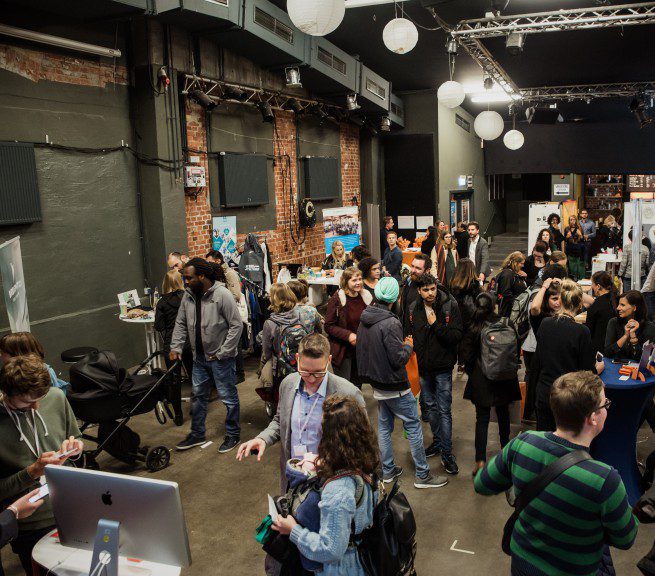 So, you want to attend?
This job fair will be free for job-seekers, as in our past two editions. However, you should register beforehand through Eventbrite.
In the Eventbrite page, you will be asked to fill out a short survey. Filling out this survey will allow us to know what companies would be the best match for you, and thus give you the best service possible.
You can also register for an Eventbrite ticket via our Facebook event.
Or perhaps you want to exhibit?
We still have space, but by the looks of it, not for long. So hurry up and check out our FAQ page for companies and visitors.