LeipGlo user "Saxvaxguide" put together step-by-step instructions in English for Saxony's vaccination appointment platform. From registering to selecting a vaccination center to getting the actual appointment, this guide will give you all the help you need to get vaccinated as soon as possible in Saxony. This guide only applies to the vaccination centers of the DRK Sachsen.

---
To get the Corona vaccine via public means in Saxony, you need to be a resident in Saxony and have health insurance.
The residency can be certified at the Einwohnermeldeamt or Ausländerbehörde. If you have a regular job and rental agreement, you have to present a Meldebescheinigung or any official proof of residency, and a health insurance card. The sign-up process is dependent on your being registered as a resident: If your name isn't on the books, it won't work. In that case, and any other hiccup, feel free to reach out to me via email and check out LeipGlo's other resources for migrants in Leipzig.
So you think it will be easier to get vaccinated once the prioritization restrictions are lifted in June? Wrong. People will be rushing even more to get it and supplies are limited. Do not call your doctor for this. GPs are swamped on a good day by everyone asking why they aren't the first to be vaccinated. They will also continue to use prioritization guidelines. Write them an email. Ask to be put on a waiting list, if you like, but this way is faster.
Chances are, you are in a priority group, but just don't know it!
---
Step-by-step guide
Website
First of all, go to sachsen.impfterminvergabe.de. On the very bottom of the page are two green buttons.
First is registration ("Weiter"). Second: making an appointment ("Termin").
Get used to the green buttons. You will use them to navigate the website. If you click "back" in your browser, you'll get kicked off the page.
You are also very likely to see an "on hold" page.
This could take a while. Put your feet up, deactivate ad blockers and the power save mode – they interrupt your Internet connection, thus putting you on the back of the queue again and again, which is why you won't get past this on a mobile web browser.
Registration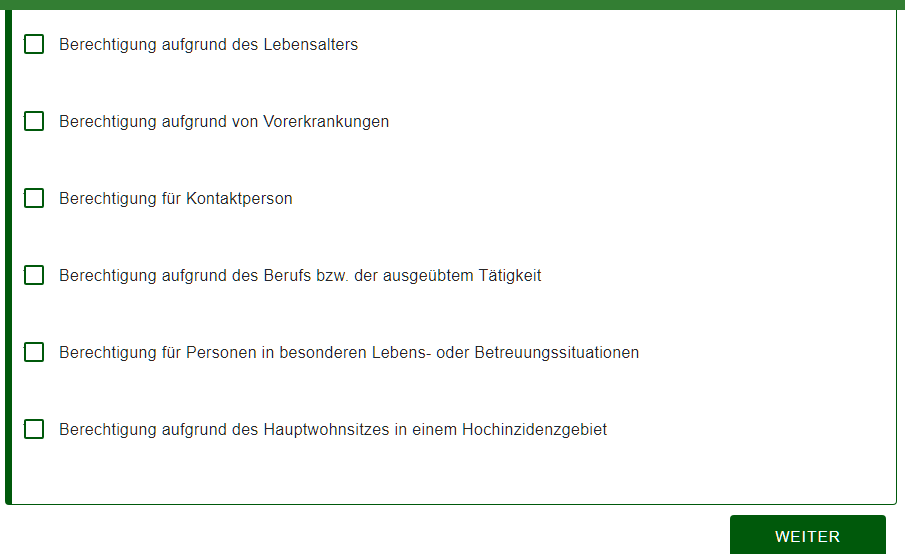 Box 1 – Over 60 years old
Only requires proof of age. Pick your decade on the next page.
Box 2 – Health Issues
You'll be seeing a doctor regularly for most of these. Ask them to vaccinate you, and if they have a long waiting list, to provide you with certification. Among conditions that you might not be in regular treatment for are diabetes, asthma, and obesity (BMI 30+), past instances of cancer, as well as mental illnesses, such as bipolar disorder or depression. On the following page, you are asked to narrow it down between two priority groups; when in doubt, pick the second box.
Box 3 – Contact Person
If you're pregnant, you may designate up to two people (insured and resident in Saxony) to be vaccinated, because they're in close contact with you. They will need this form and a copy of your photo ID. If it's not a German ID, they will also need a copy of your proof of residency in Saxony. The same thing applies to people who are older than 60 or have conditions that put them in a priority group (see above).
However, they cannot live in a group home or assisted living, individual housing only, and they need to be in need of care – as in, approved for a degree of support (Pflegegrad) by the German nursing insurance care fund (Pflegekasse).
Neither this nor the pregnancy has to be proven; you're on an honor system here. However, if a senior living facility is your designated person's address, or if it's obvious from their ID that they're too old to be pregnant or younger than 60, somebody will ask questions and there's a chance someone might follow it up, and bearing false witness is a crime you can be prosecuted for. When in doubt, see Box 5.
Box 4 – Work
Easiest: Ask your employer if you qualify. If they don't want to sign your documentation, bad news: they don't have to. Good news: see Box 5.
On the next page is a long list of occupations that make you eligible. The most important ones are food service (the second box from the bottom) and critical infrastructure (the fourth box from the bottom), including but not limited to Amazon, DHL, taxi drivers, transportation in general, supermarkets, many more. Language schools are Box 11, as are higher education jobs, universities, and others.
Box 5 – Particular Living Situation
This has two options on the next page. Are you living in shared accommodation with (other) asylum seekers, refugees, homeless people, in a women's shelter? That's the first box. Second: everything else. This is your wildcard. Use it responsibly. § 4.1.9 of the CoronaImpfVO was added to cover all cases that might slip through the cracks.
Are you sharing a flat with a nurse in training, a cashier, or a kindergarten teacher? You definitely qualify. That's what it's for. The aunt you do the shopping for is an anti-vaxxer but has no one else to care for her, and is too proud to apply for "need of care" status? You qualify. Your boss is a dick about you missing two days at work to get vaccinated and won't sign your papers? There you go. Sign this yourself. Honor system, see above.
Box 6 – High Incidence Value Area
If you live in Vogtlandkreis. No longer a hotspot, so might not apply for much longer.
---
Next steps
You may see this after picking your boxes:

This just means you confirm that you have your documentation.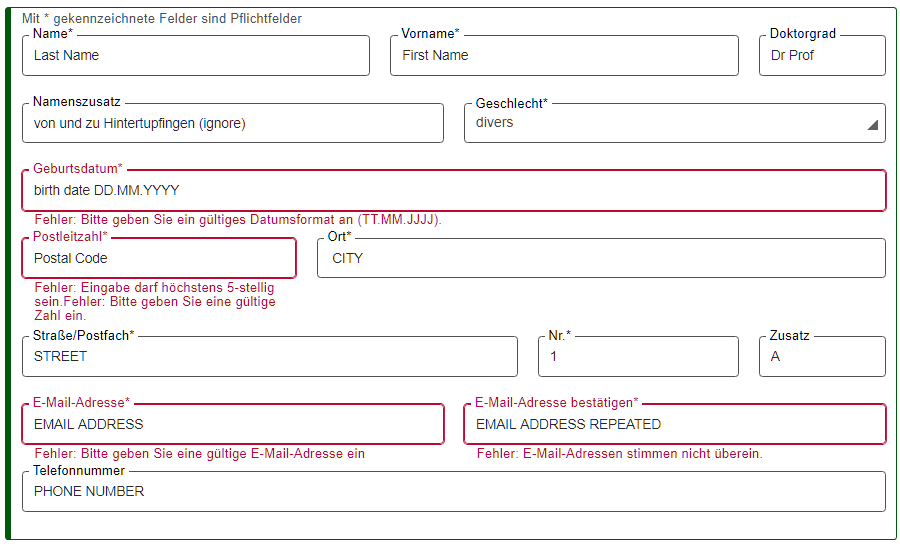 Then, you receive an email with your registration number ("Vorgangskennung") and a link to generate your password of choice. Make it simple. I'll tell you why.
With these, you can go to the second button labeled "Termin" on the platform to make an appointment. The two-step system was designed that way to allow you to get help setting up the appointment without sharing any sensitive data (living and working conditions, health status, address). You will likely have to log in many times, at odd hours, and anybody helping you will appreciate a simple password. The only thing they would see is your name, and the appointment you make or have. They cannot change your password to lock you out.
Pro tip: Link up with someone who is also trying to get vaccinated, and you can take turns trying to make an appointment for both of you.
---
Setting up an appointment
Go back to sachsen.impfterminvergabe.de.
Scroll all the way down, click the second green button labeled "Termin."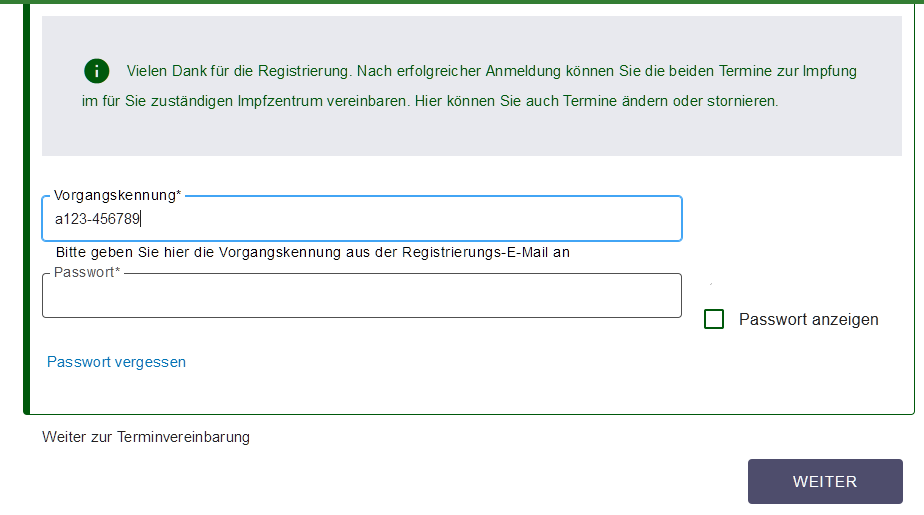 Put in your registration number and password.
You might get stuck looking at: "on hold page"…
It states that currently all capacities are occupied. Wait and take a deep breath. The page will refresh automatically.
However, you can refresh the same page on your phone to keep yourself from refreshing it on the PC, until you see: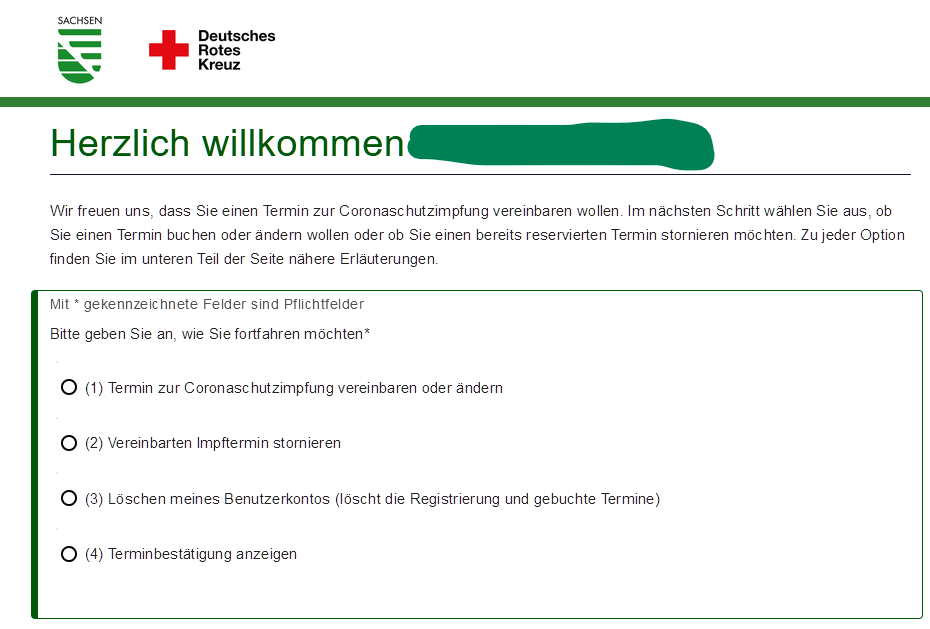 Your options are:
1 – make an appointment
2 – cancel appointment
3 – delete registration
4 – show appointment
#1 and "Weiter" take you to: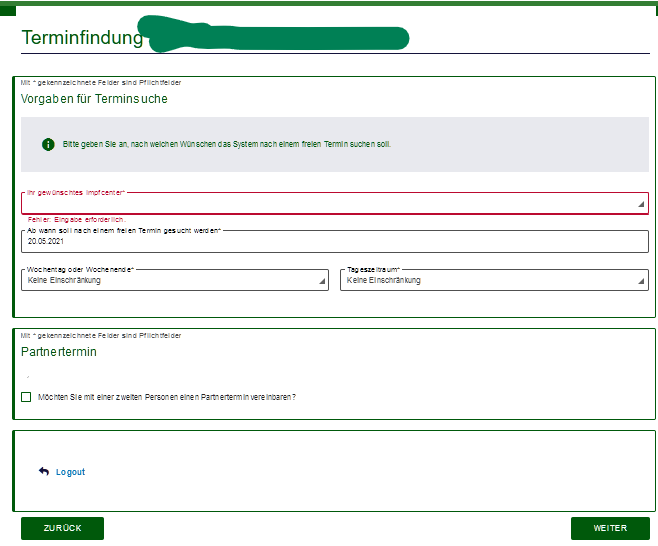 Pick your center of choice from the red dropdown menu (see vaccination center overview below).
Then you can pick between weekend or weekday, and between morning and afternoon. I left it as is, at both, to increase my chances.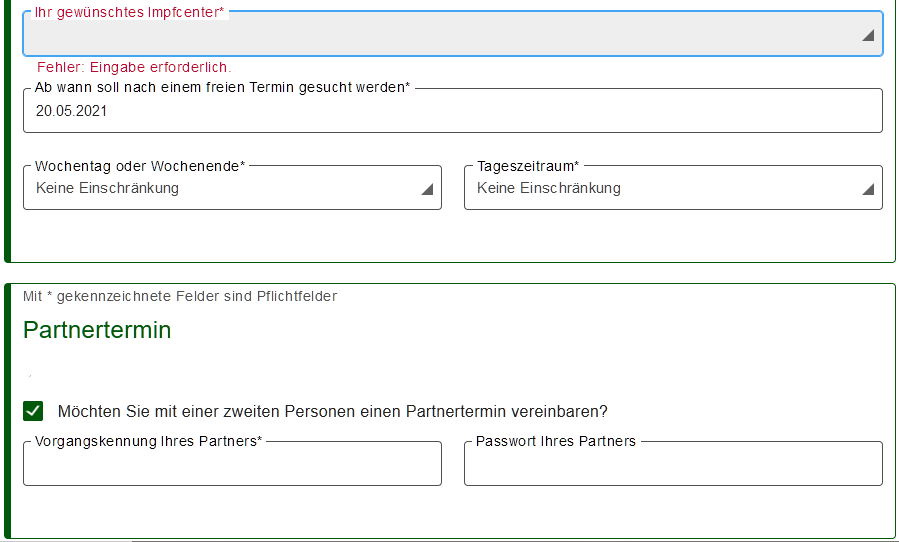 Click the box "Partnertermin" if you want to book an appointment alongside another person. Here you can enter your buddy's registration number and password.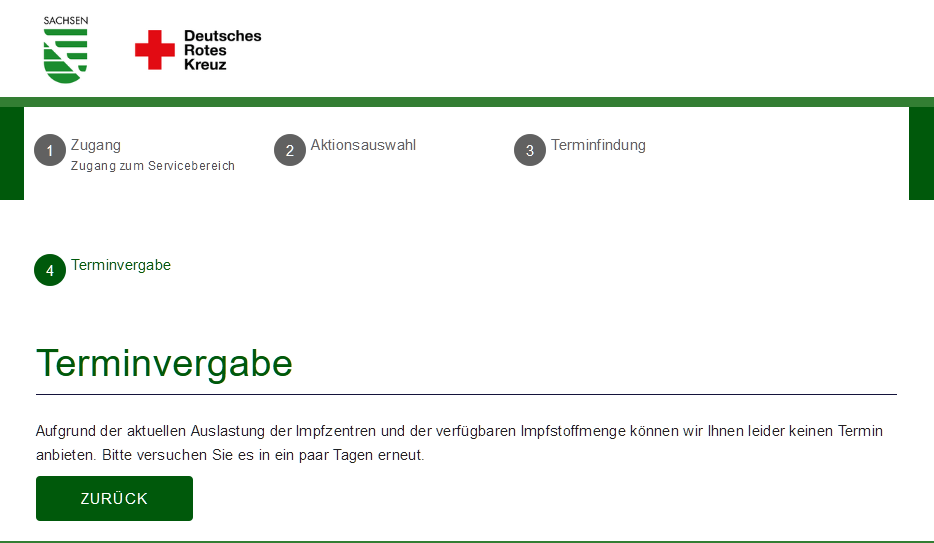 If you see this, try again. Navigate back to the center selection via the green buttons on the page to try another center. Do not use the browser function to refresh.
If an appointment is shown, confirm with the green "Absenden" button and you will receive documents at your email address that you need to print out.
After that, you can still try to change it to a more suitable date or time – it won't disappear if you fail, but you need to receive the confirmation email first.
Print out your documents. Fill all of them out, make sure none are missing, and be there on time so nobody has a reason to complain.
If you're anxious, have a German-speaking friend on speed dial. If you need on-the-spot interpreting, hell, enlist me (see email below).
Doesn't work? Don't panic.
Currently, available appointments can be viewed here.
If you can't book one even if it's shown:
It's a vaccine not available to you due to age requirements (AstraZeneca, if you're under 60).
It's reserved for the hotline for people without Internet access. (Don't call. It's overrun.)
It was reported as free by the vaccination center but hasn't yet been unlocked as available on the booking server (try again after midnight, could happen during the day, but rare).
Someone else is trying to book this appointment at the same time.
There are technical difficulties.
---
Vaccination centers in Saxony
You don't have to get vaccinated in Leipzig! I would recommend the following order of preference, for those relying on public transport in particular.
Practically cycling distance: Borna, Grimma.
Regional trains: Riesa, Belgern-Schildau, Mittweida, Plauen, Zwickau, Chemnitz, Dresden.
Further still: Annaberg, Treuen/Eich (car strongly recommended for this one).
Even further, for the really desperate: Pirna, Kamenz, Löbau. Check train connections if your appointment is early.
New batches of appointments are currently released three times a week, depending on how many and which vaccine doses are delivered. This information is available at Red Cross Saxony. Updates on delays can be found on their Twitter feed. For now, these updates are scheduled as follows:
Monday ca. 12:00 pm
Wednesday ca. 8:00 am
Friday ca. 6:00 pm
Try to log in about 2 hours ahead of that time, make sure you have a stable Internet connection, power save mode turned off, browser at default settings, ad blockers off, and prepare to be stuck on this page a lot:
Do NOT refresh it. Feel free to try it in two browsers at once in case one fails. Once you have logged in, you can book. Maybe click around back and forth on the page to remind it you're still in, try to show your yet-to-be-made appointment, that sort of thing. Try the appointment search again.
Check the Red Cross Twitter; maybe they have technical issues. Try again. If someone is trying to book the same time slot as you, it will be blocked for the next 15-30 minutes. If you give up, log out, try again at night or in two days when the next batch is released. Lots of people cancel their appointments for AstraZeneca, because, to quote a vaccination center director, "they want the Porsche Carrera, not the Porsche Boxster." Unfortunately, you can't just indicate that you'd take it, too, if you're under 60. In a doctor's office, you could, but again – their phones are ringing off the hook, have mercy.
How do I know all this? Well, I've had a lot – A LOT – of time on my hands since March 2020, time to read every single regulation and law on vaccination and Coronavirus restrictions in Saxony. I can promise you that I'll say when I don't know and can find out, and when I can't.
You can ask me why mRNA vaccines are considered safer than AstraZeneca (fun fact: they both work with mRNA, it's the delivery method that differs!), why J&J only needs one shot and not two, how not to smash your computer screen because the sign-up website is so ugly.
Disclaimer: These personal opinions and first-hand advice are fully my own responsibility. I do not work for the Free State of Saxony.
With that said, feel free to write to me at saxvaxguide@gmail.com.