In the midst of all the madness, with millions of people fleeing Ukraine, I received an email from a friend of Leipglo's. There's a Ukrainian family in Leipzig, who fled with their young son partway through his chemotherapy treatment. Would we be interested in doing a story on them? There was no hesitation on my part. We need these personal accounts, both harrowing and heartwarming, to remind us vividly of the people caught in the middle. Of the normal citizens who are forced to flee, or to go into hiding in cellars and bomb shelters. With pets, children, elderly relatives. Sneaking out to fetch a few items from home, if there is anything left but sticks and rubble. And these are the somewhat luckier ones. I immediately contacted Maryna Ivashchenko, who graciously agreed to share her family's story of fleeing Ukraine and receiving treatment for their son in Leipzig.
LH: Where is your home in Ukraine, and how did you manage to leave? Were you afraid that your husband might be prevented from leaving?
MI: This is going to be a long answer.
Rumors about the war had been spreading for some time, and we were quite afraid it would happen.
In an ordinary situation, my family would have left some time before for the western part of Ukraine. It wouldn't have been a problem for us. My husband and I work remotely, and our son was training to be a short-track sportsman. Because he had a lot of sports training, he studied through an online school, so we are all really flexible. But our son was diagnosed with leukemia last September and was being treated in the main children's hospital in Ukraine, Ohmatdyt, which is in our city, Kyiv. The treatment plan consists of several protocols. We had finished two out of three. After finishing each protocol, they let the patients go home. It so happened that when the war began my son, Yurii (we call him Yura), was released from the hospital for a short break of a week. The next part of the treatment was scheduled to begin on 28 February. Therefore, we couldn't go anywhere.
When the war began, we didn't go anywhere right away, we just stayed at home and we were analyzing the situation. My friend from Leipzig called me and offered to help. She said she had a neighbor, an oncologist, and she could tell him about our situation. I sent her Yura's medical file with no hope. We also sent this file to different clinics in Poland to check if they could take him to finish treatment. We heard from them only after we had already been admitted to the hospital in Leipzig.
The first night was nerve-wracking and very scary.
We put a mattress on the floor in the corridor, as it was the safest place in the apartment, and settled Yura there. We couldn't sleep well; there was so much news and so many bombs. Some of them were so close that our windows would shake.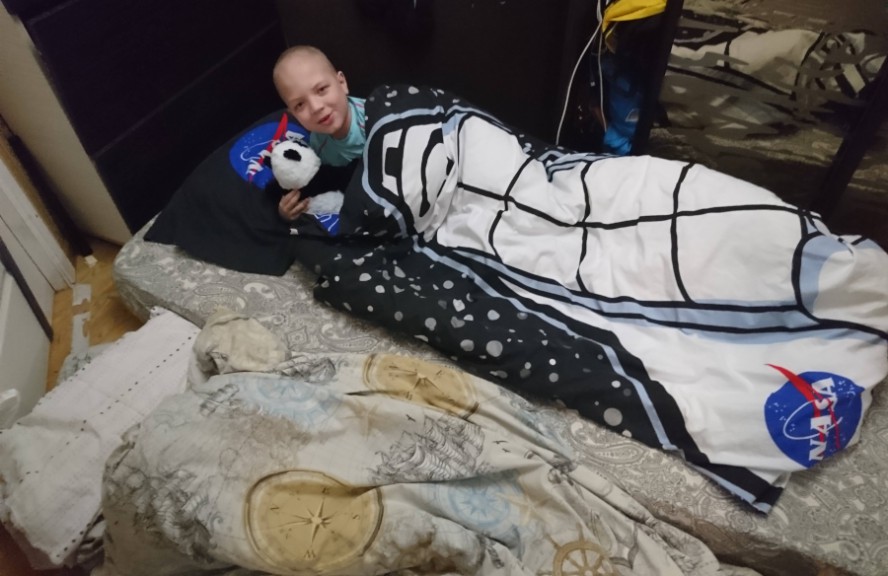 In the morning, the first thing we did was to call our doctor to check what the situation in the hospital was, and whether they were planning to admit us. She said they were working on Friday, but she had no idea about the next Monday. It became scarier and scarier in Kyiv with all the bombs, so we decided to leave for the small town where my husband was born, Radomyshl, which is 100 km from our home. We thought that we'll stay at Petia's (my husband's) father for two days to see how it goes. If Kyiv was safe, we were planning to go back to the hospital, if not – then we decided we'd go west to Lviv. We knew there was another clinic in Lviv and they could possibly take Yura.
We couldn't take the direct road because it was too dangerous.
This was the road to the west, and it was constantly being bombed. We saw Russian planes overhead and we didn't know if they were going to drop bombs right there or somewhere else. So we were going via some small roads, through small villages, and it wasn't easy.
Then I received a message from my friend and she told us that her neighbor, the oncologist, took Yura's medical file to the hospital. They had a meeting, found a pediatric oncologist who consented to treat our son, and they were ready to accept him. We only needed to bring the child to the hospital in Leipzig.
I can't explain what we felt at that moment, it was like a real miracle.
We were crying, I was praying. But we had almost 2000 km to cover in three days, so we decided to leave right away. We stopped on our way for only half an hour in the city where my husband's cousin lived, and left our beloved cat with him. Leia was a Christmas present to Yura in 2021 and she is the best cat ever. We miss her.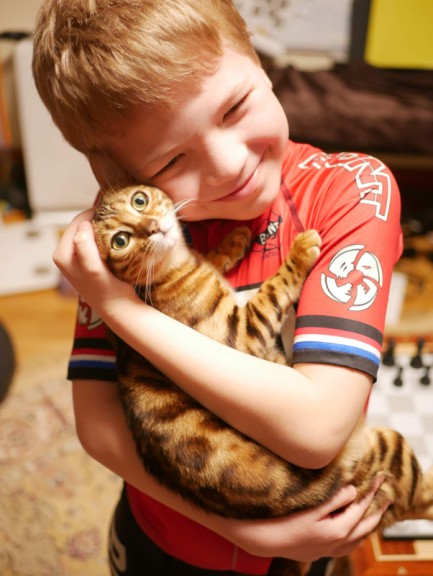 We reached the border at midnight, and we stopped at the end of a 15 km long line. There wasn't much progress until morning, and then we were moving at maybe half a kilometer per hour. Yura couldn't eat properly, he only had bread and water, and he was exhausted. Children with such diseases require special care, and we were afraid he might catch some virus. I took Yura's diagnosis and showed it to people ahead in line, asking if they could let us go first. Some did, some did not. We understand all of them. Some had been waiting in line for more than 3 days, and all of them were fleeing Ukraine with small, tired, hungry children. Eventually, when it was almost evening, I stopped a police car and asked for assistance. They helped us to reach the border quickly.
I am deeply grateful to everyone who helped.
Ukrainians are amazing. While we were in line, those who live in the neighborhood brought some snacks, water, or helped if something went wrong with someone's car. At the actual border, it was another nightmare. Lots of cars, as well as lots of pedestrians. People who had been waiting in line for a few days; cold, hungry, tired, and with small children. I wish I could forget what I saw. Some of them asked us to allow them into the car so that they can warm up and cross the border faster. We couldn't, as Yura was not allowed to be in contact with anyone except family…
And, of course, till the very end, we didn't know whether we would be able to cross the border – all three of us, or just Yura and I. According to Ukrainian law, if a father has a child with a disease like leukemia, he's not conscripted. But we didn't know if it was going to work or not. Happily, it worked. My husband had to show Yura's medical document a few times, and they let us go.
This was miracle number two.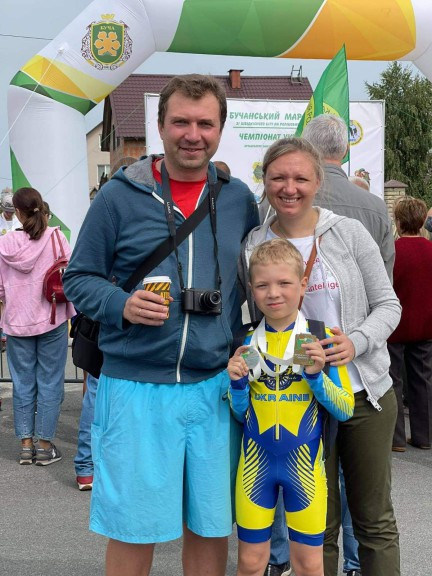 LH: Where are your extended family members and friends at the moment? Neighbors and colleagues?
MI: This is a tough question. Each day we receive news that is not good. My mother and my grandmother are both in Kyiv. They didn't want to leave during the first few days, and now it's quite difficult without a car. Also, considering that my grandmother is 85 years old. If it's safe, they stay in the apartment, mostly in the corridor. If there's an air alarm, they go to the shelter in the building's basement. My husband's father lives 100 km from Kyiv, in a small town called Radomyshl. It is 30 km from Malyn, which is constantly being bombed. There was a small military station near Radomyshl, which was destroyed by a rocket a few days ago. My father-in-law has his own house and a very good, sturdy cellar, so he spends quite a lot of time there literally sitting on bags of potatoes.
Our closest friends have lost relatives in Mariupol.
After they heard that a bomb hit their parents' house directly, they were desperate. Their father died on the spot, their brother died in a local hospital. They don't know if their mother is still alive, as there is no connection. The family stayed in Kyiv for as long as they had a connection with their relatives. Three days ago, they left Kyiv and went to the western part of Ukraine. They say the road was hell. They can't find a nice place to stay and they can't cross the border, because they have 8 dogs. Their lovely dog, History, a Corgi, gave birth to 7 beautiful puppies on 27 December. The dogs have pedigrees. There were people who were waiting for the puppies to become strong enough so that they could go to new families. Now, no one can take them, so my friends just travel with all of them.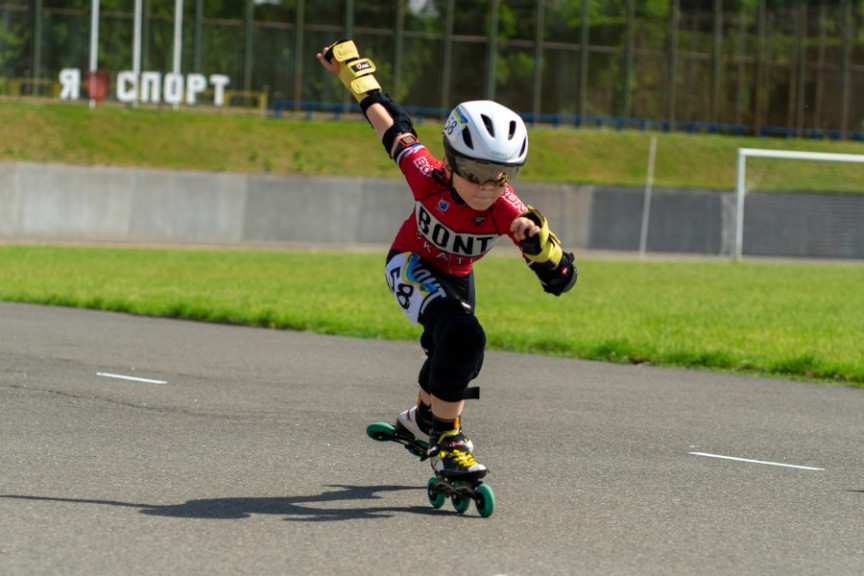 LH: Where do people find food and medical supplies during this ongoing assault on Ukrainian cities and their citizens?
MI: It depends.
Cities under Ukrainian control don't have a shortage of food, medication, etc.
There were a few days when the shops and pharmacies were closed, but now it's OK, especially with humanitarian help from other countries. It is a completely different situation in cities that are occupied by Russian troops or are being blocked. For example, Bucha, Irpin, Gostomel, and Mariupol (I mention only those where I have friends or relatives and I know from their experience).
People in these cities lived for 4 days without access to food, medicine, electricity, water, and gas. One child has died in Mariupol because of dehydration. We all pray that the green corridors will work, and people will be saved.
LH: What treatment is your son receiving, and how did the doctors in Leipzig contact you to offer to continue his treatment in Leipzig?
MI: So, I explained the "how" part already in my first answer – through a miracle! My friend happened to live near an oncologist, who happened to be supportive, and the whole hospital happened to be amenable to accepting Yura.
We will be thankful to all of them until the end of our lives.
As for the first part of the question – Yura was treated in Ukraine in accordance with the current European protocol. This protocol consists of three parts. The first two parts were finished in Kyiv, and now we must finish the last part of intensive chemotherapy. Here, the doctors continue where we stopped in Kyiv. It's a special combination of chemotherapy medication and steroids.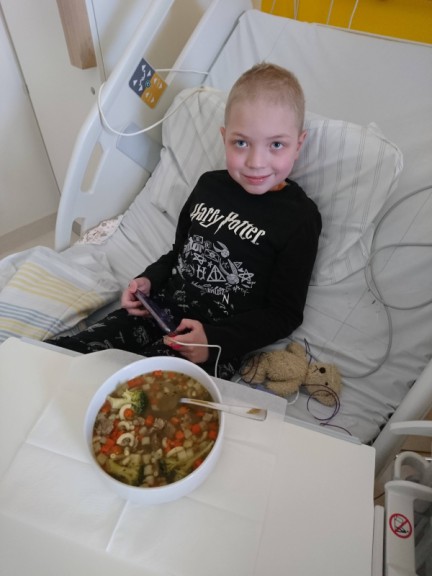 LH: Did you have a place to stay when you arrived in Leipzig?
MI: We went directly to my friend when we arrived. She was so kind that she offered us her apartment for the first few nights. And again – we will never be able to say thank you enough – kind people in Leipzig offered us an apartment to live in for free. The apartment is beautiful. It was unfurnished at the beginning, but these people asked for help from their friends. So when we arrived we had everything we needed and even more – a huge couch, beds, bedlinens, cutlery, towels, etc. We are so grateful to all of them.
And this was miracle number three.
LH: What do you think is necessary to stop Putin's onslaught on Ukraine? How can world leaders effectively help to stop this war?
MI: In the beginning, we hoped that rich Russian people would stop Putin because they were losing too much money. This didn't happen. Then we hoped that the Russian people can stop this by going on strike and demanding that the authorities leave Ukraine. This isn't happening and furthermore, most Russian people support Putin and the war. We still hope that there might be some sort of palace coup. That the Russian government will stop this because Russia is on the edge of default due to sanctions.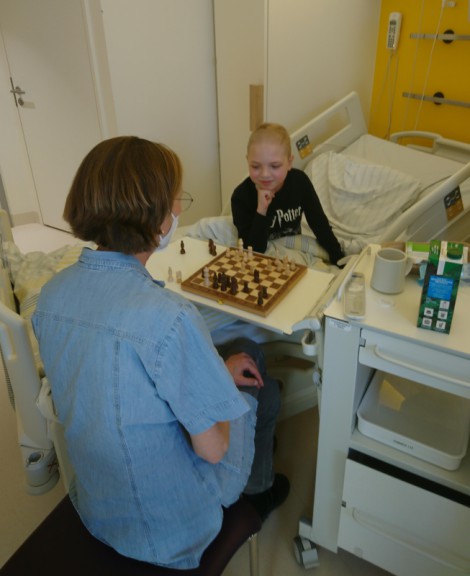 Sanctions are being issued more and more from supporting countries and Russia will have to stop eventually.
Of course, for now, my country asks the EU to "close the sky" because it's impossible to imagine the disaster we are experiencing due to bombs and rockets being dropped on civilian people.
LH: What can we, as ordinary citizens, do right now to help the people of Ukraine?
MI: You are doing a lot already. Support Ukrainians through demonstrations, help our army – there is a bank account for this. Help those who are temporarily homeless, like we are right now.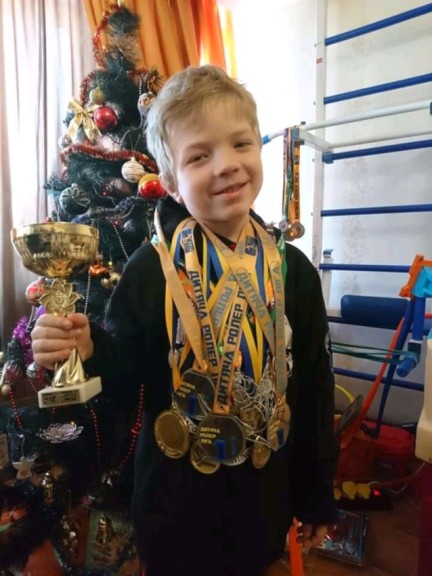 LH: Was the attack on 24 February the beginning of this conflict, and if not, how did it start?
MI: This started back in 2013 when the Ukrainian people chose to focus on the EU and not on Russia. This started when Crimea was annexed. Russia hoped to change the Ukrainian government, to strategically place their people, and we had quite a few of them in our parliament. Then, they threatened us with their troops at our borders, hoping that Ukraine will give up; then they attacked. We, the ordinary people of Ukraine, don't understand why. Did they really think that we'd be glad to see them? Russia is bursting at the seams, and yet they continue… We don't understand. What I am sure about is that Ukraine will win.
Ukrainians have differing views on certain questions and aspects, but what we all agree on is that we don't want Putin's regime in Ukraine. The magnitude of patriotism in Ukraine has never been so strong. Our people are going to fight until the end. Everyone is doing something. The number of people who want to join the army, or so-called territorial defense groups, is so high that they can't all be accepted. The army doesn't need so many volunteers. Also, we are all proud of our president, Zelensky, who proved to be a real hero and is fighting amongst his people. As well as lots of famous Ukrainian people: sportsmen, actors, and singers are fighting to defend the Motherland.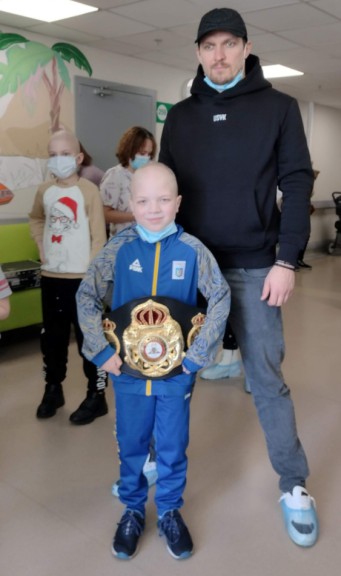 I have a few pictures of the famous World Champion Ukrainian boxer, Oleksandr Usik. He proved to be a really nice person, visiting the oncology department of our hospital in Kyiv and inspiring the kids. And now he's in the front line of defense. We are so proud of such people.
LH: What do you think lies ahead for Ukrainians, and for the Russian population?
MI: I think Ukrainians will survive and will be working hard to restore their country, sooner or later. Many will come back to Ukraine to help.
Russia will be behind an iron curtain.
Russian people will be working hard,, but they won't reap any benefit from their work, because of inflation and isolation from the civilized world. They also will have to pay huge amounts in taxes to pay Ukraine back for what their army is doing now. They will live in shame for decades and honestly, I am not sorry for them. I am sorry for my destroyed country.
LH: What lies ahead for your family?
MI: With Yura's disease, we learned not to plan anything.
After the war began, we stopped planning even for the immediate future.
For now, we will stay here to complete Yura's treatment. Then we'll see – if Yura's OK and the war ends, we'll go home. If the situation in Ukraine isn't stable, well, we may decide to move to Lithuania. I work for an international company and we used to have a big office in Kyiv. Now they have offered to relocate us to Lithuania. But it's a long way and we don't plan so far ahead, we just hope for the best and believe in miracles.