I have a thing about theatre. I want it to be either utterly exhilarating and breathtakingly brilliant or so lamentably, gut-twistingly inept as to be a delicious and hilarious spectacle. That's probably quite mean. It's also probably quite true of a lot of people. Theatre can take you on a journey that film can't. You can get swept up in the emotions of a movie, but in theatre, to see those emotions up close and personal… To see a fellow human dissolve into hysterical laughter or tears, is a visceral experience. What to do then when the experience is neither of those things? When the piece is just… alright? Scab is flawed at times. It isn't a bad piece. It just isn't brilliant.
Scab is the story of two young women who, in their personalities, are chalk and cheese. One perky, if insecure, the other all doom and gloom due to different circumstances. Imagine Eeyore and Tigger as flat mates. Throw in a love triangle (square?) involving a rather louche academic and touches of the surreal in terms of family exposition.
Victoria Weber's opening monologue was fascinating to watch, as she slowly relaxed into the role of Anima.
And, for the most part, the clever and snappy language the play so relies upon was adequately serviced. Josiane Segar's Christa seemed somehow subdued. There were flashes of excellence in her performance. Especially in those small, quiet moments of intimacy and thought, but the larger moments somehow didn't always come across. The central relationship between Anima and Christa, so important for the play, works well enough at times. But it never soars to the heights needed to carry the drama that unfolds. At times the "chalk and cheese" personalities were more "chalky cheese" and "cheesy chalk".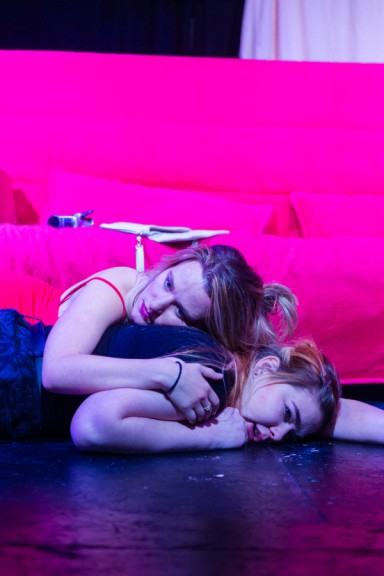 This similarity at times couldn't be suggested for the performance of Sebastian Geiger, which was larger than life.
His characterization of the dastardly (and vegan) Alan brought much amusement to parts of the audience. He did, indeed, have some funny moments, but appeared to think he was in a Molière play. If Christa and Anima were grounded in reality, it was difficult to see why either would be beguiled by a cartoon character brought to life. I genuinely enjoyed parts of his performance and he clearly has skills. However, I just wondered why director Letizia Rivera wanted his performance to be almost Theatre of the Grotesque. Particularly as this is in such stark contrast to the two female leads and their performances, which were so grounded in naturalism. It felt incongruous, especially as this central trio were supposed to be the mainstay of reality in the play.
Which brings us to the elements of surrealism that were, in the theatrical sense, "absurd".
Actually, they felt absurd in the literal sense, too. The roles of Mary-Androgyne and the grating, sing-song-voiced Mom were played by Jing Su. Davie, Artie and Angel Two were played by Armin Axt. Svea Meyer-Nixdorf (who was also Assistant Director) was Jenna and Angel One. Kellee was played by Anna Ivanova and Victor Dos Santos, who delivered their lines in unison. For some inexplicable reason. This particular chorus was used to give us a glimpse inside the minds of Christa and Anima. A vehicle to show us their struggles with snooty academics, overbearing mothers and a coddled sibling.
I must be honest here and confess that absurdist theatre is a passion that has yet to find me.
It is at worst excruciating and at best irritating. But I fully appreciate that that is just my opinion and others are available. These scenes seemed to be enjoyed by others whereas I just found them irritating. As backhanded as that sounds, it is kind of a compliment.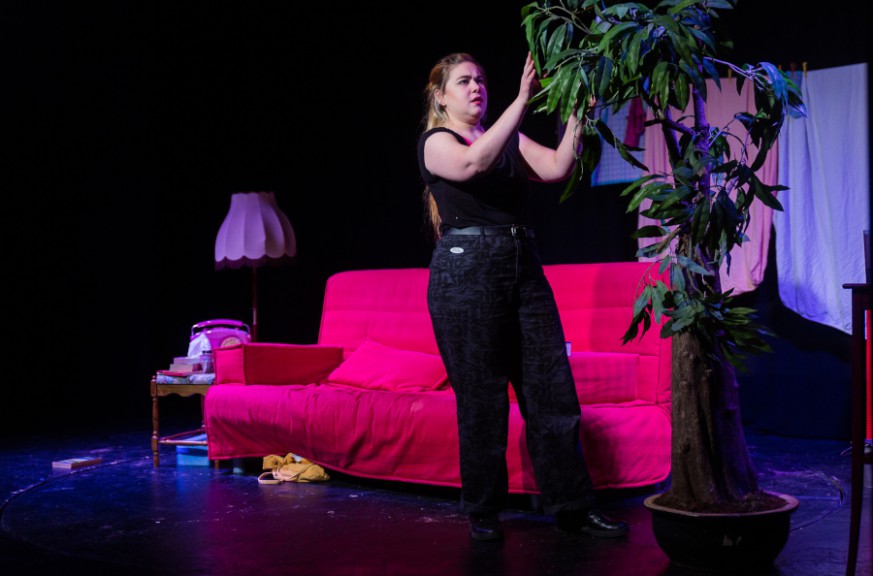 Scab's lighting was fairly minimal: the use of magenta and spots for some of the surreal scenes. The set essentially comprised of a sofa and crates of Sterni. Which I confess made me wonder, during some of the more interminable surreal scenes, if they actually do export to the play's location, LA. (Having been in a German pub in LA, I'm fairly confident they don't.) The highlight of Scab, however, was finally getting to see the revolve in action. After so many years and so many requests to stick it in a show for no other reason than "revolves are kind of cool" and being rejected, I allowed myself an inaudible squeal of delight as she let loose and smoothly and almost silently revolved that sofa. It was a highlight, and I congratulate Letizia on finally convincing the "powers that be" that revolves are not a relic from the 80's.
Another mainstay of the theatre is the grand piano.
It is so often relegated to "leaning post for the person telling you to switch off mobile phones and that the doors to the bar now slide open". In Scab it was impressively played by Damian Trapp, with moments of comedy punctuating the accompaniment to the performance on stage. Hints of silent movies abound.
Having said all that, and despite my general distrust of things "absurdist", I did largely enjoy it. For those of you who would like to avoid taking out a second mortgage for a Glühwein at the Weihnachtsmarkt and fancy a bit of theatre with some entertaining moments, you should see Scab, directed by Letizia Rivera for English Theatre Leipzig. The run continues at Neues Schauspiel Leipzig on Friday 2, Saturday 3, Friday 9 and Saturday 10 December.