It has become a very familiar sight for me in Leipzig. Every April I see numbers of people of all different ages running and dashing across streets that have been blocked off. Though not a distance runner myself, I always feel intrigued by the Leipzig Marathon. A sports event that is open to the public and has that kind of longevity stirred my interest as a writer. Inquisitive browsing through the internet directed me to the Leipzig Marathon e.V. office which referred me to Frank Gottert as a good contact to talk to for this article. 
When calling him, it turned out that he was quite receptive to my idea of writing an article on the history of the Leipzig Marathon so we quickly agreed to meet to discuss it in greater detail. 
Marathon Leipzig
After stepping into Gottert's home office, I was overwhelmed by a stack of literature on his desk. Gottert immediately pulled out Marathon City Leipzig, a book written by him and published in 2018.  
"My book is a product of 50-year-long data gathering and 3 years of subsequent detailed researching and writing on the Leipzig Marathon," Gottert said. His affiliation with marathons dates back a long time. He started competitive running when he was 24 with his two brothers, Klaus and Steffen, and subsequently as  co-organizer and co-founder of the present Marathon.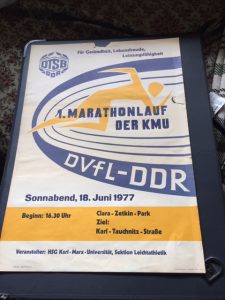 "Ever since we started running, me and my brothers have also been involved with organizing marathons. Together with Ullrich Heilfort, another long-distance runner, and Heinrich Hagenloch, head of KMU Leipzig track and field department, we founded today's Leipzig Marathon in 1977 with the slogan 'Marathon for everyone'!" he explained. Today the Marathon is headed by Michael Manzed, an experienced sports manager.  
Grassroots beginnings
When asking Gottert about the historical development of the Marathon, he pointed out to me that the event's beginnings were rather low-key. "There was little hype about the event. It had to sell itself through mouth-to-mouth propaganda back then and the University of Leipzig was its major organizer by providing the catering and dressing rooms for the event. Despite lacking a real media presence, it already boasted a field of 200 runners which also included about 20 international runners primarily from neighboring Poland and Czechoslovakia," Gottert said.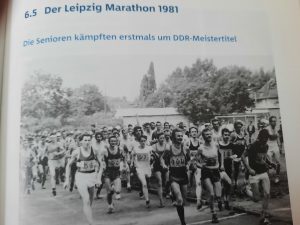 The event, however, quickly gained prominence as reflected by steadily increasing participation numbers during the first ten years. Its mission of being "open to everyone" appealed to broad segments of the population, especially older and middle-aged long-distance runners who had competed in major athletic competitions decades ago and now wanted to become part of the sports scene again. 
The Karl Marx University, as the University of Leipzig was called from 1953 to 1991, turned out top student-athletes who frequently participated as marathon runners at the event. In addition to its flair as being "open to everyone," the Marathon also acquired a reputation as a "must-go" event to participate in and compete in for top long-distance runners in the 1980s.
"A good number of the participating runners during the early eighties achieved times below the 3 hour mark and a few of the top runners at the event came close to the national record time of 2 hours 10 minutes. This underscores the very competitive level of the event at that time," Gottert said.
Gottert himself successfully competed as a middle-aged runner, finishing in sixth place in 1981.  
From Organizer-Athletes to Post-Reunification Success
Leipzig's runners have not only been involved with the Marathon as participants but have also contributed to the event's success as organizers from its early days until today. Their success became especially apparent following the reunification in 1989 when many businesses, organizations and institutions had to redefine their role in order to survive in a new economic environment. 
"We as Leipzig Marathon organizers managed to do exactly that! Starting collaborations with sports organizations in West Germany proved to be successful at that time," Gottert said.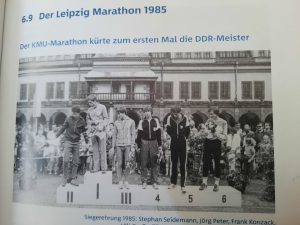 "Especially noteworthy was our collaboration with the West German track magazine Spiridon. Its editor Manfred Steffny was very helpful in luring athletes from the West to Leipzig by taking care of the registration procedures and catering for those athletes. He also established cooperations with other marathon cities like Hamburg and Munich!" he recalled. According to Gottert, those efforts were the main reason why the Leipzig Marathon really experienced an upswing at the first post-reunification Marathon. In 1990 they reached record level of 2,000 runners— which was twice as high as the numbers prior to the German reunification in 1989. 
Despite increasing numbers, there were also challenges to overcome at that time, especially when title sponsors like Deutsche Bahn decided to withdraw from the event.
Gottert pointed out that this withdrawal happened in 1993 leaving the Marathon organizers without any sponsors. Gottert said this absence of sponsors led to a drop in participants. "It was not until we got the Leipzig Stadtwerke on board as a title sponsor a few years later that numbers started to climb again. It was the Leipzig Marathon's role as an image booster for the city which helped us to attract big firms and agencies as sponsors in the years to come!" he explained.
This form of continued sponsorship not only provided the required financial backing for the event but also helped to attract athletes from all over the world. Statistical information on international participation is hard to retrieve, but according to Gottert, athletes from more than 80 countries, including faraway places like Japan and Canada, have been competing at the Leipzig Marathon over the years. "And last but not least foreign students living in Leipzig also account for some of the international participation at the event!" he added. 
Financial Incentive
With sponsoring being so important as a financial resource the question popped up in my mind as to whether money is also being used to lure athletes to compete at the Marathon. Gottert said that up until 2008, international top athletes were reimbursed for participation fees. "However, this practice was discontinued, because it led to a one-sided domination of the competition through elite athletes," Gottert explained.
But sponsoring and internationalization don't tell the whole story behind the success of the Marathon in Leipzig. The Leipzig Marathon has practiced some product innovation, adding new running distances like the half-marathon and 4 km run in the 1990s, and totally new disciplines like inline skating for families and kids. Numbers in Gottert's book show that the newer events have contributed to increasing numbers, reaching a record level of nearly 10,000 participants just prior to the COVID-19 pandemic. 
"Despite those additional competitions to the Marathon event, the event doesn't market itself just on its own. The Leipzig Marathon has become a well-known brand name, but a professional sports management, volunteers and regional supports is always required to be successful on a steady basis,"  Gottert said.
The Leipzig Marathon is still for everyone
Business practices like sponsoring, product innovation and branding make an event like the Marathon work successfully. These were my immediate thoughts after leaving Gottert's office and reflecting on the information I had received from him.  
Indeed, it seems to take business acumen to organize major sports events successfully every year. After all, sponsoring networks were instrumental in getting the Leipzig Marathon right back on track in the early nineties after the reunification. And product innovation was successfully practiced by adding new running events which certainly helped to attract more participants over the years. On top of that Leipzig Marathon seems to have established itself as a brand name and a selling factor for the event. 
Despite the strong role of sponsoring, it is especially noteworthy that the Leipzig Marathon has retained its down-to-earth image role as a sports event open to anyone. Staying fit and healthy is important and the Leipzig Marathon with its numerous running events deserves full credit for addressing that concern! With its diversified offerings, it can meet the fitness needs of almost anyone, so why not take advantage of it in the years to come?