When you come from a country not at all connected with the Baroque period, with its art, its design, its gardens, its music and its architecture, to land in Leipzig and the nearby cities is a great pleasure indeed. You are bound to discover so much beauty and enjoy sites like the Gohliser Schlösschen or the Delitzscher Schloss. The latter is an elegant little palace in the town of Delitzsch, which in modern terms is more of a suburb of Leipzig. You may even mistakenly call its Rococo style Baroque, since they are closely linked.
Amidst the autumn leaves, fallen on the ground with their brown, orange, yellow, golden colours, stand the palace gardens with their design of meanders and circles, forever green.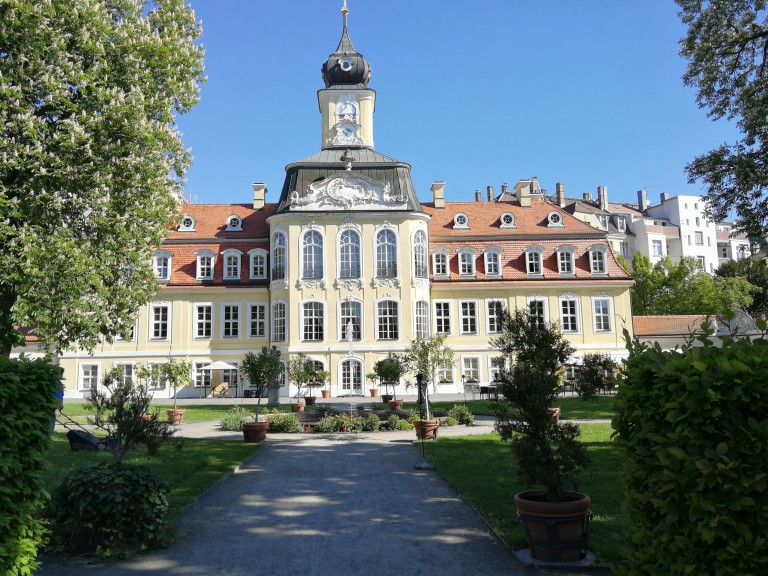 One needs only half an hour for a short visit to the palace rooms with their beautiful wooden floors, the chairs dating back to 1700, and the portraits of noblemen and noblewomen of whom the most famous person is of course Augustus der Starke, the "Strong" man of Saxony who was a Casanova, always ready for love, not war, the man who allegedly helped populate Saxony as he is believed to have fathered more than 300 children with many women.
The Delitzscher Schloss is being renovated and it actually smelt of paint the day I visited it. Each one of its rooms hosted figures from fairy tales, no doubt preparing for Christmas and for some events for children.
I liked the Princess sitting alone in the dining room, looking bored and in despair at the Frog opposite her, or the long braid of Rapunzel hanging outside a window of an upper floor, almost touching the ground outside the palace walls. Sleeping Beauty was there, too, with her Prince coming to wake her up. In another room Rumpelstiltskin was greedily eyeing the Baby in its cradle.
If you have children, maybe now is the right time to take them to the Delitzscher Schloss. If you don't have children, but you still like fairy tales, you might want to make this excursion, too. If you, like me, have a soft spot or even a craze for Baroque or Rococo, then the Delitzscher Schloss won't let you down.
*Τhe title refers to a trilogy of plays by Goldoni, "Le smanie per la villeggiatura," meaning literally "A craze for holidays."
**Lito Seizani is a translator and writer from Athens, Greece, currently living in Leipzig. You can read her poems and other texts, and find out more about her, on her site litoseizani.com.